Just getting in (or back in) to working out?
Finding the right gym shoe can be a pain. There are so many options. You may have no idea where to begin.
Sure, you can dig out those old sneakers from the back of your closet and wear them for basic workouts, but if you start getting serious, you'll eventually need better shoes.
Fancy brands and cool styles are a fun part of the process, but what you really need is comfort and function.
So what are the different types of gym shoes, and which ones do you need?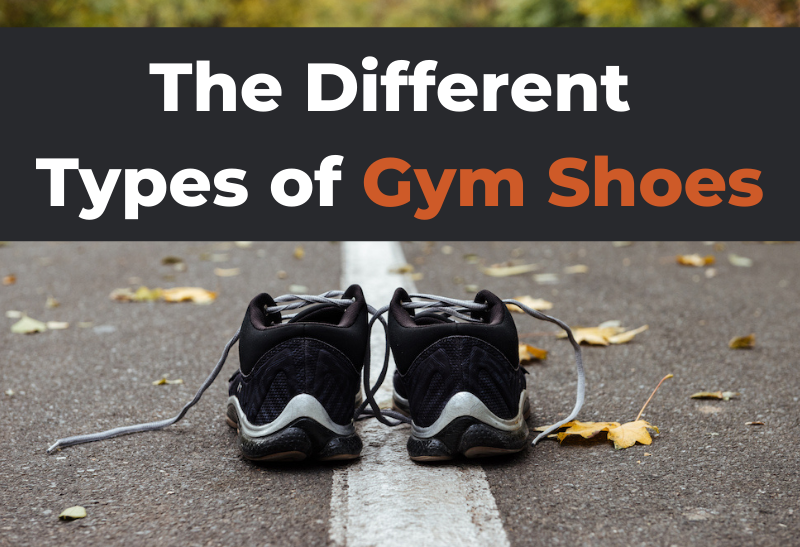 The main types of gym or workout shoes are:
Running shoes
Walking shoes
Tennis shoes
Cross-trainers
Basketball shoes
Weightlifting or Powerlifting shoes
Rock climbing shoes
Spin or cycling shoes
If you're a beginner and interested in doing lots of different types of workouts, cross-trainers are a great choice. They're excellent for running, weightlifting, athletics, and more.
When you start to focus in one on specific type of exercise or workout regimen, you should consider getting specialized shoes that are purpose-built.
Let's take a closer look at each of the main types of workout shoes.
---
Where to Start
When purchasing any sort of athletic shoe, here are some guidelines you should keep in mind:
Buy for functionality first, not style.
Be certain about your shoe size.
Understand problem areas with your feet and ankles.
When it comes to function, wearing the right shoe for the right activity is key!
You might love the look of basketball or weightlifting shoes, but they'll be a nightmare to run in — and worse, it could lead to injury.
Next, get a precise measurement of your foot.
Everyday shoes can be off a little bit if you like the style, but it's crucial that gym shoes fit perfectly for high-intensity activities.
Go to an athletic shoe store (like Dick's Sporting Goods) and get a proper fitting.
Finally, consider any nagging pain or previous injuries in your feet and ankles. Do you need extra arch support? A wide sole?
Keep this in mind as you shop for shoes, and consider additional inserts to help if needed.
Now let's explore the different types of gym shoes.
(Not sure what shoes to wear to the gym? Learn about gym dress codes here.)
---
Running Shoes
Running is a great form of exercise, but it can also be dangerous.
Runners suffer from a lot of nagging injuries from the high-impact nature of the exercise.
Your feet and legs need the best protection possible. That's why dedicated running shoes are made for forward movement and shock absorption.
You are less likely to get injured while running with these types of shoes, compared to wearing generic sneakers.
If you are mainly a runner, you should seek out running shoes to protect yourself.
(Check out the New Balance Fresh Foam 1080 V11, pictured above, on Amazon — one of the best overall running shoes around.)
---
Walking Shoes
Shoes built for walking are designed with rolling in mind.
You tend to roll from your toes to the ball of your foot and back as you walk.
To achieve this, the soles of the shoes are slightly rounded so you can rock your foot back and forth with ease.
There is additional support in the ball of your foot for added shock absorption.
Walking shoes are extremely lightweight, but good ones will be surprisingly durable.
For long or brisk walks, however, you may actually consider a running shoe! The designs are similar but running shoes have a lot of advantages vs walking shoes.
(Check out the ALTRA Escalante 2.5 on Amazon, pictured above, a top pick that's great for running and long walks.)
---
Tennis Shoes
Although tennis shoes can be a term to cover many types of workout shoes, true tennis shoes serve a very specific purpose.
Just think about how you move during a game of tennis.
There is a bit of forward movement, but you are mostly going side-to-side.
Tennis shoes are reinforced on the sides to ensure your feet are safe during tennis matches.
If you are an avid tennis player or participate in other activities that require you to move side to side frequently and explosively, the tennis shoe may be the best choice for you.
---
Cross Trainers
If you want a shoe that can do it all — or do a little bit of everything — you should seek out cross-trainers.
They are designed to handle both forward and side-to-side movements equally.
Combining the safety of running shoes and tennis shoes, cross trainers are best if your fitness activities vary.
Cross trainers are also good for indoor workout classes like aerobics.
In other words, they're not the BEST for running or the BEST for lifting weights, but they're pretty good at almost everything.
These are a great all-around choice for an athlete who likes to mix things up.
(The Reebok Nano on Amazon, pictured above, is one of the best cross training shoes on the market.)
---
Basketball Shoes
For the fast and calculated movements that the sport requires, basketball shoes are made with stiff and dense soles for the most possible stability.
Players need a wide range of motion, since they jump, sprint, and stop and start again frequently.
Basketball shoes usually have a high top design for extra ankle support, as well.
With such a fast-paced and high-intensity sport, basketball shoes are essential for serious players — however, these shoes aren't great for running, lifting, or most other exercises.
---
Weight Lifting or Powerlifting Shoes
If you are looking to seriously improve your strength, then getting shoes specially designed to help you lift more weight is a good option for you.
These shoes help you generate more power by giving you an extreme stable base.
Unlike running shoes or tennis shoes, they have very little padding.
This makes you closer to the ground for more grip. But, they are reinforced to prevent slipping or foot injuries.
The heel is also elevated, which allows for a better squat position.
Weight lifting shoes aren't great for quick or explosive movements, usually, and are a terrible choice for running.
(The adidas Powerlift on Amazon, pictured above, are my favorite lifting shoe.)
---
Rock Climbing Shoes
Designed for traction, rock climbing shoes are a must for avid climbers.
These shoes have a major impact on your ability to climb.
Coming in three shapes, there is a shoe for every type of climber:
Neutral
Moderate
Aggressive
This determines the curve of the sole, with neutral being totally flat and aggressive being quite curved.
With your heel and toes pointing downward, your foot is in a better position to grip onto rocks.
If you plan to climb, having the right type of shoes for the job is a must.
---
Spin, Cycling, or Biking Shoes
Cyclists have unique needs for shoes.
There are 2 general types of spin or cycling shoes:
Mountain biking shoes have flexible soles, so the user can switch from biking to walking. It is great to have shoes that cover both needs.
Competitive cycling shoes have much stiffer soles to focus on pedaling.
For indoor spin classes, you'll usually need a shoe with a specific type of cleat that hooks onto the bike pedals.
Spin studios will usually provide these on site. If you own your own bike, like a Peloton, make sure you find out exactly which type of cleat you need before you buy!
---
Wrapping Up
If you're a beginner or just looking to experiment with different workouts, your best bet is some kind of cross-training shoe.
Cross-trainers are good for running, biking, sports, and lifting.
Once you decide to specialize in a certain activity, start shopping for shoes purpose-built for that sport.
Weight lifting shoes, for example, will help you tremendously — but they're horrible to run or play sports in!
And beyond everything, get a professional shoe fitting so you know your exact fit before you buy.
For more, check out the:
Hope this helps!