Birmingham!
The city plays so many important roles in America's history.
It was the first place that recognized and celebrated Veterans Day.
Martin Luther King, Jr. fought in Birmingham to desegregate public facilities.
And, interestingly enough, it's the only place in the world where you can find all of the ingredients for iron and steel within a 10-mile radius.
BUT — is Birmingham a good place for fitness junkies to live? You bet!
Next up in my guide to the best gyms in every city is *drum roll*… the best gyms in Birmingham, AL!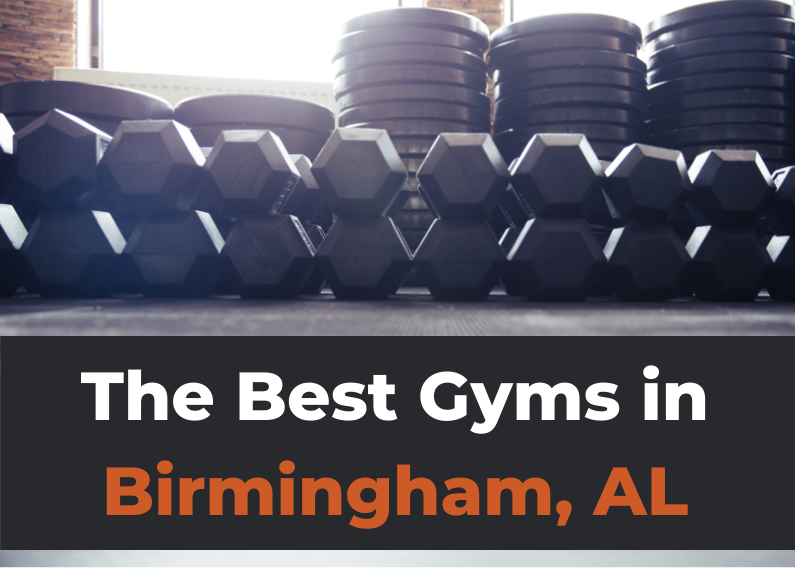 Here are 9 of the best gyms of every type in Birmingham:
Best unique gym: Iron Tribe Fitness
Best budget gym: Riviera Fitness Center
Best CrossFit gym: Crossfit Mudtown
Best boxing gym: Battle Republic
Best pilates studio: Club Pilates
Best yoga studio: Kiva Hot Yoga
Best infra-red heat gym: Hotworx
Best strength training gym: Wheelhouse Academy
Best spin studio: Ignite Cycle
Let's dive in and take a closer look at each of these Birmingham, AL gyms including what they have to offer and why locals love them so much.
---
Best unique gym in Birmingham: Iron Tribe Fitness
What makes it cool?
There are several Iron Tribe Fitness locations around Birmingham, so if the amenities sound of interest to you, then there shouldn't be any problem signing up.
The brand has even expanded to other states in case some other people out there reading this want to get in on the fun.
Iron Tribe offers an array of classes based on three different levels: Push, Power, and Perform.
Push: HIIT training with a focus on improving body composition and losing fat
Power: Strength training with progressing skill work and metabolic conditioning
Perform: Designed for athletes interested in focused and intense conditioning.
In case you're still on the fence, Iron Tribe offers seven days of free classes to newbies.
Give it a go, starting wherever is best for your personal fitness level. You may realize the benefits are there waiting for you after a few sessions.
What local reviewers are saying
Grateful for the proper form learned in class over the last 6 weeks…not to mention the strength gained
I also loved that the programming was challenging and it definitely made use of the hour class.
So far, each day had blasted my heartrate and left me feeling wide awake during the week, which is a big deal when it comes to work.
Get started with Iron Tribe Fitness here.
---
Best budget gym in Birmingham: Riviera Fitness Center
What makes it cool?
You won't find many frills at Riviera Fitness Center, but that's the point.
This gym offers a basic assortment of equipment to use on your own as well as classes.
It's great for lifters who want to hit up the weights without paying for amenities they know they'll never use.
People looking to save money will want to sign up for the $199 plan.
It sounds like a lot, but the membership covers you for 15 months. That comes out to $13.27 per month, which is a steal compared to most major big box gyms.
There are other membership levels that cost more and give you access to stuff like HydroMassage chairs, but those are bonuses you may be able to do without.
What local reviewers are saying
Monthly dues are cheap and easily worth the price.
I like that it's not overly crowded and that you don't have to wait for machines.
The facility has plenty of equipment and is the CLEANEST!! gym I have ever been in.
Get started with Riviera Fitness Center here.
---
Best CrossFit gym in Birmingham: CrossFit Mudtown
What makes it cool?
When CrossFit's the name of your game in Alabama, you need to hit up CrossFit Mudtown.
There are two ways to get started.
First, you can sign up for one-on-one sessions with an experienced coach where you focus on whatever your goals may be, from losing weight to being able to lift more.
Second, you could utilize five one-on-one sessions where you learn the standard movements of a CrossFit regimen.
From there, you're encouraged to join the many group classes offered here.
New students are always welcome!
What local reviewers are saying
I just moved to Birmingham for school and could not have asked for a more welcoming community.
I love that they individually scale for athletes based on where they are in their training and where they need help with each movement to improve.
The gym is decked out in new Rogue equipment.
Get started with CrossFit Mudtown here.
---
Best boxing gym in Birmingham: Battle Republic
What makes it cool?
If you have the heart of a champion, you need to head over to Battle Republic for a killer boxing workout.
You can choose between either 30-minute or 45-minute routines.
Every class offers a combination of floor work and working the bag, so you really feel like a boxer by the end of it.
Through a state-of-the-art regimen, you'll learn six vital punches that will help you once you enter the ring.
Combined with bodyweight and kettlebell exercises, you get a full HIIT workout that improves your agility and strength in no time.
What local reviewers are saying
Battle Republic definitely has a high-energy vibe, but feels welcoming to beginners
When the class was over, I received an email with my heart rate information.
Even though all the staff is shredded with muscle, they are so nice, and I did not feel intimidated.
Get started with Battle Republic here.
---
Best pilates studio in Birmingham: Club Pilates
What makes it cool?
Club Pilates is a boutique studio that offers all kinds of classes regardless of experience level.
It's also open to all age levels because you're never too young or old to start pilates. 
There are different levels to start, and you can build a foundation with Level 1.
Three other levels are found above that, ending with Level 2.5, which is only open to those who have demonstrated a mastery of the art form.
Club Pilates lets you take an introductory class at no cost, so you get started on the right foot.
What local reviewers are saying
Everything from the location, the caring staff to the equipment… it's all awesome!
All the instructors are well trained and will take the time to show you each move and the correct form to ensure you don't get injured.
The classes are small (max 12 people/class) and the instructors are very good about remembering what each individual needs.
Get started with Club Pilates here.
---
Best yoga studio in Birmingham: Kiva Hot Yoga
What makes it cool?
Kiva Hot Yoga is located just outside of Birmingham, but it's worth the drive when you want therapeutic sessions designed to help you unwind.
This studio's been around since 2010 and offers an array of classes. It also has an app that makes it easier than ever to schedule what time to go in.
As the name suggests, many of the yoga classes featured here are hot.
This makes the classes a lot more challenging than you might be anticipating. Get ready to sweat!
What local reviewers are saying
I've done hot yoga for about 7-8 years in different cities, been to lots of different studios, and this little gem in Birmingham AL is the absolute best!
The heat is the best in town- fresh air constantly circulates in the room and you never feel suffocated.
It's always very clean and never smells, despite lots of sweaty people coming in and out, lol.
Get started with Kiva Hot Yoga here.
---
Best infra-red gym in Birmingham: Hotworx
What makes it cool?
If you really want to feel the heat, then you need to head over to Hotworx.
It's like working inside of a small sauna where the temperature's always between 116 and 125 degrees Fahrenheit.
In addition to hot yoga and pilates, there's a number of other classes.
You can cycle and row, just make sure you're in good enough health to withstand the heat.
Hotworx is gradually becoming more popular.
Several locations can be found around the country, but you can get in on the action now if you live in Birmingham.
What local reviewers are saying
I leave a class feeling so refreshed and I sleep like a baby at night thanks to HotWorx.
Its a convenient and refreshing place for a high intensity work out near the UAB medical center.
With a limit of 3 people per room, If you're an introvert or have social anxiety, this is the place for you!
Get started with Hotworx here.
---
Best strength training gym in Birmingham: Wheelhouse Academy
What makes it cool?
Your journey at Wheelhouse Academy begins with a consultation.
You'll go over what you hope to achieve through lifting, and from there, you have your first official training session.
A trainer will recommend the best exercises and program for what you want to achieve.
They'll make sure you know precisely what you need to do and how often.
For your second workout, you'll know exactly where to go and how to get started.
In case you have your own gear at home, online classes are also available.
You don't even have to go anywhere with experienced instructors at the ready with video cameras for you to follow along with.
What local reviewers are saying
Not only do you get top equipment and instruction, the community is one of the best I have ever been associated with.
They really focus on a family atmosphere and are so welcoming.
The workouts push me past limits I've created myself and the coaches are always there to provide coaching, encouragement, and a few laughs in between.
Get started with Wheelhouse Academy here.
---
Best spin studio in Birmingham: Ignite Cycle
What makes it cool?
Ignite Cycle makes it fun to exercise.
Music and choreography are common components of every spin class, so the time just flies by.
On top of that, every Sunday offers a soulful class at 2:00 p.m.
Uplifting Christian music plays, and you can be confident there will be clean lyrics all the way through — if the standard pop and hip-hop fare isn't up your alley.
You pay a set amount each month, and that determines how many rides you can partake in.
There's even a level that provides you with unlimited rides, so you can go every single day if you so desire.
What local reviewers are saying
It is very high tech with lights that coordinate with the dance moves and movements!
Sami and Tabby are amazing instructors! They have challenging yet fun choreography and encourage me to give it my all.
I consider the whole crew family, and they treat me the as such.
Get started with Ignite Cycle here.
---
Wrapping Up
Birmingham has it all.
No matter what strikes your fancy, there's something here to help you become your best physical self. Birmingham has access to every type of gym imaginable.
Not sure where to start? Most of the studios and gyms above offer free or discounted introductory classes, so why not try them all?
Once you decide where you want to specialize (yoga, strength, etc.), you can sign up for a contract to get a better long-term deal.
What did I miss? Where's your favorite place to workout in Birmingham, AL?
And before you go, check out the:
Hope this helped!