Albuquerque!
It's more than just the place affiliated with Breaking Bad. It's a place that over half a million people call home. 
They go to work, raise families, and naturally, work out at their local gyms.
Albuquerque more than has its fair share of gyms to choose from. And why not? Going to the gym is a good way to get out of that New Mexico heat and enjoy a different kind of sweat.
Let's take a look at the best gyms in Albuquerque, NM.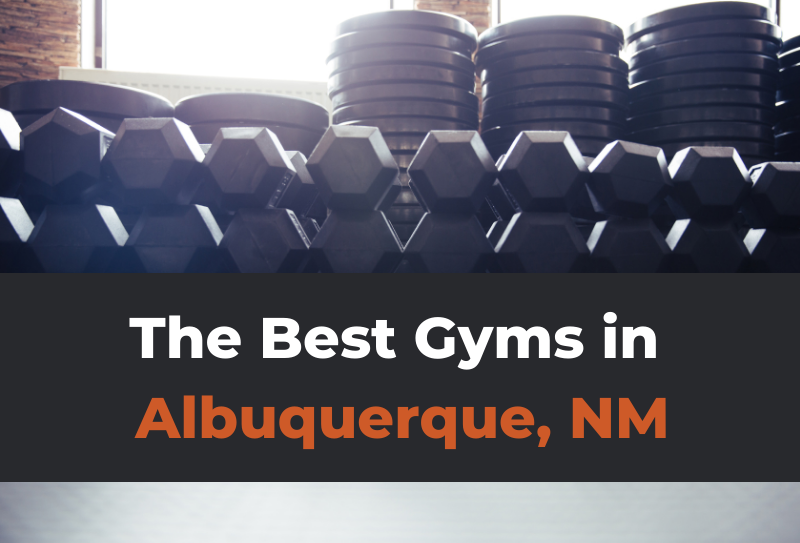 9 of the best gyms in Albuquerque are:
Best 24/7 gym: The Open Gym
Best budget gym: Planet Fitness
Best CrossFit gym: Zephyr Fitness
Best boxing gym: Sanchez Brothers Boxing Gym
Best rock climbing gym: Stone Age Climbing Gym
Best yoga studio: Bhava Yoga Studio
Best powerlifting gym: Iron Soul Gym
Best gym for women: Mindful Movement and Wellness
Best spin studio: CycleBar
Let's dive in and take a closer look at each of these Albuquerque, NM gyms — including what they have to offer and why locals love them so much.
---
Best 24/7 gym in Albuquerque: The Open Gym
What makes it cool?
The Open Gym stands by its name.
It's open 24 hours out of the day, so no matter what your work schedule is like, you can find the time to work up a sweat. 
It's a locally-owned establishment that has an array of state-of-the-art workout equipment and classes.
The best part is that the classes are all free with your membership, so you don't have to worry about out-of-pocket costs.
Monthly fees start at $34.99, so it's definitely a mid-tier place most people can benefit from.
On top of all of this, you get access to free towels and free fitness programs to help take your health journey to the next level. 
(Check out more 24 hour gyms you can find anywhere.)
What local reviewers are saying
Prices seem pretty reasonable, even discounts for government employees.
Very clean! Small but just right. Very friendly staff and trainers.
I've been a member at the open gym for 2 years and love this place. All of the staff are amazing and willing to help.
Get started with The Open Gym here.
---
Best budget gym in Albuquerque: Planet Fitness
What makes it cool?
Planet Fitness locations are found all over the country.
Yes, there's even one in Albuquerque, NM.
It's also open 24/7, but the main draw to this chain is the prices.
You can get started for as low as $9.99/month. There's a Black Card membership where you get access to tanning beds and HydroMassage chairs, but then you're paying $19.99/month. 
The equipment's not the best in the world, and it's not the best place to lift weights. But you'll find plenty of cardio and basic resistance machines.
One of the most appealing qualities of Planet Fitness is that there's a "No Commitment" contract.
If it's not a good fit for you, you can cancel at any time. 
What local reviewers are saying
A few really big guys show up to use the weights. Unlike other gyms, they don't grunt and growl and show off.
This one still has plenty of equipment and I come in the early afternoon so it isn't busy.
Have been attending this location for years and have loved the services, equipment and general facility
Get started with Planet Fitness here.
---
Best CrossFit gym in Albuquerque: Zephyr Fitness
What makes it cool?
Zephyr Fitness is a gym that's been around since 2013 that specializes in CrossFit classes.
The workouts combine elements of:
high-intensity cardio
weightlifting
and gymnastics
to give every muscle in your body a killer workout.
Of course, if you want a break from CrossFit, there are other options, as well.
Specialty courses rotate monthly to give you obstacle course training, StrongMan workouts, and more.
To make sure you feel at home, Zephyr Fitness allows you to take your first class free.
They consider your current fitness level so that you'll enter a class suitable for where you are in your fitness journey. 
What local reviewers are saying
I love the programming, it's always different and has aspects of both weightlifting and cardio. The classes are smaller which I like.
This gym is a very good place to go, I felt welcome & it is also in a convenient location especially from where I'm staying at a hotel.
Coaches are friendly, attentive, knowledgeable from lifting to nutrition to goal setting.
Get started with Zephyr Fitness here.
---
Best boxing gym in Albuquerque: Sanchez Brothers Boxing Gym
What makes it cool?
Anyone looking to learn the art of boxing in Albuquerque needs to head over to Sanchez Brothers Boxing Gym.
It's the city's premier boxing gym, and people of all experience levels are welcome.
The equipment is top-notch, but you just have to look at the champions who have come out of this establishment to see the quality.
Professional boxers Jason and Jose Luis Sanchez trained here.
(Check out the results you can get from boxing and kickboxing workouts.)
What local reviewers are saying
Real champions have come out of here, and people know that.
Love this gym and the people there are very nice and supportive
They give you a free 2 day [trial] and you lose so much [weight] in one week
Get started with Sanchez Brothers Boxing Gym here.
---
Best rock climbing gym in Albuquerque: Stone Age Climbing Gym
What makes it cool?
There's a ton of fun to be had climbing up a daunting wall.
You can sometimes find climbing walls at regular gyms, or you could just head over to Stone Age Climbing Gym in Albuquerque where walls are the name of the game. 
There are plenty of climbing classes to choose from. But if you need a break from that, Stone Age also offers yoga and other fitness classes.
There are even youth programs, including high school nights and camps.
You can even book it for your youngster's birthday party and watch as the kids climb on everything in sight. 
What local reviewers are saying
This gym is state of the art. Giant walls with an aggressive overhang for lead climbing up to 5.14a in difficulty.
Great place for beginners and people of all skill levels.
There are lots of walls to climb on auto belay, which means you don't need a partner and you can just clip yourself onto the rope and go.
Get started with Stone Age Climbing Gym here.
---
Best yoga studio in Albuquerque: Bhava Yoga Studio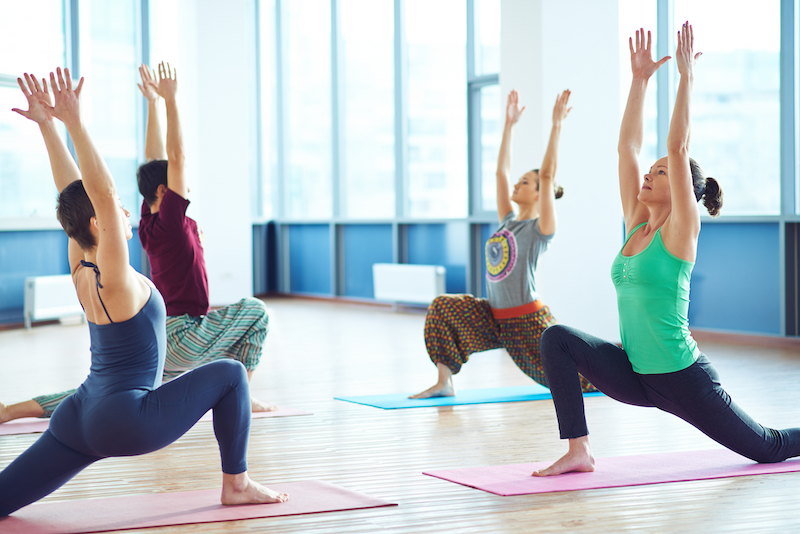 What makes it cool?
When you want to get zen, you don't want your thoughts to compete with the sounds of others lifting weights and grunting.
You deserve a place where you can find your center, and that's Bhava. 
This studio offers various classes, so people of all skill levels can find something that works for them.
From cleansing your soul to relieving tension in your shoulders, yoga has proven beneficial for people from all walks of life. 
The studio has mats and blocks already, so you don't even have to bring anything. 
(Check out why taking yoga at the studio is usually better than gym yoga classes.)
What local reviewers are saying
Personal instruction is given when appropriate, and students are encouraged to work within their limits, or push themselves to new levels if they're feeling it.
You can easily book a class using the MINDBODY app or just swing by and sign up.
Awesome spacious studio with great instructors!
Get started with Bhava Yoga Studio here.
---
Best powerlifting gym in Albuquerque: Iron Soul Gym
What makes it cool?
This is another 24/7 gym designed for those looking to pack on muscle mass at all hours of the day and night!
A standard membership costs $34.99/month, and you get access to all of the following and more.
6 power cages
4 Olympic platforms
Tires
Kegs
Strongman Yokes
Leg press and leg curl machines
You can't find this kind of specialty equipment just anywhere. So if you're looking to get crazy strong, Iron Soul is your best bet in the Albuquerque area.
With coaching and personalized training available, you'll get started on the right path even if you're just getting started.
What local reviewers are saying
Staff is very friendly and welcoming. Gym is clean and not packed to the rafters.
They have plenty of deadlifting platforms, squat racks, benches, bumper plates for olympic lifts, and a ton more.
Only USPA certified gym in Albuquerque. Several state and world record lifters here. No reason to go anywhere else if you want to lift heavy.
Get started with Iron Soul Gym here.
---
Best gym for women in Albuquerque: Mindful Movement and Wellness
What makes it cool?
Mindful Movement and Wellness in Albuquerque is all about women's empowerment.
It's peaceful and quiet so that you can focus on your own well-being. No need to worry about creepy or leering men here.
Various classes are offered no matter what your interests are from kickboxing to boot camp.
There are even kid-friendly classes in case you want your children to come along. 
What local reviewers are saying
The instructors are understanding, supportive, and motivating.
This is one of a kind gym in Albuquerque
Owner is super amazing and wonderful
Get started with Mindful Movement and Wellness here.
---
Best spin studio in Albuquerque: CycleBar
What makes it cool?
CycleBar is everything you need when you want to go for an intense bike ride in a cool indoor setting.
Your first ride is always free, and you'll probably be hooked quickly after you experience the energetic atmosphere and amazing workout.
From there, you just pay for how many classes you want to take per month.
Classes run for 45 minutes, and there are a number of first-class instructors to ensure you get the most out of every minute of being here.
What local reviewers are saying
The front desk staff and Cyclestars make such a welcoming community, so I bring friends whenever I can.
My instructor greeted everyone at the door after class and really made you feel welcome!!
You really get your money's worth.
Get started with CycleBar here.
---
Wrapping Up
There's no shortage of places to work out in Albuquerque, NM.
Whether you're into yoga, rock climbing, or just need a cheap place to use a treadmill, everything you need can be found within a pretty small radius.
What did I miss? Where are your favorite places to exercise in Albuquerque, NM?
You can also check out what other cities are offering:
Hope this helped!