Athens!
The one I'm talking about has a lot fewer Greeks and a lot more barbecue.
The home of both the University of Georgia and R.E.M., there's so much to see and do around this beautiful city.
But when you need to lay off the ribs for a minute and focus on your health, there are plenty of gyms for that, too.
Get ready, because we're diving deep into the 9 best gyms in Athens, Georgia.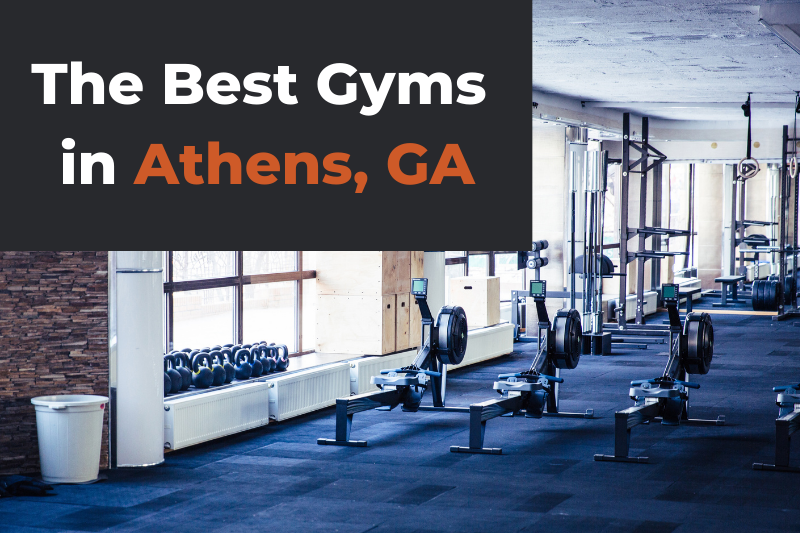 The best gyms in Athens are:
Best unique gym: Strength & Strike Fitness
Best budget gym: Crunch Fitness
Best CrossFit gym: CrossFit Liberate
Best boxing gym: Keppner Boxing
Best rock climbing gym: Active Climbing
Best yoga studio: Bikram Yoga Athens
Best powerlifting gym: The Beast Sports Center
Best pole studio: Fit Candy Studio
Best spin studio: Dynamic Cycle Studio
Let's dive in and take a closer look at each of these Athens, GA fitness clubs including what they have to offer and why locals love them so much.
---
Best unique gym in Athens: Strength & Strike Fitness
What makes it cool?
When it comes to figuring out what you can do at Strength & Strike Fitness in Athens, it's all there in the name.
Choose from Strength classes where you build muscle or Strike classes where you increase endurance through brutal kickboxing workouts. You can even do both simultaneously.
And of course, there are "Just Stretch" classes. Here, you practice yoga to cool down after an intense workout.
Your first class is free, so give it a shot if you're still on the fence
What local reviewers are saying
It was so much fun! I love the variation of movements.
They always make the workouts fun, with great music and lots of variety in the workout routines.
The energy and pace is motivating and the trainers are so professional.
Get started with Strength & Strike Fitness here.
---
Best budget gym in Athens: Crunch Fitness
What makes it cool?
Crunch Fitness is a national chain, which tend to be more affordable than local clubs.
Most people can expect to spend between $10 and $20 per month to join up at Crunch.
Don't let the low entry fee fool you, there's plenty of great equipment and amenities at Crunch. You'll get an excellent workout here if you want the freedom to do your own thing.
Crunch also offers an array of awesome group fitness classes. Don't expect the classes to be quite as specialized as what you'll get at Strength & Strike Fitness.
However, when you just want a solid, clean place to exercise, Crunch does the trick.
It also doesn't hurt that Crunch is open 24 hours a day.
What local reviewers are saying
The staff is friendly and helpful. The gym is clean and well-maintained.
I also love that they have tanning room and a hydro massage which feels amazing after a long workout.
If you're in to fitness classes, there's something for everyone, and room to try new things.
Get started with Crunch Fitness here.
---
Best CrossFit gym in Athens: CrossFit Liberate
What makes it cool?
CrossFit Liberate gives you ample room to exercise in its 6,500 square foot facility.
When you first sign up, you receive a complimentary one-on-one whether you're new to CrossFit or an experienced athlete.
One-hour classes give you access to a range of workouts (typical CrossFit includes weightlifting, plyometrics, gymnastics, and more), and there's more to do than just CrossFit if you feel like being adventurous.
Yoga and aerobics are also on the table.
Of course, there's an open gym if you just want to workout by yourself.
A personal trainer is always on the floor, so if you need advice or want to set up regular sessions, feel free to speak to one.
What local reviewers are saying
CFL has a welcoming environment with people from all ages and walks of life.
The structure, capabilities, and knowledge base present here is second to none.
The entire leadership team (Jack, Jan, Gillen, Nat) are super professional and very helpful in helping you get started.
Get started with CrossFit Liberate here.
---
Best boxing gym in Athens: Keppner Boxing
What makes it cool?
Anyone interested in learning the sport and technique of boxing should head over to Keppner.
Many of the people who sign up for classes have never boxed before, but this place is super beginner-friendly, so you'll get the hang of it quickly.
The staff here make members feel right at home. That involves focusing on movement and technique so everyone can get up to speed fast and leave the gym with real, tangible skills.
A membership provides you with unlimited access to all of the classes, which also includes Boot Camp and Corebox, so you can get into incredible shape while sharpening your skills.
What local reviewers are saying
My son attends Keppner boxing and he's learned so much since starting.
Every class is a great workout (I did contact, fitbox, simply strength, and boot camp).
The coaches encourage you and push you, but they aren't aggressive and don't make you feel bad if you can't do every workout perfectly
Get started with Keppner Boxing here.
---
Best rock climbing gym in Athens: Active Climbing
What makes it cool?
Rock climbing is a ton of fun, not to mention a tremendous workout, and you can do it right in Athens with Active Climbing.
You can purchase either a day pass or sign up for a membership.
As a member, you can take advantage of unlimited climbing. It's a major perk if you regularly climb every weekend, and there are different membership levels.
For instance, you can sign up the entire family so that you always have a fun activity to perform.
It's an exhilarating exercise if you don't feel confident enough in your skills to tackle Mount Yonah!
If you've never tried a rock climbing gym, get ready for your forearms to ache like never before.
What local reviewers are saying
Friendly helpful staff, clean safe environment, and fair pricing
My daughter (10), begs to go every weekend.
Don't let the exterior of this plain-looking brick building deceive you: it's the home of a bright, colorful, and well-run climbing gym!
Get started with Active Climbing here.
---
Best yoga studio in Athens: Bikram Yoga Athens
What makes it cool?
When you're looking for a hot yoga workout to push every muscle in your body, you need to head to Bikram.
Each 90-minute class consists of 26 exercises and 2 breathing sessions, all led by world-class yoga instructors.
You'll do all of this in an incredibly hot room, sweating out all of your stress and bad vibes.
Hot Bikram yoga is incredibly hard work, but by the end of a session, you'll feel rejuvenated and ready to take on whatever else the day has in store for you.
What local reviewers are saying
He used constant reminders throughout the whole class so that you wouldn't forget to target all of your muscles.
The instructor knew the names of everyone in the class and made an attempt to give personal attention to everyone.
The deeper benefits became apparent after my 41st or 42nd consecutive day.
Get started with Bikram Yoga Athens here.
---
Best powerlifting gym in Athens: The Beast Sports Center
What makes it cool?
You can squat and bench at almost any gym — though some gyms are better for weightlifting than others.
But if you're ready to get serious, you might need to graduate to a powerlifting gym.
If lifting heavy weights is your thing, you'll want to check out the amazing, 24/7 The Beast Sports Center.
The equipment here is unrivaled for powerlifting and bodybuilding. You can work out on your own or with a personal trainer to get those gains.
You can even sign up for group classes led by serious veteran lifters and even a few currently-competitive pros.
What local reviewers are saying
A friendly and professional staff, definitely aa+
Take your shirt off, holler, grunt, be pissy. It's the best!
Lots of old school equipment, dumbbells to 150lbs.
Get started with The Beast Sports Center here.
---
Best pole studio in Athens: Fit Candy Studio
What makes it cool?
Pole dancing is a lot more than just a sexy skills. It's also an absolutely incredible (and fun!) workout.
If that sounds like a good time, check out Fit Candy Studio in Athens.
While you'll learn how to work a pole, that's not the only thing that'll get you on your feet.,
Other classes at Fit Candy include:
Boot camp
Chickboxing
Zumba
This studio offers a relaxing and encouraging female-friendly atmosphere, so you always feel your best.
What local reviewers are saying
The pole dance, abs, and boot camp classes are fantastic.
The sisterhood here is unmatched. The owner is super talented and the staff super friendly
This place caters to all women (age, weight, physical activity prior doesn't matter).
Get started with Fit Candy Studio here.
---
Best spin studio in Athens: Dynamic Cycle Studio
What makes it cool?
Spin or cycling classes may seem intimidating, but they're easy once join up at Dynamic Cycle Studio.
Talented instructors lead classes to help you burn fat, develop insane conditioning, and meet a ton of new friendly faces.
The classes are only half of it.
This studio makes a great effort at getting people involved and talking to one another. You'll see all kinds of events on the calendar from Taco Tuesday to a Glow Night.
You can even receive CPR certification here!
But if you're just down for the workouts, that's cool, too. You'll get amazing spin class results in just a few short weeks here.
What local reviewers are saying
The facility is brand new and very clean, with new Schwinn bikes made for either spin shoes or sneakers.
The instructor had awesome energy (Pamela I believe), a great playlist, and the class was difficult in a good way!
They are a small locally owned business. GO SUPPORT THEM!
Get started with Dynamic Cycle Studio here.
---
Wrapping Up
Athens may not be the biggest city around, but it packs a punch when it comes to its local fitness studios.
Whatever your workout style, there's bound to be something in Athens that strikes your fancy.
Of course, Athens is a college town, so if you want even more options, you should check out my guide for the best gyms for college students.
You'll work up a sweat without breaking the bank!
What did I miss? What's your favorite place to work out in Athens, GA?
(You can also check out the best gyms in Albuquerque, Charlotte, Cambridge, or Arlington.)
Hope this helped!