Who said exercise couldn't be fun?
Since 1998, the dance-themed aerobic exercise style Zumba has helped students lose weight and get fit all over the world.
If you have trouble sticking with a traditional fitness program, Zumba offers a great alternative that's a blast and easy to stick to.
But does Zumba actually work? What results can you get from one month or 30 days of Zumba classes?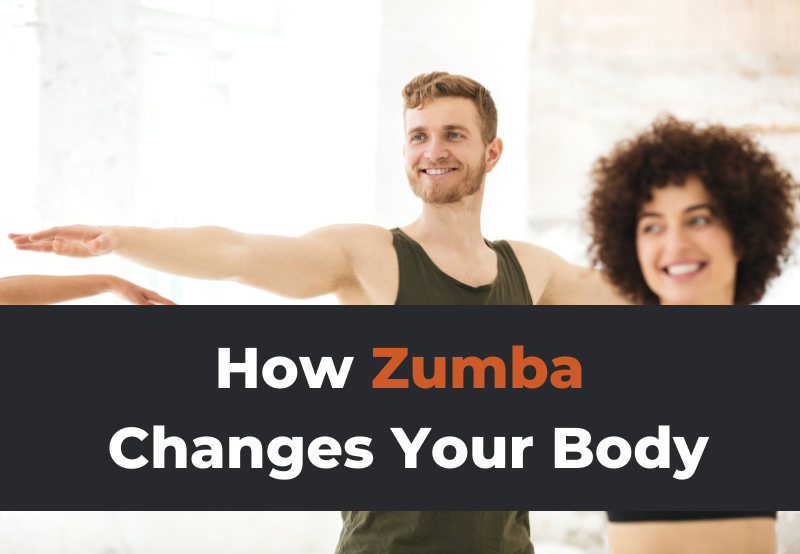 In one month or about 30 days of Zumba classes, you can expect to lose weight (anywhere from 2-8 pounds with proper diet), rapidly improve your cardio conditioning, and even improve your functional strength.
However, if muscle mass is your goal, Zumba won't be the best choice.
Let's take a look at more Zumba results you can expect, with the help of some Zumba instructors and personal trainers.
---
Weight Loss
Founder Alberto "Beto" Perez first developed Zumba as an aerobics class, helping students lose weight and feel better about themselves.
By taking inspiration from Latin dance classes, Alberto developed a routine that burned mass amounts of calories. 
As the fitness style continues to grow, different class variations focus more on specific fitness goals such as muscle gain and weight loss.
From Zumba HIIT to Zumba strength training, you can find a class style that best fits your fitness goals. 
Instead of the traditional exercise like running on a treadmill or using a stationary bike, Zumba classes have a dance party atmosphere.
One of the hardest parts of weight loss is staying consistent, and with these classes being fun, you'll be a lot more likely to keep showing up.
However, don't get the impression that Zumba classes will be a walk in the park.
When discussing the weight loss benefits of Zumba, instructor Andreina Febres said:
"You could burn almost ten calories per minute… Zumba invites you to move and enjoy the music. As you follow the steps and have fun, you're burning calories and fat."
Like all aerobic exercises, the workouts can be intense and leave you exhausted after the class, putting you well on your way to your weight loss goals.
The results are documented in studies, with a 2012 study noting that participants burned an average of 369 calories in a 40-minute class.
This amount of calories is ideal, as Febres also mentioned: 
"The American Council on Exercise recommends that individuals burn 300 calories per workout to promote weight loss and maintain a healthy body weight."
While Zumba will burn lots of calories, it is also vital you focus on your diet. If you want to lose weight consistently, your body will need to be in a calorie deficit.
In most cases, it's considered safe and achievable to lose 1-2lbs per week following a fitness routine and a proper diet.
If you find yourself gaining weight or staying the same, this is a sign you need to adjust your diet plan.
You can also adjust the frequency of your Zumba classes each week to burn more calories.
---
Conditioning and Endurance
No matter your fitness level, you can always find a way to get a great workout at a Zumba class.
The music is upbeat, and you'll be dancing along with your instructor at a relatively fast pace during the class — you might not even notice you're getting an insane workout!
Dancing is an excellent way to improve your blood circulation and strengthen your heart muscles quickly.
According to personal trainer Hannah Shine, if you are looking to improve your cardiovascular health Zumba is an excellent choice because: 
"Dancing is known to help regulate your heart rate and regulate your blood flow, which correlates to better cardio."
Having a healthy heart rate and blood pressure will provide you with a long list of benefits that will protect against disease.
Regular aerobic exercise also translates into other aspects of your health. 
In a 2003 study, it was shown that regular aerobic exercise also improves muscular strength and your body's ability to utilize oxygen.
When your body more efficiently transports oxygen, you will become less tired during exercise.
Zumba is a great way to improve your cardiovascular health, but there is an essential factor, according to Febres:
"Zumba offers an efficient workout in increasing aerobic capacity, a measure of cardiovascular fitness. It's important to stick to it and keep moving your body a few times a week to get the benefits."
Sticking with the program is the most critical part of being a member of a Zumba studio.
So if you do find yourself bored or unmotivated by the workouts, you can try different kinds of Zumba to keep the party going.
---
Coordination, Agility, and Mobility
One of the main fears of Zumba beginners is that they don't have the coordination to dance or are worried about looking clumsy on the "dance floor."
Fortunately, all Zumba studios and instructors are welcoming for students of all skill levels. 
You don't need to be an experienced Latin dancer to follow along during class, and you will quickly get the hang of things.
Past the initial worries of your first classes, you will start to gain more confidence. 
As many beginners don't want to join because of their dancing skills, Febres gave a challenge to every beginner, saying: 
"Even those that believe they cannot dance would be able to move in the community. Do allow yourself at least three classes to get used to the steps."
Even if you have two left feet, you will start to notice dramatic improvements after your first month.
Zumba classes also help make you more agile and flexible with the various dance movements and unique body angles used throughout the class. 
Zumba has also gone out of its way to design fitness routines for people of all ages and fitness levels.
There will be various levels of intensity for the movements, allowing you to work within your limitations. 
However, it is also vital that you ease your body into the process.
Your body will undoubtedly be sore the first month while it gets accustomed to the workout. If you push yourself too hard early, you may set yourself back. 
---
Strength and Muscle
There is a common misconception that Zumba won't help you gain muscle or increase your strength.
However, Zumba has included workouts to help improve functional strength and build muscle.
You just have to pick the right class, one that challenges your muscles and not just your heart and lungs.
If you are interested in improving your strength and looking to build a well-rounded physique, Zumba offers the following strength training classes:
Strong by Zumba: Calisthenics-based program that incorporates various bodyweight movements to the beat of the music.
Zumba in the Circuit: A complete Zumba workout with a mix of strength training and dance movements.
Zumba Gold-Toning: Geared for beginners to fitness and an older audience looking to build a toned physique.
Zumba Sentao: Core-focused dance workout that will use a standard chair as a piece of equipment.
Zumba Toning: This is a typical Zumba workout that utilizes light weights during familiar dance movements.
With a wide range of different strength-focused options to pair with traditional Zumba classes, you can create a well-rounded routine.
Just don't expect huge biceps or rippling pecs from Zumba workouts. With the right weight loss plan and muscle-toning workouts, you can get a great lean and toned physique, but Zumba isn't the best choice for maximum muscle gain.
You can also add additional strength-training workouts outside of the studio if packing on muscle is your main goal.
---
Mood and Energy Levels
The strong community that Zumba has created is what has made it such a large international fitness brand.
Zumba classes are extremely fun, energetic, and resemble a dance party.
It is easy to meet new people during class that help you stay motivated. 
Zumba has a large social aspect that will help to improve your mood and keep you disciplined.
Additionally, aerobic activity like Zumba workouts will improve your mood with endorphins and other feel-good chemicals. 
As a Zumba instructor herself, Andreina Febres had this to say about what you can expect at a Zumba studio: 
"Zumba is a group activity that can help you feel welcomed and part of a community. When you join one of the group classes, you're part of a community that can support you in many more ways than you can imagine."
If you have had trouble staying consistent with a home workout or if you hate the gym, joining a studio like Zumba can be a great help.
You will feel a part of a community that keeps you accountable and has you looking forward to the next class. 
---
Wrapping Up
Zumba is a unique fitness style that has incorporated Latin dance influences with group aerobic fitness classes.
If you want to improve your cardiovascular health, lose weight, and be a part of a positive community—Zumba is an excellent choice. 
While you may be concerned about your lack of dance skills, Zumba is truly a fitness class for everyone. If you give it your best effort, the instructors will help you pick up the steps in no time!
Just don't expect to pack on serious muscle or get a six pack from Zumba alone. For that, you might want to consider cross-training with some weightlifting or other workouts.
For more, check out:
Hope this helps!