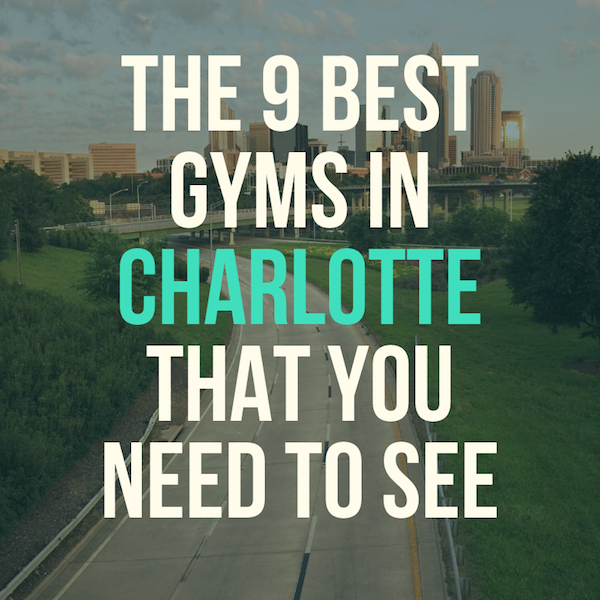 Charlotte is a massive and unique city that is overflowing with culture and cuisine as well as history and charm.
The sprawling city also contains unbeatable adventure opportunities. Freedom Park boasts 98 acres of outdoor family fun and The National Whitewater Center allows visitors to sample rafting through rapids, ziplining, and more.
If you plan on keeping up with everything this city has to offer, then you need to get in shape!
Here are some of the gyms in Charlotte, North Carolina that you can check out.
Best unique gym: Air Aerial Fitness
Best budget gym: Fitness Connection
Best CrossFit gym: Ultimate CrossFit
Best boxing gym: Dyme Boxing
Best high-end gym: Lifetime Athletic
Best yoga studio: Yoga For Life
Best powerlifting gym: Fitness Factory
Best gym for women: True 180
Best spin studio: Ride or Die
I've done the leg work for you and scoped out what other Charlotte residents deem to be the best of the best for all types of fitness in the area.
Use these recommendations to explore what's out there and then find a place that makes you feel healthy and happy!
(And just FYI, this is all part of my Best Gyms in America series. Check it out!)
---
Best Unique Gym and Fitness Classes in Charlotte: Air Aerial Fitness

Where is it?
Over on Governor Morrison St.
What makes it unique?
This isn't your grandma's exercise class! Air Aerial Fitness uses aerial hammocks to help you tone up and build muscle.
It's like circus yoga! Not really, but there are some adventures for everyone to be found here.
The classes run in a series that lead you from foundational skills all the way through true aerial fitness.
They use a blend of high-intensity interval training, pilates, yoga, and ballet to aid you in your quest for a toned and conditioned physique.
They promise to get you in shape in record-breaking time with highly trained teachers.
You'll be using a hammock, weights, and your own magnificent power to elevate your experience and your level of physical fitness.
They recommend form-fitting clothes so that you can twist and turn without the fabric getting in the way. Overall, it appears to be both a challenging and exciting way to get the body you have always wanted.
What local reviewers are saying:
Here are a couple of quotes from real people who have tried the workouts:
Whoa, what a workout! For someone who doesn't exactly have the best balance or core strength, Air Charlotte kicked my butt…and arms…and legs.
It works every muscle and incorporates a ton of different exercise styles!
How much does it cost to join?
$160 month for unlimited classes (or class packages are sold), and they've also got a New Client Special which is 1 month of unlimited classes for $99
---
Best Budget Gym in Charlotte: Fitness Connection
Where is it?
There are 2 locations, one in Southpark and another in Uptown.
What makes it a great value?
This is an all-around clean and accommodating gym.
They offer a wide variety of classes from Zumba to spin and have a women's area with a FitFlix theatre.
This place has group and individual training, a kid's club, and even a sauna.
If you are looking for a place where you can get it all without spending all of your money, Fitness Connection is the place to go!
The price is more than fair and the facilities and staff exceed what you would expect for the small price tag.
What local reviewers are saying:
Here are a couple of quotes from real members:
If you're looking for fancy toys and to be seen, this isn't the place for you.
If you want to get in and out for a workout close to home or the office for an affordable monthly rate, head here.
There's a ton of space, all kinds of people, all ages, ethnicities, and body types, which I think is awesome.
How much does it cost to join?
$22/month with a $29 enrollment fee.
There is a yearly membership fee, but according to the website, it appears to be around $50.
Can't beat that price!
---
Best CrossFit Gym in Charlotte: Ultimate CrossFit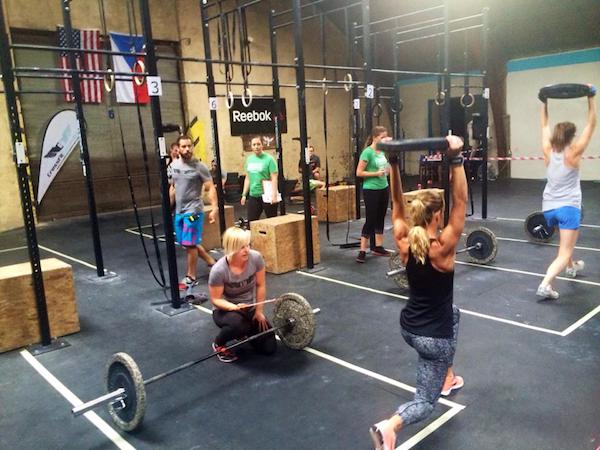 Where is it?
Head on over to Rampart St.
What makes it great?
CrossFit gyms seem to fit a certain stereotype. Ultimate Crossfit breaks out of the mold, just like the painting of the Kool-Aid man breaking through the wall in their gym!
Ultimate CrossFit provides CrossFit, conditioning, personal training, and an open gym.
They offer morning, day, or evening classes to make it convenient for everyone to come in and get the complete workout they need.
Their almost 8,000 square foot facility offers you endless opportunities and ways that you can build your body without getting stuck in a rut like a traditional gym.
Lastly, how can I not mention that they refer to their equipment as "toys" on their website? We all want to play a little when we are working that hard!
The folks over at Ultimate CrossFit take their training seriously but work hard to make sure that you enjoy your workout.
(Read: What's the difference between Crossfit and Orangetheory?)
What local reviewers are saying:
A few quotes to give you the basic flavor:
The trainers are knowledgeable, and take the time to actually coach you and get you comfortable with the movements. It's a super friendly and welcoming group of people.
The best part of coming here is that you feel like you're coming to hang out (and suffer haha) with your friends.
The workouts are HARD and will push you, but can be scaled for any level.
How much does it cost to join?
$165/month for unlimited classes
Newbies need to take an additional foundations class to learn the safe and proper way to do the movements and use the equipment.
Personal training is also available.
---
Best MMA/Boxing Gym in Charlotte: Dyme Boxing
Where is it?
4560 Old Pineville Road
What makes it cool?
Want to feel fit and strong?
This amazing facility focuses on both boxing and fitness.
They offer a wide range of boxing classes as well as fitness interval training.
They even have classes for youth who are interested in becoming the "rocky" of their generation!
Wait until you hear this! If you have been building your boxing brand for a long time as a pro, Dyme also offers opportunities for photography and video services.
From beginner to heavy hitter, athlete to office warrior, Dyme Boxing has everything you need to stay fit and have fun!
What local reviewers are saying:
A few quotes from real boxing students in Charlotte:
Whether you are coming to fight or just get in or stay in shape, this is the spot.
Best workout in Charlotte. There is something for everyone here, kids and adults alike.
How much does it cost to join?
Rates vary depending on whether you want to pay for a single class ($32), session packs, or unlimited ($135/mo).
Discounts are available for youth, teachers, EMS/emergency responders, active military and even corporate groups.
---
Best High-End Gym in Charlotte: Life Time Athletic
Where is it?
Over on Golf Links Dr.
What makes it swanky?
This place is more than a gym! When you visit their website you will wonder why you are still sitting on your sofa reading this instead of heading over there.
This is a family athletic club that has almost everything you could ask for.
There is a sprawling pool, outdoor fitness classes, family events, a spa, and a cafe.
They have open gym, spin studio, basketball and tennis courts.
Available services also include nutrition and personal training.
Lifetime Athletic looks magazine ready and fun for the whole family!
What local reviewers are saying:
Hear it straight from real Charlotte residents:
Beautiful facility, amazing selection of classes, and as much tennis as you can wish for.
The children's area is unheard of, the offerings are endless, and the outdoor pool,slide, and Vegas style cabanas are EVERYTHING!
How much does it cost to join?
Exact pricing isn't advertised clearly and depends heavily on which additional services and amenities you add on to your membership.
Head on over to the website and chat with a membership specialist to get the best deal, however, at most Life Time Fitness locations you can expect to pay around $69 per month at the bare minimum.
---
Best Yoga Studio in Charlotte: Yoga for Life
Where is it?
1410 W. Morehead St. Suite 200
What makes it the best?
The B.O.B. award (Best of the Best) they won speaks for itself! They cannot wait to say Namaste to you.
This amazing studio really caters to everyone who needs a bit of peace and strength in their lives. They offer:
yoga for cancer
prenatal yoga
meditation classes and workshops
kundalini/flow/strength/yin/and more
Yoga for Life wants to use their team of experts to help you achieve strength in your mind, body, and spirit.
(Read: What's the difference between yoga and Tai Chi?)
What local reviewers are saying:
Hear it from the locals:
This studio offers many types or styles of yoga for beginners to advanced yogis.
It is a place you come to breathe (literally and figuratively) and stretch and there isn't just focus on the body.
Great studio and plenty of free parking!
How much does it cost to join?
$20 to drop in on a class or you can get class packages starting at $80/5classes.
You can also go unlimited for $159/month.
---
Best Powerlifting or Bodybuilding Gym in Charlotte: Fitness Factory
Where is it?
2226 N. Davidson St.
What makes it tops on the list?
This place is for those who want to have the best facility, the widest variety of equipment, and the motivational people you need to help you achieve your goals.
Fitness Factory checks all of the boxes you look for when searching for powerlifting nirvana.
Free weights and Olympic powerlifting platforms? Check!
Lower body and stretch equipment? Check!
Heavy and speed bags? Cardio equipment? Check and Check!
Open gym equipment, professional trainers, and nutritional supplements? Check!
Fitness Factory is the best place in Charlotte to help you get the results you are looking for.
What local reviewers are saying:
You aren't going to find fancy and cute, you are going to find equipment that is going to make you the best version of yourself!
If you are looking to get strong, big or in shape this is the place to go.
How much does it cost to join?
Standard Gym Membership is $59/month and Standard and Open Gym Combo is $99/month.
---
Best Women's Gym in Charlotte: True 180
Where is it?
15235-F John J Delaney Drive
What makes it a top choice for women?
This is not your typical gym. This is a place for women who are looking to make some changes in their physical health.
True 180 focuses on nutrition and small group training.
They are welcoming of all ages and stages of fitness and want you to feel comfortable and secure so that you can meet all of your fitness goals.
True 180 wants to help busy women take control of their health without wasting their time on fad diets and gyms that cater to the masses.
So ladies, leave your lipstick at home and get ready to fall in love with yourself all over again!
What local reviewers are saying:
They tailor to suit your body and needs, yet push you at the same time.
There is no judgement – everyone is working towards a better self.
The trainers have developed a fun, personable way to reach your fitness goals.
How much does it cost to join?
You start with their 10 Day Spark Program for $99 and then rates change with membership.
---
Best Spin Studio & Spin Classes in Charlotte: Ride or Die
Where is it?
255 Clanton Rd.
What makes it so amazing?
Besides the name being awesome, Ride or Die offers some of the best Spin classes in the area.
They have integrated sound and lights to help you feel the ride in your soul and in your muscles!
They offer one on one training for newbies and evening and weekend classes.
Did I mention that you end your ride with an ice cold lavender soaked towel? Need I say more?
What local reviewers are saying:
From real members:
It's clean and new and has great equipment. The shoes are complementary and in great condition.
I'm always guaranteed a great sweat on the days I attend class
How much does it cost to join?
Your first class is free and then there are a wide variety of choices ranging from drop-in classes ($22), to class packs ($80/5 classes) and unlimited sessions ($135/month).
---
Wrapping Up
Well Charlotte, what's it going to be?
Lifting? Biking? Pilates?
Whatever you choose, I hope that I was able to lead you down the right path to reach your fitness goals in the Queen City!
Before you go, check out some other guides that might help like:
And if you're looking to go a simpler route and join a big box gym, instead, don't miss my guide full of comparisons to help you pick the perfect spot for your fitness goals.