Baltimore!
The city plays an integral role in America's history. Not only is it the largest city in Maryland, but it has a population of over 600,000. 
There's great food, plenty of places to work, and ample gyms. There's no shortage of places to get in shape. The real question comes down to which one works best for you.
Without any further ado, let's check out the best gyms in Baltimore, MD.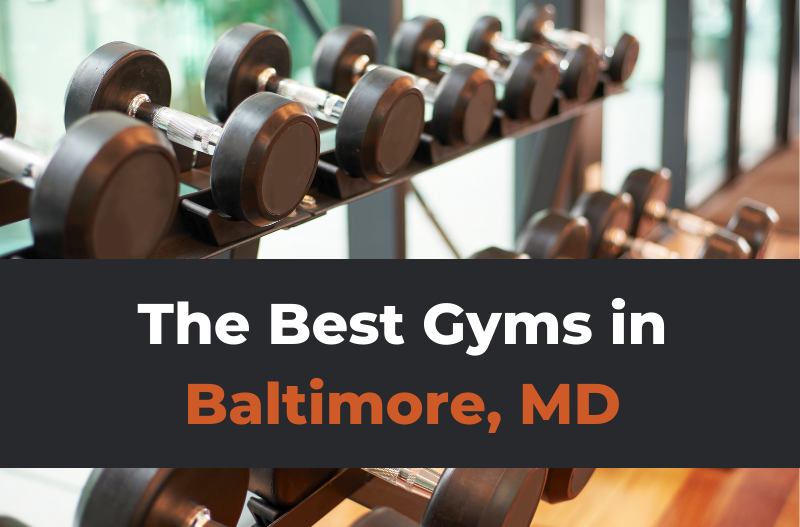 9 of the best gyms in Baltimore are:
Best 24/7 gym: City Fit
Best budget gym: Crunch Fitness
Best CrossFit gym: CrossFit Federal Hill
Best boxing gym: Baltimore Boxing & Fitness
Best rock climbing gym: Earth Treks Hampden
Best yoga studio: Yoga Tree
Best powerlifting gym: Five X3 Training: A Strength and Conditioning Gym
Best gym for women: BMore FITness
Best spin studio: REV Cycle Studio
Let's dive in and take a closer look at each of these Baltimore, MD gyms including what they have to offer and why locals love them so much
---
Best 24/7 gym in Baltimore: City Fit
What makes it cool?
Ready for a gym with a little bit of everything? Then you need City Fit.
In addition to having a wide array of equipment, this facility is open 24 hours a day. It's perfect for people with busy work schedules who may need to go during off hours.
In case you need some instruction, group classes are available. Those aren't necessarily available all hours of the day, so check out the gym's website to see when you can benefit from them.
Classes cost a little extra, but won't totally break the bank.
A Hypervolt session, which lasts 10 minutes, costs $10, but based on reviews, it's worth every penny.
(See more 24 hour gyms here.)
What local reviewers are saying
Great variety of classes with attentive trainers, don't need to feel like you're some fitness buff (or hopeful) to come as your schedule allows.
There's a huge variety of equipment, and although it's a small space, I've never felt crowded.
My favorite classes are Tabata Kettle Bell, Core and Tone, Yoga, and the small group training.
Get started with City Fit here.
---
Best budget gym: Crunch Fitness
What makes it cool?
Hundreds of Crunch Fitness gyms are located nationwide. And for good reason.
This gym has a good selection of equipment (even if it doesn't stack up to higher end gym), but you can't beat the price.
A base membership can cost you as low as $10/month. Additional perks up the ante.
Cardio, lifting, and group classes are all part of the package. Sign up for a free trial if you have any doubts.
What local reviewers are saying
Very affordable. Friendly staff. Good equipment.
It always appears clean when I'm visiting, has saunas, tanning, hydro and red light therapy.
The equipment shows very little wear and tear
Get started at Crunch Fitness here.
---
Best CrossFit gym in Baltimore: CrossFit Federal Hill
What makes it cool?
After a free class here, you may wonder why you wasted so much time not doing CrossFit!
This gym opened in 2012 and has since grown to occupy a massive, 10,000 square foot facility.
There's plenty of room to never feel overcrowded.
CrossFit classes are available daily, and of course there's always the WOD, or Workout of the Day.
This keeps you on your toes, as you never know what brutal routine you might be walking into!
What local reviewers are saying
The most courteous owners and top tier coaches.
Whatever fitness level you're into – come to this gym.
Good options to chose from for people traveling into town and would like to drop in.
Get started with CrossFit Federal Hill here.
---
Best boxing gym in Baltimore: Baltimore Boxing & Fitness
What makes it cool?
Baltimore Boxing & Fitness doesn't just focus on boxing skills and technique.
You get an incredible full-body workout no matter your age. 
Naturally, adults can step into the ring. However, there are also children's classes. Your youngsters can gain confidence while getting a fantastic workout with the aid of trained professionals.
Group classes may be good for some. But this place also offers private lessons when you want a little one-on-one.
(See what kinds of results you can get from boxing workouts here.)
What local reviewers are saying
They held me accountable for the moves they taught me, they wanted me to excel, and I was impressed on how well they all remembered each students struggle.
If you're looking for a no nonsense, gritty, blood stained floor real experience where people are serious about learning to box or getting in shape, there is no better place.
Real boxing gyms do nothing but train boxers. And Baltimore Boxing Club is the real deal.
Get started with Baltimore Boxing & Fitness here.
---
Best rock climbing gym in Baltimore: Earth Treks Hampden
What makes it cool?
Kids and adults alike will get a kick out of climbing walls located all over the 10,000 square foot facility.
You don't even need a reservation. Just show up and climb.
When you become a member, you gain access to all sorts of amazing perks.
Not only do you receive discounts on climbing classes, but you also get free yoga and fitness classes.
That's right; it's not just climbing around here, so if you need a break from dizzying heights, you have options.
What local reviewers are saying
There was a massive store & greeting area, a state-of-the-art gym & more, bouldering walls everywhere-pool tables-hangout area-dino challenge wall-and on this particular night a lot of local vendors promoting small business buys
I love the Friday night events when local vendors come out, and earth treks gives out beers after climbing.
Facilities are very clean & haven't been too busy the times I have gone.
Get started with Earth Treks Hampden here.
---
Best yoga studio in Baltimore: Yoga Tree
What makes it cool?
Beginners and experts are welcome at Yoga Tree in Baltimore, MD — one of the top studios in the area.
Classes are offered every day of the week, so you should be able to find something that works with your goals.
Every class provides something different. There's hot yoga when you want to sweat out the stress, Yin yoga for deep stretching and meditation, and even body-part specific classes like abs and core.
All of the yoga instructors are fully qualified and top notch, so you know you're receiving first-class guidance.
What local reviewers are saying
I think you would be hard-pressed to find a better membership deal cost-wise.
Another thing I love about Yoga Tree is that they offer $8 community yoga classes, which is excellent for people who either cannot afford a full membership or cannot attend enough classes to make a membership worth it.
The owners have built a community of teachers and members there that encourages participation and personal growth at all levels.
Get started with Yoga Tree here.
---
Best powerlifting gym in Baltimore: Five X3 Training: A Strength and Conditioning Gym
What makes it cool?
Five X3 prides itself in not offering anything overly fancy.
People come here to lift, and if that sounds good for you, it may be the perfect place.
There are a lot of options for your membership here. You can do group personal training, which gets you started with basic calisthenics, mobility, and some elementary weightlifting.
Or you can try group barbell classes, where you'll learn to really push around some heavy weights.
If you need more, you can sign up for individual coaching sessions, as well.
Schedule a few of these sessions, and you'll see results in no time!
What local reviewers are saying
You will see truly amazing results if you accept their coaching and follow the program.
It has redefined so much of what strength and fitness mean to me.
I've learned a lot about my body since I started training with Fivex3, which was and still is humbling for me
Get started with Five X3 Training here.
---
Best gym for women in Baltimore: BMore FITness
What makes it cool?
This one's a bit of a cheat. It's located in Catonsville, which is just outside of the main city of Baltimore.
Still, it's a manageable drive for women wanting an ideal environment to work up a sweat outside the gaze of the leering weirdos who sometimes populate big box gyms.
There's plenty of equipment if you just want to work out on your own, or you can sign up for a group class any day of the week.
Members also have access to the childcare room. That means if you can't get anyone to babysit, you can bring your tykes here.
What local reviewers are saying
The physical space is sleek and recently renovated and they offer a great variety of classes.
This gym takes it up a notch with on-site childcare and they recently brought on an expert self-defense trainer.
I have been a member for over 14 years under different names and management and have enjoyed every moment.
Get started with BMore FITness here.
---
Best spin studio in Baltimore: REV Cycle Studio
What makes it cool?
With nearly a dozen different cycling instructors, you should be able to find someone who matches your own work ethic at REV.
Classes are available every day, and you can sign up for as many as you want. You pay per class and enjoy 45 minutes of endorphin-releasing joy.
This place offers high-tech bikes that monitor your stats, so you can focus on pedaling your heart out.
Not only that, but you're also offered a cold, lightly scented towel at the end of each class to unwind.
(See the amazing results you can get from regular spin class.)
What local reviewers are saying
Rev is more than a cycling studio. It's a community; one where everyone is welcome.
The studio is always clean and it's easy to reserve your bike and class.
They offer to lend you shoes if you do not want to ride in your own.
Get started with REV Cycle Studio here.
---
Wrapping Up
So Baltimore, what do you feel like?
Charm City has something for everyone, from incredible yoga studios, to womens-only gyms, to powerlifting and rock climbing facilities.
Better yet, try them all! Most gyms will offer a free class or free one day or one week pass so you can test-drive the facilities before you sign any contracts.
But in any case, if you're a fitness junkie in Baltimore, you're in great hands!
What did I miss? What's your favorite place to exercise in Baltimore, MD?
Before you go, check out some other cities like:
Hope this helped!