When you're working hard to stick to your macros, eating out can be a real challenge.
Even if you're bulking, you will need to be on top of your game to stick to your eating plan.
Knowing which fast food restaurants to go to (and which ones to avoid) and what to choose from their menu before you turn up will make it far easier for you to find success.
In this article, we focus on the very popular Chick-Fil-A., a fast-food institution since 1946.
What are the best bulking and cutting meals at Chick-Fil-A?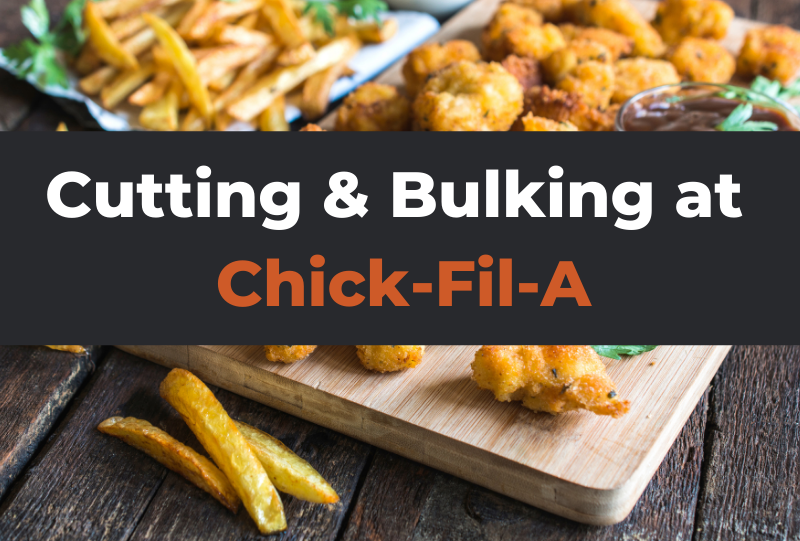 If you're eating at Chick-Fil-A on a cut, try the grilled market salad or grilled chicken cool wrap (with a few modifications). Both are great moderately low calorie choices with tons of protein. Add in a fruit cup for some extra vitamins and fiber, too!
If you're bulking at Chick-Fil-A, you have more calories to work with — try a grilled chicken sandwich and maybe some extra nuggets on the side for a delicious protein bomb.
Let's take a look at a few other bodybuilding meals at Chick-Fil-A.
---
The best cutting meal at Chick-Fil-A: Grilled Market Salad
When you're eating on a cut, or a fat loss phase, you need to be knowledgeable about every morsel that you put into your mouth.
After all, one big slip-up can nearly wreck a whole week's worth of disciplined training and dieting.
Ideally, you need to find food that is filling, tasty, moderately low calorie, low carb, high protein, and low saturated fat.
Of all the fast food restaurants out there, Chick-Fil-A is one of your best options in your quest to stick to your cutting diet.
(See more great restaurants for cutting here.)
So, even if you have to go out of your way, it pays to get yourself to your local Chick-Fil-A.
Here are the best cutting meal food options at Chick Fil A …
Fruit Cup
The Chick-Fil-A Fruit Cup is a nutrient packed powerhouse that is low in calories and sugar.
Make sure, however, that you tell them to skip the syrup, which adds too much sugar for your cutting diet.
The fruit cup is made up of red and green apples, mandarins, blueberries, and strawberries.
You get all of this for a total of 50 calories, and 0 grams of saturated fat.
Tack this on to the side of any meal for a boost of key vitamins, fiber, and other nutrients.
Grilled Market Salad
When you hit any fast food restaurant during a cutting phase, it's only natural that you zero in on the salad range.
Many of them aren't especially appetizing, but when you order the grilled market salad from Chick-Fil-A, you're in for a nutritious treat.
For a start, there's the sliced grilled chicken breast.
Then there's the Romaine lettuce, baby greens, and blueberries.
At an energy cost of just 330 calories, you get 25 grams of protein and 14 grams of fat.
The Grilled Market Salad comes with a zesty apple cider vinaigrette as standard.
That, however, will add another 230 calories.
Swap it out with a Chili Lime Vinaigrette and you'll save a massive 170 calories.
Grilled Chicken Cool Wrap
The Grilled Chicken Cool Wrap as standard is a little high in calories, so you'll have to do some swapping out on this one to get it right in your sweet spot.
Change the calorie-dense avocado lime ranch dressing for lite balsamic vinaigrette.
You should also ditch one of the two wraps that come with this item.
Eat it with a fork and a bowl, instead.
That will bring the calorie count down to 360 and cut the carb number in half, while still delivering an excellent serving of protein.
---
The best bulking meal at Chick-Fil-A: Grilled Chicken Sandwich
When you are on a bulking phase you need high calories, high protein meals that will provide your body with the energy needed to convert to muscle mass.
Of course, those calories need to be nutrient dense and high quality — or else you'll end up bulking nothing but excess body fat.
When a restaurant has the word chicken as part of its name, you've got a pretty good chance that it's going to have something on the menu that will satisfy your bulking needs.
As such, Chick-Fil-A provides you with some great options for bulking.
Here are some great options for bulking at Chick-Fil-A. Order one, several, or all four for a huge protein-packed meal!
Egg White Grill
The Chick-Fil-A egg white grill is a fantastic start to the day for anyone on a bulking diet.
It will provide you with 25 grams of muscle-building protein, along with 7 grams of fat.
Grilled Chicken Nuggets
Unlike many competitors, Chick-Fil-A make their nuggets from pure 100 percent chicken breast meat.
Just 8 nuggets will give you 25 grams of protein!
These are an excellent add-on to any salad or sandwich you might order if you want extra protein without a ton of additional calories.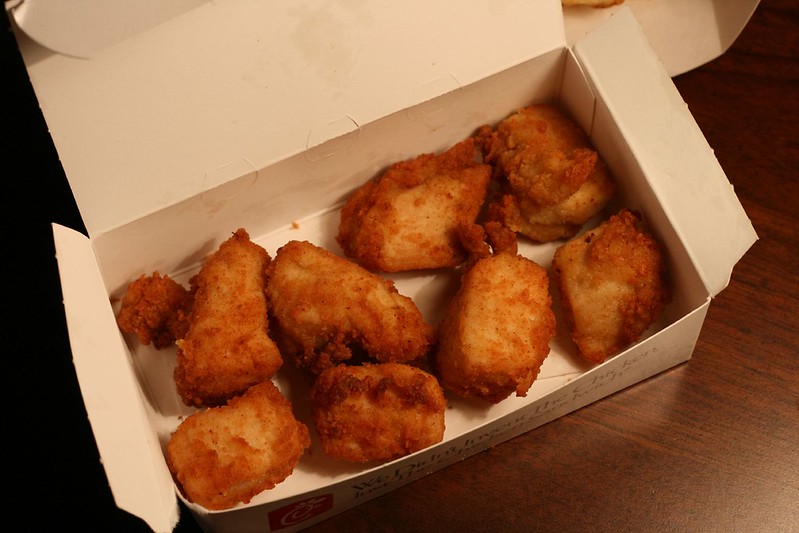 Grilled Market Salad
The grilled market salad from Chick-Fil-A is made fresh daily and serves up 25 grams of protein, with 15 grams of naturally occurring carbs.
Along with the delicious strips of chicken meat, this salad is packed with red and green apples, blueberries and strawberries.
And it's all topped with fresh nutrient dense greens.
Grilled Chicken Sandwich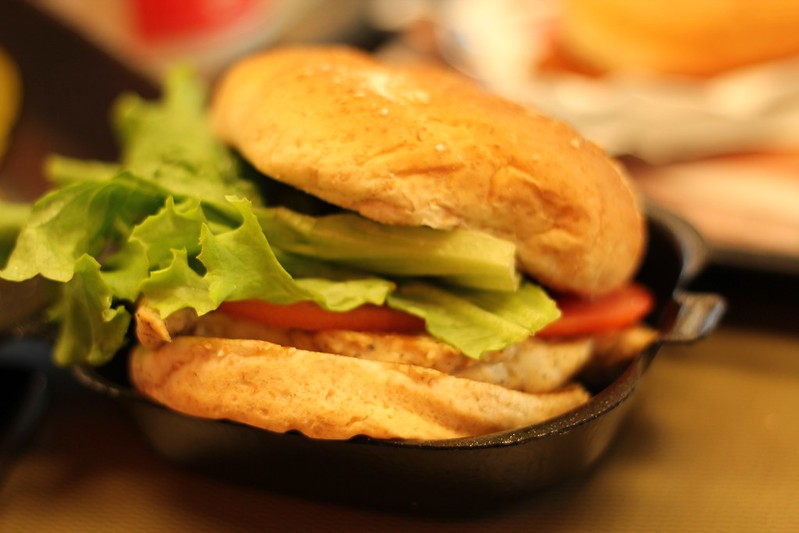 This chick Fil A favorite serves up a mouth watering marinated and grilled boneless breast of chicken between a multigrain bun and topped with lettuce and tomato.
This meal provides you with 29 grams of protein and just 6 grams of fat.
Sure, the standard fried chicken sandwich at Chick-Fil-A is delicious and also has a ton of protein, but health conscious folks might find it a little greasy.
---
Wrapping Up
Chick-Fil-A is one of the best fast food choices for bodybuilding, cutting, bulking, and general healthy eating.
Everything's based on lean, high-quality chicken.
And the rest of the ingredients tend to be fresh and high in key nutrients.
Just watch out for fried items and extra sauces that can drive calorie counts way up!
For more fast food ideas, check out:
Hope this helps!