When you're serious about building an awesome physique, eating out can be a real challenge.
Getting in your macros, whether you're on a cutting or a bulking phase, is difficult at the best of times. When you step into a fast food restaurant, however, it becomes even harder.
But that doesn't mean that you can't do it, you just have to know where to look on the menu.
Let's take a look at the best healthy bulking and cutting meals at Wendy's.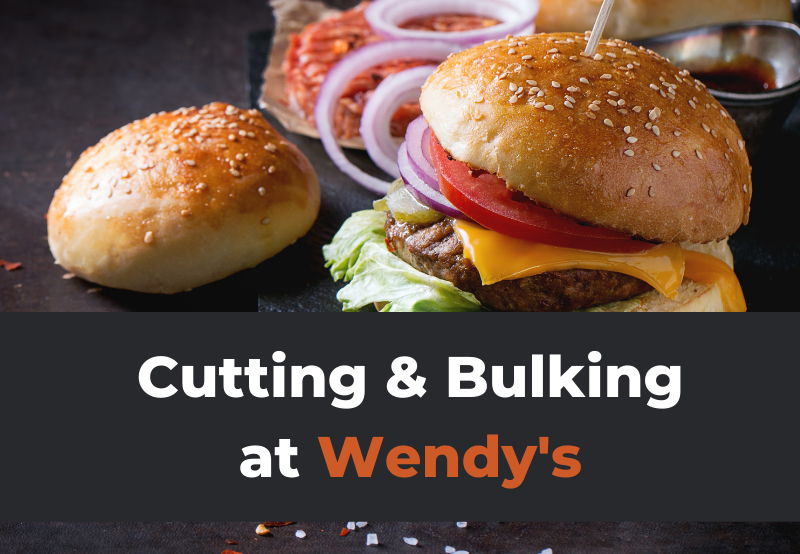 The best cutting meal or menu item at Wendy's is undoubtedly the classic, humble grilled chicken sandwich. It's delicious and filling, with an excellent 33 grams of protein for a meager 350 calories.
Eating at Wendy's on a bulk? The best bulking meal at Wendy's is the Southwest Avocado Chicken Salad. That's right, not a burger! This salad comes with a whopping 41 grams of protein and a ton of healthy fats.
Let's take a look at some more options and bodybuilding orders at Wendy's.
---
The Best Cutting Meal at Wendy's: Grilled Chicken Sandwich
A Wendy's restaurant is not the first image that comes to mind when you think about eating to get ripped.
If you are intent on getting cut, your trips to a Wendys will be rare.
However, if you're out and about and in a hurry — or you're just craving a treat — you can still make your macros for the day.
Your goal when putting together a cutting meal should be to get your daily protein requirement of about 1 gram of protein per pound of bodyweight.
You'll need to keep overall calories moderately low to create a daily caloric deficit, while ideally keeping your sugar and carb count down to a minimum.
Here are some great options at Wendy's.
Wendy's Power Mediterranean Chicken Salad
A few years ago, Wendy's introduced their Power Mediterranean chicken salad, and it's a total game changer.
It's a combination of cherry tomatoes, feta cheese, sun dried tomatoes, quinoa, hummus, grilled chickens and three different types of salad.
This meal will provide you with 20 grams of protein, 5 grams of fiber and just 240 calories (without dressing).
Grilled Chicken Sandwich
The Wendy's Grilled Chicken Sandwich features herb marinated grilled chicken breast that is topped with smoky honey mustard crisp spring mix, and tomato, all served on a warm toasted bun.
This is a delicious, low carb, high protein option. If you want to make it even more cutting friendly, simply toss out the bun.
This sandwich provides you with 33 grams of protein, 35 grams of carbs, 7 grams of sugar and a total of 350 calories.
Apple Pecan Salad
The Apple Pecan Salad from Wendys combines Wendy's signature lettuce blend, crisp green and red apples, dried cranberries, roasted pecans, crumbled blue cheese, and grilled chicken breast. It comes with a Marzetti® Simply Dressed® Pomegranate Vinaigrette.
Of course, you have the option of holding the dressing.
You will get a whopping 39 grams of protein with this salad, along with 26 grams of carbs and 18 grams of sugar.
The total calorie count of this meal is 460 calories.
---
The Best Bulking Meal at Wendy's: Southwest Avocado Chicken Salad
When you're on a bulking diet, your goal is to take in between 25-40 grams of protein per meal, along with quality carbs to keep up your glycogen levels.
You want your total caloric consumption to be around 500 calories above your maintenance level. Of course, you want to achieve it without adding too much unhealthy fat or sugars.
All in all, eating at Wendy's on a bulk will be a lot more fun! But you should still be mindful of nutrients and not going too calorie heavy in a single meal.
Here are the 3 best bulking meal options on the Wendy's menu:
Asiago Ranch Classic Chicken Club
The Asiago Ranch Classic Chicken Club delivers a juicy, lightly breaded chicken breast, topped with thick Applewood smoked bacon, Asiago cheese, creamy ranch sauce, crisp lettuce and tomato.
All of this is held within a crispy, delicious bun.
This club sandwich gives you 36 grams of protein, 50 grams of carbs and 630 total calories.
Plain Baked Potato
Add a plain baked potato to provide the starchy carbs and fiber your body needs to resupply muscle glycogen and keep you regular.
Along with 7 grams of fiber, a plain baked potato will provide you with potassium and vitamins B6 and C. Avoid adding butter and salt to keep it clean.
Each Wendy's plain baked potato will give you 7 grams of protein, 61 grams of carbs, 7 grams of fiber and 270 calories.
Southwest Avocado Chicken Salad
Yes, you can eat a salad when you're bulking, especially when you are at a palace like Wendy's.
It's a far better option than the mega calorie, mega fat and carb loaded burger options that will confront you.
The Southwest Avocado Chicken Salad is high in protein and healthy fats.
Your Wendys Southwest Avocado Chicken Salad contains 41 grams of protein, 18 grams of carbs, 7 grams of fiber and 590 calories.
Still hungry? Check out some delicious bulking snacks to keep around the house for extra protein, carbs, and healthy fats.
---
Wrapping Up
Wendy's might not be the most bodybuilder-friendly restaurant on the planet.
However, it does provide a surprising number of menu items that will satisfy your taste buds while keeping you on track with your diet goals.
You will, however, have to exert maximum self control during your time at the restaurant.
There are plenty of menu items that look very tempting but that could very easily throw your diet gains out the window!
In particular, watch out for topping your salads with too much dressing or slathering your sandwich in a ton of caloric sauce. These add-ons will pile up the calories on your meals without adding much in nutritional value.
Stay focused on the six menu items highlighted in this article, and you won't have a problem!
For more ideas when you're on the go, check out:
Hope this helps!