Oakland!
The city has come a long way. And for those in the Bay Area looking for style and artisanal shops, it's the perfect destination for when you need to get away from San Francisco for a bit.
There's a ton to do in the city from checking out the zoo to working up a sweat. There are plenty of great gyms to explore around the city.
Whether you're a local looking for your long-term fitness home or just passing through, you have plenty of options to choose from.
Next up in my guide to the best gyms in every city is *drum roll*… the best gyms in Oakland, CA!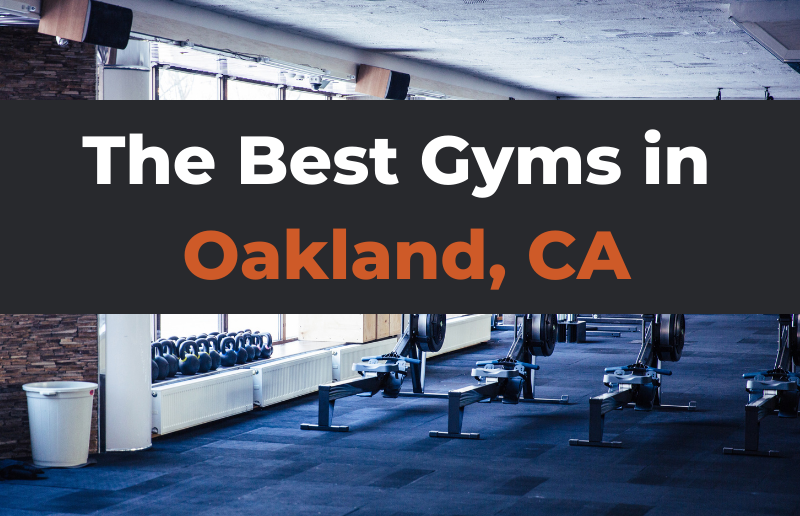 Here's a quick rundown of Oakland's top gyms and fitness studios:
Best unique gym: BK Roots Fitness
Best budget gym: Planet Fitness
Best CrossFit gym: Crossfit Oakland Uptown
Best boxing gym: Boxing for Health
Best boot camp gym: Better Body
Best yoga studio: Barefoot Movement
Best powerlifting gym: Speed Power Strength
Best gym for women: ProAction Athletics
Best spin studio: Ride
Let's dive in and take a closer look at each of these Oakland, CA gyms including what they have to offer and why locals love them so much.
---
Best unique gym in Oakland: BK Roots Fitness
What makes it cool?
BK Roots Fitness doesn't just leave you to your own devices to work out. The gym takes a holistic approach to getting its members in shape through hands-on group classes and personal training.
Once you know what exercises you like or what your fitness goals are, you can take the exact classes that work for you.
It's great for getting healthier to play recreational sports or when you need to rehab an injury, too.
No matter what your goals are, your trainer helps you attain them. Some of the programs offered include:
Circuit training
Martial arts
Kettlebell
TRX
Yoga
Pilates
You work out on whatever schedule works best for you.
Plus, during the COVID-19 pandemic, the gym offered virtual classes, so people could stick with their routines.
What local reviewers are saying
These workouts ensure my [osteoporosis] is checked.
I have gotten much stronger since working out with BK Roots, and I look forward to the workouts.
The small group environment for classes and individual attention for private sessions really promotes a sense of trust.
Get started with BK Roots Fitness here.
---
Best budget gym in Oakland: Planet Fitness
What makes it cool?
Planet Fitness gyms are found all over the country.
The one in Oakland doesn't necessarily offer anything you can't get elsewhere, but there's a good reason why it should stay in consideration.
A basic membership only costs you roughly $10 a month.
If you really feel like splurging, you can always opt for the premium membership, which costs $20/monthly.
Planet Fitness has all of the basics you need. It has an assortment of machines from cardio equipment to weights.
With a premium membership, you can even use the HydroMassage chair to wind down after a tough workout.
It's cheap and easy to get to. Sometimes, that's all you need!
What local reviewers are saying
Showers/Restrooms = Immaculate, nice and boujee, especially if you give .02 about taking showers before/after work.
Staff are extremely welcoming and helpful. Gym is very clean.
Cleanliness = Immaculate
Get started with Planet Fitness here.
---
Best CrossFit gym in Oakland: CrossFit Oakland Uptown
What makes it cool?
A ton of people have posted glowing praise for this CrossFit gym in Oakland.
Even if you're still a beginner, the trainers here will help you master the basics and get up to speed, fast!
The specialty at this location is Olympic weightlifting, which you can partake in one-on-one or in a group.
The coaches here have a ton of experience, so they have plenty of wisdom to pass onto you.
(See the amazing results you can get from CrossFit here.)
What local reviewers are saying
It's nice to see a wide range of athletes, from newbies to world-class competitors, all cheering each other on.
Such a great gym, finding weightlifting gyms is hard in general but finding a gym with great coaches is even harder.
The owners are great, super knowledgeable and they are down-right awesome people.
Get started with CrossFit Oakland Uptown here.
---
Best boxing gym in Oakland: Boxing for Health
What makes it cool?
This family-owned gym is perfect for newcomers and professionals alike.
With the trainers here, you learn actual boxing techniques that will help you whether you ever want to compete or just want to get fit.
It was founded by pro boxer Miguel Lopez. He wanted to give back to the community and offer a fun, innovative way to get healthy.
And don't think you'll get tired of repetitive boxing workouts while you're here!
Different types of classes help keep you on your toes. Some are focused on the cardio aspects of boxing while others focus on your core.
Plus, there are classes available for kids and teens who want to learn how to throw a punch.
What local reviewers are saying
This class was everything I was looking for! I've looked at so many boxing classes/gym and they were either to expensive or not enough training.
It's a well-equipped boxing gym complete with a ring, multiple heavy bags, strength training and some cardio equipment.
I felt so strong at the end of the last bootcamp series. Miguel is extremely supportive, not judge mental and encouraging to go deeper at your own pace.
Get started with Boxing for Health here.
---
Best boot camp gym in Oakland: Better Body
What makes it cool?
Better Body has been bettering the Oakland community since 2009.
The company takes a comprehensive approach with a full workout regimen, including nutritional information.
All members receive a diet plan, and the trainers encourage everyone to eat healthy.
Not to mention the incredible, high-intensity workouts that will leave you exhausted and ready to come back stronger next time!
People come to this gym from all walks of life, so you'll fit right in no matter where you're starting on your fitness journey.
What local reviewers are saying
I've gone from a body built for comfort to one that is built for speed. Best of all, I have a fitness partner who will always push me to be better.
Lisa has for sure created a formula that works for all different types of people. Lisa also provides awesome recipes and nutrition tips.
Lisa is a dedicated and hardworking trainer. She brings out the 'beast' in you every time, she motivates and makes you stay committed.
Get started with Better Body here.
---
Best yoga studio in Oakland: Barefoot Movement
What makes it cool?
Everything from beginner to advanced yoga classes are offered at this Oakland studio.
Classes run all day every day of the week, so you should be able to find something that works with your hectic schedule.
Plus, to make sure it's a good fit for your needs, you can first sign up for a new student trial.
This is a three-week membership that allows you to attend unlimited classes for just $40.
The classes are designed to challenge your body and mind in a variety of ways from coordination to posture.
You can review the descriptions for all of the options online.
On top of all of that, all of the instructors have received the highest quality of training.
No matter who the classes are with, you can be confident in consistent teaching across the board.
(What style of yoga should you try based on your goals? Click to find out.)
What local reviewers are saying
Excellent prenatal yoga classes. Leonora, Hannah, Katie, and Leah are knowledgable and brought the exact energy and expertise that I needed while pregnant with my first.
I have practiced yoga at various studios in India and the US in different cities and this has been the deepest and most fulfilling experience in my yogic journey so far!
The quality of instruction, warm energy and studio space are all excellent at Barefoot Movement.
Get started with Barefoot Movement here.
---
Best powerlifting gym in Oakland: Speed Power Strength
What makes it cool?
Sometimes a regular big box gym full of treadmills just won't cut it.
When your goal is to get as strong as possible, you need to turn to rigorous weightlifting.
Speed Power Strength Gym in Oakland has everything you need to get those muscles popping.
You can schedule a free fitness evaluation where an experienced trainer sees where you are in your journey and recommends next steps.
Once you sign up, you have your pick of classes, all focused on strength, muscle, and powerlifting.
There are even periods of open gym time, where you can walk in and lift in whatever manner you feel like.
What local reviewers are saying
SPS Is a great family: amazing coaches, friendly people and a beautiful facility, the best gym in Oakland!
The coaches are very invested in each athlete and are willing to do so much so that each client will reach their goals and full potential.
Honestly, probably the best olympic weightlifting gym in the Bay Area.
Get started with Speed Power Strength here.
---
Best gym for women in Oakland: ProAction Athletics
What makes it cool?
For women who want to feel comfortable and safe while exercising, ProAction Athletics in Oakland is where it's at.
This is a women-only gym that specializes in boot camp-style classes.
(What's the difference between boot camp and the gym? Read more here.)
Classes are available seven days a week for you to get in intense workouts whenever it's most convenient for you.
Workouts vary from one day to the next, so even if you go multiple times a week, there's always something new to engage in.
A lion's share of the online praise seems to go toward the trainers, who have the experience and light touch to have you perform at your best.
What local reviewers are saying
The dedication of the coaches to each work out and the time they put in to explaining and helping everyone is always GREAT !
Awesome low-impact but intense workouts to really make you sweat each session.
This is a very clean facility. We clean our shoes before entering the gym which is great!
Get started with ProAction Athletics here.
---
Best spin studio in Oakland: Ride
What makes it cool?
When you want to go on a bike ride in the comfort of the great indoors, you need to head over to Ride in Oakland.
It's the premier cycling studio in the city with a ton of class options available.
You just want to make sure you reserve a spot in the class you want ahead of time.
They fill up fast, but there are also Zoom classes to look into in case you have your own stationary bike at home.
After an intense regimen, you can cool down with some water or a homemade smoothie.
The gym goes to great lengths to ensure a welcoming environment.
(Before you go, get some tips for your first spin class here.)
What local reviewers are saying
A great studio, more challenging than any peleton class I've ever taken and not a huge corporation! Support locals!
Great bikes, awesome instructors, and fantastic beats to keep you riding the whole way through.
I find myself coming at least 1x a week and always walk out with a smile knowing I crushed it and burned a crap ton of calories.
---
Wrapping Up
People in Oakland have plenty of reasons to rejoice!
Whether you want to spin, do yoga, or lift, there's a gym out there for your needs.
With these places, you have a lot more to look into than just the major chains.
Of course, those are there as well if you're looking for something affordable and reliable.
What did I miss? Where's your favorite place to exercise in Oakland, CA?
Before you go, make sure you check out:
Hope this helped!