Boca Raton!
The city's a major draw for tourists looking to soak up sun, sand, and good vibes. However, plenty of people call this little slice of paradise home.
It's easy to see why anyone would want to move to this Florida city, and for all you gym rats out there native to the Sunshine State, there are plenty of excellent gyms in the area.
Next up in my guide to the best gyms in every city is … the best gyms in Boca Raton, FL!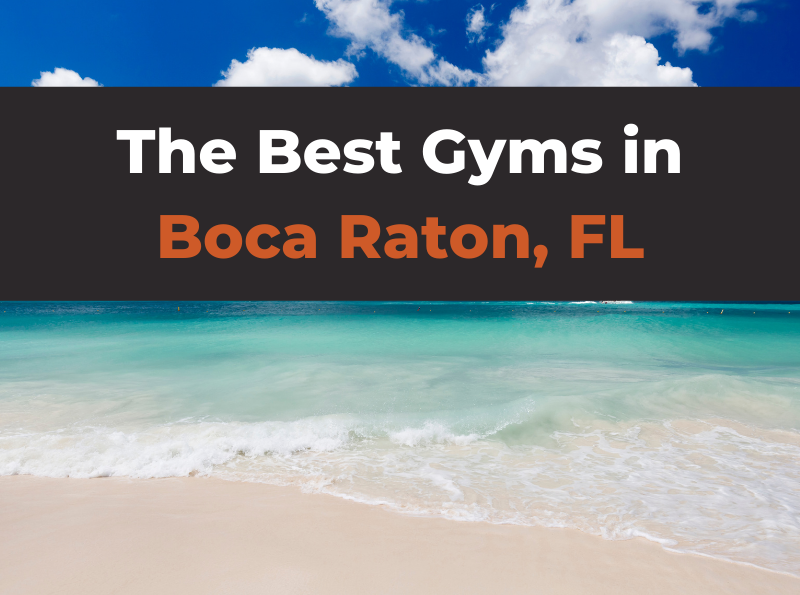 Here are 9 of the best gyms of every type in Boca Raton:
Best unique gym: Magen Krav Maga
Best budget gym: YouFit Health Club
Best CrossFit gym: CrossFit Onus
Best boxing gym: Boca Boxing District
Best gym for seniors: Michael's Body Scenes Boutique Fitness Facility
Best yoga studio: Yoga Journey
Best powerlifting gym: Limitless Strength and Conditioning
Best gym for women: RodSquad Women's Fitness
Best spin studio: CycleBar
Let's dive in and take a closer look at each of these Boca Raton, FL gyms including what they have to offer and why locals love them so much.
---
Best unique gym in Boca Raton: Magen Krav Maga
What makes it cool?
Krav Maga is a form of practical self-defense developed by Israeli special forces.
It combines elements of karate, wrestling, boxing, and Aikido, and fortunately, you can learn these techniques right in Boca Raton, FL.
Magen Krav Maga focuses on training not only your body but your mind, as well.
You become a more centered and focused individual, so in the event you need to protect yourself out in public, you're ready.
Not only will you learn useful self-defense skills here at Magen Krav Maga — you'll get an incredible workout each and every class!
What local reviewers are saying
I get a great workout, and learn practical self defense skills.
The awareness and techniques also give me peace of mind at my school.
The classes are intense, yet constructed to our individual capabilities.
Get started with Magen Krav Maga here.
---
Best budget gym in Boca Raton: YouFit Health Club
What makes it cool?
YouFit is another budget gym chain in the same vein as Planet Fitness.
(Compare YouFit vs Planet Fitness here.)
A basic membership to YouFit only costs you $10/month, but you have to pay for a year upfront.
The basic membership only gives you access to the main floor without any extra amenities, but for some, that'll be plenty.
Some of the equipment you'll find at every YouFit location include:
Ellipticals
Treadmills
Rowing machines
Barbells and free weights
Squat racks
Stationary bikes
There are also showers and lockers you can use. It's a great option for people hoping to avoid breaking the bank with a gym membership.
What local reviewers are saying
The team here at this location is great.
Khan is a fantastic trainer, patient, and pushes you to your limits while helping you to achieve your fitness goals.
It's affordable, has a great central location, and the employees are awesome!!
---
Best CrossFit gym in Boca Raton: CrossFit Onus
What makes it cool?
CrossFit is the way to go for many people on their fitness journeys.
It combines elements of strength training, Olympic weightlifting, gymnastics, and more for a workout that'll completely transform your body.
Classes at Onus are available seven days a week, but the guidance doesn't end there.
This place has earned rave reviews for how much the employees make you feel at home. They ensure you know exactly how to use all of the equipment.
All the while, they build up your confidence so that you feel compelled to keep coming back and get the most out of your membership.
What local reviewers are saying
The coaches and members at CrossFit Onus help me to be my best "me"!
They are very focused on correct technique in order to maintain each athlete's longevity (I'm 25 and far from a professional athlete but it feels so good when they call us athletes instead of just members or clients).
It's a great atmosphere (clean, well organized, offering free towels and water)
Get started with CrossFit Onus here.
---
Best boxing gym in Boca Raton: Boca Boxing District
What makes it cool?
Real boxing coaches make the Boca Boxing District the place to go for real training.
The instructors here follow a tried and true formula to ensure everyone sees results.
You warm up, go into partner drills, and then move onto bag work. You get a thorough full-body workout each and every time you come by.
Make sure to take advantage of the new client special!
It's good for 14 days of unlimited classes so that you can make sure it's the right fit for you before making a longer commitment.
What local reviewers are saying
Aside from getting a great workout, I am learning a lot.
They recently expanded the gym so there is a lot more space and more bags.
Turns out Dyah Davis is a Pro Boxer and currently trains multiple champions in the UFC!
Get started with Boca Boxing District here.
---
Best gym for seniors in Boca Raton: Michael's Body Scenes Boutique Fitness Facility
What makes it cool?
It's no secret Florida is home to many retirees.
It's vital to stay active into your golden years, and that's so much easier at Michael's Body Scenes.
Classes are offered, and the trainers go at whatever speed you're comfortable with.
The staff here specializes in working with seniors — from light rehab, to appropriate strength work, to mobility and agility.
Seniors should definitely look into the pilates classes offered at Michael's.
Pilates is the perfect low impact strength workout for seniors.
And don't forget to keep an eye on the schedule for any Silver Sneakers classes that come up.
What local reviewers are saying
I am a senior with a history of knee surgeries, and Kate has slowly and surely provided the exact guidance so that for the first time in years I have been able to work out consistently without pain or injury.
They added an excellent massage service, listening to a friend introduce a massage therapist with 9 years of experience
The new management are keeping things clean and sanitized.
Get started with Michael's Body Scenes Boutique Fitness Facility here.
---
Best yoga studio in Boca Raton: Yoga Journey
What makes it cool?
Yoga Journey prides itself in offering some of the most affordable yoga classes in Boca Raton.
You just choose what class you want and sign up through the website.
It's all available thanks to owner Leslie Glickman.
She's been in the fitness industry for years, and now, she's brought all that she knows to this humble, ambient yoga studio.
She doesn't stay behind a desk, either. She still teaches classes and occasionally hosts yoga in the park!
Glickman also hosts her own retreats.
Once you make friends here and get the hang of it, you can travel around the globe to exotic locales to stretch your body and mind elsewhere.
Some of the places these retreats have occurred include Portugal and Cape Town.
What local reviewers are saying
From the moment I walked in, I could feel the serenity.
Yoga Journey offers vinyasa classes (dynamic creative poses linked by breaths), yin classes (longer holds with deeper postures), and meditation classes
I like that the people that take classes there are really diverse.
Get started with Yoga Journey here.
---
Best powerlifting gym in Boca Raton: Limitless Strength and Conditioning
What makes it cool?
This gym is a little outside of Boca Raton in Deerfield Beach.
No matter where you come from, though, the motto is the same.
When you remove all limitations you placed on yourself, you can achieve anything.
There are a lot of great ways to build muscle and strength here at Limitless.
There are affordable group classes, or you can sign up for one-on-one training. Either way, you'll get great instruction on form and a solid routine to follow.
Of course, if you want to work out by yourself, that's always an option, too.
What local reviewers are saying
Fast forward 4 months: I've improved my form immensely, learned a ton about programming & mobility, routinely hit new PR's
The atmosphere at Limitless is one where anyone can feel comfortable.
Ken as a coach has taught me the proper technique in all the main lifts, and has pushed me to reach and surpass my own goals.
Get started with Limitless Strength and Conditioning here.
---
Best gym for women in Boca Raton: RodSquad Women's Fitness
What makes it cool?
RodQuad has been helping women look and feel their best since 2004.
Countless women have seen amazing results from this gym, and some of the success stories are located on the website.
You can even work on your health when you're away from the gym. RodSquad has its own podcast with new episodes weekly.
Being a woman at a regular commercial gym isn't always comfortable, so it might be worth going a little out of your way to check out the safe and supportive environment at RodQuad.
What local reviewers are saying
The workouts are varied weekly and are always challenging.
Rod takes the thinking out of working out.
I've been going to this gym for about a year and have never felt stronger or more motivated to work out.
Get started with RodSquad Women's Fitness here.
---
Best spin studio in Boca Raton: CycleBar
What makes it cool?
CycleBar classes have taken the nation by storm.
And you can find one right in Boca Raton, FL.
You get your first ride for free. And from there, you can check out the schedule to see what suits you best.
Different music can be found depending on the specific class, so you should be able find something that gets your toes tapping and your legs pumping.
All classes are led by energetic instructors to keep things fun.
Cycling (or spin) is an excellent workout, and you'd be hard-pressed to find a better place to do it than CycleBar!
What local reviewers are saying
I am really impressed with the staff and the instructors.
The workout itself was great, and the free water bottles and towels are a nice added bonus.
It a pure 45 minutes of mental liberation and fun
Get started with CycleBar here.
---
Wrapping Up
When most people think of Boca Raton, FL, they think of relaxing on the beach.
But just imagine how great and relaxed you'll feel after a great workout!
Boca has everything a fitness beginner or advanced athlete could need, from yoga studios, to cycling, to speciality gyms like powerlifting or women's only clubs.
If you can't decide what to do, why not try a free class or a free week at all of them?
What did I miss? Where's your favorite place to workout in Boca Raton, FL?
And before you go, check out the:
Hope this helped!