Columbus!
It's the perfect place to live whether you're raising a family or just looking for a good time.
From football to zoos, this city has it all.
And before you ask: Yes, there are plenty of gyms of all varieties to be found.
Next up in my guide to the best gyms in every city is … the best gyms in Columbus, OH!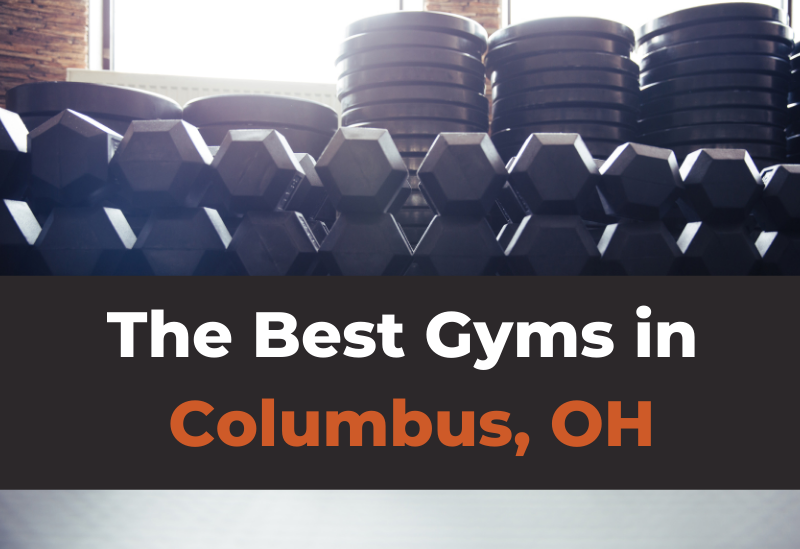 Here are 9 of the best gyms of every type in Columbus:
Best gym with personal trainers: Personal Level
Best budget gym: Planet Fitness
Best CrossFit gym: Beyond Limits Training
Best boxing gym: Ronin Training Center
Best rock climbing gym: Kinetic Climbing & Fitness
Best yoga studio: LIT Life + Yoga
Best powerlifting gym: Powerhouse Gym
Best gym for women: FabYOUlous Fitness
Best spin studio: Cycle614
Let's dive in and take a closer look at each of these Columbus, OH gyms, including what they have to offer and why locals love them so much.
---
Best Gym with Personal Trainers in Columbus: Personal Level
Where is it?
1295 West Lane Ave, Columbus, OH 43221
What makes it cool?
Sometimes you need a personal touch to look and feel your best. Personal Level is all about private sessions where you work one-on-one with a trainer.
Everything comes personalized with that philosophy.
And you don't just get someone telling you the proper way to lift weights. You also receive nutrition advice so you can fuel your body even when you're away from the gym.
You can schedule your first session for free to see what it's like. After that, they'll provide you with a quote depending on what services you're interested in, and you can take it from there.
What local reviewers are saying
The staff has been welcoming, positive, and professional, and for the first time in quite some time, I feel like I'm headed in the right direction with my fitness goals.
Could not be happier with increases in strength and stamina.
The staff is extremely knowledgeable, friendly and motivated to help you reach your goals.
How much does it cost to join?
Costs vary by member and depend on which package you choose, but your first session is free. Contact them to schedule your first session for a time that's convenient for you.
Get started with Personal Level here.
---
Best Budget Gym in Columbus: Planet Fitness
Where is it?
3614 Indianola Ave, Columbus, OH 43214
What makes it cool?
Most gyms I've found in Columbus will set you back at least $30 a month, not including fees.
If you need to save a lot more than that, I'd suggest heading up to Clintonville to the nearest Planet Fitness.
Planet Fitness doesn't offer classes, but there's a good amount of equipment at each location — and it's all just $10/month to start.
Plus, Planet Fitness has a lot of fun activities, such as weekly pizza and bagel days. It's a low-stress environment that's also less stressful on your wallet.
What local reviewers are saying
As someone that's been to many different styles and sizes of gyms – from cross fit and weightlifting to corporate chains like this – Planet Fitness is the best bang for your buck!
The staff make it feel very pleasant and are always quick to give a friendly hello/goodbye.
I enjoy the separate Abs area as well as the separate 30 minute workout area.
How much does it cost to join?
Memberships start at just $10/month.
You can upgrade to $20/month to take advantage of some bonus perks like the HydroMassage chair.
Get started with Planet Fitness here.
---
Best CrossFit Gym in Columbus: Beyond Limits Training
Where is it?
294 E. Long St, Columbus, OH 43215
What makes it cool?
There's quite a bit you can do at Beyond Limits Training, but the emphasis is on CrossFit.
You can sign up for an unlimited class membership to get all of the CrossFit your body can handle.
This includes an introductory two-week program where you learn the fundamentals.
Once you complete that, you can move onto harder classes.
It's a great way for people just starting their fitness journey to get the hang of things alongside other people who may not know the ropes.
Another outstanding perk?
This gym is open 24 hours a day. You may not always be able to find a class, but you can hit the weights by yourself so you don't fall behind on the rest of your schedule.
What local reviewers are saying
Convenient 24/7 keycard access with tons of equipment for powerlifting, cardio, CrossFit and more.
This gym is amazing. It is no frills, everything is functional.
As far as cleanliness, he has a crew come in every morning to mop and wipe down equipment.
How much does it cost to join?
Monthly memberships start at $39.99/month for an annual membership.
A 6-month membership starts at $44.99/month. If you want unlimited classes, a membership will cost $99/month.
Discounts are available for personal training clients, students, first responders, and military personnel.
Get started with Beyond Limits Training here.
---
Best Boxing Gym in Columbus: Ronin Training Center
Where is it?
1012 West 3rd Ave, Columbus, OH 43212
What makes it cool?
Ronin Training Center isn't just great for learning how to box. You can learn all kinds of fighting techniques from a variety of disciplines.
Muay Thai and Brazilian Jiu-Jitsu are just some of the art forms taught here.
Each trainer has experience in their respective medium, so you know you're getting some of the best hands-on training around.
Plus, there are youth programs. You're never too young to learn self-defense, so it's a great idea to sign your kids up if they're looking for new ways to stay active.
Best of all, the boxing workouts here can get you some amazing results!
What local reviewers are saying
They offer many forms of MMA including Krav, Muay Thai, Jui-Jitzu and others.
Welcoming environment and people. They also have student discounts which is really great
How truly lucky is Columbus, OH to have Vitor Oliveira, a world champion Jiu-Jitsu competitor, teaching here?
How much does it cost to join?
Contact Ronin Training Center for more information about their membership options.
You can also sign up for a one-week free trial and start by taking any beginner-friendly class.
Get started with Ronin Training Center here.
---
Best Rock Climbing Gym in Columbus: Kinetic Climbing & Fitness
Where is it?
717 Hadley Dr, Columbus, OH 43228
What makes it cool?
Beginners and experts alike are welcome at Kinetic Climbing & Fitness in Columbus.
There are tons of walls where you can climb to your heart's content.
Feel an urge to climb at two in the morning? You're in luck!
Unlike a lot of other wall climbing gyms out there, this one is open 24/7.
What local reviewers are saying
The routes are super fun and the holds are well maintained.
In addition to two separate climbing walls, there are also monkey rings, a pegboard, pull up bars with multiple grip attachments, and even some free weights if you're looking for more of an intense workout.
We were there for about an hour and a half, had fun the whole time and never got bored.
How much does it cost to join?
The basic membership plan costs $99/month, but there are discounts and savings.
Students only have to pay $49/month, and there are huge bargains if you want the family pass.
Get started with Kinetic Climbing & Fitness here.
---
Best Yoga Studio in Columbus: LIT Life + Yoga
Where is it?
999 N. 4th St, Columbus, OH 43201
What makes it cool?
LIT Life + Yoga embraces a whole spiritual journey rather than just being a place to work out.
The space is vibrant and colorful with knowledgeable teachers to guide you every step of the way.
The studio describes itself as a multi-sensory experience. Not only do you feel more limber, but everything you hear, see, and smell works in tandem to make you feel more at peace.
Multiple types of yoga are taught here from meditation to aerial.
It's suitable for all people, so if you're tired of stretching in what looks like an abandoned studio, check out LIT.
(Find out what style of yoga suits you best.)
What local reviewers are saying
They make it really welcoming and such a safe environment to learn while still challenging yourself.
I would recommend Dynamics for a challenging yoga session. Book ahead of time as classes fill up quick.
The instructors are well educated, so friendly and non-judgmental and they really care about you improving your practice!
How much does it cost to join?
A 10-class pass costs $160. You can drop in and take most classes for $18 or take a virtual class for $7.
Drop-ins for LIT Air and LIT Unplugged classes cost $20.
New students can receive a 2-week pass for $25.
Get started with LIT Life + Yoga here.
---
Best Powerlifting Gym in Columbus: Powerhouse Gym
Where is it?
9 East Long Street, Columbus, OH 43215
What makes it cool?
Powerhouse Gym is open until midnight throughout the week.
Those hours are unheard of for most powerlifting gyms, but it's par for the course in Columbus, OH.
From HIIT to cardio-kickboxing, this gym offers plenty of ways to keep your muscles guessing other than simply mixing up your lifts.
Check out the class schedule to see how else you can improve your body.
This also happens to be the location for the Arnold Sports Festival, named after the powerlifting and bodybuilding champ himself — Arnold Schwarzenegger.
(See what kinds of results you can get from just one month of lifting weights.)
What local reviewers are saying
Great customer service and super easy to get a day pass.
Not too crowded. Perfect place to get in shape
I was part of the Military Muscle Deadlift Party and will always remember my time there. I'll be back.
How much does it cost to join?
A one-year membership at Powerhouse Gym costs $29.99/month plus taxes. A month-to-month membership costs $34.99/month plus taxes.
There are no enrollment fees, but there is an annual $29 club enhancement fee.
Get started with Powerhouse Gym here.
---
Best Gym for Women in Columbus: FabYOUlous Fitness
Where is it?
635 Park Meadow Rd., Suite 106, Westerville, OH 43081
What makes it cool?
Any woman can get started at FabYOUlous Fitness with a free training test drive.
Once you have that out of the way, you can pursue group classes, small group training, or private personal training.
Both in-person and virtual classes are available. You'll want to make sure you book well in advance because spots tend to fill up fast.
FabYOUlous offers high-quality amenities to make all women feel welcome.
It's a fantastic safe space where you can exercise with peace of mind.
What local reviewers are saying
There are lots of opportunities to help you stay engaged and motivated including monthly challenges and giveaways.
This woman-owned, women only fitness studio is the best!
I call it the "anti-gym" because it's personalized and private and specialized to my needs.
How much does it cost to join?
Pricing depends on what kind of training you want, but they ask that you commit to at least 90 days and a $299/month investment.
This investment can be paid monthly or in full.
Get started with FabYOUlous Fitness here.
---
Best Spin Studio in Columbus: Cycle614
Where is it?
1636 Northwest Boulevard, Columbus, OH 43212
What makes it cool?
Cycle614 in Columbus, OH is dedicated entirely to indoor cycling.
If you're passionate about getting on the bike and don't need extra frills, this is the spot for you.
The studio has a pay-as-you-ride policy. If you're busy one month, you don't have to sweat it.
You won't pay as much during that time and you can pick it up again when you're ready.
From what I've found, this is the perfect spot for people who love competition.
Classes have Beat Boards that show which bike is the top performer.
Only you know how you're doing, so you can try to race your way to the top without feeling self-conscious about your results.
(See more about the pros and cons of spin class here.)
What local reviewers are saying
Our instructor, Brooke, was better than anyone we could've dreamed of! Her focus was strong; YOU CAN DO THIS.
I didn't have shoes with SPD clips and didn't want to ride in sneakers so they FOUND me some shoes with SPDs! I was SO GRATEFUL!
All the staff were really friendly and even took pictures of our big group.
How much does it cost to join?
Cycle614 packages vary based on how many classes you want to sign up for.
Prices start at $54 for three rides and go all the way up to $560 for 40 rides.
You can also get 30-day or 90-day packages for $179 or $499, respectively.
Get started with Cycle614 here.
---
Wrapping Up
There you have it, folks of Columbus.
These are just nine of the best gyms you'll find around the city, but there are plenty of others to consider.
Whether you need something cheap or want ultra-specific training, you won't be disappointed with all that Columbus has to offer.
If you want to stick with a big chain for affordability and consistency, I compare all of the big box gyms here.
What did I miss? Where's your favorite place to workout in Columbus, OH?
You can also hop around the country with:
Hope this helped!