Cleveland!
The city is synonymous with rock 'n' roll and Lake Erie.
It's a central hub for much of the United States, and it's the perfect place to live no matter what walk of life you come from.
People from all over travel to Cleveland, and such a diverse city has an appropriately eclectic mix of gyms for you to choose from.
Next up in my guide to the best gyms in every city is … the best gyms in Cleveland, OH!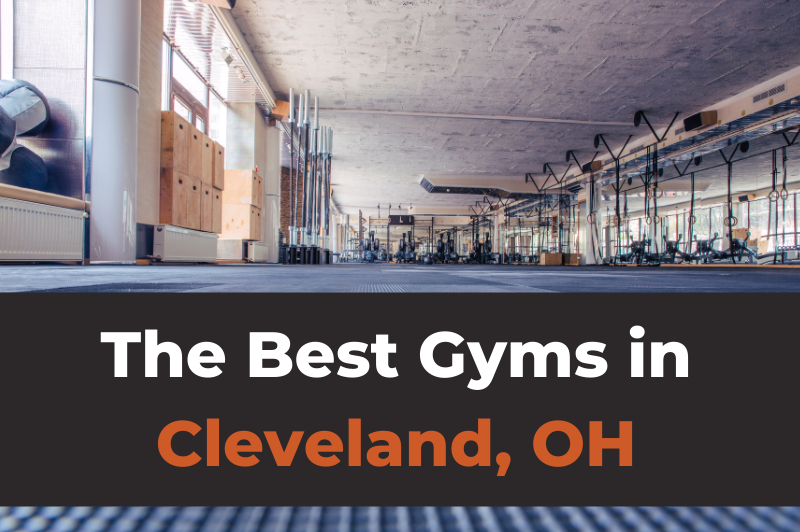 Here are 9 of the best gyms of every type in Cleveland:
Best relaxing gym: One to One Fitness
Best budget gym: Planet Fitness
Best CrossFit gym: CrossFit CLE
Best boxing gym: TITLE Boxing Club
Best rock climbing gym: Shaker Rocks
Best yoga studio: Yoga Strong
Best powerlifting gym: Old School Iron Gym
Best gym for women: Bad Girl Fitness
Best spin studio: Harness Cycle
Let's dive in and take a closer look at each of these Cleveland, OH gyms, including what they have to offer, what they cost, and why locals love them so much.
---
Best Relaxing Gym in Cleveland: One to One Fitness
Where is it?
2130 Adelbert Road, Cleveland, OH 44106
What makes it cool?
How do you know you can trust One to One Fitness?
Because according to reviews, this is the gym of choice for doctors and nurses in the Cleveland area.
There's a weight room and cardio machines, so you can do anything you want.
Some classes are also available, but the reason this gym makes the list is due to the wonderful cafe inside.
You can get coffee, smoothies, and protein shakes to reenergize yourself after a long workout.
It's great, especially for people who go to the gym before work and may need some extra energy to get through the morning shift.
What local reviewers are saying
The classes here are great- virtual and now in person at a distance- and all the staff are courteous and personable 100% of the time.
Great gym with easy parking and tons of equipment in big, open spaces. Don't let the facade fool you – it's bigger on the inside!
Did I mention that there's a smoothie bar? The BEST on campus!
How much does it cost to join?
Membership costs range from $31 – $52/month plus taxes for students, faculty, and employees of Case Western University.
Monthly memberships start at $62/month plus taxes for the general public.
Discounts are available for seniors and military personnel. You may also be able to get a discount through your employer or insurance company.
Get started with One to One Fitness here.
---
Best Budget Gym in Cleveland: Planet Fitness
Where is it?
3333 Lorain Ave, Cleveland, OH 44113
What makes it cool?
Most gyms in Cleveland will set you back at least $30/month.
If you still want to work up a sweat without spending your last penny on a membership, then head over to Planet Fitness.
For $10/month, you gain access to most equipment on the gym floor, including cardio and weight machines.
Just be forewarned that you won't be able to deadlift or find full power racks at any Planet Fitness location.
Ultimately, it's perfect for people who want to work out at their own pace without constantly checking a class schedule.
(See what results you can get if you stick to going to the gym right here.)
What local reviewers are saying
The staff is engaging and full of personality.
Had an honestly great experience at Planet Fitness in Ohio City thanks to Keelan!
Great club. Clean. New equipment. Friendly staff. Upgrade to a black card. The hydromassage chairs are unbeatable.
How much does it cost to join?
A basic Planet Fitness membership costs $10/month plus taxes and fees for access to your home club only.
You don't have access to any extra amenities with this plan.
You can upgrade to the Black Card membership for $22.99/month plus taxes and fees.
The Black Card gives you access to any Planet Fitness worldwide and amenities such as massage chairs and tanning booths.
Get started with Planet Fitness here.
---
Best CrossFit Gym in Cleveland: CrossFit CLE
Where is it?
2218 Superior Ave E, Cleveland, OH 44114
What makes it cool?
CrossFit CLE takes a lot of the trepidation out of starting CrossFit.
The trainers do this by walking you through each step of each discipline with an equal emphasis on both speed and strength. 
You can expect to perform plenty of cardio exercises, but gymnastics are also in the mix.
Regardless of how you pursue your new regimen, you can be sure each session will consist of short, effective bursts of exercise where every minute is vital to getting the body you want.
(Learn about the results you can see from just one month of CrossFit here.)
What local reviewers are saying
Great classes, instructors were on their A game and it was like I never left my primary gym back home.
Also…the 12 minute GHD AMRAP still has my abs on fire three days later!
Dropped in unannounced for a 5:30am class. Kara and the class were all extremely welcoming.
How much does it cost to join?
Monthly memberships start at $120/month for three classes per week or $160/month for unlimited classes if you agree to a six-month commitment.
Get started with CrossFit CLE here.
---
Best Boxing Gym in Cleveland: TITLE Boxing Club
Where is it?
2885 Detroit Avenue, Cleveland, OH 44113
What makes it cool?
Honestly, TITLE Boxing Club is great for a lot more than just boxing.
There are plenty of classes in that discipline, and you can even get your first one for free, but there are numerous other ways to learn the art of self-defense.
Kickboxing, MMA, and private training are all on the table.
Your entire body has the ability to become a weapon with the gym's experienced trainers.
The simplest membership is the CLUB card. This gives you access to unlimited classes for a simple monthly fee. You can stop by every day and see what you're truly capable of.
(See the amazing results you can get from boxing and kickboxing here.)
What local reviewers are saying
By the end of the 8 round class with trainer RJ I was hooked.
You will never have an excuse to miss due to the vast amount of classes they have per day!
I like the interval training. The trainers have been great at explaining technique to new members.
How much does it cost to join?
Memberships usually start around $89/month, but contact the gym for a full breakdown of all of their membership options.
Get started with TITLE Boxing Club here.
---
Best Rock Climbing Gym in Cleveland: Shaker Rocks
Where is it?
3377 Warrensville Center Road, Shaker Heights, OH 44122
What makes it cool?
Shaker Rocks boasts an impressive 17,000 square foot facility.
That means there's ample room for climbing walls and plenty of other fun activities.
One way Shaker Rocks differentiates itself from the competition is with its yoga classes.
You and the rest of the class carve out a little spot for yourselves and get to stretching.
Beginners climbers can take advantage of the classes to learn the basics. Experience climbers can free climb and sharpen their skills.
It's so much fun you may just want to throw a party here at some point.
What local reviewers are saying
$20 or so plus a couple bucks for a day pass and shoes for a newbie like me to boulder.
Wonderful front desk staff that helped me out with some climbing shoes recommendations.
Seriously cool facility, great vibes from everyone there, highly recommend to anyone looking for something to do and try something new!!!
How much does it cost to join?
For adults, a month-to-month membership starts at $79/month plus a $40 enrollment fee.
Graduate students, children, and service members can join for anywhere between $69 and $72/month plus a $30 enrollment fee.
You can save a little money in the long run by paying in full for one, three, or twelve months.
Get started with Shaker Rocks here.
---
Best Yoga Studio in Cleveland: Yoga Strong
Where is it?
1104 Prospect Ave E, Cleveland, OH 44115
What makes it cool?
While multiple styles of yoga are offered here, the specialty at Yoga Strong is vinyasa.
VInyasa is a flow style of yoga, where you'll string moves and poses together seamlessly and in-sequence with your breathwork.
But that's not all you'll find here. There's also hot yoga, Barre, and plenty of other varieties that might be up your alley.
You just need to make sure you bring your own mat.
(See the incredible results you can get from just 30 days of yoga.)
What local reviewers are saying
I typically do the Barre or Booty Lift classes and love both.
They are by far the best and most challenging yoga classes I have ever been to and I have been doing yoga for about 5 years
I took the Strong Flow class with Jen on a Sunday morning and it was both a tough workout and a relaxing way to start my day.
How much does it cost to join?
A single class costs $15 but you can purchase a bundle to save some money.
Packages are available for $65 for five classes, $120 for 10 classes, or $190 for 18 classes.
Get started with Yoga Strong here.
---
Best Powerlifting Gym in Cleveland: Old School Iron Gym
Where is it?
5131 W 140th St, Brook Park, OH 44142
What makes it cool?
Old School Iron Gym houses all of its equipment in a 30,000 square foot facility.
You'll find over 200 different pieces of equipment plus a turf area and boxing ring.
It's great for people interested in weightlifting or those who want to get more into boxing and MMA training.
There's also cardio gear in case you want to mix things up, but this isn't the gym to go to if you're only interested in walking on the treadmill or just want to "tone."
Plus, we just love the name!
(See how you can transform your body in 30 days of lifting weights.)
What local reviewers are saying
I've been a member here for a few years. Nothing like it in the area.
The amount and varied equipment is a huge benefit.
This place was cool, huge set of multiple rooms including a lot of solid weightlifting equipment, a room of functional exercise equipment and then 2 rooms for MMA including a BJJ/wrestling room and a boxing room.
How much does it cost to join?
Memberships are around $35/month, but contact Old School Iron Gym for a more complete pricing list.
Get started with Old School Iron Gym here.
---
Best Gym for Women in Cleveland: Bad Girl Fitness
Where is it?
1929 Cooper Foster Park Rd, Amherst, OH 44001
What makes it cool?
The purpose of a women's gym is to help women feel safe and empowered.
You get both of those at Bad Girl Fitness.
You can sign up to get a pass online for a free first session.
After that, you're free to explore the rest of the amenities at the gym.
In addition to one-on-one personal training, there are also several different team training regimens. The ones you'll find here include:
Combust: Strength circuit training involving kettlebells, sandbags, and more
Forge: Working your core and burning a lot of calories
Ignite: High intensity workouts that can involve medicine balls, tires, and sleds
There's not as much pressure to outperform your peers, and you can go at whatever pace suits you.
What local reviewers are saying
I am so happy I joined Bad Girl Fitness; it's a great workout that targets different areas of the body!
I don't know how she does it, but Diane makes me work harder than I ever have before but I'm having more fun at a gym than I ever thought possible!
The gym is small and super friendly but delivers hardcore workouts that can help change your life.
How much does it cost to join?
Contact Bad Girl Fitness for pricing.
Get started with Bad Girl Fitness here.
---
Best Spin Studio in Cleveland: Harness Cycle
Where is it?
1965 E 6th St, Cleveland, OH 44114 (Harness Cycle Downtown)
What makes it cool?
Harness Cycle has ample classes, but that's only the beginning of where your fitness journey can go.
This studio also hosts numerous events, including fun runs.
You can go across some of the famous Cleveland bridges, enjoying the sights while working up a sweat.
Harness Cycle also sells stationary bikes.
If you enjoy the classes, you can bring a bike home so you can work out without going to the studio.
(What results can you get from spin class? Find out here!)
What local reviewers are saying
Quick/efficient check in and easy to rent shows.
Riders and instructors are much more approachable and friendly. (I actually met a fellow nurse who works at Cleveland Clinic, which is where I'll be starting work soon!)
I certainly never envisioned myself becoming someone who took cycling classes three times a week, but thanks to Harness Cycle, here I am.
How much does it cost to join?
Membership for Harness Cycle starts at $50 for a three-class package and goes up to $230 for a 20-class package.
You can also pay $18 for a single class.
Get started with Harness Cycle here.
---
Wrapping Up
So what's your pleasure, Cleveland?
Lifting heavy weights? Yoga? Something more unique like boxing?
Cleveland has it all. The only challenge is finding the right studio and workout for you.
Your best bet? Try them all! You can almost always get a free introductory workout, or even a free weeklong trial.
What did I miss? Where's your favorite place to workout in Cleveland, OH?
Before you go, explore the:
Hope this helped!