Crunch Fitness is one of the most popular budget-friendly commercial gyms around.
It's got group classes, personal trainers, plenty of equipment, and even a pool at some locations!
But if you're a commuter who likes to exercise before work, you may have a different amenity on your mind:
Does Crunch Fitness have showers?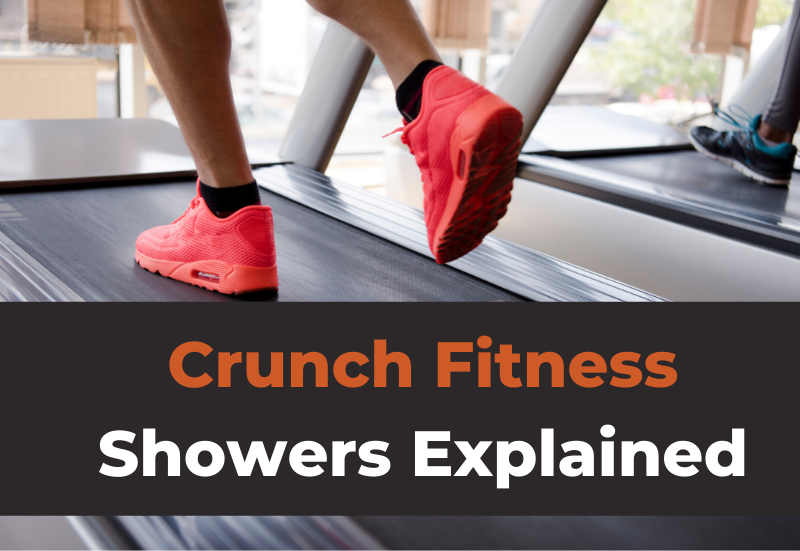 Crunch Fitness offers showers and a standard locker room changing area for members. Select locations (called Signature clubs) will offer high-end shampoos and soaps in the shower area, fresh towels, and hair dryers for members. Basic (or Franchise) locations may not offer all of these amenities.
Let's take a closer look at the Crunch Fitness shower and locker room areas.
---
Does Crunch Fitness Have Showers?
Yes, showers are indeed available at most Crunch Fitness locations.
The gym also provide lockers that you can use to keep your belongings secure while you shower.
The availability of showers at the gym actually has a lot of benefits! Even if you don't need to shower off immediately after your workout, you might want to consider trying it!
First off, the fact that you can shower at the gym means you don't have to be self-conscious while you're going about the rest of your day.
Whether you're heading home or going to work, you can feel confident that your post-workout shower has you smelling fresh again.
Taking a shower after exercising is also important for health reasons.
Sweating can lead to a buildup of bacteria and yeast on your skin. If you don't wash them away quickly, they could cause irritation or other issues.
It's also been shown that showering after a workout can improve muscle recovery and future performance.
Crunch members don't have to worry about those potential issues because they can shower immediately after their workouts.
(Want to know more about Crunch? See my full Crunch Fitness review.)
---
Does Crunch Fitness Provide Soap or Shampoo?
Members of Crunch Fitness gyms have access to showers after working out, but what about other hygienic necessities?
Does Crunch Fitness also offer soap or shampoo at their locations?
The answer to those questions will depend on which type of Crunch Fitness gym you're going to.
Crunch Fitness gyms are divided into two categories: Franchise gyms and the Signature gyms.
The Franchise gyms offer less in terms of on-site amenities. It may be up to you to bring the toiletries you need for showering.
Make it a habit to keep your toiletries in your gym bag. The last thing you want is to finish showering only to find out that you don't have any shampoo or even soap to use!
If you've joined up at a Crunch Signature location, you'll find the showers stocked with plenty of soap and shampoo.
Crunch Fitness has an ongoing partnership with Ritual Products.
Thanks to that partnership, you can find Ritual Products available in the shower area.
Among the products provided at the Signature showers are the basics like soap and shampoo. Beyond them, Signature members also receive conditioner and shower gel.
Ritual Products also offers a coupon you can use to get a discount on future purchases.
---
Does Crunch Fitness Provide Towels for the Shower Area?
You're going to need some towels to dry off after you shower.
Will you have to bring the towels yourself or are they already available at the gym?
Once again, the answer to that question will depend on which type of Crunch Fitness gym you frequent.
The Franchise locations of Crunch Fitness do not provide access to towels. They instruct guests to bring towels from home so they can stay clean at the gym.
Also, you should consider bringing two towels with you.
Use one towel to wipe down pieces of equipment after you use them and another to dry up after showering.
Members of Signature Crunch Fitness will not have to bring towels along during their workouts — they'll provide these on site.
The gym will already provide the towels they need during their workout sessions and after showering.
It's also worth pointing out that the Signature Crunch Fitness gyms have salon hair dryers on site.
They will be able to dry your hair faster than a towel. You can use them to shorten your post-workout routine.
---
What Are Crunch Fitness Showers Like?
What can you expect to see when you're done working out at a Crunch Fitness gym?
Let's provide a quick overview of their shower and locker room areas so you know what to expect.
Starting with the locker room, the individual lockers you'll see there are all clustered together.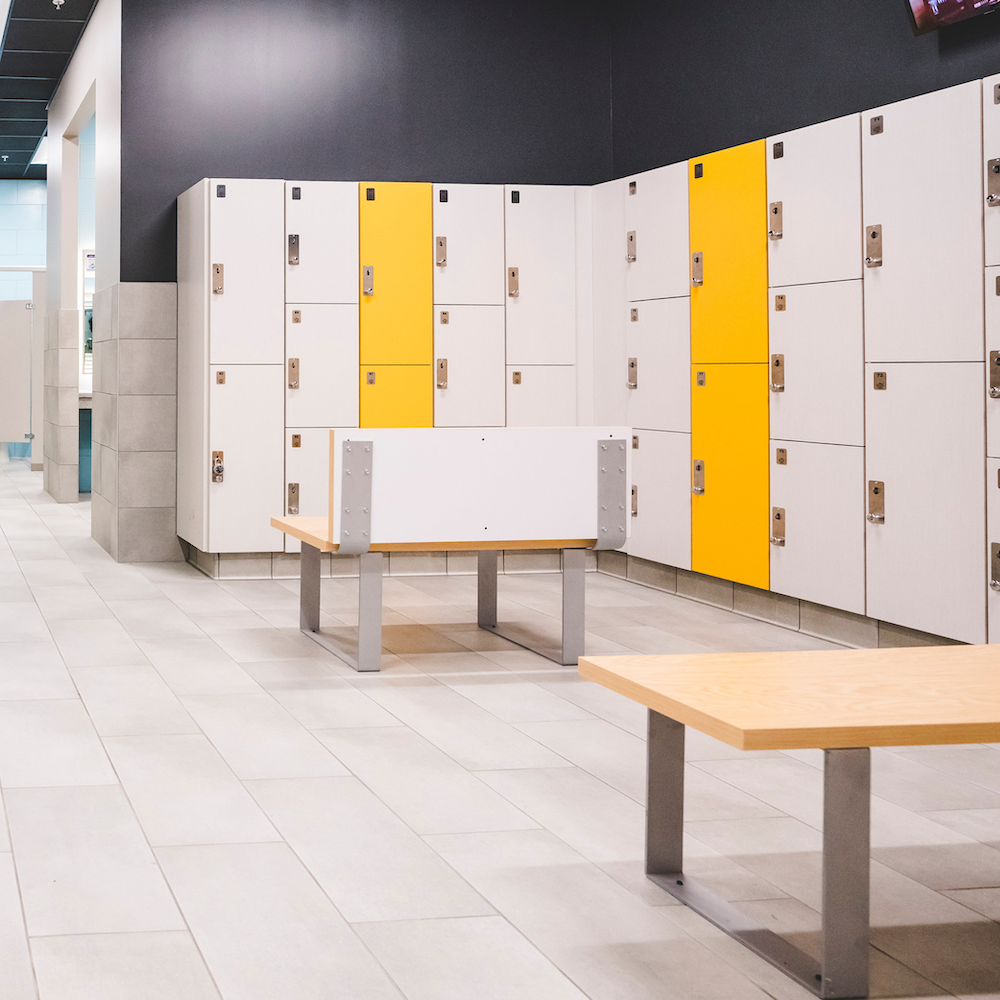 The lockers may vary in terms of style and color. They are also quite spacious so you should be able to fit your belongings in them without any issues.
You can also sit down on one of the benches positioned near the lockers — perfect for changing and dressing before or after your workout.
Speaking of the showers, they are individual stalls with frosted glass doors to maintain your privacy.
(Designs may vary depending on location.)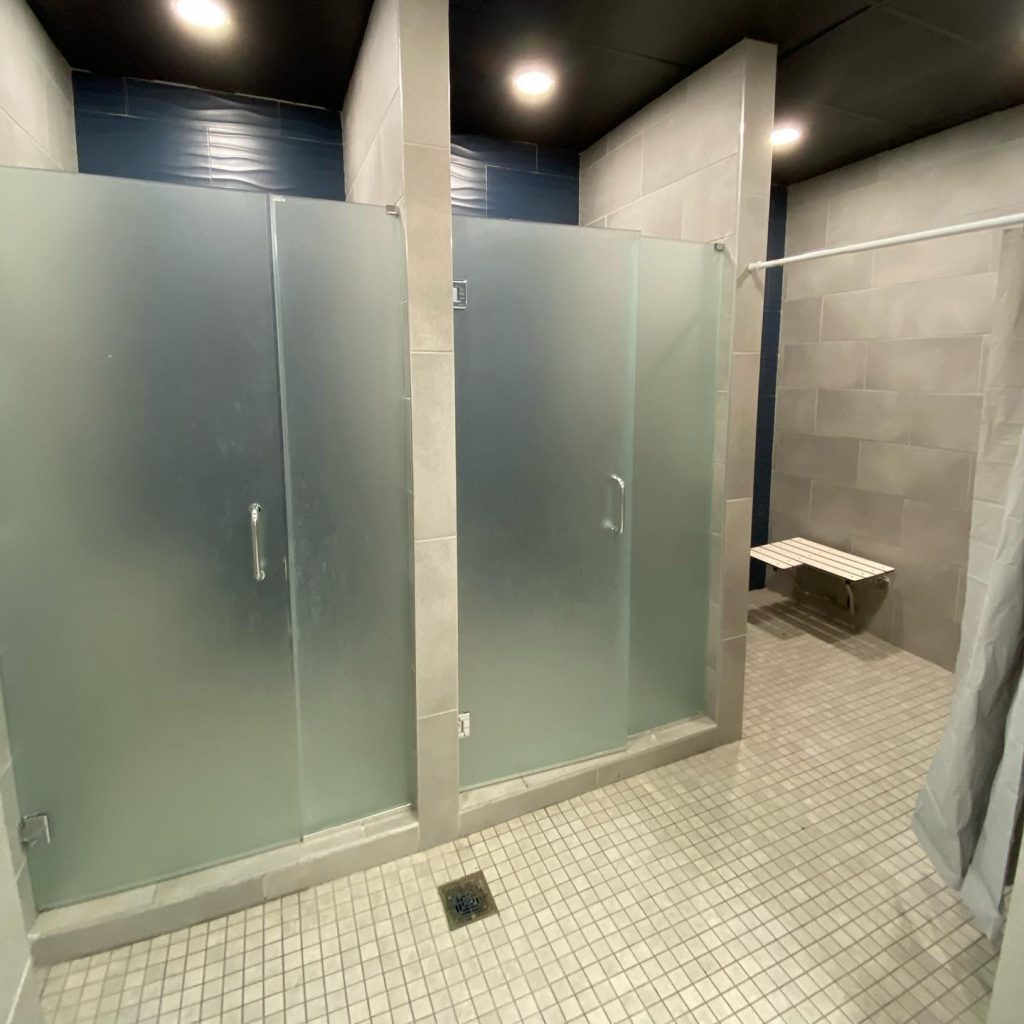 Each stall measures about 48" x 36" so you should be able to move around easily while you're cleaning up.
Most Crunch Fitness locations also opted to go for the two-tone tile approach when designing their locker room and shower areas.
You'll often see gray tiles paired together with something like light blue, yellow, or white.
As you've probably guessed, the Signature Crunch Fitness locations have larger locker rooms and shower areas.
The added space is a must because they need to accommodate all the supplemental features.
Saunas are among those supplemental features available at certain locations. Feel free to use them if you want to relax before heading home.
---
Wrapping Up
Crunch Fitness gyms accommodate all their guests by offering access to showers.
However, your post-workout experience will clearly be better at one of their Signature locations.
With toiletries, towels, and even saunas provided, the Signature Crunch Fitness locations provide the definitive experience for members.
A Signature Crunch Fitness gym membership will cost more, but you can extract great value from it — that's IF it's available in your area at all.
For more options, you may want to check out:
Hope this helps!