Resistance bands are one of the most valuable tools you can have in your fitness arsenal.
They allow you to challenge your muscles in an incredibly unique way, with dynamic resistance.
Meaning — the more you stretch the band, the greater the resistance. You can also vary the way in which you hold the band to increase tension, and you can perform movements with bands you could never replicate with weights.
They're also great for injury rehab, low impact strength training, and more. The benefits go on and on!
The question is — do gyms have resistance bands? Or will you need to buy your own?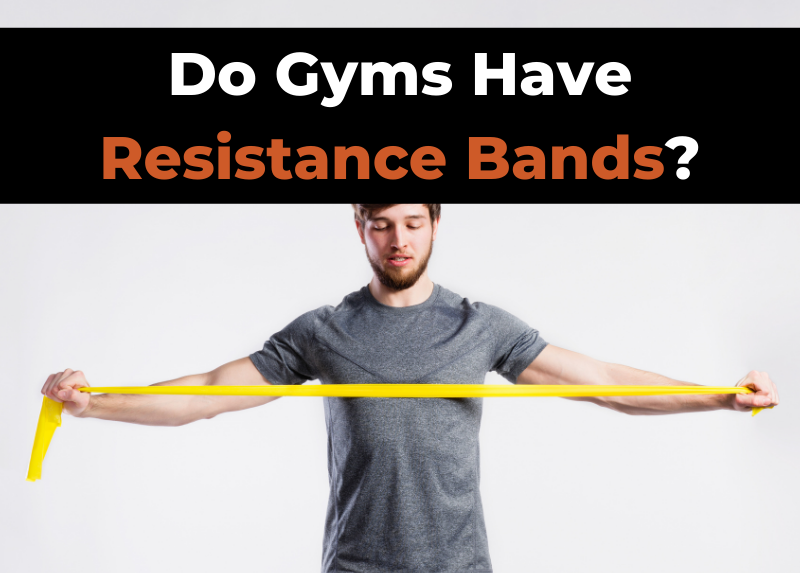 Most gyms don't offer much of a selection of resistance bands to members. Bands may be available to personal training clients in a special area of the gym, and at some clubs you may find a few bands laying around. But generally, you'll want to bring your own if you're serious about resistance band training.
Let's take a closer look at what you need to know about using resistance bands at the gym.
---
Do gyms have resistance bands?
Virtually every gym out there has free weights.
There's usually an entire section devoted to strength training equipment, and even at an anti-meathead gym like Planet Fitness you'll find plenty of dumbbells and resistance machines.
However, resistance bands tend not to be as plentiful. 
Some gyms offer resistance bands, but most likely they will be located in the personal training area. As such, they may not be available to all members.
You may need to pay a little extra to utilize a personal trainer at the gym, but if you want regular access to bands and other specialized equipment, it could be worth it to some people. 
You may be able to find resistance bands at gyms like:
You'll be most likely to find bands and other specialized equipment at higher end gyms like Life Time and Equinox.
However, it's paramount to call the gym nearest you ahead of time.
For example, some 24 Hour Fitness locations offer bands, while others may not have them available. When in doubt, call ahead.
If you're already a member, ask the manager. You can even request that the gym get a set for members to use.
If you don't currently have a gym membership, take a tour and take advantage of a free trial to scope the gym equipment out before you sign a contract.
---
What to do if your gym doesn't have resistance bands (Top alternatives)
More likely than not, you're not going to have a gym near you with resistance bands.
Even if your club does have a few, there's no guarantee they'll have the selection (and resistance levels) you want.
However, that doesn't mean you're completely out of luck. You have some other options.
Bring your own resistance bands
Most gyms won't mind if you bring your own resistance bands.
Just show them at the front, so the staff know they belong to you, and they should let you in without issue.
Resistance bands are extremely affordable. Cheaper sets go for about $10 while some of the stronger, more robust sets can cost around $40 or so.
You can add new types of bands and resistance levels to your collection as needed.
Plus, these bands will fit into your gym bag without a problem.
You can't say the same for bringing your own dumbbells to the gym!
Use similar equipment at the gym
In case you don't want to get your own bands, the gym may still have something up your alley.
In addition to free weights, many gyms have weightlifting machines, or resistance machines.
Strength machines utilize similar principles to help you build muscle. You can easily control the tempo and movement pattern when using a machine just like you can when you use a resistance band.
Using machines instead of free weights reduces the impact on your joints and the fatigue on your nervous system.
When you first get on a weight machine, you should adjust the seat so you can comfortably and efficiently move the weight. Ensuring you're sitting at the proper height will allow you to work through the full range of motion.
You can then adjust the weight level accordingly so that you're comfortable, and over time, you can move it up to continue building your strength. 
If you like resistance bands, you should also check out all the different types of cable machines at the gym — these are fantastic and probably your best bet for mimicking the unique feeling of a stretchy band.
Ask to use the bands from the personal training area
If you're a member in good standing at your gym, it can't hurt to ask the staff if they'll let you use the bands normally reserved for personal training clients.
Just be aware, they may not allow it.
However, if you ensure them you'll put the bands back when you're done — they may just surprise you and say Yes.
---
Wrapping Up
Gyms aren't particularly known for their robust selection of resistance bands.
Sometimes you can find them, but it's best to go into the situation thinking you're not going to find any. 
Luckily, this is one item that's a simple addition to your gym bag. Use them at home or bring them along whenever you need them — they're cheap and don't take up much room!
As you get stronger, you can use different sized bands for more resistance to continue challenging your body.
For more, check out:
Hope this helps!