I'm a pretty busy guy.
I run my own business, I'm a dad, a husband, I take care of two dogs, and I like to stay active and exercise almost every single day.
With all of this going on, I don't always feel my best. If I don't get a ton of sleep, I can feel sluggish late in the day, and I don't always feel I have the energy I should.
Plus, I'm just the tiniest bit curious about natural supplements and whether or not they really work to improve your life.
So when I heard about Care/Of personalized vitamins, it sounded like an awesome opportunity to experiment a little bit with my routine and see what would happen.
After a full month on my vitamin and supplement stack, here's my full, hands-on, and 100% honest Care/Of Vitamins review. Is Care/Of really worth it?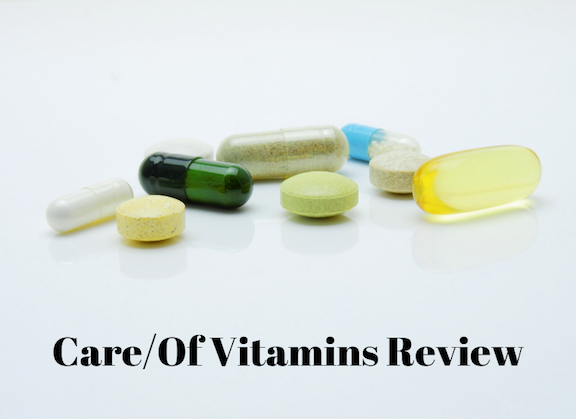 Overall, I really enjoyed the Care/of experience and I definitely felt physically better and more energetic on average while taking my supplements. I wasn't particularly thrilled with taking so many pills every morning, and it's really hard to isolate the effect of these vitamins vs other life factors, but I would say a couple of key markers I was tracking have improved during these past 30 days.
Read on a little further to see how Care/Of works, what happened when I tried it, what I liked, what I didn't, and if it makes sense for you to give it a try.
Get started with your personalized vitamin quiz right here.
---
What is Care/Of & how does it work?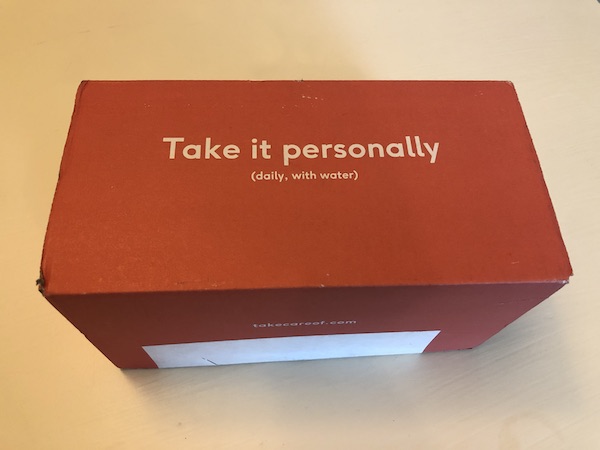 The premise of Care/Of vitamins is pretty simple.
While the idea of a multivitamin is good, all of us have:
Different needs
Different bodies
Different goals
Different problems
So, really, there's no one-size-fits-all vitamin stack that will work for everyone.
Take Care/Of, then, has stepped in to give you a supplement and multi-vitamin routine specifically designed for your and your own individual needs.
If that sounds like a bunch of corporate brand speak, here's what it really means:
You tell Care/Of what you need.
Trouble sleeping?
Need more energy during the day?
Want to clear up your skin? Ease digestion issues? Keep your heart strong?
Or just make sure you're in general, good health?
And they'll then design you your own customized plan with vitamins, natural supplements, powders, energy boosters, and more to help you achieve your goals.
(In most cases, this will get shipped out to you in batches of 30-day supplies. So it's a monthly subscription service, basically.)
The recommendations aren't based on your genetics or biomarkers or anything like that, simply a set of self-reported answers to an online quiz that takes about 5 minutes to complete.
New in 2023, Care/of has released extra metabolism support in the form of Chromium + Apple Extract. This one is extremely popular and is supposed to help you extract more energy from your food, improve digestion, and maintain muscle mass.
You can add or order the Chromium separately from your normal stack.
Learn more about how Care/Of works & get started here.
---
Tell me about the Care/Of quiz! What questions will they ask?
Your first step when you decide to give Take Care/Of a try is to complete the online quiz.
It only takes about 5-minutes, and the answers you give here are how Care/Of builds your personalized plan.
After getting a few basics like your name, age, and general knowledge and interest in vitamins, the quiz asks you to identify your goals. You can choose from:
A specific need: You have something bothering you that you'd like to address
General health and wellness: You just want to stay healthy
Discovery: You're looking to experiment and try some stuff!
Then you'll choose which areas you want help with. Sleep, energy, and stress are popular ones, but there are lots to choose from here.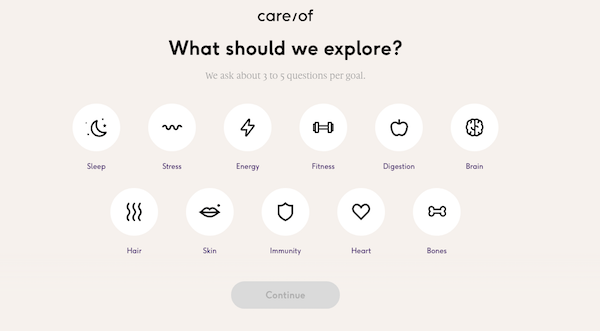 The questions that follow are really simple, and they're all based on the general interests you've chosen at the beginning here.
Expect to answer questions like:
How much and how well you sleep at night
If you have any allergies
Other medications you may be taking
How long you look at screens during the day
Your perceived levels of stress and anxiety
Other questions regarding specific problems you might be dealing with
Like I wrote, the quiz takes about 5-minutes to finish, and there aren't any questions on there that are too tough to answer.
By the end, I felt like I had really given Care/Of a lot of illuminating information about me, and it was pretty helpful to sort through all of my goals and problems in a structured way like that.
I was pretty curious about what they were going to recommend!
Once you're done with the quiz or survey, their algorithm cooks up some personalized recommendations for you, including:
Vitamins
Natural supplements
Powders (various protein sources like plant and whey)
Quick Sticks (one-shot, drinkable powders for better sleep, energy, digestions, etc.)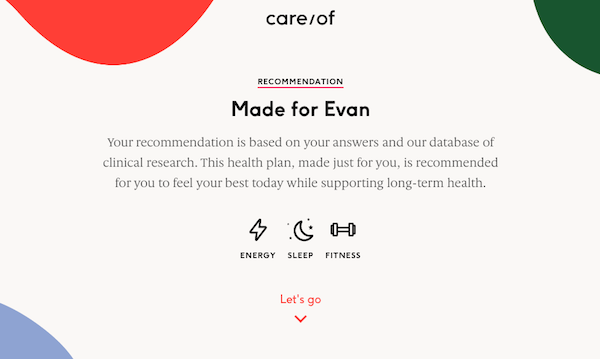 (Don't worry, taking the quiz doesn't lock you into anything like a purchase or contract. You'll have to fork over your email address and receive their marketing materials in order to access your results, but you don't have to order anything.)
It's also nice that you can pick and choose from their recommendations.
You can get the whole recommended routine, or delete a few items you don't really want (or to bring the cost down).
Start your quiz now and see what Care/Of comes up for you! It's fun, fast, and free.
---
How much does Care/Of cost?
The cost of this monthly service will vary greatly depending on how your personalized package comes together.
In general, expect to pay somewhere between $30-50 per month (or per 30-day supply) of your recommended stack.
Mine came out to about $44.
The vitamins and supplements they recommended were $37 per month, and I got one powder to try at $7 per month.
I opted not to take at least one or two of the supplements they recommended for me, which brought the cost down, so if you decide to go with a more robust routine you could easily pay $50 or more per 30-day supply from Care/Of.
(By the way, keep scrolling down to see exactly what I got and if it worked for me.)
---
What's the quality of Care/of vitamins?
As a general rule, when you're considering taking vitamins or supplements (or really, putting ANYTHING into your body), the quality of ingredients is often more important than what it actually is.
A lot of people wonder if Care/Of is a lot of flash and marketing behind some really crappy products.
In my opinion, this isn't the case and I feel really good about the quality of supplements Care/Of delivers.
One thing I really appreciate is the company's Quality page, where they go into great detail about how they source, test, and deliver their vitamins and supplements.
(You can even use an interactive map that shows you where they get certain ingredients.)
You'll also find that Care/Of doesn't offer every vitamin and supplement in the world. Rather, they curate a select handful of things they think will help people and focus on making those as good as possible.
There's also rigorous testing involved in all of their products. Each ingredient is tested three separate times throughout the manufacturing chain to make sure no bad batches get through, which is pretty reassuring.
I take this stuff really seriously. I don't want to put just anything in my body, which is why I stay away from most synthetic supplements.
For me, Care/Of passes the sniff test.
(Read more on their Quality page here.)
---
My experience taking Care/Of, what I liked, what I didn't like:
Okay, let's get into my personal experience using Care/Of and whether I'd recommend it.
When I took the quiz, I focused on three big areas:
Fitness and performance (this is a fitness blog, after all!)
Sleep quality
Energy
I was open to trying just about anything, but if I had to choose three areas that would REALLY improve my life, it was these.
In the end, here's what Care/Of recommended for me: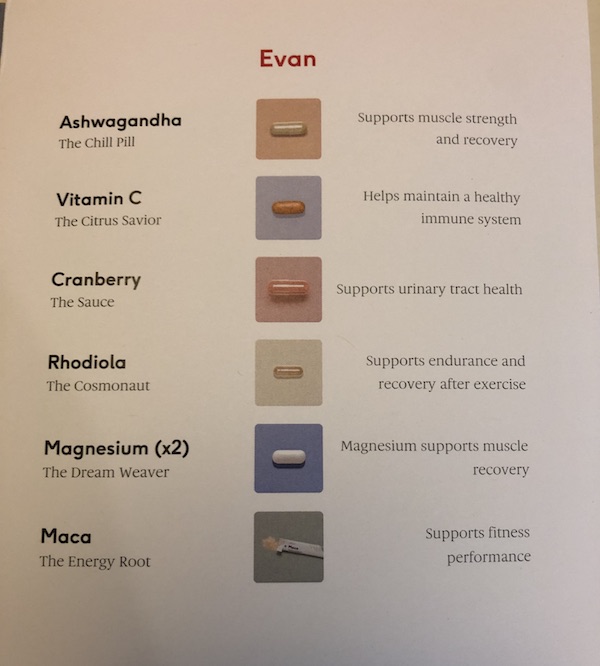 Ashwaganda 600mg
They say: An adaptogenic herb that relieves stress, tension, and promotes muscle endurance and overall fitness
Research says: I've heard a ton of good things about Ashwaganda for stress relief and mood, but after some further reading there is also some evidence it can help with aerobic and athletic performance.
I was definitely game to try this one!
Vitamin C 250mg
They say: A natural vitamin found often in citrus fruits, this is great for a health immune system and aerobic endurance.
Research says: I've actually read mixed things about this. Vitamin C is vital to your overall health, immune system, and energy levels, but apparently too much can be harmful for endurance athletes.
Luckily for me, I'm not an endurance athlete, just a recreational one. So we'll see what happens.
Cranberry powder 500mg
They say: At some point during the quiz, I mentioned that I sometimes have to pee a lot. Care/Of recommended cranberry power to support urinary tract health.
(Hey, I said this review would be honest.)
Research says: Cranberry supplements can help prevent UTIs, but I haven't really read anything about them helping to improve bladder capacity or control or anything like that. P
lus, I think basically I just drink a lot of water and use intermittent fasting… when you combine these two things, you have to pee a lot, and that's pretty normal!
(Read what happened when I fasted for 24 hours.)
But there are a ton of other benefits and side effects of cranberry like improved immune health, better heart health, cancer prevention, and healthier teeth and gums.
Rhodiola 250mg
They say: Another adaptogenic herb that supports lower stress levels and fatigue.
Research says: Lots of good stuff! The word on rhodiola is that it's great for your overall mental and physical health, lowering stress and fatigue while boosting physical performance.
Magnesium 400mg
They say: Contains critical minerals that are vital to a good night's sleep.
Research says: There's plenty of support for the idea that magnesium helps your body relax and sleep. It may also help with anxiety and depression.
Whey protein powder
Nothing special to note here.
If you work out and lift weights like I do, you need a lot of protein, so Care/Of has offered this up as a part of my plan.
They use a high-quality protein isolate, but I prefer to get my protein from real food so I decided to pass on this.
Maca root powder (5 packets)
They say: An adaptogenic herb in powder form that promotes high energy levels and athletic performance.
Research says: Science has a lot of good things to say about maca root, including its positive effects on mood, energy, and performance. It supposedly can also increase libido and improve fertility.
See what Care/Of recommends for you by taking the quiz now.
---
What I liked about Care/Of
After a full month of taking the vitamins first thing every morning, here are my thoughts:
---
I had fantastic workouts this month
Most of my supplements were designed around improving my athletic performance and training in the gym. And whether it was just by coincidence or not, I had a seriously great month of workouts.
I felt awesome in the gym and hit a few new personal records along the way.
I think the supplements only play a small role in that, and the rest is training and nutrition, but they seem to have helped for sure!
---
My overall mood and energy levels were great
Again, I can't sit here and tell you 100% that this happened because of a specific vitamin, or even the whole gang combined, but I felt physically and mentally quite good this month.
I'd say between the great workouts and the solid energy levels, this vitamin pack was a fairly large success!
---
I love the packaging and professionalism
Supplements are shady business, so I really appreciated the friendly and authoritative feel of the Care/Of brand.
You really feel like you're in good, capable, and upstanding hands.
They're pretty clear with you about what you're getting, why, and where they source their ingredients.
I also love the adorable little day-packs the vitamins came in.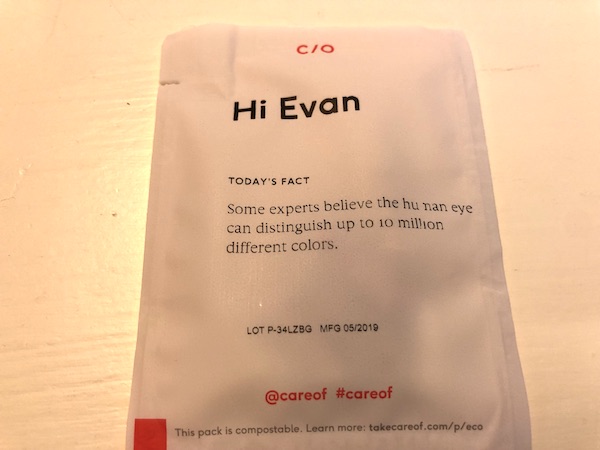 (By the way, I love that they emailed me to remind me that I'd soon be billed for my second month of the vitamins… They weren't trying to "trick" me into staying subscribed.)
---
No strange side effects
When you start pumping new supplements into your body, you're never sure what might happen.
I'm happy to report that I haven't suffered any unexplained headaches, stomach aches, or jitters.
I've felt really normal, just… slightly better!
---
What I didn't love
I didn't love actually taking the pills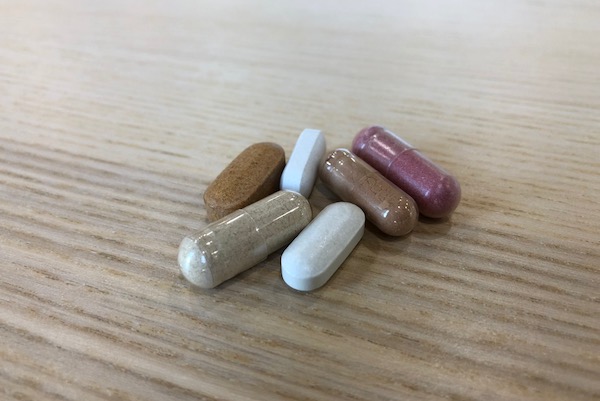 This is a minor grievance, but taking 6 pills every morning wasn't the most fun thing in the world.
A few of them were pretty big. Not horse pills by any stretch, but not the most comfortable supplements I've ever taken.
If you struggle with swallowing pills at all, you're not going to love Care/Of.
The good news is that the vitamins didn't have a bad smell or taste, and they seemed to sit totally fine even on an empty stomach, so that part was totally fine.
---
I didn't know what to do with the maca root powder
I tried the maca root a few times and, while it definitely had positive effects on my energy and mood, I wasn't really sure how to fit it into my routine.
They advise you to mix it with your protein powder, but I don't take protein powder!
And even if I did, they only give you 5 packets to last the month.
Was I supposed to take it before workouts? After? Just when I needed a boost?
I really wasn't sure what the intent was with the maca, so I tried it a few times here and there and enjoyed it, but I never got a feel for where it fit into my routine.
(I already use a preworkout that I love called Kino Octane – click to read my review.)
---
I'm not sure my sleep improved
I recall my sleep this past month being a mixed bag, as usual.
Some good nights, but also more than a few bad.
A couple of the supplements I was sent were supposed to help improve my sleep so I kind of wish I could tell you that I slept like a baby all month, but I'm not sure if there was a big impact here.
---
Wrapping Up
In the end, trying Care/Of was a really positive experience.
The quiz was fun
The company is extremely friendly, reliable, and ethical
I experienced great energy and elevated moods
The only thing holding me back from signing up for life right now is that I'm not sure I love taking all those pills every day (when I don't have to), and I didn't get a big boost to my sleep quality.
The cool thing is, if there's a different vitamin or supplement you want to try, you can always manually add it to your monthly pack and give it a shot!
I'd definitely recommend that you try it, at least for one month so you can see if you like it.
I'm not 100% sure I'll continue to spend money on it just as an experiment in curiosity, but if you have a specific nagging issue you'd like to address with natural supplements, this is a great way to get started.
Give it a shot by taking Care/Of's quick, 5-minute quiz right here.