California is the place where the whole gym scene was born.
So, it's not surprising that the place is littered with gyms.
While many of them, like Gold's and World Gym, have gone global, others have remained statewide operations.
One of those California specific gym chains is In Shape.
So should you consider this club when you're shopping for a gym? Is In Shape Worth It?
Here's a full review.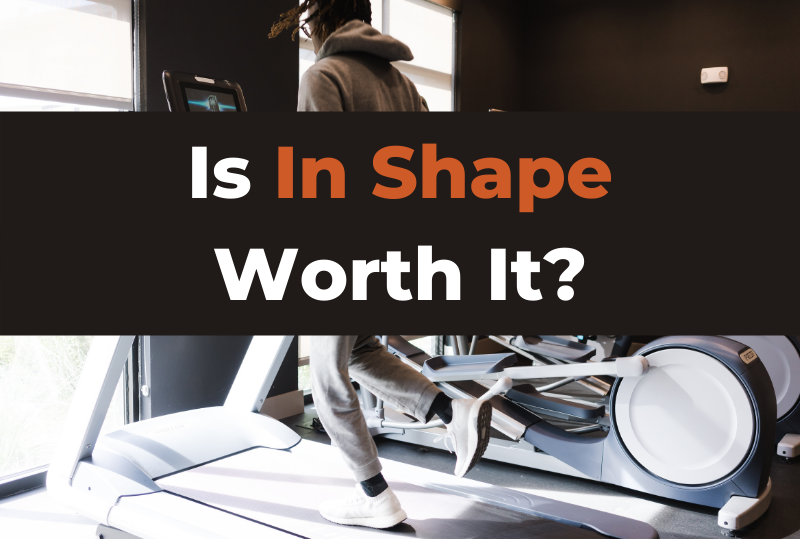 Overall, In Shape is a great with everything you could want in a health club, from tons of equipment, to child care and fantastic pools. The only real downside is that the pricing at different club levels can be confusing, and if you're looking for a budget gym, you can do better on price.
Let's find out how welcoming, affordable and functional In Shape really is.
---
What is In Shape?
In Shape Health Club is a California based fitness franchise, with 72 locations spread across the state.
The first In Shape opened in 1981 in Stockton. Under the guidance of founder Dr. Mort Rothbard, the chain quickly expanded.
The reputation of the clubs were built on superior service, awesome facilities, and an inclusive customer experience. 
In Shape Health Clubs get involved in their local community through sponsorships and participation in community events. 
Let's learn a little bit more about a membership at In Shape.
---
How much does In Shape cost?
Membership at In Shape Health Clubs is a little confusing, to say the least.
Membership levels and club levels seem to change frequently. As of this writing, your local In Shape might be a:
Signature Club
Resort Club
Double Diamond Club
(There is only one Double Diamond Club, and it's the Fairfield Rancho Solano location.)
The big difference between Signature and Resort Clubs is that Resorts will have outdoor pools. Other amenities are mostly the same between levels.
The rates vary depending on the level of amenities at your nearest club, and whether you want to access to full In Shape network.
Signature one club access $29.99/month
Signature network access (all Signature clubs) $34.99/month
Resort one club $84.99/month
Resort network access $89.99/month
Double diamond network $139.99/month
There's usually an enrollment fee of about $49.99 for new members at In Shape, depending on location and membership level.
All clubs offer a 7-day free guest pass where members can introduce a friend for a week.
However, there are no trial memberships available. 
---
In Shape Equipment, Features & Amenities
In Shape is more than a gym; it is a complete health and fitness experience.
As well as complete free weights, cardio and exercise machine gyms, they offer a wide range of group fitness classes, indoor and outdoor pools, racquetball, basketball, tennis and pickleball courts.
They also cater to all age groups with kids classes and activities and senior classes. 
Equipment
Each In Shape Health Center features an expansive strength training gym area that combines free weights and resistance training machines.
Weight machines feature both selectorized and plate loaded varieties.
There are also areas dedicated to TRX training. 
A Cardio Theater is filled with a full range of cardio training gear, including treadmills, cross trainers, bikes, and step machines.
Many gyms also offer outdoor training areas featuring a combination of cardio and strength training equipment. 
Group Fitness Classes
In Shape excels at providing a wide range of group fitness classes.
These include:
Cardio
Aqua
Group fitness class
Cycle
Dance
Swimming
Kids group
LES MILLS BODYPUMP ®
LES MILLS BODYCOMBAT®
Mind body
Martial arts
Zumba ®
Yoga
Strength class
Classes are constantly held from 5am to 8:45pm.
All classes are led by inspirational instructors and cater for every experience level. 
Pool/Sauna
In Shape excels at providing water based facilities to workout and relax.
They provide both indoor and outdoor pools (at Resort Clubs) with dedicated lap lanes, family swim times, and aqua classes.
Members can even reserve a cabana for their personal relaxation after their workout at select locations.
Childcare
In Shape offers an excellent child care service for members.
Their Kid Zone area is for kids 12 years and younger and provides all sorts of fun, engaging activities.
Trust-line certified staff supervise all activities.
Kids are able to play basketball, get lost in safe space mazes, get into the game in the soccer arena, and immerse themselves in virtual reality in the WiFi video game station.
Members can leave their children in the Kid Zone for up to two hours.
Kid Zone facilities and hours may vary between locations.
Other Amenities
As well as completely equipped gyms areas, pools, sports courts and group class areas, In Shape provides the following amenities:
Locker rooms
Free Wi-Fi
Towel service
Locker rentals
Salon
Juice bar
Kid zone
Many clubs also feature wood panel sauna rooms, and steam rooms to help you rejuvenate and detoxify after your workout.
In Shape does a great job of maintaining clean facilities.
All areas are cleaned on a regular daily schedule, which has been stepped up even more in this Covid environment. 
---
What real people are saying (reviews, pros & cons)
I've checked out dozens of online reviews from In Shape members all over California to get a full picture of the member experience.
Here are the key points:
Pros
Equipment Range
Everyone agrees that In Shape excels at providing all the training equipment you need to meet every conceivable training need.
Whether you're into free weight training, machines or cardio, you'll find well maintained, functional equipment ready to go.
There are also enough duplicates on most machines that you won't have to wait around to use it – even during peak hours. 
Kid Zone
Let's face it – you wouldn't want to leave your child at just any gym, even if they did have childcare available.
At In Shape, however, you don't have to worry; their Kid Zone service sets the standard of what the rest of the industry should aspire to.
Reviewers rave about the engaging and fully trained Kid Zone staff as well as the wide range of activities to keep the kids engaged. 
Group Fitness Classes
It's hard to imagine a health club that has a greater fitness class offering than In Shape.
That's reflected in the online reviews, with a lot of people providing glowing accounts of their fitness class experience.
As well as the wide range of offerings and class times, many people love the engaging and enthusiastic manner of the instructors. 
Cons
Expensive
In Shape is not a budget gym.
If you go for the full service double diamond membership, you'll be forking out $135 a month.
The one club Signature membership isn't so bad at about $30 per month, but you can find a better deal at more budget friendly gyms if money's tight.
Planet Fitness and other gyms like it start at just $10 per month.
Plus, the $50 enrollment fee is pretty steep. You might be able to negotiate it down if you're savvy, however.
Family Environment
For many people, the family friendly environment, highlighted by the amazing Kid Zone centers, is a definite pro.
However, if you are a person who prefers to train and relax in an adults only environment, you probably aren't going to be too comfortable here. 
Billing Issues
There are a number of reviewers who have mentioned that their accounts were billed during the Covid lockdown.
Of course no services were provided for this money. Attempts to get charges reversed have often met with frustration. That's not good!
However, you'll find this is a common complaint at almost every major big box gym.
---
Alternatives to In Shape
As I mentioned at the outset, California is a gym lover's paradise.
In Shape isn't the only game in town when it comes to full facility health centers, but it is one of the best.
That being said, I also give huge props to LA Fitness.
It's one of the best mid-range gyms around and has impressive equipment and amenities for about $30/month.
Another high end full service health club that gets great reviews is Life Time.
Service and facilities offered by Lifetime Fitness are on par with In Shape, particularly the Resort clubs, but the monthly fee is a little more costly.
---
Wrapping Up
In Shape Health Clubs are pretty impressive fitness centers.
Too bad you can't find them outside of California!
They have fantastic equipment, pools, child care, and even the option to join super high-end Resort and Double Diamond Clubs — for a price.
Overall, I'd say Yes, In Shape is worth it!
For more reviews, check out:
Hope this helps!