It's understandable why some women would want their own gym.
Women have to put up with a litany of horrendous behavior from men at most regular big box gyms.
But at a women-only facility, they can be confident that, if nothing else, they'll be able to work out in peace.
These gyms often come with amenities specifically geared toward women to help you get in the best workout possible.
Blush Boot Camp is one fitness studio slash gym that caters to women, but the question is:
Is Blush Boot Camp worth it? Here's a full review.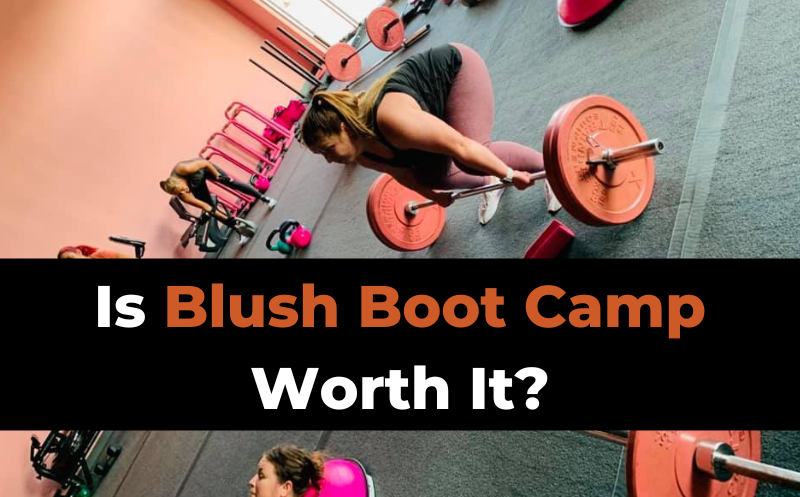 Blush Boot Camp is a women's-only fitness studio with locations all over Kansas, Missouri, and Nebraska — more locations are coming soon, including Florida and Colorado. Blush follows a boot camp style interval training approach similar to Burn Boot Camp or F45. The workouts and supportive environment are fantastic, and the free child care is a huge plus!
However, many franchise locations are run by men — not a popular decision for many female members. The studio is also on the pricey side compared to joining a regular gym.
Here's everything to know about Blush Boot Camp so that you can sign up today.
---
How much does Blush Boot Camp cost? (Price)
There are four different pricing tiers at Blush Boot Camp.
The exact price will vary depending on location, but you can at least get started with the basics of each membership level.
The Simply Blush tier provides you with six months of unlimited mind and body changing sessions that will allow you to look and feel your best.
It also includes such perks as monthly balance meetings, child care or babysitting during class, free towel service, and access to all other locations, which is great if you plan on being on the move.
From there, the tiers tend to be similar except for the membership length.
Glowing Blush lasts for 12 months while Bold Blush goes for 18.
As with most gyms and studios, you'll get the best deal if you sign up for the longest commitment.
If you're not ready for a big commitment, you can also sign up for a Blush Pass, which gives you 12 sessions while still having access to perks like free towel service and babysitting/child care.
If you're interested in learning more about what each tier can give you, call the location nearest you.
According to one report on Better Business Bureau, a customer at a Missouri Blush Boot Camp location stated that the 18-month contract (Bold Blush) came out to about $108 per month.
Plus, each tier comes with a 30-day money back guarantee, so try it out, and if it's not a good fit for you, you can cancel right away.
---
Blush Boot Camp Amenities
Blush Boot Camp has a strong commitment to helping women improve not only physically but also mentally.
That's why it offers free mindset coaching as well as balance meetings.
These give you opportunities to slow down and focus on what you really want to achieve. You can even book a balance meeting online to see what areas you can start improving on.
Outside of that, Blush Boot Camp also offers free babysitting and free nutritional support as a part of your membership.
(Having child care is absolutely crucial for many moms to even have a prayer of making it to the gym, and not a lot of fitness classes offer child care.)
Most, if not all, Blush locations offer changing room areas and private showers — great for commuters who need to clean up immediately after working out.
With weights and other gear at your disposal, professional trainers will guide you through a regimen specifically geared toward what you want to achieve. 
Want to lose weight? How about pack on muscle? It's not one-size-fits-all at Blush Boot Camp.
---
The Blush Boot Camp Workout
No two workout regimens are alike.
Much like other boot camps like Burn Boot Camp or F45, each roughly one-hour-long class at Blush will have a different focus like:
Cardio
Glutes and hamstrings
Upper body strength
Full body
Etc
You'll rotate through different stations in an interval training format, doing exercises like tire flips, lunges, weight lifting moves, etc.
And the entire time you're working out, your heart rate is monitored to ensure you're in a healthy range for your own body type and fitness level — a technique similar to what's used at Orangetheory for optimal results.
---
What Are Real Members Saying (Blush Boot Camp Reviews, Pros & Cons)
All you have to do is go to the Blush Boot Camp website to find an entire page filled with testimonials.
Here's a glowing review from one member:
"Since starting at BLUSH® my entire attitude on fitness has changed. I enjoy my workouts and miss them when I am not able to make it to class.
"The trainers and owner are wonderful and encouraging of my fitness goals and genuinely want to help me reach those goals."
Of course, any company can cherry-pick reviews to put on their site.
But when you look around Google and Yelp, you'll find mostly positive reviews. 
For the Lee's Summit location, one reviewer wrote:
"I feel so empowered every time I attend a class. The instructors are super attentive! Missy W. Is the best.
"I have a heart condition, and love that we have the heart monitor screen to watch where we're at and know when to slow down and when to push it."
One downside? The cost. While prices can vary, it does appear it's on the pricier side. One Google review reads:
"The facility and the trainers are nice but overpriced."
At potentially $100/month or more, Blush Boot Camp costs at least twice as much as joining your average commercial gym.
However, when compared to the cost at other popular fitness studios like Orangetheory or CycleBar, it's not so bad.
One thread on Reddit about a location in Kansas City wasn't so positive. Users there complained about the boot camp being overpriced and didn't enjoy the fact that this women-only gym was actually owned by a man.
(In fact, a man named Maxwell Gellert is listed as the CEO of the company — he runs the company along with his wife.)
Again, you'll want to contact the location nearest you to see how much each tier will set you back. You'll have to decide for yourself whether it's worth signing up for or if you need to check out other options.
---
Wrapping Up
Blush Boot Camp is a small but mighty company.
It's steadily gaining momentum, and if there's one near you, it might be time to check it out. 
Women's gyms can be hard to come by, so if you want a more comfortable workout experience, it may be advantageous to look into what's near you.
You never know until you try, so give it a shot. You may just make some great friends, too, along the way.
Here are some other gym reviews to check out:
Hope this helped!