After reading hundreds of reviews and doing hours of research on the benefits of rebounding for seniors, I think the best rebounder for seniors is the Needak Soft Bounce (Amazon link). It's sturdy, easy to assemble, and comes with a free instructional DVD!
Read on to see some more great options and learn how I chose my top 3 best mini trampolines for seniors.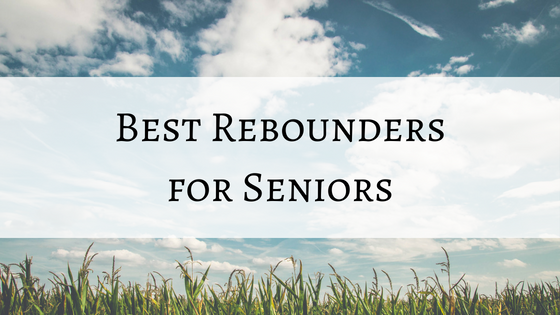 Bodies change as we get older, making some of our favorite workouts harder to do.
But how do you handle physical limits as you age if you still want to stay fit?
I've said it before and I'll say it again – rebounding is a great way to stay in shape. It is also helpful for seniors who are looking for exercise (and better health)!
Some of the benefits of rebounding for seniors and older adults (rebounding is just a name for low-impact exercise on a mini trampoline) include improved flexibility, reduced joint pressure, and more.
Seniors looking for a fun exercise that fits their fitness level can look into getting a rebounder.
Before we dive into the research on why rebounders can help improve your life – and the lives of those you know – let's take a glance at my top three picks for the best rebounder for seniors:
Image
Product
Details

SportPlus Mini Trampoline

Lightweight but less sturdy for heavier folks
Easy to assemble and stow
Budget-friendly

Check on Amazon

MaXimus Folding Rebounder

Solid construction
Easy assembly
A little stiff upon first use

Check on Amazon
See image on Amazon

My Pick

Needak Soft Bounce

Sturdy and powerful
Ultra-quiet operation
Free instructional DVD

Check on Amazon
---
What to look for before you buy
From improving immune function and balance to increasing circulation and relieving pain, rebounding is a great way for seniors and the elderly to exercise.
For seniors that struggle with pain, stiffness, or other age-related symptoms, walking is generally their exercise of choice. But this type of cardiovascular exercise can be stressful on the body.
Gentle rebounding, done properly, is a safe and effective way to introduce cardio into your routine without further hurting your joints. In fact, with rebounding, you might feel younger than ever!
Consider the following factors to choose the best rebounder for you:
Comfort
Especially for home usage, you want to know whether it is necessary to wear shoes with your rebounder. Some require it and some don't. If you are fine with wearing shoes, you do not need to worry, but make sure that the shoes fit and are not elevated.
But if you do not always want to wear shoes, double-check the rebounder before you purchase it. You also want a rebounder that does not tilt or move, and that has an even and soft bounce. You want to ensure that the amount of give on the jump pad of the rebounder will allow for an easy workout, not one that further strains your back or joints.
Safety
Make sure that your rebounder is durable, sturdy, and well-built.
The safest rebounders for seniors or the elderly will have stabilizing bars, as they will help you stay centered during your workout.
If you choose a rebounder that folds for easy storage, make sure that you are able to lock it into place; you want to make sure it doesn't snap or fold while you are jumping on it. You should also keep the area around your rebounder clean so you don't trip while getting on or off.
Type of bounce
Rebounders come with different types of material as the jump pad. Some materials are thicker, while others are more malleable.
For seniors, look for materials that do not bounce as much. This will help reduce the feeling of tiredness you might feel.
Quality
You want a rebounder that has a well-built frame, 6 sturdy legs, and (if it has one) a durable stability bar. It should be relatively easy to build, with the various parts staying in place even after extensive jumping.
Rebounders with parts that do not fit together right, or that are made with cheap material, can end up breaking and leading to injury.
---
Best Budget Rebounder: SportPlus Fitness Mini Trampoline
Overview: The SportPlus Fitness Mini Trampoline is an affordable rebounder for low-impact cardio exercising. With its bungee cover, design, and stabilizing bar, the SportPlus rebounder reduces joint pain and pressure. It holds up to 286 pounds and has a jumping pad surface of around 33 inches. The SportPlus rebounder comes in 3 colors. They offer a 30-day satisfaction guarantee and a 3-month limited warranty
Weight: 24.2 pounds
Dimensions: The entire trampoline is 43 inches. The jumping mat is about 37.5 inches across. The height of the handlebar can be adjusted from 33 to 47 inches.
Why I Like It: The SportPlus rebounder offers a myriad of health benefits – and a great workout – to seniors. For those who are new to rebounding, need stabilization, or simply want to build confidence, a stabilizing bar is offered. The bar is removable.
This makes the rebounder easy to store. But it also provides you with a sense of independence. You will be able to workout safely, efficiently, and on your own time – with no help. Aging can stress the body and also negatively affect our moods through frustration or feeling weak. Now, you can feel confident and proud!
The SportPlus rebounder helps with coordination and muscle strengthening by engaging over 400 muscles during your workout.
This helps improve circulation, allowing for an easy but effective workout. The jump pad is non-slip and the feet of the trampoline have rubber sections to ensure that the rebounder stays in place, even if you are a little bit more vigorous than usual. You may use this rebounder safely with or without shoes.
Potential Drawbacks: Although SportPlus claims that its bungee technology is really quiet, that doesn't seem to be the truth. T
he SportPlus is overly squeaky, which can be annoying or off-putting during workouts. The stabilizing bar may also not hold up the best to pressure, making it harder to use without worry.
However, the biggest drawback of the SportPlus rebounder is the time and effort that it takes to set it up. It is extremely difficult to put together, even with the manual, and requires multiple people.
Setup could take over one or two hours, making it inconvenient for seniors who don't have extra help in the house.

Check price and read more reviews of the SportsPlus rebounder on Amazon
---
Best Mid-Range Rebounder: MaXimus Pro Quarter Folding Rebounder
Overview: The MaXimus Pro Quarter Rebounder is a versatile, foldable mini trampoline that can help deliver great fitness results to people of all ages.
It folds both in half and into quarters, and comes with a storage bag for easy transportation. The MaXimus Pro comes with a stability bar, resistance bands, sand weights, a rebounding workout DVD, and free online video membership for 3 months. It can hold up to 300 pounds and comes with a full warranty.
Weight: 32 pounds
Size: 40 inches across
Why I Like It: This sturdy rebounder is easy to assemble, making it something that you can do on your own without extra help.
Once setup, the MaXimus Pro includes a stability bar to help you feel more comfortable while getting on and off or the rebounder, as well as during your workout. Holding up to 300 pounds, this rebounder is great for people of all shapes and sizes.
For seniors, the MaXimus Pro can be a full-body workout in just one product!
The free DVD includes workouts for beginners, so you have options on how to use the rebounder. Of course, you can still do your own thing as well! The resistance bands and sand weights provide extra exercise equipment that you can use while on the rebounder.
Even if you just hold a weight, it will still help strengthen your muscles and balance.
Potential Drawbacks: The MaXimus Pro Quarter Folding Rebounder claims to be extremely portable, but it may not be that easy.
For the first few uses, the rebounder may be stiff upon folding, making it difficult to fold or open by yourself. Similarly, with a weight of 32 pounds, it may not be viable for all users to be able to carry it. This could be frustrating and possibly taxing on your body.
The double-stitched jump pad may also have a little too much give, which could make it a little too hard on the knees for some people.

Check price and read more reviews of the MaXimus Pro rebounder on Amazon
---
Best High-End Rebounder: Needak Soft Bounce Rebounder with Stabilizer Bar

Overview: The Needak Soft Bounce Rebounder is a high-quality, American-made rebounder. Known within the industry, Needak prides themselves on well-made rebounders, and offers a 5-year warranty. This rebounder comes with a stabilizing bar.
The Needak Soft Bounce is built with American steel and rests on 6 steel leg tubes. The maximum weight is 300 pounds.
Weight: 51 pounds
Dimensions: 40 x 10 inches
Why I Like It: This high-end Needak Soft Bounce Rebounder is perfect for seniors who are looking for a fun but low-impact workout. The "soft bounce" system absorbs around 85% of each bounce, reducing pressure on achy joints or limbs.
For beginners or those who need additional help, this rebounder includes a stabilizing bar. It can be held onto during the workout, providing adding stability while you get the freeing feeling of jumping.
While not necessarily a buying factor for everybody, the Needak rebounder is manufactured in America using American materials.
This rebounder is also inclusive. It supports weight up to 300 pounds, meaning that seniors are able to exercise regardless of their physical level. It is also built for different living situations; the rebounder is easily portable, but also foldable for easy storage.
This is great if you are living in a smaller space. Finally, the Needak rebounder comes with a free DVD on rebounding techniques, a free informative article about rebounding, and a free DVD on how rebounding can benefit your immune system.
Potential Drawbacks: One aspect of exercising that is enjoyable is the alleviation of stress. But a noisy or squeaky rebounder might actually raise your stress. Some find the Needak Soft Bounce Rebounder to be too squeaky, even after they lubricate the springs.
While a great product, the Needak rebounder is also at a much higher price point, which might make it difficult for some families to afford.

Check price and read more reviews of the Needak rebounder on Amazon
---
Wrapping Up
Although it may not be a traditional piece of exercise equipment, a rebounder can be incredibly helpful for seniors.
This low-impact cardio workout can increase balance, reduce joint pain and pressure, and improve circulation. But in order to get the most benefits, you need to get a really high-quality piece of equipment.
In terms of the above options, I would say that the best rebounder for most seniors is the Needak Soft Bounce Rebounder. While it is the highest in cost, it is well-made and has the sturdiest stabilizing bar.
Get the full specs and read customer reviews of my favorite low-impact mini trampoline for older folks, the Needak Soft Bounce on Amazon.
Hope this helps, everyone!
---
BONUS: Rebounder workout and sample exercises for seniors
If you're wondering how seniors and older adults can get the most out of their mini trampoline, here are some basic starter tips.
You don't have to climb on and start jumping right away!
In fact, it's best to start with gentle rocking. Lean your weight over to one foot (while keeping both feet grounded) and add in a small bounce, then sway back the other way. Go back and forth like this for a few minutes to slowly elevate your heart rate.
When you're ready, continue with the swaying exercise but add additional bounce to warm your body up even more.
Then, add in a couple of basic bounces. Keep your feet wide for a strong base and don't feel the need to bring them off the surface of the rebounder. Just gently bounce up and down with a firm grip on the stability bar.
As you warm up and gain confidence, you can bounce higher and bring your feet off the surface. It's best and safest to hold onto the bar, but if you want to and are able to add in arm motions (similar to a jumping jack), you can!
A more advanced move would be knee ups or high knees on the rebounder.
You can modify all of these moves for intensity, speed, and bounce height. Start slow and work your way up for the safest workout!