Is Rutgers University in your potential academic future? 
Wondering what they offer their student body in terms of gym and fitness facilities?
We've got you covered.
If you're a student, staff member, alumni, or you're thinking about attending Rutgers University, here's everything you need to know about the Rutgers gym.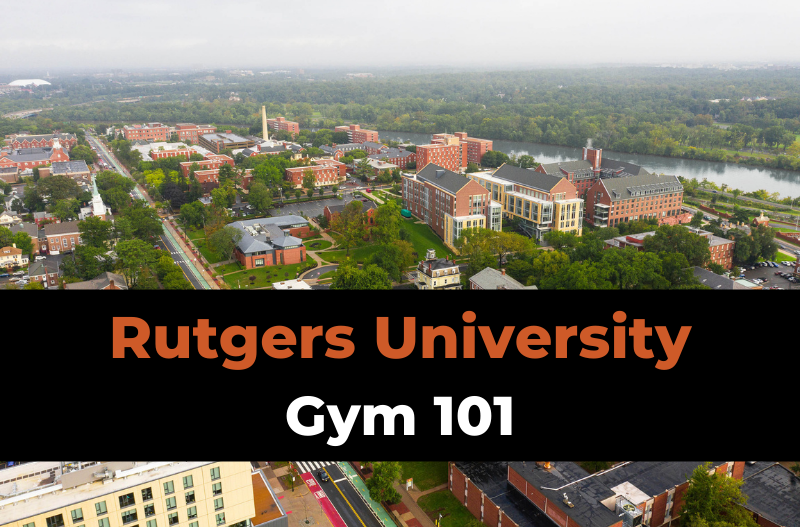 Rutgers University has a terrific gym offering with five different fitness centers across its main campuses. While busy at certain times, Rutgers gyms are well-equipped and offer great amenities like pools, a climbing wall, and group classes.
There isn't much downside to the Rutgers fitness centers except that amenities vary depending on which fitness center is most convenient for you. The best gym for you might not have everything you need and you may need to travel to a different rec center.
Let's take a look at the equipment, amenities, perks, and what real students are saying about the Rutgers University gym.
---
Rutgers University Campus & Gym Explained
Rutgers University is a public land grant university located in New Jersey.
It is named in honor of a revolutionary war hero named Colonel Henry Rutgers. The university consists of four campuses.
Rutgers is the 8th oldest university in the United States. It was chartered in 1766 under the name of Queen's College.
The four Rutgers campuses are:
Rutgers New Brunswick – this is the largest and original site, spreading throughout six municipalities in Middlesex County, New Jersey. It is made up of five smaller campuses and several buildings in downtown New Brunswick.
Rutgers Camden – this campus consists of six undergraduate, graduate, and professional schools. These are all situated in the Cooper's Grant and Central Waterfront neighborhoods of Camden.
Rutgers Newark – this campus consists of eight undergraduate, graduate, and professional schools. It is located on 38 acres in Newark's university heights section.
Rutgers Biomedical and Health Services – RBHS is made up of nine research centers and institutes. These are spread all over the state, but TBHS is still considered to be a fourth Rutgers campus.
Rutgers has around 45,000 undergraduate students and 20,000 graduate and professional students.
There are 9,000 faculty members, covering 175 academic departments. 
All in all, you'll find five separate fitness centers spread mostly around the various sub-campuses in New Brunswick/Piscataway. Let's take a look at them!
---
Rutgers University Gym Amenities
Rutgers offers five different fitness centers or gyms:
Werblin Rec Center
Livingstone Rec Center
Cook / Douglass Rec Center
Rutgers Fitness center
College Avenue Gym
Rutgers Fitness Center Hours
Hours at the Rutgers gym are similar to what you'll see at most commercial gyms that aren't open 24 hours.
Most of the fitness centers open between 7-9am during the week and shut down around 11pm. Weekends usually offer abbreviated hours.
When are the busiest times at the Rutgers gym? Evenings, around dinner time, are notorious busy periods at college campus gyms.
For shorter equipment wait times and less crowds, try to avoid peak times.
Cardio Machines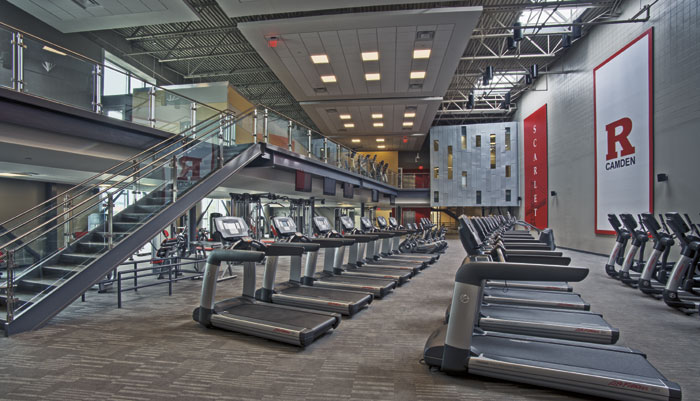 All five of the gyms provide a similar range of cardio equipment.
The largest and most well equipped is the Easton Avenue gym. 
The Easton Avenue gym has a full complement of cardio training gear.
This includes Precor, Cybex Arc Trainers, stationary bikes, Stairmasters, TechnoGym treadmills, and rowing machines.

Weights & Strength Equipment
Each of the five gyms offers a good selection of strength training equipment.
The Easton Avenue gym is, once again, the one that has the most gear.
The Easton Avenue gym provides the following equipment range on the workout floor:
free weights (barbells and dumbbells)
selectorized weight equipment by Cybex and LifeFitness
Bosu, stability, and medicine balls
Functional training gear
The Easton Avenue gym will meet the needs of most strength athletes, with dumbbells going up to 150 pounds.
There is a decent amount of free weight racks but you may have to wait for an available station during peak times. 
Sporting Courts
Open rec basketball takes place in the main gym at the Sonny Werblin rec center.
There are also both indoor and outdoor basketball courts spread throughout all of the campuses.
Badminton courts are located in the main hall of the Sonny Werblin rec center.
Open rec volleyball competition also takes place in the main gym at the Sonny Werblin rec center.
Once again, there are other volleyball courts spread across the campuses. 
The Rutgers Athletic Center, or RAC, is the home of the Rutgers mens and women's basketball programs. It also hosts wrestling, gymnastics, and other events.
Massage Therapy
Massage therapy is available to students at several of the fitness centers including the Easton Avenue gym and the Sonny Werblin rec center.
Students can pay $40 for a 45-minute massage.
Climbing Wall
The Rutgers University Rockwall is located at the College Avenue Gym.
Here are the stats on this extremely cool feature:
25′ high x 80′ wide
2,200 sq. ft. of climbing surface and steep bouldering wall
17 top ropes
Over 35 routes ranging from easy to expert
Routes changed monthly
Harnesses provided free of charge
Climbing shoes available for rental
Routes are color coded and have difficulty ratings of 5.4 – 5.13
Instructional classes are offered for beginners.
Pools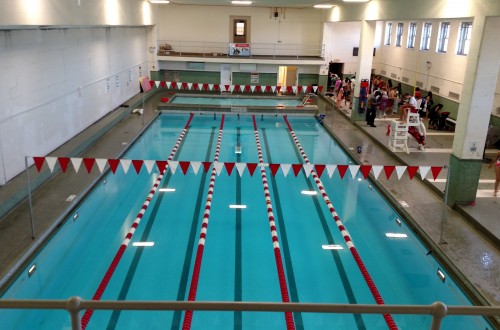 The Cook / Douglass and Sonny Werblin rec centers both have pools that are available for recreational swimming.
They both also have wheelchair access. 
The Sonny Werblin rec center is home to the Rutgers swimming and diving program.
It features a competitive sized swimming pool, measuring 25 meters by 50 meters. The pool has eight Olympic lanes.
The diving area is made up of two one-meter springboards, two three-meter springboards, and a 10-meter diving tower. The diving pools are 17 feet at the deepest part and six feet at the most shallow part.
An L-shaped auxiliary pool at the Sonny Werblin rec center measures 30 feet by 60 feet and has a movable floor. It has five lanes with a movable bulkhead.
Indoor Track
Rutgers does not have an indoor running track.
However, they do have the Bauer Track and Field Complex, located directly behind the Rutger Athletic Center.
This impressive outdoor facility incorporates eight lanes, two shot put circles, four long/triple jump runways, two discus/hammer cages, two pole vault runways, two javelin runways, and sprinting and hurdling areas on either side of the track.
Showers
All five of the Rutgers gyms provide full locker room facilities, including well maintained shower cubicles and changing areas.
Group Classes
Group fitness classes are offered at each of the Rutgers gyms.
There are no bookings and all classes are on a first come, first served basis. The official website advises arriving 10-15 minutes ahead of time to ensure your spot.
Full-time students have free access to all classes. Members of the public may purchase a complimentary membership for $45 per semester.
Fitness and wellness classes are provided inside the rec centers, led by a qualified instructor, as well as virtual in-person Les Mills classes at Werblin and Cook Douglass rec centers.
There are also outdoor instructor led classes. 
On demand classes can also be done online. 
Personal Training
Rutgers Recreation offers full personal training services to their student body. This includes online training as well as in-person sessions.
They provide one-on-one and small group training options. All Rutgers personal trainers hold nationally accredited personal training certifications.
All students must begin with a Start-Up Package. This includes an initial assessment and the creation of a training program.
As of this writing, the Start-Up costs $60 in-person and $45 online.
From there, sessions cost about $40 per 1-hour session.
---
Who Can Use the Rutgers Gym? (Membership Explained)
If you are a registered Rutgers University student you will not have to pay for access to any of the gyms on campus.
As long as you show your student ID you will be able to use the gyms at your convenience. 
Staff and faculty members also get free use of the Rutgers gym facilities.
Rutgers gyms are not open to the public or alumni.
---
What Are Real Students Saying? (Rutgers Gym Reviews)
There are a number of reviews on Yelp, Reddit, Google, and Facebook. They reflect a mixture of views, as with all online gym reviews.
The general consensus, however, is a good one. Most people expressed positive views about the staff engagement and the high level of expertise shown by staff and personal trainers.
One member did mention that he was told by a staff member not to grunt. This has shades of Planet Fitness (that's not good) but let's hope this was a one-off.
Some members did mention that the Rutgers gyms got real busy in the early evening hours (peak busiest times) but that is something that is unavoidable when you are catering to a campus of tens of thousands of students. 
---
Wrapping Up
The five gyms at Rutgers university offer a lot of options for fitness minded students.
It's great to see a university that provides a gym on every campus and that is, mostly, open on the weekends. 
Rutgers also provides a lot when it comes to group fitness classes and online training options, as well as providing a top-notch personal training service. If you're planning to attend Rutgers, you can be pretty confident that their gym facilities will meet your training needs. 
For more guides, check out:
Hope this helps!