Are you enrolled at Tarrant County College in Texas or thinking about going there in the near future?
Interested in checking out what their gym set up is like?
If you're a student, staff member, alumni, or you're thinking about attending Tarrant County College, here's everything you need to know about the TCC gym.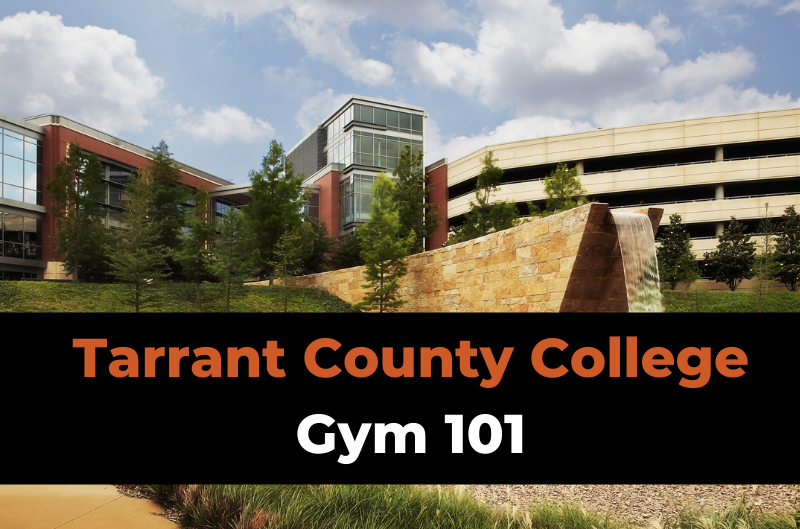 Tarrant County College has four different dedicated gyms and fitness centers across its campuses, plus outdoor fields and tracks for recreational use. The equipment and amenities here at TCC are pretty impressive, and are free for students and affordable for members of the community who want to join.
The downsides of the TCC gym? Hours at the fitness centers are a bit restrictive, and if you're a serious weightlifter, you might not find heavy enough free weights for your liking.
Let's take a look at the equipment, amenities, perks, and what real students are saying about the Tarrant County College gym.
---
Tarrant County College Campus & Gym Explained
Tarrant County College is a public community college located in Tarrant County, Texas.
Tarrant County is the third most populous county in Texas, with a population of just over 2 million people. This is a two year college offering degrees in:
Associate of Arts
Associates of Science
Associate of Applied Science
Associate of Arts in Teaching
Tarrant County College is the sixth largest community college or university in Texas. Student enrollment sits at around 98,000.
There are five bricks and mortar campuses, one virtual campus, and a centralized office. 
The five campuses are:
The South Campus in South Fort Worth
The Northeast Campus in Hurst
The Northwest Campus in northwest Fort Worth
The Southeast Campus in Arlington
The Trinity River Campus in downtown Fort Worth
There are fitness centers at the North East, Trinity River, North West, and South campuses. 
So no matter where or how you go to TCC, you'll have options when it comes to fitness!
---
Tarrant County College Gym Amenities 
The South Campus Fitness amenities include the following:
Indoor recreation facilities
A gym
Free massage clinic
Outdoor walking path
Outdoor exercise area with outdoor workout equipment
The North East campus amenities include:
Fitness center with men's and women's locker rooms
Sand volleyball court
1 mile outdoor jogging loop
6 tennis courts
4 pickleball courts
Basketball court
Hammock Park
If you're going to be attending the South Campus, you will have access to the following:
Indoor recreation facilities
Free massage clinic
Outdoor walking path
Outdoor exercise area complete worth outdoor workout equipment
The Northwest Campus provides the following outdoor recreation facilities:
Disc Golf Course
Outdoor Fitness Trail
Tennis Courts
Outdoor Fields
Tarrant County colleges offer a generous amount of outdoor field space and facilities.
These are open to students, staff, and members of the public.
These include multiple tennis courts, sand volleyball courts, both indoor and outdoor basketball courts, a disc golf course, and pickleball courts.
The sand volleyball courts are limited to 8 people per side. Tennis and pickleball courts are limited to two people per side.
Massage clinic
The South campus features a full service massage clinic staffed by professional masseurs and masseuses.
Campus students are able to book in for three free massage sessions per year on Fridays and Saturdays.
TCC Fitness Center Hours
Each fitness center has slightly different hours.
But, in general, the TCC gyms are open normal gym hours — around 8am to 9pm on weekdays, with shorter hours on the weekends.
(Some centers are closed on the weekends since campus is a lot emptier.)
The trouble is these gyms don't open quite as early as most commercial big box gyms, which often open up around 5 or 6am.
If you're a hardcore gymgoer, you might want to consider membership at a nearby 24 hour fitness center to complement your use of the Tarrant County gym at your local campus.
Each of the fitness centers is closed during Semester breaks.
While this probably won't be a hassle for students, it will probably be an issue for community gym members who decide to join.
On the other hand, $75 for a semester is probably a lot cheaper than you'd pay at a local commercial gym. 
Cardio Machines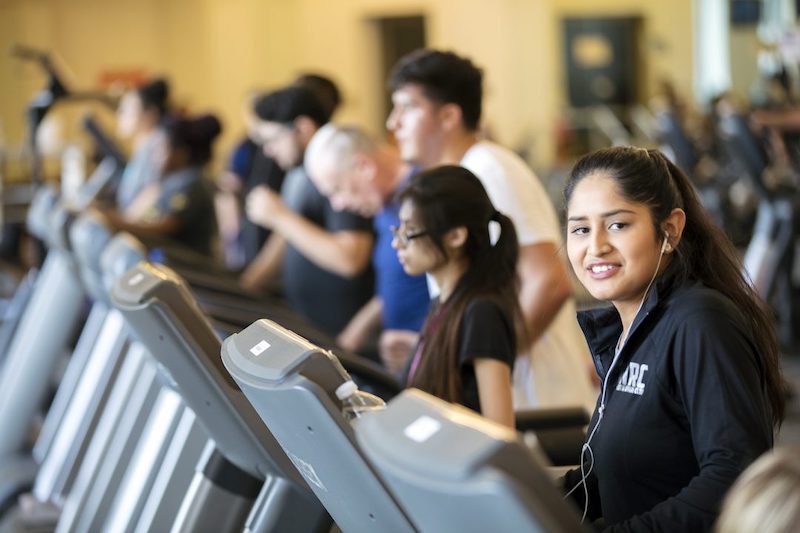 The fitness centers provide a range of cardio gear to meet the needs of all users.
These include treadmills, stair steppers, ellipticals, and rowing machines.
This gear is well maintained and there is enough of it that you won't be waiting around to use it, except possibly at peak times between 5 and 7 pm. 
Weights & Strength Equipment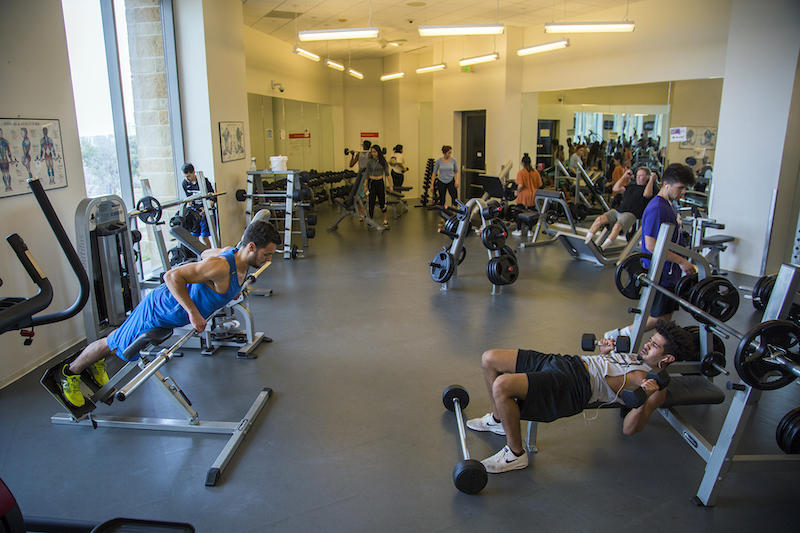 The fitness centers offer a range of strength training equipment. This includes Nautilus branded strength machines as well as cable machines and free weights areas featuring a range of barbells, dumbbells, power racks, squat racks, and functional training equipment.
This will suit the needs of most people. 
However, if you are an advanced lifter, you may not find dumbbells heavy enough to challenge you on your heavy presses.
Pool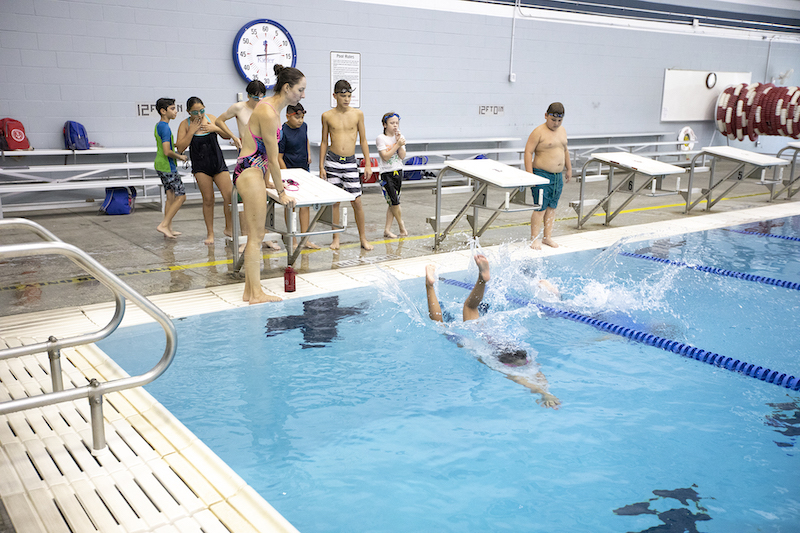 There is an indoor pool at the North west campus.
There is also a pool at the South Campus fitness center but it is currently closed.
Sporting Courts
Each of the campus rec centers features a range of indoor courts. These include basketball, racquetball, and squash courts.
If you wish to make use of these facilities you should book ahead of time. 
Climbing Wall
There is no climbing wall at any of the Tarrant County College fitness centers or recreation facilities.
Indoor Track
There is no indoor track at any of the fitness centers at Tarrant. However, the Northeast campus does offer a one mile outdoor jogging loop.
There are also walking tracks at some of the other campuses. 
Showers
Each of the fitness centers provides hygienic, well maintained showers for men and women. Locker rooms are also offered.
Group Classes
Some of the campuses offer Zumba fitness classes.
For example, the Trinity River Campus runs fitness classes on Saturdays, with hour long classes at 8:30 am and 9:45 am.
However, there appear to be no regular group classes taking place throughout the week. These were being held at some campuses prior to the pandemic but are on hold for the time being. 
Personal Training
Tarrant County College fitness centers do not provide any personal training services.
However, the college does offer a personal fitness trainer course which is designed to prepare you for the ACE personal trainer certification exam.
---
Who Can Use the TCC Gym? (Membership Explained)
If you are a registered student of Tarrant County College, you are able to use the fitness center free of charge by simply showing your student identification card.
Members of the community can purchase a membership at a cost of $75 per semester.
Day passes are not available at any of the fitness centers. 
Members of the community who are 65 or older may use the gym facilities free of charge.
All of the outdoor facilities, including the outdoor exercise trails, are available for anyone to use free of charge.
---
What Are Real Students Saying? (TCC Gym Reviews)
There are a number of reviews for the various Tarrant County College fitness centers online.
As with any reviews, they are a mixture of positive and negative.
The reviews, however, are weighted toward the positive side, with lots of good things being said about the staff engagement.
Tarrant County College gyms have an average rating of 4.7 stars out of 5 stars on Google based on 17 reviews.
A lot of student reviewers rated it 5 stars and simply commented with a single word like 'Great!" or 'Awesome!'
Here's an overview of the most common positive themes that were mentioned by online reviewers:
Clean, well maintained equipment
Plenty of equipment variety
'Awesome' staff
When it comes to negative user comments, the most common themes are the following:
Limited hours and not open on weekends
Closed drawing semester breaks
Free weights are not heavy enough for advanced trainers
---
Wrapping Up
Tarrant County College does a pretty good job of catering to the recreation and fitness needs of their nearly 100,000 students.
The gyms and rec facilities are evenly spread around all of their campuses and provide almost everything that a fitness minded student will need.
If you're a person who has developed a 5 or 7 day per week fitness habit, you might find yourself quite limited by the opening hours of these fitness centers.
In addition, the lack of super heavy free weights shows that the gyms are designed more for regular gym goers than for balls to the wall hardcore gym junkies. 
If you are among the latter, you might want to grab a membership at a local commercial gym to complement your use of the free facilities on campus.
However, if you're a regular Joe or Jane looking to get fitter, Tarrant County College fitness center will be right up your alley.
For more college gym guides, check out:
Hope this helps!