Community college can be a great option for many people.
In fact, Dr. Jill Biden recently called community colleges "one of America's best kept secrets."
You can get a two-year degree, which can help you in the job market.
Or you can take what you've learned and apply for a four-year university elsewhere. If you didn't get into your dream college right out of high school, you may have better luck as a transfer.
Community colleges are much cheaper, and they often come with many of the same amenities you find at universities. That includes gyms, and the one at Houston Community College is a doozy.
If you're a student, staff member, alumni, or you're thinking about attending Houston Community College, here's everything you need to know about the HCC gym.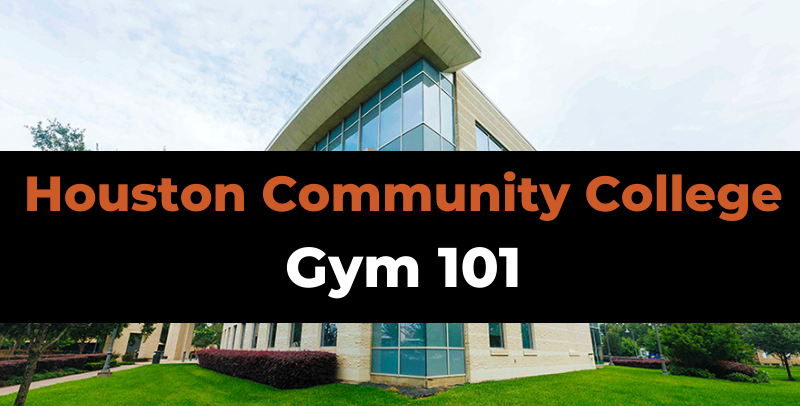 The HCC Central Campus Wellness Center is a great fitness facility that houses everything you need to get in shape. Cardio equipment and weights galore, rec sports, sporting courts, and fun extracurriculars can all be found here. HCC has no pool or elite amenities when compared to high-end luxury gyms, but it's completely free for students and faculty — making it a great value.
Let's take a look at all of the amenities, equipment, and perks of the HCC gym.
---
Houston Community College Campus & Gym Explained
Houston Community College may be a two-year institution, but it's one of the largest colleges in the United States.
Over 70,000 students are enrolled every semester, and that includes more international students than any other community college in the nation.
With an open admission policy and numerable academic programs, people can sign up to take classes at their whim. Some of the more popular programs at the school include Business, Marketing, Management, General Students and Humanities, and Liberal Arts and Sciences.
The school offers everything you need to succeed regardless of where you want to go in life.
There are numerous clubs, and if you want to start your own, it's relatively. easy to get going. Plus, there are career and counseling services to aid you in case you need some help along the way.
And then there's the Wellness Center, which offers an impressive array of services all students can take advantage of.
Paying for a gym membership on top of tuition can be tough, but if you're a student at HCC, you won't have to worry about that additional financial strain.
---
HCC Gym Amenities Explained
It may not be the most lavish facility around, but the HCC gym has more than enough for you to stay in excellent shape year-round.
Plus, it's free for students! And unlike most big college campus gyms, the HCC gym is free for faculty and staff, too.
You just need to sign a membership waiver to gain access to all of the following amenities.
Cardio Machines
The Wellness Center has a number of cardio devices, including treadmills, stair-steppers, ellipticals, and more.
It's available on a first-come, first-serve basis.
The gym simply asks that if other people are waiting, you limit your time on the equipment to 30 minutes.
Weights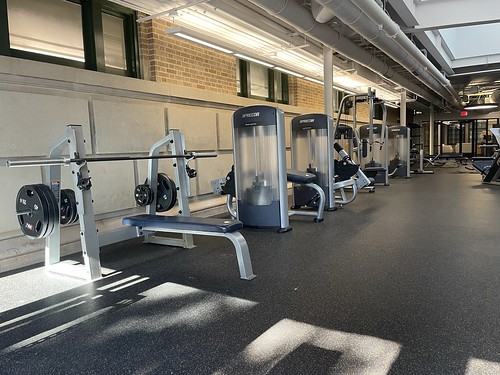 The Weight & Cardio Room also offers a number of free weights for you to choose from.
You'll find equipment for benching, squatting, deadlifting, and more. HCC has everything you need to pack on muscle.
Locker Room and Showers
The Wellness Center offers both men's and women's lockers and showers.
There are six showers in each room for members to freshen up after an intense regimen.
To use the lockers safely, it's recommended to bring your own lock.
Otherwise, you may be better off keeping your belongings in a duffle bag or backpack.
RecSports Activities
Check out the schedule to see what extra activities the campus has made available.
You may get to partake in fun extras like paintball, rock climbing, and more.
Gymnasium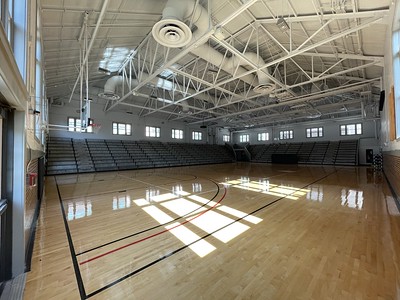 The gymnasium has everything you could need for a quick pick-up game.
There's a newly renovated full-size court complete with basketball hoops as well detachable volleyball poles and net.
Club Sports
If you're looking for more ways to stay in shape on campus, then consider signing up for a club sport.
Both men's and women's leagues are available. Here are just some of your options.
Baseball
Basketball
Soccer
Tennis
Volleyball
---
Who Can Use the HCC Gym? (Membership Explained)
In order to access the HCC gym, you just need to provide a valid Houston Community College student I.D. or proof of being a faculty or staff member.
This grants you access to the weight and cardio room as well as the gymnasium.
You must present your I.D. every time to use the gym. All of this is completely paid for via tuition.
Each student is charged $6 as part of tuition for the gym per semester, so when you think about it, you're actually getting one killer deal.
Even the most affordable chain gyms out there, namely Planet Fitness, will still set you back $10/month at a bare minimum.
---
Wrapping Up
Plenty of people have gone through the hallways of Houston Community College.
They've gotten degrees and moved on to greater and grander things.
When you're here, you'd be seriously missing out to not take advantage of the fitness center.
You get access to many of the same amenities you'll find at some of the lower-end gyms in the area. With a whole room devoted to cardio and weights, there's plenty for you to push yourself.
Plus, you can shower here, too, in case you want to get in a workout between classes.
Don't miss the gym if you take a tour of HCC, and good luck!
For more college gym reviews, check out:
Hope this helped!