If you're an MSU student in East Lansing, Michigan and you're looking for a place to work out, relax, play sport or just take time out from your busy lifestyle, you don't have to look beyond your doorstep.
The MSU Recreational Sports and Fitness Center has been provided for your use – and it's got everything you need to get and stay in shape.
If you're a student, staff member, alumni, or you're thinking about attending Michigan State University, here's everything you need to know about the MSU gym.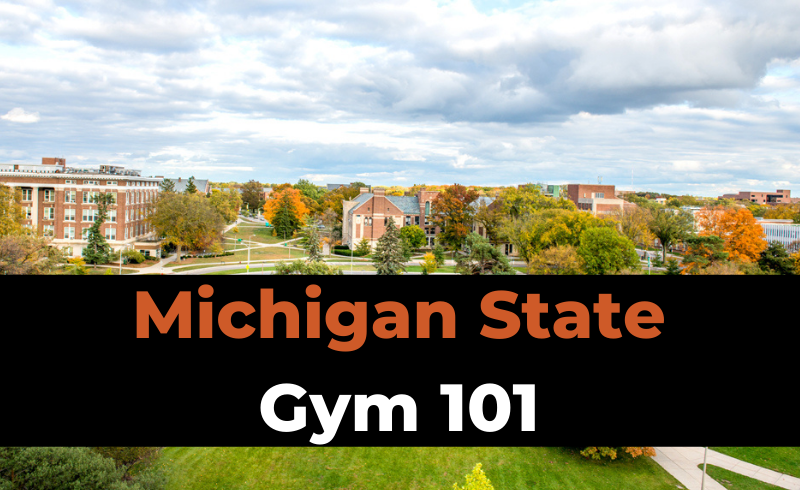 Michigan State has 3 gyms on campus that cater to fitness-minded students, faculty, and alumni. You'll find plenty of cardio and strength equipment here, plus pools, group classes, and more. Some of the equipment is dated in certain locations and the gym can get pretty crowded, but overall this is a solid university rec center offering.
Let's take a look at the equipment, amenities, perks, and what real students are saying about the MSU gym.
---
Michigan State University Campus & Gym Explained
Michigan State University is a public land grant research university situated in East Lansing, Michigan.
It was founded in 1855 and was one of the centers of higher learning in the United States centered on scientific agriculture. 
MSU is one of the largest universities in the US, with around 50,000 students, made up of 40,000 undergraduates and 10,000 postgraduates.
There are some 634,000 alumni around the world.
MSU's teacher education, nuclear physics, and communication sciences programs are acknowledged as among the best in the country.
The Michigan State Spartans compete in the NCAA Division One Big Ten Conference. 
The MSU campus lies along the banks of the Red Cedar River and covers some 5,300 acres. There are 22,763, 025 square feet of indoor space, 26 miles of roads, and 100 miles of walkways.
The North Campus lies on the northern bank of the Red Cedar River with the buildings there featuring collegiate college architecture.
The South Campus, located on the southern side of the river, features post-WW2 style international buildings. The MSU Horticulture Gardens are also located in this area. 
When it comes to gyms at MSU, you have a few options:
MSU Recreational Sports and Fitness Services operate three indoor intramural facilities, one multipurpose arena, 27 acres of outdoor recreational field space, an off-site sailing center as well as shared campus facilities including tennis courts, golf courses, and an ice arena.
IM Sports West is the newest and largest of the 3 recreational buildings. It features an extensive free weights, strength machine, and cardio area.
IM Sports East is equipped with a fitness center, racquetball courts, and an indoor track.
The oldest of the 3 rec centers is the IM Sports Circle, which features gyms and a swimming pool. 
---
MSU IM Sports Gym Amenities 
If you decide to check out the gym at Michigan State, what can you expect to find?
How does the gym compare to big box gyms like Planet Fitness or LA Fitness?
Cardio Machines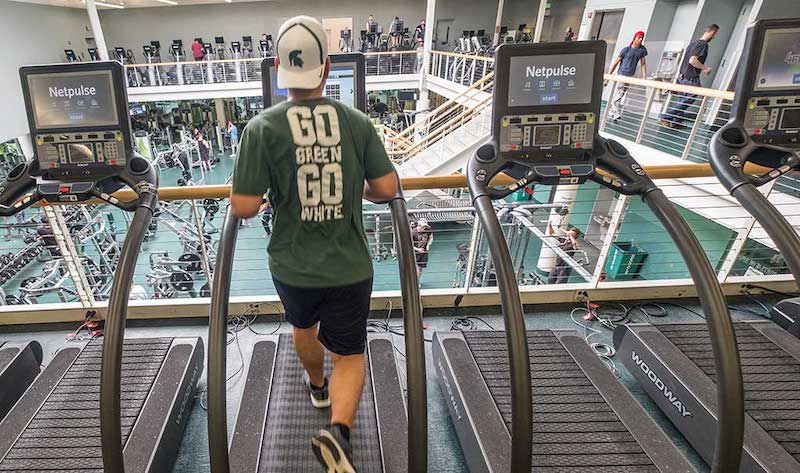 IM Sport West provides a decently sized cardio area, which is equipped with all of the cardio equipment you would expect to find in a good commercial gym. This includes treadmills, ellipticals, steppers, and rowing machines.
According to student reviews, there is enough cardio gear to allow for wait free use at most times of the day.
During the peak hours of 5-7 pm, however, you may face some wait time to get on a treadmill. 
IM West also features a fitness center with a cardio area. It is not as large as IM West and the equipment is a little more dated.
Weights & Strength Equipment
Both IM West and IM East feature full weight training facilities.
They include free weights such as barbells, dumbbells, kettlebells, squat and power racks, as well as strength machines and cable stations. 
As with the cardio area, you won't have a problem with waiting around most of the time.
Peak times, however, are another story.
One Facebook reviewer labeled such between 4 and 7 pm as 'zoo time', indicating that it was virtually impossible to get a wait-free workout in. 
Pool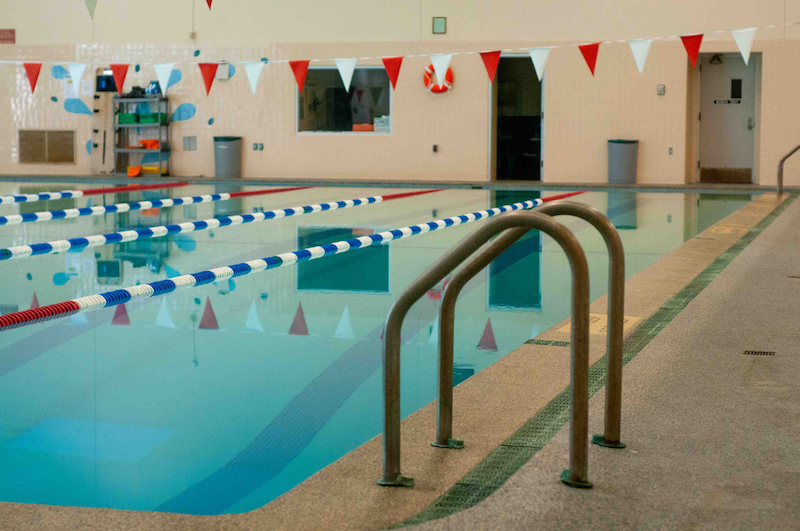 The IM Sports Center features a lane swimming pool.
The pool facility features a lift system to accommodate wheelchair bound students. The pool is open year round for recreational swimming. It is also home to the Spartan Swim Pool Program. 
IM West also has an indoor pool. This pool is also available year-round for recreational swimmers. It is accessed through the men's and women's locker rooms.
A six lane, 25-yard swimming pool is also located in the historic Jenison Field House.
Sporting Courts
The 14,500 sq. ft. IM West fitness center features the following sporting courts:
7 Basketball Courts
8 Racquetball Courts
4 Volleyball Courts
6 Badminton Courts
2 Squash Courts
IM West also has a large multipurpose indoor turf area that is used for indoor soccer, cricket, and lacrosse.
IM East is a 4,125 sq. ft. facility located in IM East. It offers the following courts:
8 Racquetball Courts
Indoor Volleyball Courts
There are also two outdoor basketball courts, two outdoor sand volleyball courts, as well as large outdoor soccer and softball fields.
Climbing Wall
Although MSU does have a 40 member strong climbing club, it does not currently have its own climbing wall. Students are hoping to fund raise for a wall in the near future.
In the meantime, they make use of a local climbing wall and natural outdoor rock climbing venues. 
Indoor Track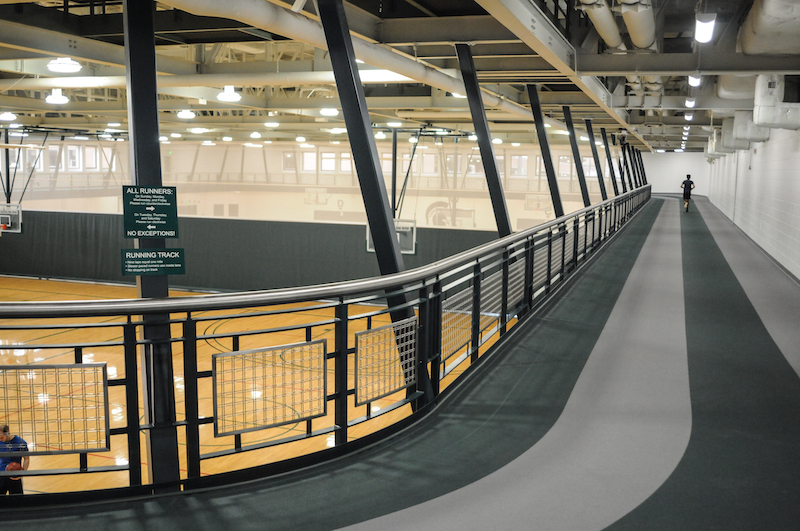 IM Sport East features an indoor running track, located on the second floor.
Perfect for getting your steps in during those harsh Michigan winters!
Showers
Both IM Sport West and East feature well equipped, spacious, and clean changing rooms, with large lockers and showers. 
If you commute to campus, it can be helpful to use the showers here even if you don't work out at the gym.
Group Classes
Group Fitness Classes are held in IM West, IM East, and IM Circle.
Group classes are also regularly held at neighborhood locations.
Students do not have to register for classes, which are included in their rec center membership. Classes run from early morning until the evening.
There are 26 different class types, including All Abs, Ballet Basics, Butts N Gutts, and Insanity.
Personal Training
Personal training services are provided by the team at Spartan Training. Services offered include:
Mini-Fitness Evaluation
Body Composition
Cardiovascular & Strength Training
Goal Setting
Workout Strategies
Follow-up Consultation
Personal training at Michigan State will cost extra beyond your tuition or gym membership, FYI — expect to pay around $30-45 per session, depending on how many you book.
Adaptive Recreation
MSU provides a wide range of services and facilities to cater to the needs of students with disabilities.
These include a new streaming fitness platform called Kakana. The platform includes trained fitness instructors with disabilities to guide students through their workouts. 
IM Sports East has hand cycles available for student use. There are also a wide variety of opportunities for drop-in adaptive recreation activities including Boccia Ball, Goal Ball, Table Tennis, Pickleball, and Badminton.
Blind Soccer and Adaptive Shooting are also available.
Sailing Center
The Michigan State University Sailing Center is situated in Lake Lansing, Haslett, just east of campus.
Sailing, stand up paddleboarding, and kayaking classes are offered both to students and members of the public. 
IM Sports
IM Sports, a department of the MSU Recreational Sports and Fitness Services, offers a range of recreational activities tailored to the interest of students at MSU.
This allows students to try out new and exciting activities in a friendly, supportive environment.
Activities offered include:
Flag Football
Soccer
Sand Volleyball
Pickleball
Ultimate Frisbee
Dodgeball
Indoor Volleyball
Golf
3v3 Basketball
5v5 Basketball
Yard Games Series
Badminton
and Table Tennis. 
---
Who Can Use the MSU Gym? (Membership Explained)
Students pay $85 per semester to become rec center members — of course, most students will never see this fee as it's simply a part of your tuition.
That provides them with full access to everything, including group fitness classes.
Faculty and staff can also become members at the Michigan State gym for around $75 per semester — substantially more affordable than most mid-range box gyms.
New alumni can join for $50 per semester, as of this writing — if you've been out of school for at least 3 years, you'll pay $75 per semester like faculty and staff do.
Daily, weekly, and monthly rates are also available.
---
What Are Real Students Saying? (MSU Gym Reviews) 
If you attend MSU, chances are it won't be worth your while to join a separate gym. Even if you're faculty and have to pay to use the facilities, you'll get a better deal on campus than anywhere else.
Still, it helps to know what real students are saying about the MSU gym experience.
There are a number of reviews for the MSU fitness centers online, mainly on Reddit and Facebook.
Quite a number of them contrast MSU's gym offerings to others in Lansing, such as Powerhouse Gym and Conquest, preferring MSU due to the convenience and cost.  
Pros
Low cost
Convenient
Lots of sporting courts available
The gym is essentially free for students, which is great, and faculty/staff/alumni price is extremely reasonable. You simply can't join a comparable gym anywhere else at that rate.
Plus, no matter where you are on campus, you're never far from one of the rec centers. They're convenient for almost everyone.
Cons
Gets crowded between 4-7 pm
Not as much gear as big local Lansing gyms, i.e. Powerhouse
Like most college gyms, expect huge crowds during peak times.
When most classes are wrapped up for the day, students pour in for a workout before dinner or going out. The early evenings are a zoo, so plan accordingly.
If you're a huge fitness enthusiast used to really high-end weightlifting gyms, you might not love the quality or quantity of the equipment at Michigan State.
---
Wrapping Up
MSU provides a wide range of fitness facilities to meet the needs of its students.
IM West is the largest and best equipped of their gyms, but it still gets crowded at peak times. However, this is a problem at most good gyms, and if you hate crowds you may have to get used to scheduling your workouts off peak hours.
When you take into account the wide range of facilities, the convenience factor of being right there on campus, and the relatively low cost, MSU Recreational Sports and Fitness Services are a good fit for fitness minded students. 
For more college gym guides, check out:
Hope this helps!