Are you thinking about going to Indiana University? Looking for a gym in the Bloomington area?
Don't bother – when you become an IU student, you'll get access to a state of the art fitness center that is the equal of anything you'll find in the commercial sector.
If you're a student, staff member, alumni, or you're thinking about attending Indiana University, here's everything you need to know about the IU gym.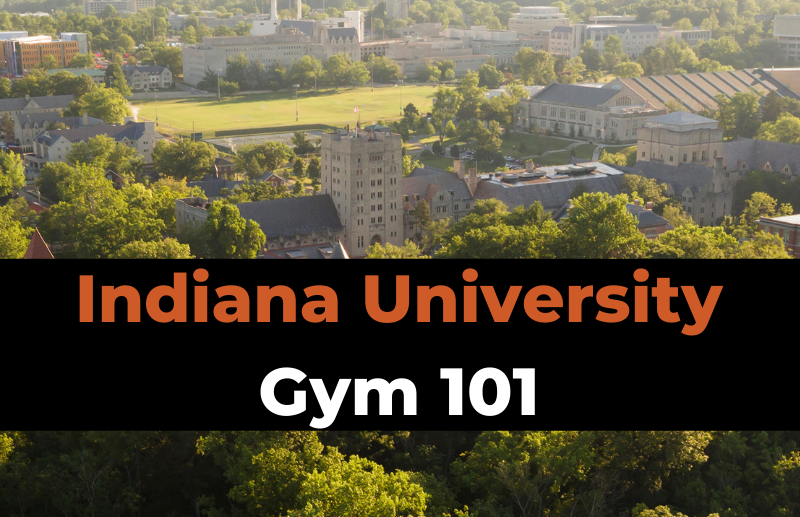 The gym at Indiana University is one of the best in the entire state, with many facilities spread across the university's multiple campuses. Swimming and aquatic amenities are a real strength of the IU gym, as are group classes and personal training. Like many college gyms we've covered, you may run into issues with overcrowding during peak hours and some unruly members in the weightlifting area.
Let's take a look at the equipment, amenities, perks, and what real students are saying about the IU gym.
---
Indiana University Campus & Gym Explained
Indiana University is a multi campus public research institute. Their focus is on liberal arts and sciences.
The university has two core campuses, five regional campuses, and two regional centers.
The flagship campus is Indiana University Bloomington. It has more than 40,000 students and covers 1,933 acres, made up of large areas of green sauce and many historic buildings.
The other major campus is Indiana University Purdue University Indianapolis (IUPUI), which is a partnership between Indiana University and Purdue University.
This is an urban research and academic health science campus. It is located just west of downtown Indianapolis.
Indiana University Bloomington is considered to be one of the leading research universities in the United States.
Most campuses have a plethora of workout options for students. On the main Bloomington campus, you'll find:
Student Recreational Sports Center (SRSC)
Bill Garrrett Fieldhouse
Counsilman / Billingsley Aquatic Center
Royer Pool
Tennis Center
Woodlawn Fields
Outdoor Tennis Courts
That's a lot to consider! Let's take an even closer look.
---
Indiana University Gym Amenities
Spread throughout these numerous rec facilities on the Indiana University campus, you'll find:
Multiple strength and cardio areas
Group exercise / yoga and pilates studio
Private strength and cardio areas
Seven racquetball / wallyball courts, squash courts, table tennis and badminton courts
Five basketball / volleyball courts
Multipurpose gyms
Indoor walking / jogging / running track
Futsal Court
Cardio Machines
There are two cardio centers, one at SCRC and the other at the Bill Garrett Fieldhouse.
The SCRC cardio / circuit gym is located on the second floor. It features 150 pieces of cardio equipment spread over an area of 1,000 square feet, including space for stretching, core and body weight exercises.
The cardio equipment line-up includes the following …
Treadmills
Ellipticals
Recumbent bikes
Climb Mills
Spin bikes
Stationary bikes
Rowing machines
There is also a cardio / circuit gym on the second floor of the Bill Garrett Fieldhouse.
It features six different types of cardio machines, a functional training circuit space, TRX equipment, as well as an open space for stretching and body weight exercises.
The Jaguar Campus rec center at IU Purdue also has a range of cardio equipment, with such gear as elliptical machines, stationary bikes and treadmills.
Weights & Strength Equipment
The strength and cardio areas cover more than 33,000 square feet, also spread between the SCRC and the Bill Garrett Fieldhouse.
The SCRC strength training center is located on the main floor. It includes equipment like:
Kettlebells
TRX equipment
Medicine balls
Olympic platforms, bench presses, squat racks and dumbbells up to 120 lbs
1000 square feet for stretching, core and body weight exercises
Seven functional trainers
The strength gym is found on the bottom floor of the Bill Garrett Fieldhouse. It features:
Bench press, free weights and resistance machines
Olympic platforms
Stretching and circuit space
The Jaguar Campus recreation facility at the Purdue campus also provides a full range of strength training gear, including free weights, benehces, squat, power racks and Matrix strength training machines.
Pool
SCRC excels when it comes to aquatic sports and fitness.
The swimming facilities include three indoor pools, two diving wells and a leisure lounge for recreational use or just hanging around.
The Counsilman Billingsley Aquatic Center is located in the SCRC. It features an 8-lane olympic sized swimming pool spanning 30,512 square feet and with a depth ranging from 7 to 8 feet.
It boasts one the country's few indoor diving towers, featuring two one meter and three meter springboards along with one, three, five, seven and ten meter platforms.
There is also an outdoor pool that features 10 lanes and is 50 meters long, with a separate diving well.
The Hoosier's outdoor diving facility has two three meter boards, one-, three-, five-, seven-and-a-half and 10-meter platforms and a hot tub.
Deep water group fitness classes are provided in the CBAC and Royer pools.
There is also a large aquatic complex at IU Purdue called the Natatorium. It also serves as the home of the IUPUI School Health and Human Science education,
The Natatorium has the largest eating capacity of any indoor pool in the United states, that being 4,700 people. The main competition pool is 50 meters long with 8 racing lanes.
The Natatorium also has a diving well with a depth of over 17 feet. It has four 1-meter and four 3-meter boards as well as five diving platforms of 1, 3, 5, 7.5 and 10 meters in height.
Sporting Courts
There are a lot of courts and other sporting facilities spread around the campuses. Here's a breakdown.
SRCRC contains seven racquetball / wallyball courts, two squash courts, table tennis and badminton courts. There are also five basketball / volleyball courts.
The Bill Garrett Fieldhouse is home to ten basketball / volleyball courts, 9 racquetball / wallyball courts as well as table tennis tables, squash and badminton courts.
The IU Tennis Center is a state of the art facility that provides tennis instruction for students at every level from beginner to advanced. Membership of the tennis center for an IUB student is $46 annually. Members of the public can also become members of the tennis center for an annual fee of $113.
The Michael A. Carroll Track and Soccer Center, located in downtown Indy, is a world class facility that serves as the home stadium of the IUPUI men's and women's soccer teams and by all 14 IUPUI Division 1 athletics programs. The oval 400 meter, 8 lane track has a Mondo running surface. In 2012 major renovations took place which saw the installation of a new FieldTurf Revolution soccer field.
The stadium is available for use by IUPUI students for a nominal fee.
Climbing Wall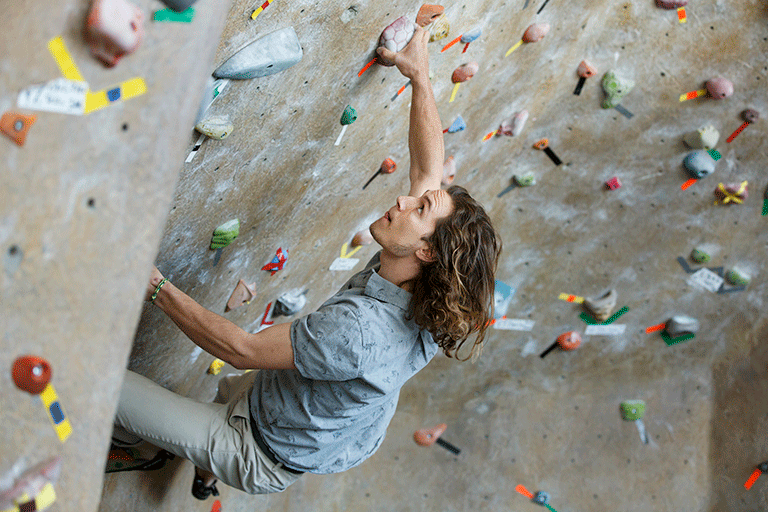 The IU Outdoor adventure climbing wall is located in an air conditions facility at Eigenmann Hall. It has nearly 1000 square feet of climbing space on three walls up to 11 feet high.
A day pass will cost $6. A semester membership will cost $25.
Due to COVID precautions, the IU Outdoor adventure climbing wall is closed until further notice.
Indoor Track
Indiana University's indoor track and field facilities are among the best in the country.
In 2006, a 200 meter Mondo surfaced banked track was installed. It features 8 sprint lanes in the in-field, a pair of pole vault pits, and a pair of throwing areas.
The Mondo super-x running surface is the same as was used in the 1996 Olympics.
The SCRC and the Bill Garrett Fieldhouse also feature an indoor running / jogging / walking track.
Showers
All of the rec center facilities feature spacious, clean and well fitted out bathrooms and changing facilities, complete with showers.
There are also private lockers that can be hired for $20 per semester.
Group Classes
Group exercise classes are offered at both the SCRC and the Bill Garrett Fieldhouse.
Classes offered include Cycle, Barre Fitness, Yoga, HIIT, Cardio Hip Hop, Zumba, and Cardio Kickboxing.
The Rec Sports at Home service provides on demand exercise classes that you can exercise along to on your computer by visiting the SCRC YouTube channel.
In addition, you can take RS Live sessions via Zoom. A number of classes are held through Zoom every week and they are available to students, faculty and staff.
Jaguar Camp recreation at IU Purdue also offers a full program of group fitness classes, including turbo, zumba turbo kick and MX4.
Personal Training
The SCRC runs a vibrant personal training service, which rates with the best available in the Bloomington area.
There are no less than 20 fully qualified and highly experienced personal trainers providing complete fitness guidance.
You don't have to be a rec center member to work with a personal trainer (though everyone, member or not, must pay extra for these sessions).
Sessions last for an hour and must be purchased with a minimum initial quantity of 3 sessions.
If you purchase a package of 10 sessions or more, you will get a free body composition assessment and periodic retesting throughout your package.
Training sessions take place at either the SCRC or the Garrett Fiedlhouse.
Adaptive Recreation
Indiana University runs an adaptive sports and fitness program aimed at providing opportunities for people of all abilities to participate in an inclusive environment.
Nutrition Advice
All Indiana University gym students have access to one free 60-minute nutrition counseling session per semester.
These are conducted by registered dietitians via secure telehealth video chat. Students are advised to keep a track of what they have eaten in the week leading up to the session.
---
Who Can Use the IU Gym? (Membership Explained)
Use of all of Indiana University gym sports and fitness facilities described above is free to students with a valid student ID card.
That is because the membership fee is covered by their $81.40 student activity fee, all rolled into your tuition.
Faculty, staff and even members of the public can join the Indiana University gym, as well.
For faculty and staff, expect to pay about $300 per year. Alumni will pay about $745 per year and members of the public pay around $765 per year.
The faculty and staff membership is a fantastic deal compared to the cost of most box gyms.
For alumni and members of the public, the Indiana gym is top notch and compares well to high-end clubs like Life Time — but it's a bit expensive if you're not taking advantage of all the amenities regularly.
Day passes and weekly passes are also available.
---
What Are Real Students Saying? (IU Gym Reviews)
There are plenty of student reviews for the SCRC online,most of them being quite positive. It has an average rating of 4.7 out of 5 on Google.
The common theme that comes through is that the facilities are top notch, with the latest strength, cardio and functional fitness equipment.
However, as with every university gym that I've covered, overcrowding at peak times is the biggest drawback.
Unfortunately, that is something that you can't avoid when you've got more than 40,000 students on campus.
Pros
Friendly staff
Great equipment
Good amenities (showers, lockers, etc)
This is truly one of the best gyms (or series of gyms, as it may be) in the entire state of Indiana.
The equipment and amenities are top notch, and most members find the staff to be knowledgable and helpful.
Cons
Overcrowding
Students not putting their weights away
Almost any gym worth its salt will get crowded during peak hours.
In college, that's right around the time classes are wrapping up for the day and before students eat dinner/go out (around 4-7pm).
Try to time your workouts later in the evening or in the morning and you'll do just fine.
---
Wrapping Up
The health and fitness facilities/services provided at Indiana University are top notch.
There is a lot of strength training and cardio gear, especially at SCRC, and some of the best aquatic amenities you'll find anywhere. The instruction provided, whether it's through personal training, tennis coaching or group fitness classes, is at the highest level.
Whatever sports you're into, you will also find the facilities to indulge your passion.
So, I would definitely recommend to every IU student to make as much use of the rec center facilities as you can – especially considering that you've already paid for it in your student activity fee. It's still a great deal for faculty and staff to join, too!
For more guides, check out:
Hope this helps!