If there's one thing I wish I took advantage of more often in college, it's the gym.
I went to Arizona State for two years, and they have one of the biggest and best gyms in the country. But I only went a handful of times!
Don't be like me. Get your healthy habits started early and make sure you get the most out of everything your tuition pays for, especially the gym.
If you're a student, staff member, alumni, or you're thinking about attending the University of Texas Austin, here's everything you need to know about the UT Austin (or UTAUS) gym.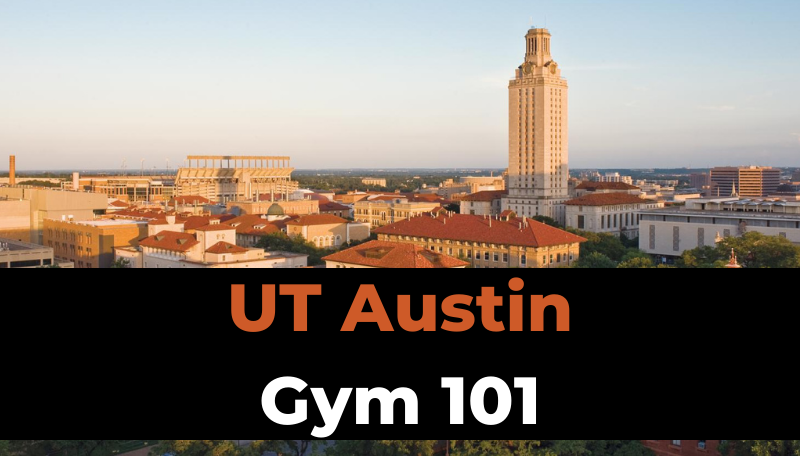 At UT in Austin, you'll want to head over to Gregory Gym if you want to work up a sweat. The monumental facility has top notch equipment, plenty of sporting courts, a newly renovated floor plan, and even a pool/sauna area.
The only downsides to the UTAUS gym you should know about: It can get really crowded during peak times, and certain amenities (like the rock climbing wall) will cost extra.
Let's take a look at the equipment, amenities, and perks at UTAUS Gregory Gym.
---
University of Texas Austin Campus & Gym Explained
There are 13 campuses in the University of Texas system, and plenty of students are proud to call the Austin location their home.
In fact, over 40,000 undergraduates attend UT, so that's a lot of people who need to exercise regularly.
Fortunately, it doesn't get much better than Gregory Gymnasium on the Austin campus.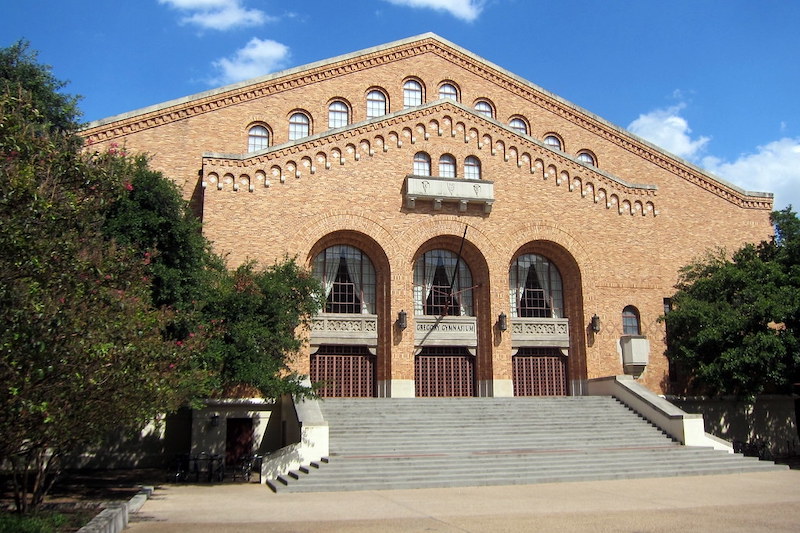 Found at the corner of East 21st Street and Speedway, Gregory Gym houses plenty of amenities whether you want to begin your fitness journey or train extensively for sports.
The facility has a ton of perks no matter how you like to exercise, whether it's playing racquetball with your buddies or running on your own.
That's not the only perk of regularly checking out Gregory Gym.
This is also where the women's volleyball team play, and if you're a student, it only costs $14 to attend the games.
---
UTAUS Gregory Gym Amenities Explained
Gregory Gym at UTA isn't your average gym.
In fact, it can make something like Planet Fitness or Crunch look downright puny.
There's certainly no need to pay for a whole other gym membership when this facility has everything you need and more.
Here's what you'll find at Gregory Gym.
Cardio Machines
Indeed, there's an entire cardio section where you'll find treadmills, ellipticals, stationary bikes, and more to accelerate your heart rate. 
You'll find an absolute plethora of machines here.
Weights & Strength Equipment
As you'd expect at a top-notch gym, Gregory has plenty of resistance machines, free weights, barbells, dumbbells, and more.
No matter what style of strength training you prefer, you can do it here.
Pool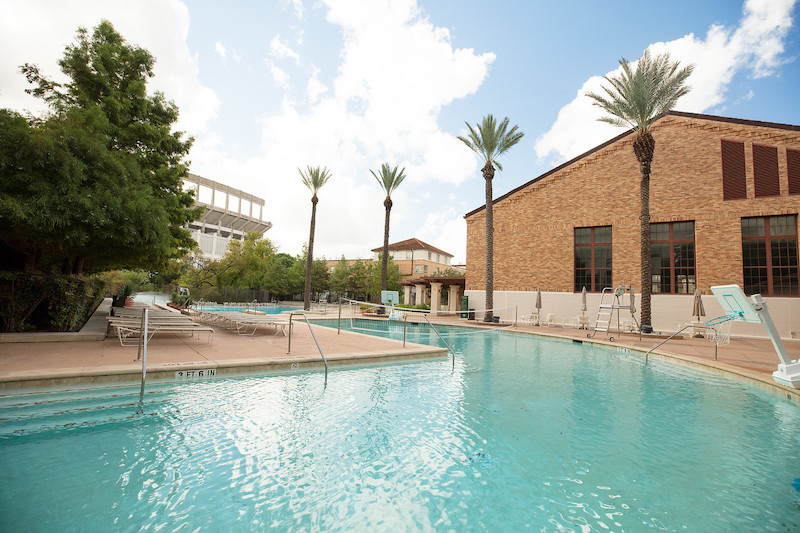 You'll want to head over to the Gregory Gym Aquatic Complex if you want to get some laps in.
The pool's available for free swimming and special events.
The complex is outside, so on a nice day, you can hop in and go for a swim. The area even comes with a lightning detection center, so you'll be alerted if there's any hint of danger.
Sauna
Steam rooms and saunas are available in case you need a little extra recovery boost — or if you just like to relax!
Sporting Courts
Seeing how Gregory Gym is the home of women's volleyball at UTA, it only makes sense there are other courts to that people who don't compete competitively can utilize.
This includes 2 international-sized squash courts, 8 racquetball, handball, or wallyball courts, and 7 basketball (or 9 volleyball) courts. 
Climbing Wall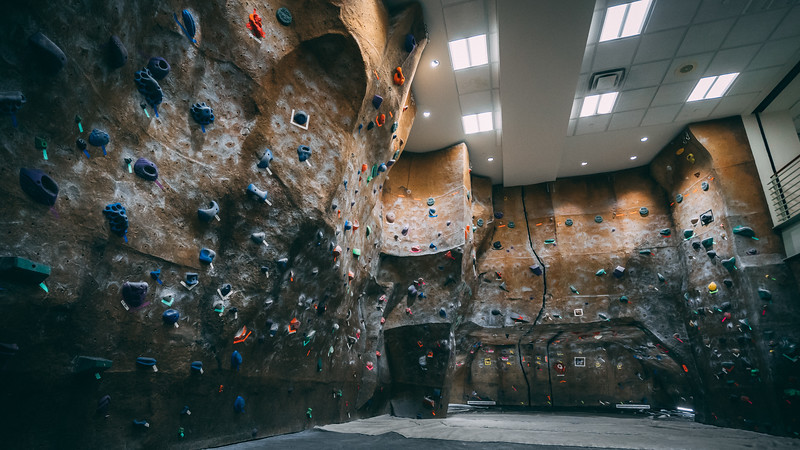 Inside Gregory Gym, you'll find a massive climbing wall. It includes 2,600 square feet of climbing surface.
However, even if you're a student, you'll have to pay extra to access it.
Plus, it abides by different hours than the rest of the gym, so make sure you go when it's actually open.
Indoor Track
The facility hosts a 1/7-mile indoor jogging track.
You can walk or jog at whatever speed you're comfortable with in case you're tired of running in the same spot on the treadmill. 
Showers
Showers are available in Gregory Gym. It's great for freshening up before class.
You can even hit the showers if you bike to school and need to rinse off.
Group Classes
Group classes are offered, including a group cycling course.
You can also sign up for TeXercise, which offers over 100 in-person classes every week.
Instructors host their classes all over campus, so you never know what new locale you'll discover.
Personal Training
If you're a total newbie and you need a little guidance getting your fitness journey started, you might benefit from a few sessions with a personal trainer.
Personal training options are available to all Gregory Gym members.
You will need to pay extra to utilize these classes, and you'll get the best deal by buying a bundle of sessions at once.
---
Who Can Use the UT Austin Gym? (Membership Explained)
Current students are automatically enrolled to be members at Gregory Gym.
This gives you access to all of the standard amenities.
Certain areas, such as the climbing wall and personal training session, will cost extra. 
Current UTA staff and faculty members are eligible to purchase a membership, which comes out to $26 per month. Meanwhile, retired UTA staff and faculty members can purchase access for just $13 a month (as of this writing).
If you're not affiliated with UTA at all, you can buy a membership for around $45 a month.
That's not a bad deal, especially when you consider the membership costs of going to some of the higher-end chain gyms.
---
What Are Real Students Saying? (UT Austin Gym Reviews)
Most anyone affiliated with the UTAUS will find everything they need at Gregory Gym.
But if you have the mean, or if you have very specific fitness needs, is it worth paying for a regular gym membership? Is Gregory Gym secretly a dump?!
Here's what real students are saying based on reviews on Google and Yelp.
While the majority of them are overwhelmingly positive, there are some cons to watch out for, too. 
Pros
Recently renovated floor plan
Great sporting courts
Variety of equipment
The Gregory Gym has four stories of gym equipment and perks. There's plenty of room, and you can work out whichever way you see fit.
Plus, it's great to hit up if you're looking to work out with your friends.
You can get a group together to play basketball or racquetball together. Not only will you get in great shape, but you'll have fun while doing it.
Cons
Some inexperienced staff
Can get smelly
Cam get busy
One critique that frequently comes up in reviews is people getting frustrated that the staff won't help them.
It's important to remember that some of these reviews are years old, and there are likely new staff members in place who may be able to better assist you.
And like many other college gyms, it gets busy. There are tens of thousands of people on campus, all of whom can check into the gym whenever they want.
Apparently, the busiest times are the afternoon and evening, so you may be able to beat some of the crowds if you go first thing in the morning.
---
Wrapping Up
Austin is known for a lot of things. It has a lively music scene and thriving restaurants. There's plenty to do when you aren't in classes or swamped with homework, and that includes working out.
We all know how college students can be strapped for cash. It may be tough to pay for another gym membership, so you might as well use the one you're already paying for.
Gregory Gym has everything you'll find at any other gym in the city. The difference is you can walk to it from your dorm room.
Now that you know what you're getting into, you'll look like you know what you're doing even when it's your first time in the facility.
For more college gym reviews, check out:
Hope this helps!