When it comes to budget-friendly gyms in Canada, nothing beats Fit4Less.
This discount fitness franchise has 90 gym locations across Canada and has memberships starting at only $12 per month.
While the membership fees are inexpensive, the variety and quality of the workout equipment are surprisingly good. You can find everything from squat racks to weighted sleds at some locations.
However, the amenities at Fit4Less are limited compared to other big-box gym franchises.
There are only a few key amenities that will improve your experience as a Fit4Less gym member.
If you are an avid swimmer, you may be curious: Does Fit4Less have a pool?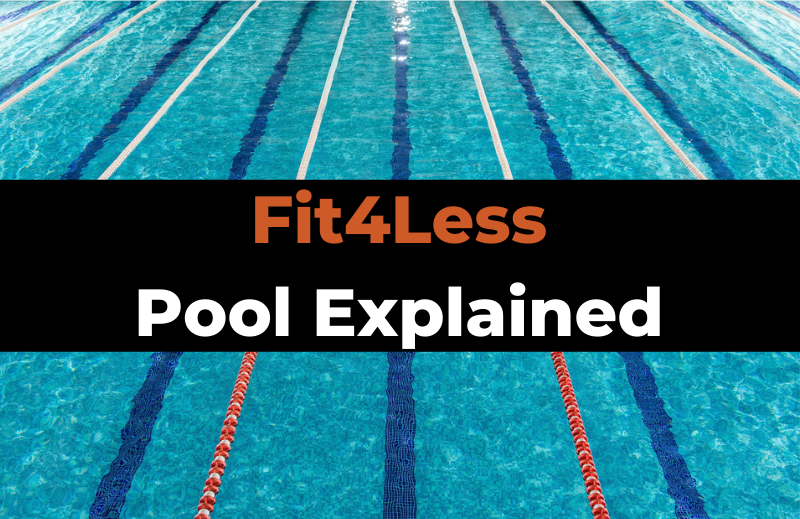 Unfortunately, Fit4Less locations don't have pool facilities or aquatic amenities for members. Most locations also don't have showers or locker rooms for members. However, Fit4Less makes up for the lack of aquatic amenities with a low membership price and great equipment.
If you want to learn more about Fit4Less amenities and other gym alternatives with pools, keep reading.
---
Does Fit4Less Have a Pool?
Fit4Less is considered a budget gym with similar options of gym franchises like:
Planet Fitness
YouFit
Crunch Fitness
For a gym franchise to maintain low membership fees, the amenities are often more basic than mid-tier gyms.
There are no pool facilities for members at most locations in all gym franchises listed above.
So it follows that, no, Fit4Less does not have a pool.
While Fit4Less does not have a swimming pool, it makes up for it with its large selection of cardio equipment. You can receive all of the health benefits of swimming by creating a low-impacting cardio regimen.
Some of the most common cardio machines found at Fit4Less are rowing machines, elliptical machines, and stationary bikes. They're all great low-impact options that can burn a ton of calories and whip you into shape.
However, if swimming is a crucial part of your routine—these machines may not be enough for you. It's important to decide if you value the excellent price or are willing to pay more for a gym with a pool.
---
Does Fit4Less Have a Hot Tub or Other Aquatic Amenities?
Unfortunately, Fit4Less does not have hot tubs or whirlpools at its locations.
There is only one aquatic amenity offered to Black Card members at Fit4Less: Members have unlimited access to hydromassage beds.
If you aren't familiar with hydromassage beds, they are a powerful tool that helps improve circulation and reduce soreness.
While lying down on the comfortable bed, warm water jets will move up and down your body.
As you become more familiar with the hydromassage bed, you can program your ideal massage on the touch screen. You can adjust the speed, temperature, and body areas the water jets will target.
The massage is soothing and is beneficial for all ages.
Many users with chronic pain report feeling much better after only 10-minutes on the hydromassage bed. If you are looking for a relaxing massage after your workout, upgrading to a Black Card member is a good choice.
---
Gym Alternatives With Pool Facilities
If pool facilities are necessary for you, it would be best to join another gym franchise.
However, with Fit4Less having such low membership fees, it's not likely you will find a similarly priced gym with a pool.
You will need to increase your membership price to around $30 to $50 if you want a gym with a pool. Fortunately, there are a few excellent gym franchises found across Canada with pool facilities.
GoodLife Fitness
GoodLife Fitness is Canada's largest health club company, with over 450 gym locations spread throughout the country. Most locations are open 24/7 and include pool facilities for all its members.
However, the membership is around double the price, with memberships starting at $32 every other week.
If you have the budget for a higher membership price, GoodLife Fitness is an excellent choice. You have access to all gym locations across Canada as a member.
LA Fitness
One of the most well-known gym franchises across North America is LA Fitness. The average membership fees will be between $30 and $50, depending on the location. Most LA Fitness gyms have pools and hot tubs.
Additionally, there are other aquatic amenities like saunas and steam rooms for members. However, it would be best to visit your local LA Fitness to confirm their amenities before joining the gym.
World Gym
While World Gym isn't as popular in Canada, there are still a handful of locations throughout the country. Many World Gym locations have a heated lap pool and whirlpool hot tubs for their members.
The membership price is most similar to Fit4Less, with World Gym having a membership fee of $18 per month. If you have World Gym near you, this is the best alternative you can find to Fit4Less.
---
What Are The Other Amenities Available at Fit4Less?
If you are still interested in joining a Fit4Less location, you can access their other amenities as well.
Most amenities are available only for upgraded members with a Black Card membership.
If you are a 4Less member, you will only have access to one location and workout equipment.
Fit4Less's hydromassage beds and massage chairs can be used as a Black Card member. These massage amenities are the perfect way to relax after exercising.
With a membership, you have unlimited access to use these amenities.
Along with unlimited access to massage amenities, you get unlimited access to tanning beds at Fit4Less.
These amenities are typically available during staffed hours if the location is open 24 hours.
There is also a smoothie and juice bar at select locations that sell delicious healthy beverages. However, it's important to note that each Fit4Less location differs from what amenities it offers to its members.
The best way to get an accurate idea of the amenities at your nearest Fit4Less is by visiting or calling the branch. Some locations even offer childcare services, but it's not guaranteed for all places.
---
Wrapping Up
If you are looking for a budget-friendly gym franchise, look no further than your local Fit4Less.
However, Fit4Less does not have pool facilities for members, and you will need to join another gym if you want a swimming pool.
There are no aquatic amenities at Fit4Less, besides the hydromassage beds. It's a budget gym that's light on other amenities, as well, but the equipment is top notch if all you need is a cheap place to work out.
For more, check out the:
Hope this helps!