Snap Fitness is a gym franchise that focuses on simple memberships and basic amenities.
The gym locations feature well-equipped workout areas with all the cardio and weight lifting equipment you need.
However, you won't find premium amenities at Snap like you'll see at high-end gyms. Members at Snap Fitness typically look for an inexpensive gym that is open 24/7 with lots of equipment.
If you want to become a member of one of the over 2,000 locations, you may have one question about the amenities:
Does Snap Fitness have a pool?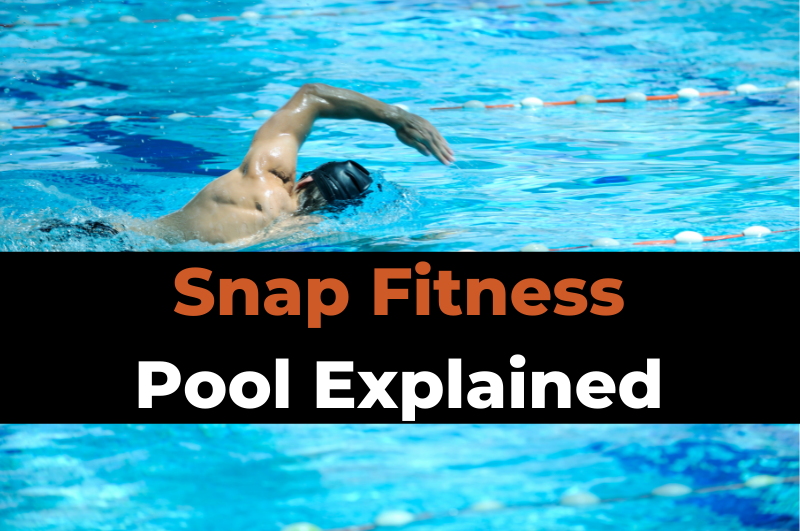 Unfortunately, most Snap Fitness locations will not have a swimming pool for their members. If your local gym location has a pool, you will likely need to pay extra to access it. Along with no pool, most locations do not have hot tubs, saunas, or steam rooms.
While Snap Fitness doesn't have pool facilities in most locations, it does have some other convenient amenities. Keep reading further to learn more about the gym amenities and alternative gym franchises with pools.
---
Does Snap Fitness Have a Pool?
When joining a budget or convenience gym like Snap Fitness, most locations will not have pool facilities for members.
These types of gyms are focused on providing a no-frills experience for its members to enjoy.
However, since Snap Fitness is an international franchise, some locations potentially have pools — but they are rare and hard to find. Chances are your local Snap does not have a pool.
If you like to make swimming a primary part of your fitness regime, the lack of pools can be a big downside.
While there isn't a pool, Snap Fitness has numerous low-impact cardio options for a great alternative to swimming workouts.
Some of the best machines that Snap Fitness has for its members to replace swimming is:
Elliptical Machine
Stationary Bike
Rowing Machine
These pieces of equipment will reduce the impact on your joints vs running and some other activities, making them a decent alternative to swimming.
---
Does Snap Fitness Have a Hot Tub or Other Aquatic Amenities?
When a gym chain doesn't have a pool, it will likely not have a hot tub.
However, there is a better chance that your Snap Fitness location has a sauna. Numerous Snap Fitness locations advertise their "infrared sauna" amenities.
These saunas are located in the men's and women's bathrooms, giving members a chance to access the unique amenity.
Unlike a standard sauna, an infrared sauna uses infrared lamps to detox the body and promote recovery.
In select locations, you may also find steam rooms in the bathrooms.
The amenities vary on the location, so it's best to visit your local Snap Fitness to learn more. If aquatic amenities are a non-negotiable as a member, there are more suitable gym chains.
---
Gym Alternatives With Pool Facilities
Snap Fitness has an average monthly membership fee of $36.95, which is considered mid-range among gyms.
You can become a member of numerous gym franchises with pool facilities at this price range.
Below are three of the best gym alternatives with pool facilities that you can visit for a similar membership fee.
LA Fitness
One of the best budget-friendly gym chains in the United States is LA Fitness.
With an average cost of between $30 and $50, you can access their numerous aquatic amenities. Most LA Fitness locations have an indoor pool, sauna, and hot tub.
However, it is not guaranteed to have the amenities you want at every LA Fitness location.
Fortunately, most LA Fitness gyms offer a free membership trial that you can use to test out the amenities.
24 Hour Fitness
If you are a fan of Snap Fitness being open 24/7, you will love 24 Hour Fitness.
You can find pool facilities at most 24 Hour Fitness franchises, but the amenities differ. The average membership cost starts at $49.99, but you need to be a Gold Member to access the pools.
You can also access the hot tub and sauna at your gym location with the pools.
The equipment at 24 Hour Fitness is also comparable to Snap Fitness, offering the closest alternative to the budget gym.
YMCA
While the layout of YMCA locations is different in every location, you are more likely to find a pool here than in Snap Fitness.
Many YMCA locations have large indoor pool facilities that include a water slide.
The membership fees for YMCA will range from $40 to $60, with a small initiation fee added for first-time members. However, it would be best to visit your local YMCA before deciding on the membership.
---
What Are The Other Amenities Available at Snap Fitness?
Snap Fitness offers limited amenities to members, but there are still some added benefits to being a member.
Some Snap Fitness locations offer childcare services for their members while working out.
Again, this is a rare benefit not available at most Snap locations.
Some Snap Fitness locations also have tanning beds for members if you are a fan of tanning. In most cases, the tanning beds will require an additional fee to use along with a standard membership.
The last amenity available at some Snap Fitness locations is massage chairs. While you sit in the chair, you will receive a back massage that is relaxing and helps relieve sore muscles after a workout.
As you can see, the amenities at Snap Fitness are very bare-bones and minimal. Some locations don't even offer locker rooms or showers, which can be a big disadvantage for some members.
---
Wrapping Up
Snap Fitness does not have pool facilities or other aquatic amenities for its members.
In fact, Snap is light on amenities for the price — in many cases, you'll do better at other mid-range options like LA Fitness or 24 Hour Fitness.
However, Snap can be a good choice for affordable 24/7 access if the location is convenient for you. If your location has an infrared sauna, massage chairs, and plenty of low-impact cardio options, you might find you don't miss the pool that much!
For more, check out the pool at:
Hope this helps!