College is one of the best possible times to start cultivating healthy habits, and it's made easier when you've got one of the best gyms in the entire state right on campus.
Penn State is no exception, offering an absolute wealth of fitness facilities for students at no extra charge beyond tuition.
Even faculty and staff at Penn State should consider joining, since the cost compares well to joining a regular commercial gym — and you get a LOT more for your money.
If you're a student, staff member, alumni, or you're thinking about attending Pennsylvania State University, here's everything you need to know about the Penn State gym.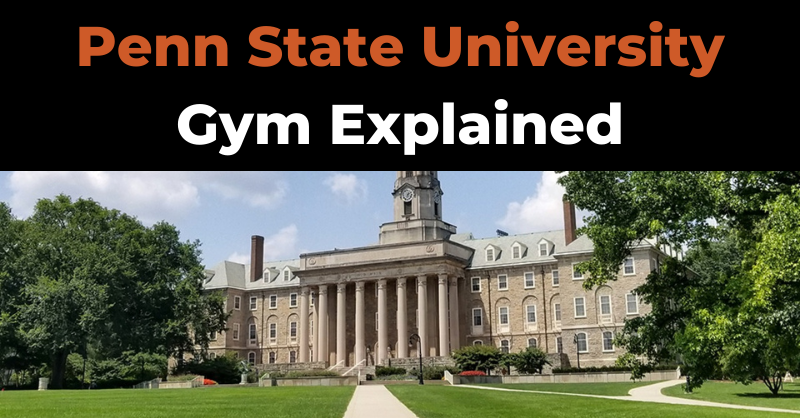 The Penn State gym consists of three separate recreational buildings, all jam packed with strength and cardio equipment. Students or faculty/staff members can also enjoy recreational or fitness swimming, indoor rock climbing, and tons of sporting courts for fun or exercise.
Penn State has a huge student body and so the gyms can get quite crowded during peak times, and a few of the older buildings could use a renovation to keep up with the main gym's (IM Building) standards.
Let's take a look at the equipment, amenities, perks, and what real students are saying about the Penn State gym.
---
Penn State University Campus & Gym Explained

Pennsylvania State University is a public state related research grant university with 24 campuses spread across Pennsylvania.
The largest campus, University Park, has been labeled as one of the 'Public Ivies', indicating that it provides an Ivy League level of education.
Penn State is one of only four universities to participate in sea-grant, space-grant, and sun-grant research. University Park campus lies within the Borough of State College and College Township.
This campus alone has a student body of 46,800, which makes it one of the largest universities in the United States.
The total student enrollment across all 24 campuses is 97,500 students. Penn State also has the world's largest dues paying alumni association.
In 2020 Penn State was ranked 101-150th on the Academic Ranking of World Universities and 42-56 nationally. In 20201, Penn State was named the 96th best university in the world.
The fitness facilities available at Penn State come under the umbrella of Campus Recreation. There are 7 locations that make up Campus Rec. They are: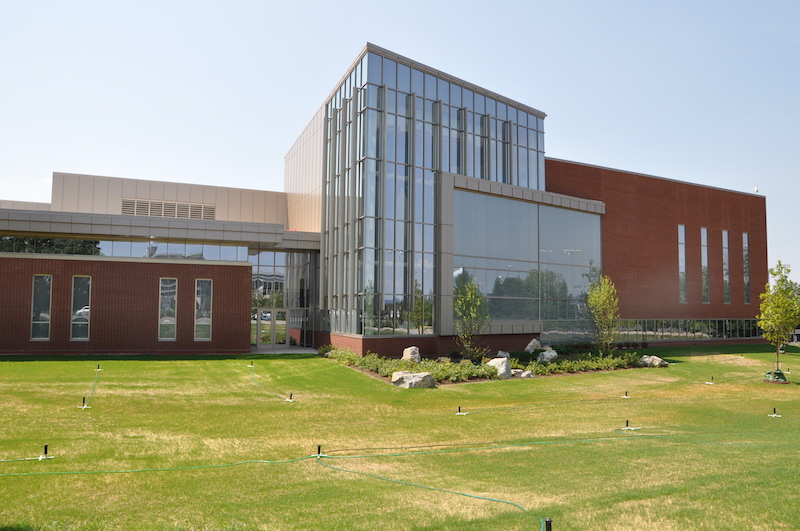 IM Building
The IM building is located on the east corner of University Park campus close to the residence halls.
It features a strength and fitness center, climbing wall, gym spaces for volley, basketball, badminton, etc, a table tennis area, indoor track, indoor turf field, racquetball, and squash courts.
The IM Building is by far the largest of the three cardio and strength training gyms (the other two being the Hepper Fitness center and the White Building).
It is also the newest of the buildings, being about 10 years old.
Hepper Fitness Center
The Hepper Fitness Center is located in Rec Hall on the West campus.
The facility includes free weights, strength machines, plate loaded equipment, and a 70-piece cardio loft. They also offer a range of personal training packages.
The Hepper Fitness Center is the smallest of the three gyms and the oldest. It has the feel of an old school bodybuilding dungeon with older equipment.
White Building
The White Building is located in the middle of University Park campus near the HUB. It features a strength and fitness center with 75 selectorized and plate loaded stations, 50 free weight stations, and 60 cardio machines.
There are also basketball courts and a multipurpose room as well as a 25 meter, five lane lap pool.
Outdoor Fields
Campus Recreation fields are spread across University Park and include Bigler West Field, Park Avenue Fields, and West Fields.
Bigler West Field, located behind the Natatorium, is a 340 x 320-foot grassed area for club sport practises.
The 12 acre Park Avenue Fields is the largest grassed area on the University Park Campus. Monday through Thursday evenings, the fields are heavily used for intramural sports leagues and club sports practises.
The West Campus Turf Fields, off Atherton Street near Rec Hall, are key-access gated turf fields. Both 360 x 200 feet fields are home to informal recreation, Club Sports practices, and reservations
The Tennis Center
The Campus Rec Tennis Center provides both community tennis programing and student tennis programming.
McCoy Natatorium
The McCoy Natatorium is Penn State's main aquatic center. It features a 25-yard, 6-10 foot deep indoor competition pool, a 25-meter, 3.5-5 foot shallow indoor instructional pool, and a dedicated 14-foot deep diving well with 1 & 3-meter springboards.
The outdoor pool is 50-meters x 25-yards, 4.5-15 feet deep with 8 long lanes.
Stone Valley Recreation Center
Stone Valley Recreation Center is located off campus in the Pennsylvania Hills about 17 miles from University Park campus.
It features scenic trails, wooded mountains, and fresh streams that are ideal for fishing, hiking, and boating, all of which are organized by recreation center services.
---
Penn State Gym Amenities
Penn State has a lot to offer students and faculty who want to get in shape.
But how do the facilities compare to your average big box gym?
Let's take a look at some of the equipment and amenities you'll find on campus.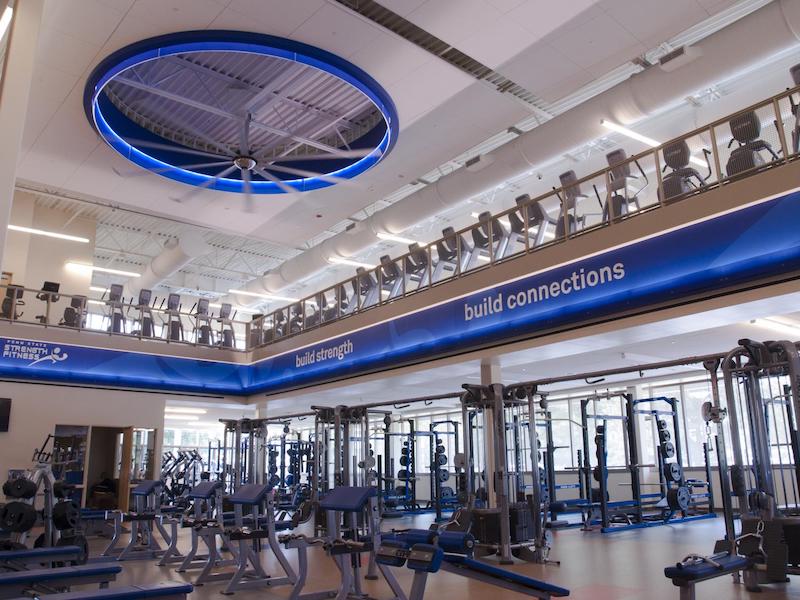 Cardio Machines
The three centers that feature cardio equipment are the IM Building, the Hepper Fitness center, and the White Building.
The Strength and Fitness Center in the IM Building features 90 pieces of cardio equipment, including:
Treadmills
Ellipticals
Recumbent bikes
Climb Mills
Spin bikes
Stationary bikes
Rowing machines
The Hepper Fitness Center has an additional 70 pieces of cardio gear, with treadmills, ellipticals, upright & recumbent bikes, steppers, and rowers.
The strength and fitness center in the White Building has an extra 50 pieces of cardio training equipment.
That's a lot of options!
Weights & Strength Equipment
As with the cardio gear, the strength and weight training equipment are spread around the IM Building, the Hepper Fitness Center, and the White Building.
The IM Building has the biggest weight training area, featuring a wide selection of free weights, Olympic benches, racks, selectorized weight machines, and cable pulley machines.
The Hepper Fitness Center, though not as extensive as the IM Building, also has a good selection of strength training gear, probably being about two-thirds as big as the strength training area of the IM Building.
The White Building has the smallest strength training area with a focus on free weights such as barbells and dumbbells.
Pool
The McCoy Natatorium is where you will find Penn State's main aquatic facilities.
Here you will find:
25 yard, indoor competition pool
25 meter shallow indoor instructional pool
14-foot deep diving well
Outdoor Poll (50 meters x 25 yards, with 8 lanes)
There is also an indoor pool at the White Building. This indoor pool offers a 25 meter, 5 lane lap pool with an ADA lift.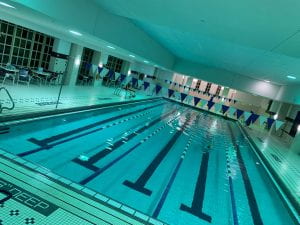 Sporting Courts
There is a range of sporting courts spread around the rec center buildings.
The IM Building is home to a number of basketball, volleyball, badminton, and other courts.
There are 10 racquetball and 4 squash courts in the IM Building.
The White Building has 2 basketball courts, along with 3 multi-use rooms, 1 yield multi-use room, and 1 Marley floor room.
The Tennis Center offers tennis coaching and programming for students and members of the public.
Climbing Wall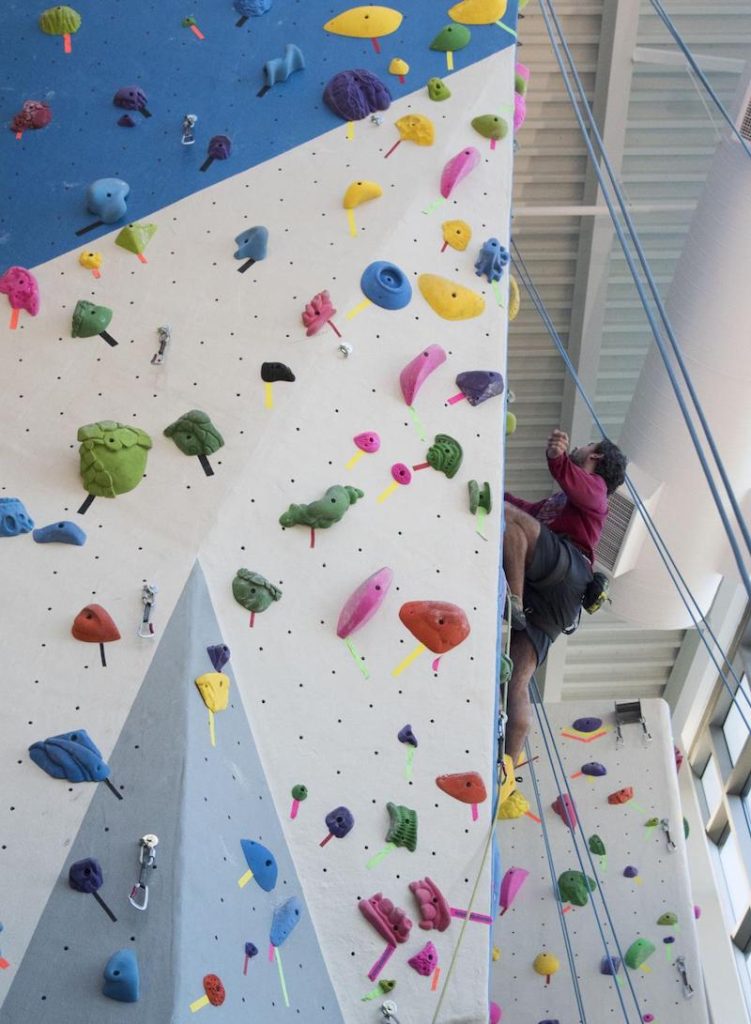 There is an awesome climbing wall at the IM Building that reaches to more than 40 feet.
It has 16 climbing ropes that allow for both lead and top rope climbing.
The state of the art wall features 64 climbing routes, two climbable crack systems, a rappel ledge, and a teaching area for skills and clinics.
Not far from the climbing wall, you'll find a bouldering wall that is 14 feet high. This can be used for unroped climbing.
Indoor Track
The IM Building has a ⅙ mile indoor track with dispersed stretching and fitness zones.
Showers
All of the rec center facilities feature spacious, clean, and well fitted out bathrooms and changing facilities, complete with showers.
Group Classes
Campus Recreation offers more than 60 weekly group fitness classes.
Included in the line up are HIIT, Kickboxing, Indoor Cycling, Aqua Fitness, Zumba, and Yoga.
Every class is led by a Penn State certified personal trainer. You will have to make a reservation to secure your place in the class.
Personal Training
Penn State Campus Recreation personal trainers are available to guide all students along their fitness journey.
You'll have to pay extra for one-on-one training, usually around $40 per session. You can get a better bargain by booking more sessions.
Alternatively, you can sign up for a one hour fitness assessment and consultation, after which the trainer will create a 4-week program for you to follow on your own. The cost is $40 as of this writing.
Buddy Training
Buddy Training is more affordable and often more motivating. You'll be paired up with another member of a similar fitness level and share the cost of personal training sessions.
Buddy Training at Penn State will cost closer to $20 per session.
Small Group Training
The Small Group Training service offers training for groups of 4-10 in the following:
Athletic conditioning
Boxing circuit
Choreo dance
Expresso Bootcamp
Kettlebells 101
TRX Training Progressive Classes
Weightlifting 101
Martial Arts Technique
Virtual Training
You can also have virtual training sessions with a certified personal trainer that you can do at home. You will have access to instructional video guides.
Adaptive Recreation
Penn State provides a range of adaptive activities for students including wheelchair basketball, Run, Walk & Roll races, seated volleyball, adapted soccer, Paralympic experience events, and sled hockey.
---
Who Can Use the Penn State Gym? (Membership Explained)
Actively enrolled Penn State University Park students can use all of the Recreation center facilities without having to pay a membership fee.
That is because membership for full and part-time students was covered in their student activity fee. 
Students who are not taking summer classes can purchase a summer membership for $57.
Recently graduated students can purchase a membership for the semester immediately following their graduation at a cost of $95 ($50 for one month). 
Faculty and staff can purchase memberships for $95 per semester — considering the quality and quantity of fitness amenities on campus, that makes joining the Penn State gym a much better deal vs a regular gym.
Penn State gyms are not available to the public.
---
What Are Real Students Saying? (Penn State Gym Reviews)
The gym at Pennsylvania State University sounds great on paper, but what do real students and faculty have to say about the facilities?
The 3 gyms that make up the Penn State strength, cardio, and fitness offerings have an average rating of 4.4 stars out of 5, based on 76 reviews on Google,
Common themes that came through in reviews were that students praised the cleanliness of the facilities, the friendliness of the staff.
Of the three gyms, the IM Building is the favorite, with more room, more equipment, and a better vibe than the White Building or the Hepper Fitness Center.
Pros
Modern state of the art facilities
Clean
Friendly, knowledgeable staff
Cons
Overcrowding at peak times
White Building gym gear is quite dated and lacking in mirrors
Most gyms on college campuses (especially those with large student bodies) suffer from overcrowding.
Your best bet is to learn about peak gym times and avoid them whenever possible.
Otherwise, the gym at Penn State gets quite high marks from students and faculty members. It's a bit spread out with different facilities all over campus, but when taken as a whole, they make up one of the best gyms in the entire state.
---
Wrapping Up
Pennsylvania State University offers plenty of opportunities for students to work out and indulge in their favorite sporting activity.
There are three main gyms, with cardio and strength training gear. Of the three, the IM Building houses the largest and best facilities.
As a student, you don't have to pay to use any of the gyms during semesters, so you'd be crazy not to take full advantage of what's on offer!
For more gym guides, check out:
Hope this helps!