Barre is a popular fitness style that takes inspiration from ballet dancing and Pilates.
When you become a frequent member at a barre studio, you will notice increased strength, better flexibility, and endurance.
Two of the best options among barre fitness studios are Physique 57 and Bar Method. These two studios offer top-rated barre fitness classes, but they take different approaches to their business.
But what's the difference between Physique 57 and Bar Method, and which one is better for you?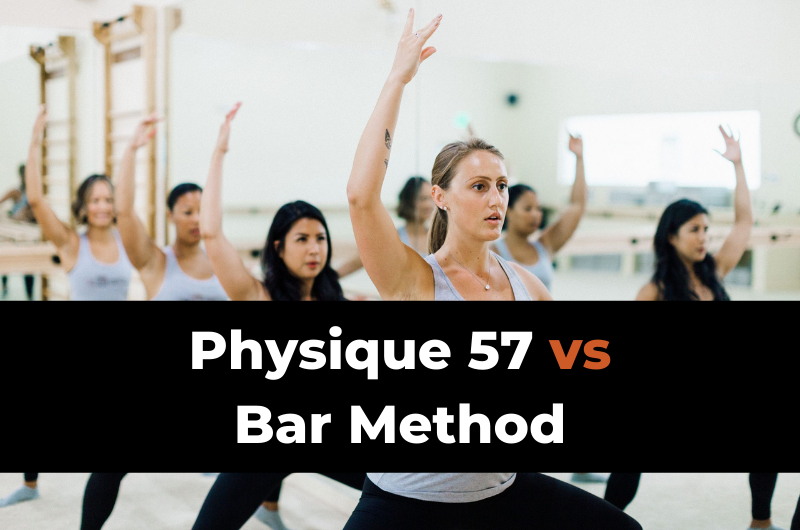 Physique 57 has an upscale vibe that includes pricier membership price models and well-equipped facilities. At Bar Method, the atmosphere is much more beginner-friendly, and the facilities are more basic for members. If you're looking for value, go for Bar Method. For a little more class variety, you'll love Physique 57.
Let's take a closer look at the workouts, costs, pros, cons, and more!
---
Physique 57 vs Bar Method Cost
The membership fees of these two studios differ, as they offer different facilities and amenities for members.
Physique 57 presents itself as an upscale boutique studio with a luxury design inside.
Bar Method is a more minimalist fitness franchise that focuses on providing the basics for members.
If you are used to the standard membership fees of a big-box gym, you may be surprised at the cost of a barre fitness studio.
A barre fitness studio provides specialized instruction that demands a higher membership fee.
The higher price is worth it for many fitness enthusiasts who enjoy the group fitness atmosphere. You will receive instruction from enthusiastic instructors who make exercising fun for members.
If you want to join as a member at these studios, the estimated/average membership fees will be:
Physique 57 Costs:
The single class drop-in rate is $40 per class
Four classes per month for $150
Eight classes per month for $295
Twelve classes per month for $395
Five classes for $190
Bar Method Costs:
The single class drop-in rate is $30 per class
Five classes per month for $110
Ten classes for $250
Twenty classes for $480
Unlimited classes for $225 per month
As you can see, the memberships at Physique 57 will most often be higher than at Bar Method locations. However, you will typically find Physique 57 studios in high-cost living areas like New York City and Philadelphia.
Physique 57 has unique membership options, as some studios don't offer unlimited class options.
Additionally, you can receive a discount on a membership at both studios if you set up recurring payments with the studio.
The studios offer a discount for the first month at a reduced price for new members.
At Physique 57, you can attend four classes for $40. When you first sign-up for Bar Method, your first month is $99 for unlimited classes.
Along with studio memberships, you may also purchase an online membership at either of these studios.
Physique 57 offers an on-demand platform that includes hundreds of classes for different skill levels. The Physique 57 online platform is billed at $24.99 per month, and you are required to purchase some extra equipment for the classes.
Bar Method also has its own Bar Online platform that includes on-demand classes and live streams.
The Bar Online platform is billed at $29.95 per month, and you can also receive discounts by purchasing a subscription for six months or a year. Some studios also offer live-streaming, where you can join on Zoom.
---
Facilities and Amenities
When entering a Bar Method studio, you will notice how polished the studio's interior looks.
The Bar Method studio is almost completely white, with a clean atmosphere that keeps you focused on the workout.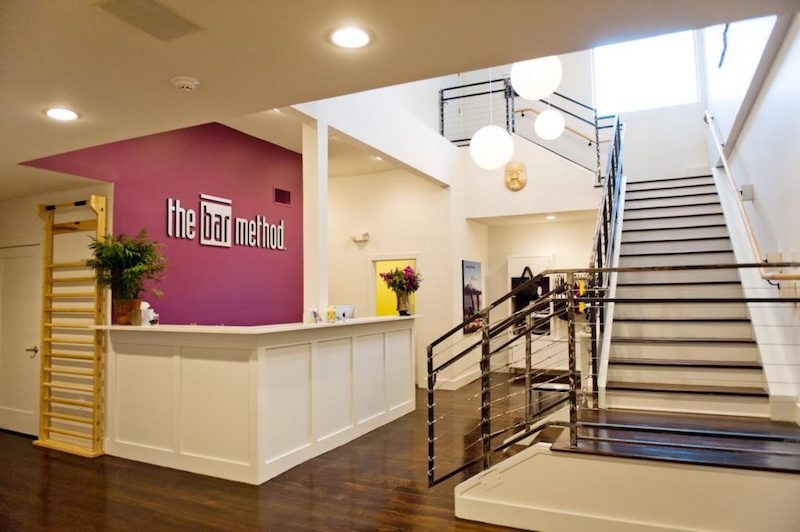 Most Bar Method facilities have a small area at the front with the desk attendant and apparel shop for members. The front desk attendants are always happy to assist and answer any questions you may have for them.
In the workout room, the walls are lined with mirrors and the ballet barre that you will use during class. The studios also include a branded medicine ball, workout mats, hand weights, and resistance bands.
Bar Method also provides essential amenities for its members like locker rooms, showers, towel service. There are also childcare services that members can use in select locations while they attend class.
Unlike Bar Method, the facilities at Physique 57 aim to provide a more luxurious experience for members.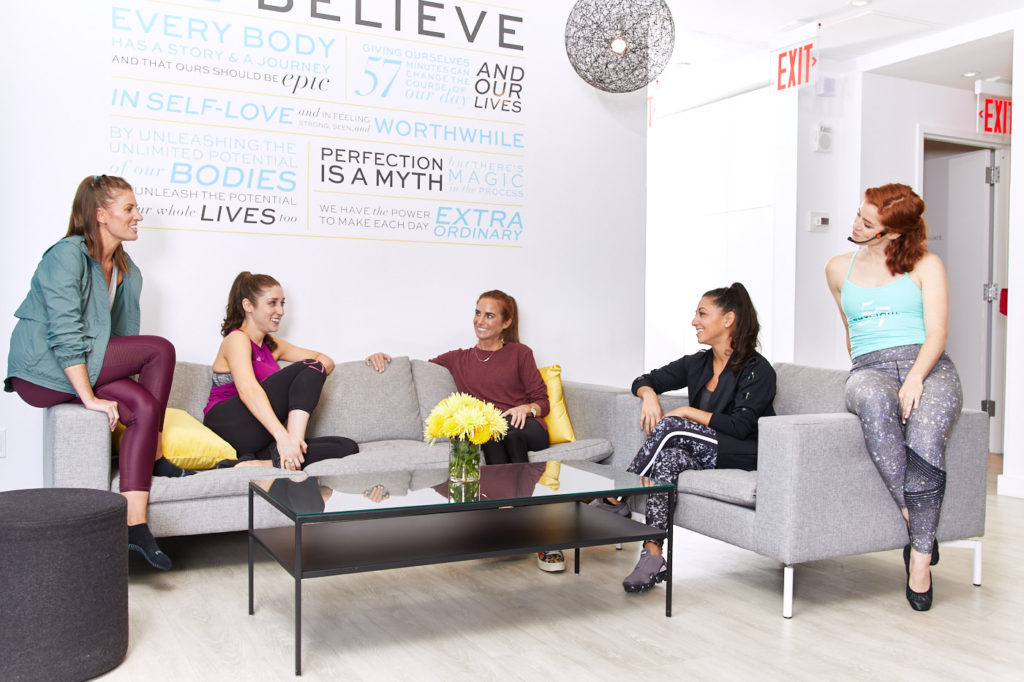 At the front of the studio, you will find a stocked apparel store and a lounge area for members.
The store includes various types of t-shirts, pants, and shorts perfect for exercising. There are also beverages for purchase to help you stay hydrated throughout your intense barre workout class.
At Physique 57, the studios also have spacious locker rooms that you can use to store your belongings during class. If you commute to work after class, there are showers for freshening up before the workday.
Inside the workout room, you will find equipment generally found in all barre fitness classes. You will have the signature barre but will also find a:
Medicine ball
Workout mat
Resistance bands
While Physique 57 presents itself as a high-end boutique studio, the facilities aren't vastly different from each other. You will still receive the same level of convenience from a Bar Method studio for a lower price.
---
The Workout
Since these two studios provide barre fitness workouts, the classes will be similar to each other.
However, you can find more variety at Physique 57 with different class formats for members to attend.
Physique 57's signature class is its "Sculpt" class format that is perfect for those new to barre or those who want to perfect their form.
Once you feel confident in your fitness level, you can move on to specialized classes like Power Sculpt or Back Body Sculpt.
Unlike Bar Method, you will find classes unrelated to barre fitness at Physique 57, like:
Dance Cardio
HIIT
and Pilates
This studio is an excellent option if you want to attend classes other than barre.
Bar Method focuses primarily on barre fitness, with varying class styles depending on your preferences.
There are five types of classes available at Bar Method, with each class having a different goal.
These Bar Method class styles will range from advanced strength training to rigorous flexibility training.
Below are the five class styles and what you can expect when you attend one of these classes:
Bar Method Signature: The original Bar Method workout incorporates interval training. Signature classes are recommended for members of any fitness level.
Bar Advanced: If you want a barre workout that focuses more on strength training and building lean muscle, this is the class for you.
Bar Move: This fast-paced aerobic workout gives you your cardio fix in a short barre fitness class. Bar Move is recommended for anyone who wants to add aerobic training to their routine.
Bar Restore: The restore class is in two parts, with a Bar Method Signature-class in the first half and a relaxation section in the second half of the class.
Bar Combo: If you need an intense barre workout but are short on time, the Bar Combo classes are an efficient 30-minute workout.
These classes allow you to switch your routine frequently to remain motivated to exercise. If you want to see results in a shorter timeframe, it's recommended you attend classes at a studio 3-to-4 times per week.
---
Community and Vibe
No matter if you choose to be a member at Physique 57 or Bar Method, the community in these studios is amazing.
You will meet many like-minded people who will help you stay disciplined on your fitness journey.
The instructors are also incredibly helpful and will assist you on your first day.
I recommend arriving at your first class 15-minutes early to meet your instructor and learn anything you need to know for class.
(Get more tips for your first barre class here.)
The communities are great, but the vibes of these studios will differ slightly.
Physique 57 typically attracts members with some experience, because of the high membership costs for the studio.
This vibe can be intimidating for first-time members, but it is easy to get in the groove of things after a few classes.
Bar Method is a more beginner-friendly studio, with members of all skill levels attending classes.
Most importantly, you will have fun attending either of these barre fitness studios. The barre instructors work hard to make the vibe fun and keep you engaged during the intense workout classes.
---
Wrapping Up
If you are looking for a barre fitness studio that offers various fitness class styles, clean facilities, and a positive vibe–both of these studios are excellent.
However, Physique 57 commands a higher membership fee for an experience similar to Bar Method.
For strictly barre fitness training, going to Bar Method would be the better option for its value.
If you want to do more than barre fitness (like HIIT or Dance Cardio classes), attending Physique 57 will give you more options for fitness styles.
Whatever you choose, the studios do an excellent job of keeping you motivated and ready to crush your fitness goals.
You can almost always try a free or reduced-cost session at most studios, so why not see for yourself?
For more studio comparisons, check out:
Hope this helps!