The draw of Anytime Fitness is in the name—you can work out there any time of the day or night.
And, with almost 2,000 locations across the United States, it feels like you can work out anywhere, too.
Anytime Fitness has coaches and training programs to help you become your fittest self, and you can even get a 7-day free pass to try the gym out for free.
But if you're into swimming workouts, aqua fitness classes, or just relaxing in the hot tub, you might have a question about the amenities at this gym:
Does Anytime Fitness have a pool, sauna, or hot tub?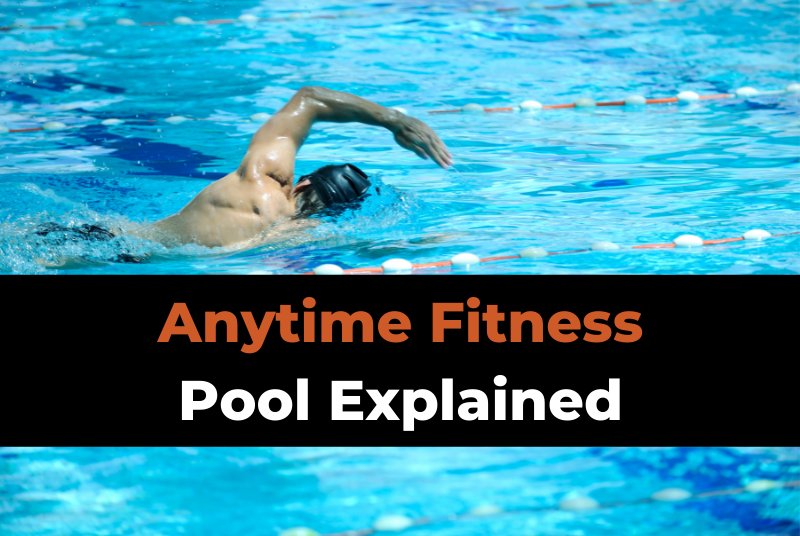 Anytime Fitness does not offer a pool, hot tub, or sauna at any locations. The closest amenity available at certain clubs will be the HydroMassage — not a bad way to unwind and recover from a workout! If you like swimming for exercise, Anytime may not be the right place for you, but they do offer plenty of low-impacted cardio equipment as a substitute.
Let's "dive in" and find out more about the amenities at Anytime Fitness, and some good alternatives for finding a gym pool on a budget.
---
Does Anytime Fitness Have a Pool?
Unfortunately, if you're a pool-lover, the appeal of Anytime Fitness ends here.
Anytime Fitness states on the website that there are no pools at any of the Anytime Fitness locations.
There are plenty of other ways to enjoy your time at Anytime Fitness, so if the pool isn't a dealbreaker, then it's still worth checking out that 7-day free pass. 
But if swimming is your passion, you'll have to look elsewhere—there are some alternatives to Anytime later in this article.
---
What Relaxing Amenities Does Anytime Fitness Have?
Some gyms without pools still have saunas, steam rooms, hot tubs, or perhaps therapy pools. Anytime Fitness isn't one of those.
In fact, Anytime Fitness likes to keep the focus on fitness. There aren't many amenities for you to enjoy at most Anytime Fitness locations.
However, don't run away just yet—a few Anytime Fitness locations have some amenities you might find enjoyable.
Showers
While showers aren't exactly an amenity, they're somewhere you can relax and have hot water run over your sore muscles after a workout.
Not all gyms have showers, so you'll be pleased to hear that every Anytime Fitness location has showers. 
Not all Anytime locations have lockers, however, so you'll need to find somewhere else to store your gear while you're under the hot water.
(Learn more about the shower situation at Anytime Fitness.)
Tanning
Some people consider tanning a relaxing amenity.
After all, you get to lie there and bask in the warmth, and you'll come out with nicely bronzed skin.
A few Anytime Fitness locations have a handful of tanning beds people can relax and tan in after a workout, but they're not the most common amenity.
HydroMassage
HydroMassages are the closest thing you'll find to an aquatic amenity at Anytime Fitness.
Some locations have HydroMassage beds you can unwind on after a tough workout.
These beds use water and pressurized jets like you might find in a hot tub. They massage your muscles and soft tissues with water pressure, and you'll find yourself refreshed and relaxed after spending some time on one of these beds.
Getting a HydroMassage is a wonderful, wellness-focused way to rejuvenate after a workout, and many leading gyms have these massage beds to help you cool down post-workout.
If you usually use a pool to unwind, then it's worth trying a HyrdroMassage at least once.
---
Alternatives to Anytime Fitness With Pools
If you really, really need a pool to relax and unwind or add to your workout, then don't fret.
(Or better yet, for highly-effective swimming workouts.)
Anytime Fitness may not be the chain for you, but there are plenty of alternatives.
At Anytime Fitness, one person is looking at paying $38.99 per month when paying monthly, or $407.99 when paying yearly (which comes to around $33/month.)
Let's look at two gyms with pools that have similar pricing to Anytime Fitness.
24 Hour Fitness
First thing's first, does 24 Hour Fitness have a pool? Yes!
You shouldn't be expecting the world's greatest pool at 24 Hour Fitness, but many locations have nicely sized pools available from 8 am to 8 pm.
This gym also has lots of aqua classes and hot tubs at the locations that have pools. Steam rooms and saunas are also available at these 24 Hour Fitness locations, so 24 Hour Fitness has pretty much everything Anytime Fitness lacks in terms of aquatics.
If there's a 24 Hour Fitness near you, then it'd be worth calling up to see if that location has a pool available.
Now, what about the price?
If you'd like access to all the amenities 24 Hour Fitness has to offer, then you're looking at paying $449.99 upfront per year, which is around $38 per month. This is with all dues and additional fees paid.
This is quite an affordable monthly gym membership compared to some of the other gyms out there!
It's definitely within your price range if you're looking at Anytime Fitness, so 24 Hour Fitness is probably the better choice for you. If you want to pay monthly, though, the cost will be higher and there are additional fees.
(Is 24 Hour Fitness worth it? Check out my guide to help you decide.)
LA Fitness
The majority of LA Fitness locations have a pool. In fact, there are both recreational and lap pools at some LA Fitness locations.
You'll also find hot tubs, saunas, steam rooms, and plenty of aquatic classes at many LA Fitness locations.
There's a lot of variance to this, so you may find a mixture of amenities at different LA Fitness locations. Be sure to ask which ones your local LA Fitness has before you head over there!
(If you'd like to learn about the specific amenities and aquatic classes LA Fitness offers, you can read all about it as I answer, does LA Fitness have a pool?)
As far as fitting into your budget goes, LA Fitness slots in neatly. Prices often vary by location, but you'll rarely pay more than $35 per month, even if you're paying monthly and not upfront.
You don't need some fancy package like an "all-encompassing pass" or "platinum membership" to access the pools at LA Fitness. Membership is all-inclusive in terms of what amenities you can use.
This makes LA Fitness an excellent choice. It's got simple pricing that's well within your price range!
(Check out my full guide if you want to know if LA Fitness is worth it.)
---
Wrapping Up
While Anytime Fitness isn't the right fit for you aquatics lovers out there, there are alternatives as you can see above.
Still, it's a great gym and the 24/7 access is a huge bonus for anyone who works odd hours or likes to stay up late!
In this price range, your best bet for finding a pool is LA Fitness or 24 Hour Fitness — but always call ahead or take a tour to see the aquatic facilities for yourself before you sign any contracts.
For more guides, check out:
Hope this helps!