Crunch Fitness is a small but popular fitness chain that has over 300 locations in three countries — and they're growing fast!
Similar to places like Planet Fitness, positivity and inclusivity are a major draw of Crunch Fitness for a lot of people.
Crunch proudly states their gyms are a judgment-free zone, no matter where you are in your fitness journey.
And that's to say nothing of the super budget-friendly membership cost.
But if you're a swimmer, you might have a question or two about the amenities at Crunch.
Does Crunch Fitness have a pool, hot tub, or sauna?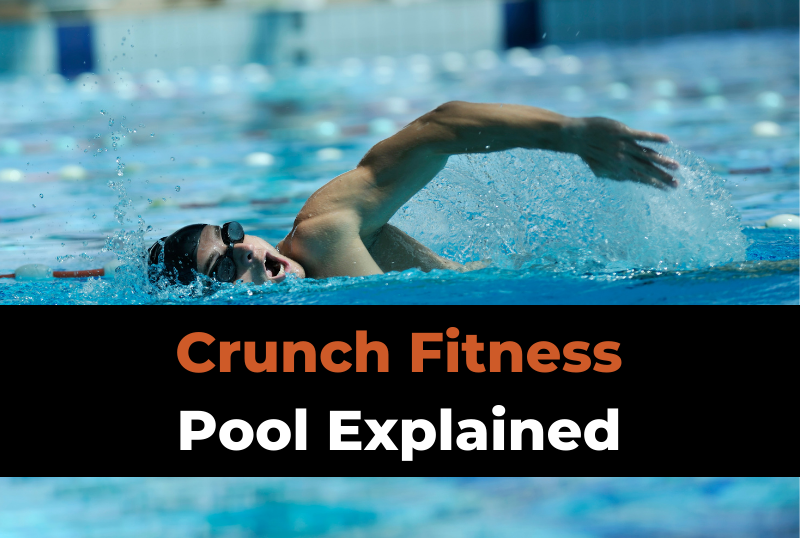 An overwhelming majority of Crunch Fitness locations do NOT have pools. However, a few select clubs around the U.S. do offer pools and other aquatic amenities. These are typically found at Crunch Signature Clubs and will require a more expensive membership.
Other amenities found at all Crunch locations include tanning and hydromassage, if you need another way to relax and recover!
Let's "dive in" and find out more about the amenities at Crunch Fitness, and some good alternatives for finding a gym pool on a budget.
---
Does Crunch Fitness Have a Pool?
Crunch Fitness doesn't mention pools, or indeed any other amenities, on the website. It's easy to gather that they don't have a pool at any of their facilities from this.
However, you'd be wrong there.
Most Crunch Fitness locations don't have a pool, but there are a minuscule few exceptions. For example, Crunch Fitness in Richmond, VA reveals on Facebook that there is a pool at that location.
Crunch Fitness in Simi Valley, CA also revealed on Facebook that there's a pool at this location.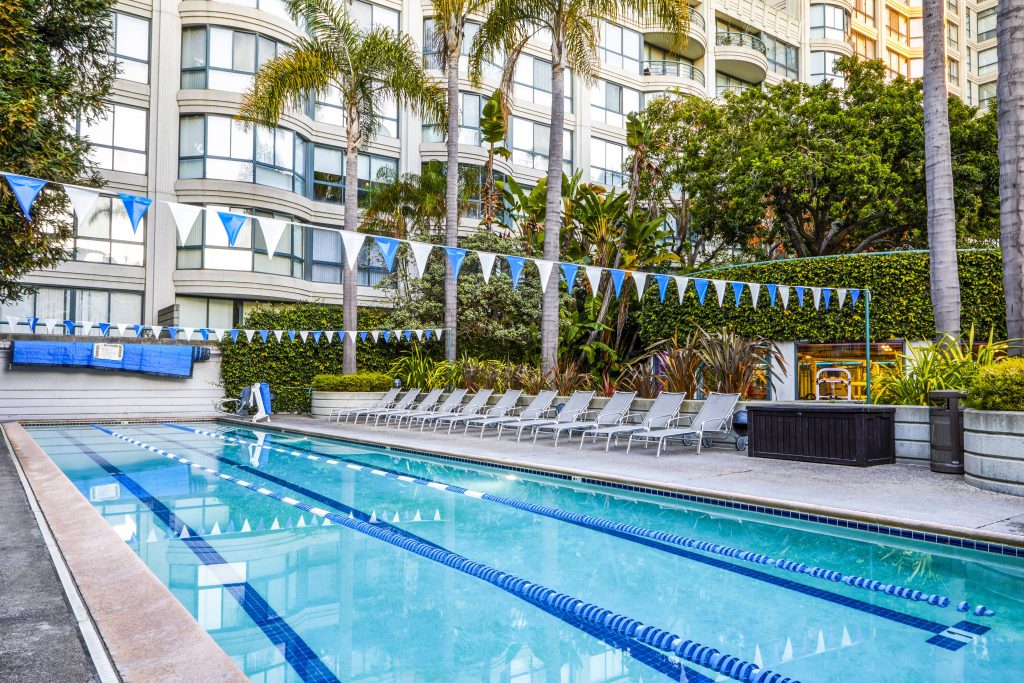 Because of this, it would be best to call your local Crunch Fitness and ask if there's a pool there. But I wouldn't get your hopes up.
There are only a handful of Crunch clubs in the entire country that offer a pool.
Try to find out if your local Crunch is a Signature Club — if so, you'll usually pay more to join but the club will have more amenities, maybe including a pool.
---
What Relaxing Amenities Does Crunch Fitness Have?
Richmond, VA's Crunch Fitness revealed there's also a hot tub at their location, so other locations with pools potentially have hot tubs, too.
However, for most Crunch members in a majority of locations, you won't have access to these aquatic amenities.
So what else is there?
The main two amenities Crunch Fitness has are tanning and HydroMassage.
These are available with the higher memberships only, at $22.99 and $29.99 per month.
Locker Rooms with Showers
Although it feels like it should be standard, not all gyms have showers and/or locker rooms.
You can rest assured that at Crunch Fitness you'll be able to get nice and clean after your workout, and you can store your gear safely in a locker.
Locker rooms with showers are available to all membership levels and guests. If you find a shower sufficient to cool down after a workout, then, by all means, check out Crunch Fitness.
Tanning
While it's nothing like a pool, tanning can be a relaxing activity.
You can lay back and relax for a while, cooling down from your workout while the bed works its wonders and bronzes your skin.
If this is something that interests you, then it may be worth your while checking out Crunch Fitness.
HydroMassage
Getting a HydroMassage is a wonderful alternative to a soak in a hot tub. Instead of getting in the water, you get on it. You lie on a perfectly contoured bed that shoots jets of water at your muscles and soft tissues.
A HydroMassage is an alternative to a traditional massage chair, and it provides a different, often gentler sensation while also working to relieve tension and loosen your muscles.
You'll feel like you're in a hot tub on dry land. So, if the hot tub was the main draw of a gym with a pool for you, all hope isn't lost.
---
Alternatives to Crunch Fitness With Pools
Understandably, you may have had your heart set on a pool. That's fine.
There are plenty of other gyms out there.
Although, it can be tricky to find alternatives with the same low price as Crunch Fitness.
After all, the most affordable membership with Crunch is only $10.99, and the most expensive is $29.99.
But there are two alternatives worth your consideration.
There are no alternatives on the low end of that price range, unfortunately, but there are two that come in under and around $30 per month.
Gold's Gym
A Gold's Gym membership will usually run you between $20 and $30, although this is for the basic plan. It also doesn't include the extra fees required to join.
However, if you're alright with the extra fees, then Gold's Gym is worth joining for the pool.
Not all Gold's Gym locations have pools, but if the one near you does, then check it out. You can also expect to find a sauna/steam room in many of them.
However, just because the location has a pool, it doesn't mean it also has a hot tub, sauna, or steam room.
On the other side of it, the location might have a sauna but no pool. You never know what your local Gold's Gym has until you call. Hot tubs are particularly rare at Gold's Gym.
You can learn all about the pool at Gold's Gym if you want more information on the topic.
(And if you want to know if Gold's Gym is worth it overall, I have a full guide on that, too.)
LA Fitness
LA Fitness has quite an affordable monthly gym membership, though it varies by location.
You'll be hard-pressed to find an LA Fitness location where you have to pay more than $35 per month. Most locations cost between $25 and $35 monthly.
But does LA Fitness have a pool? You bet.
You won't find a pool at every LA Fitness, but you'll find a recreational community pool and lap swimming pools at many of them.
There are also over a dozen aqua classes you can enjoy at LA Fitness.
Many of its locations also have hot tubs, but not every location with a pool has a hot tub too. Make sure you call ahead and ask so you're not disappointed when you visit and don't find what you're expecting.
Saunas and steam rooms are also common at LA Fitness. Some locations lacking pools have them, and some locations with pools lack them.
You never know what you're going to get, so your best bet is to call or take a tour before you sign up.
---
Wrapping Up
If you're one of the lucky few living near a Crunch Fitness with a pool, then go grab a membership! Take advantage of this prime location.
If you're not near one with a pool, then don't sweat it. Gold's Gym or LA Fitness have most likely got you covered.
Check out the website or call ahead to find out what your local Crunch Fitness, Gold's Gym, or LA Fitness has to offer.
You may be pleasantly surprised by what you find!
For more guides, check out:
Hope this helps!