What should you look for in a college?
You obviously want someplace that offers the academic programs you're interested in.
But classes are only part of the battle when you're deciding where to spend the next four years of your life.
You also want to make sure it's a good fit socially and offers activities you'll engage in. That means looking into clubs, intramural sports, and what kind of gym is offered.
If you're a student, staff member, alumni, or you're thinking about attending the Miami Dade College, here's everything you need to know about the MDC gym.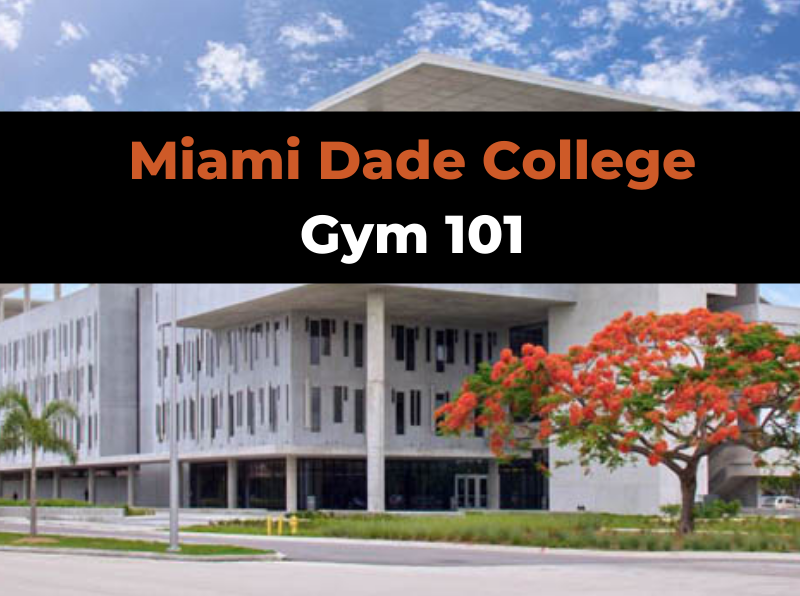 There are several fitness buildings around the Miami Dade College campuses for you to utilize. Whether you're interested in pumping iron or swimming laps in the pool, there's something for everyone. However, unlike a lot of other college gyms, you have to pay separately to access these perks. But if you're interested in a gym membership anyway, then it's incredibly affordable.
Let's take a look at all of the amenities, equipment, perks, and what real students are saying about the Miami Dade College gym.
---
Miami Dade College Campus & Gym Explained
Miami Dade College isn't like other universities.
It's the largest institution of higher education in the entire United States, with eight campuses total.
Roughly 100,000 students attend classes at any given time, and what's even more impressive is that over 90% of students graduate debt-free.
As for gyms, you'll find several depending on the specific campus you're at:
There's the Kendall Campus Fitness Center, located on the first floor of Building 7 of the Gibson Center.
The Wolfson Campus Fitness Center offers many of the same amenities.
North Campus houses the aquatic center where you'll be able to swim to your heart's content.
No matter where your classes are, you should be able to find a gym near you.
With all of the campuses being easy to get around, working or learning at Miami Dade is the perfect opportunity to start your fitness journey off right — or take it to the next level!
---
Miami Dade College Gym Amenities Explained
Many of the fitness centers located around the university's different campuses have the same amenities.
However, there are some differences if there's something specific you wish to engage in.
Here's just a sampling of what's offered.
Cardio Machines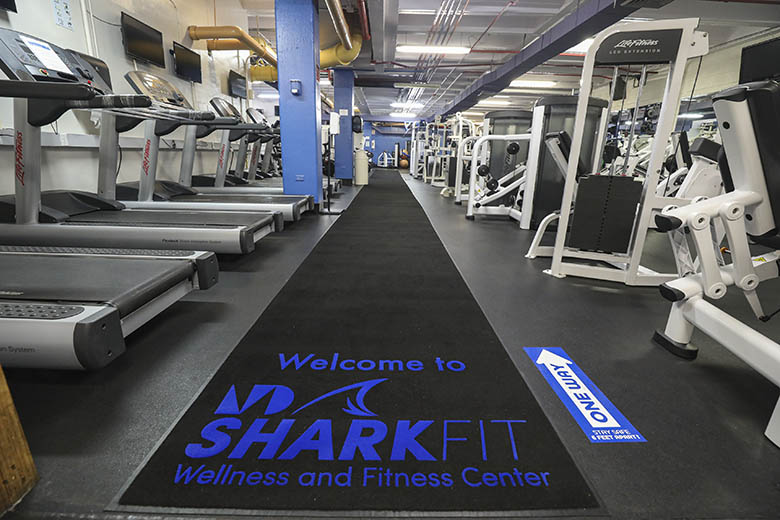 All fitness centers have a grand assortment of cardio equipment, from treadmills to ellipticals, to help you work up a sweat.
The one on North Campus features a 2,550-square-foot facility featuring Life Fitness treadmills as well as step machines, summit trainers, upright bikes, rowing machines, and recumbent bikes.
Additionally, the stations feature state-of-the-art technology like touch screens and TV monitors.  
Weights & Strength Equipment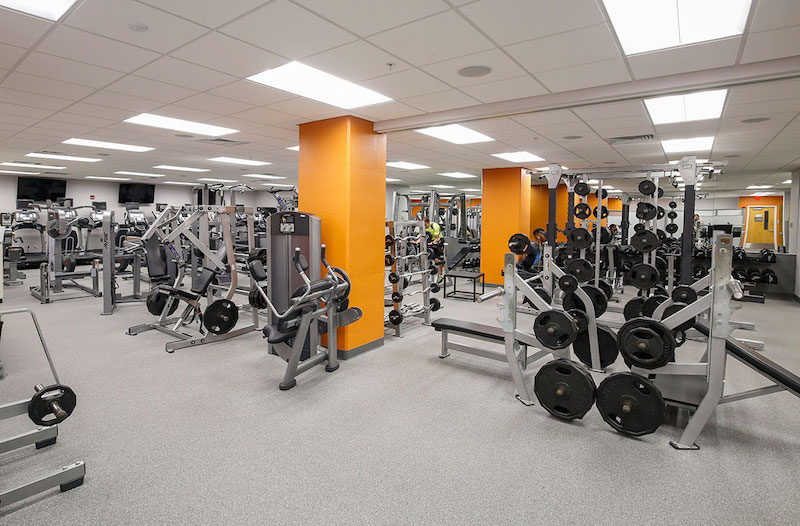 Weights are also a common component no matter where you are.
Resistance machines, cable machines, and free weights are readily accessible in case you feel like pumping iron.
If you're looking to pack on serious muscle, you'll even find power racks and heavy dumbbells.
Pool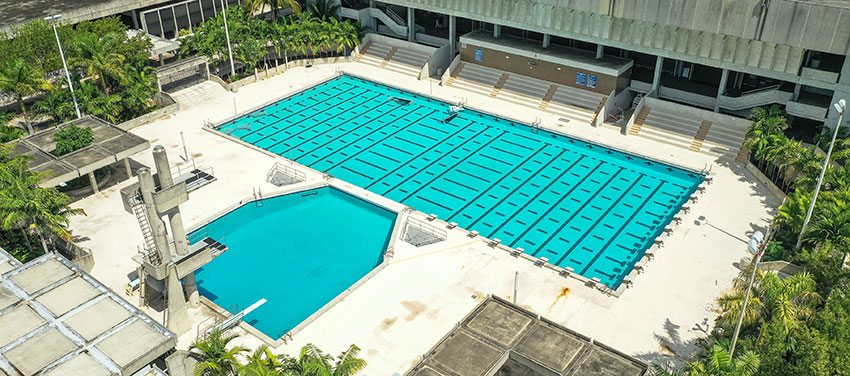 The Miami Dade pool is found at the North Campus aquatic center.
The 30-meter-by-25-yard pool features nine deep-water lanes as well as a large two-section shallow-water instructional area. 
It's able to accommodate water polo matches, and it regularly hosts swimming competitions.
Just make sure it's available for free use when you want to get in some laps. 
Sporting Courts
You'll find many sporting courts on Kendall campus.
In addition to several tennis courts, you'll also find a running track, athletic fields, and racquetball courts.
Showers
At all fitness center locations, you'll find both men's and women's locker rooms that are ADA compliant.
They all contain dozens of lockers as well as numerous shower stalls. 
You can get a locker of your own for no additional cost. You just need to leave your MDC ID at the front desk to acquire a locker key.
Group Classes
Group classes are available to teach you an array of subjects, including:
Zumba
Pilates
Yoga
Kettle training
Cross training
Exercise circuits
Latin salsa fitness
Classes cost $19/each, and you can sign up for a six-week course. Rooms for these classes are in the Gibson Building.
Virtual Classes
MDC has also gathered together some fitness enthusiasts to put together virtual fitness courses.
These are videos uploaded to YouTube you can watch in your own time to learn how to properly and safely perform various exercises. 
---
Who Can Use the Miami Dade College Gym? (Membership Explained)
Current part-time and full-time students must pay $10/month or $60 for the entire year to access the Miami Dade College fitness centers.
It's not a bad price, seeing how the monthly membership is comparable to Planet Fitness.
Plus, you really start to see some savings when you sign up for the year.
Meanwhile, employees and retirees can sign up for $20/month or $120/year. Non-credit students can gain access for $30/month or $180/year.
These prices are for fitness memberships only.
If you want access to the aquatic center, that will be an additional monthly, termly, or yearly upcharge.
That's not even getting into all of the extra fees if you want to sign up for a class. 
At most big universities, all fitness amenities and facilities are rolled into your tuition — you'll pay for it separately here at Miami Dade.
---
What Are Real Students Saying? (MDC Gym Reviews)
Around Miami, you have plenty of options for staying fit.
MDC is a great price, but what other benefits does it offer?
Here are some real reviews so that you can decide for yourself whether it's worth your time and money.
Pros
Affordable
Well-maintained machines
Great pool
In terms of equipment, you really can't do much better than the amenities at MDC.
Sure, some of the higher-end gym chains, like Life Time, may have more advanced technology, but if you're looking to get in some cardio and lift some weights, it's a great option.
Not only that, but for $10/month to access the aquatic center, you can use the pool.
Florida's known to get hot and humid, so a dip in the pool may sound more relaxing than running on a treadmill some days. 
Cons
Untidy showers
Not a ton of room
One review I found posted some pretty unpleasant photos of the gym's showers.
Granted, it's possible the facility has cleaned up its act since then, but you should go into the situation warned.
Additionally, the gym isn't the biggest around. There are lots of smaller gyms dotted around the different campuses, but no single one of them is ultra-impressive on its own.
---
Wrapping Up
Miami Dade College certainly has plenty of options for staying in shape. With multiple fitness centers around the various campuses, there's bound to be one near where you're taking classes.
You can walk directly to the gym from class or your dorm room to take advantage of all they have to offer. From cardio gear to a sizable pool, there's a ton of great stuff.
If you're a student, you only have to pay $60 for the year. That comes out to $5/month. You won't find a deal that good anywhere else.
For more college gym guides, check out:
Hope this helps!