Meal delivery services are a ton of fun.
They can sometimes be pricey, and often involve a lot of prep, but they make you feel like a gourmet chef, even if you have no skills!
And the food is almost always fresh and delicious.
I've tried a bunch of these services in the past and HelloFresh is one of my favorites. But if you're fitness and nutrition-minded like me, you might be wondering:
How many calories are in HelloFresh meals?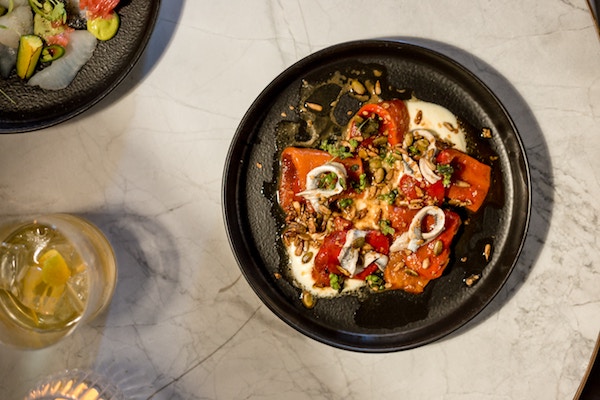 According to my calculations based on their recent menu, standard HelloFresh meals have an average of about 792 calories per serving or per person. Meals chosen from the low-calorie menu all have somewhere around 650 calories each, making them a leaner choice overall.
If it's the best meal delivery service for weight loss you're looking for, check out my full guide by hitting the link. HelloFresh ends up coming in on the higher end of the spectrum, so it's not my favorite for a low-calorie diet… but damn is it delicious!
(You can always make room for it in your eating plan, I'll explain how later.)
Image
Product
Details

Lowest Calories

Hungry Root

318 calories per serving
Plant-based, vegan friendly
Super fast prep

Check discount

Purple Carrot

516 calories per serving
Vegetarian friendly
Low meal variety

Get started

Best Overall Pick

Blue Apron

638 calories per serving
Super affordable
Excellent selection

Check discount

Freshest Ingredients

Sun Basket

650 calories per serving
Promotes sustainable farming
Paleo, gluten free & more options

Check discount

Home Chef

661 calories per serving
Awesome meal selection
Less specialty diet options

Check discount

Plated

737 calories per serving
Higher calorie counts
Most meal choice on this list

Check discount

HelloFresh

792 calories per serving
Highest calorie option
Insanely delicious meals

Check discount
Now let's take a closer look at the calories and nutrition in HelloFresh.
---
About HelloFresh (how it works)
HelloFresh is one of the original and longest running dinner delivery services around, rivaling Blue Apron as probably the biggest household name.
Here's how it works:
You sign up for the service and, based on your budget and your household, you'll pick a delivery schedule that works for you.
You can choose dinner every night of the week, if you have the cash, or just get a few dinners here and there to take the load off of meal planning.
(A common package is 3 meals per week for 2 people.)
Then, they send you a box full of all the ingredients to make the current menu for a week!
You'll get:
Fresh ingredients
Step-by-step instructions (with photos)
And complete nutritional information for each meal
Typically, the meals require a lot of preparation. Expect to spend anywhere from 30 to 90 minutes cooking.
You'll usually chop all of your own vegetables and prep your own ingredients by hand, even though they send you all the raw materials.
I seriously love preparing these meals, especially as a date night with my wife. You do just enough work that you feel accomplished at the end when you're staring at a pretty impressive plate of food.
If you choose to stay subscribed, you'll do it all over again the next week.
(Get started with HelloFresh here — use my link for a special discount at checkout.)
---
The average calories in a HelloFresh meal explained
To figure out how many calories are in HelloFresh meals, I simply went on to their website and pulled the complete nutritional information for a large handful of their recent meals.
Here's exactly what they've been serving up recently (at least, at the time of this writing), and how many calories per serving each meal contains. The calories at HelloFresh are described per serving, one serving being either an individually packaged meal or a portion of the larger dinner.
Sample Meals: At the time of this writing, here's what's currently on the menu over at HelloFresh:
Balsamic fig chicken (590 calories per serving)

Swedish meatloaves (810 calories per serving)

Tuscan sausage and pepper spaghetti (950 calories per serving)

Cheesy beef tostadas (870 calories per serving)

Mediterranean roasted chicken legs (1140 calories per serving)

Chicken sausage flatbreads (680 calories per serving)

Seven-grain chiles rellenos (670 calories per serving)

Butternut squash agnolotti (630 calories per serving)

Za'atar crusted grilling cheese (530 calories per serving)

20oz rib-eye steaks over risotto (1220 calories per serving)

Wasabi zinger salmon (710 calories per serving)

Beef taco loaded potatoes (740 calories per serving)

Lobster ravioli lasagna gratin (930 calories per serving)

Bulgogi chicken tacos (620 calories per serving)
Average calories per serving / per person = 792 calories
Average of 3 lowest calorie options = 580 calories per serving
This is definitely on the higher end as far as meal delivery goes.
For reference, Blue Apron comes in about 150 calories lighter per person, on average.
However, if you compare a HelloFresh to a restaurant meal, for example, you'll find it's not too difficult to fit these plates into your diet.
And as far as food quality and taste go, there's a reason HelloFresh is so popular. I'll leave it at that!
(See what's on the menu at HelloFresh this week + full nutritional information.)
---
New HelloFresh low calorie meals explained
HelloFresh recently introduced a new menu line called Calorie Smart — the meals on this plan average around 650 calories per serving, or about 100 fewer calories than meals from the regular lists.
A couple of menu items in the HelloFresh Calorie Smart Hall of Fame are:
Sweet potato and black bean tacos
Salmon Limone
Penne Rustica
Veggie Couscous Bowl
And more
The Calorie Smart menu is a meal plan you'll choose at check out — other meal plans you can choose from include Family-Friendly, Meat & Veggies, Veggies, Quick & Easy, and More.
These are just themed menus so you'll have a good idea of what to expect every time your delivery shows up.
The extremely popular low calorie menu means you can expect your dinners to almost always be 650 calories or less.
---
What you need to know about calories and weight loss
Generally speaking, when you eat fewer calories than you burn in a day, you'll lose weight if you keep it up over a period of time.
(It's also important to get the right macronutrients, vitamins, minerals, physical activity, and to learn to eat the right number of maintenance calories once you've lost the weight… but that's a separate discussion!)
So while HelloFresh might be high in calories compared to its competitors, you can still use it to lose or maintain weight if that's your goal.
As long as you hit the right daily total, you're good!
(This is a bigger topic than we have space for here, but a super rough guide is about 12 calories per pound of bodyweight per day for weight loss, and 15 x bodyweight for maintenance.)
How you get there is entirely up to you. You can:
Eat tons of small snacks every day
Enjoy three square meals
Use intermittent fasting and have one or two big meals
Go low carb, low fat, or whatever feels best for you
So the easiest way to use HelloFresh for weight loss (or to maintain a healthy weight) is to simply account for the calories of your dinner ahead of time, even if it can sometimes be quite large.
Hit that link above for my full guide on how to calculate your maintenance or weight loss calories and make room for whatever dinner you want.
---
Wrapping Up
So there you have it.
HelloFresh meals usually have between 600 and 900 calories each per serving, for an average of 792 calories.
Of course, this depends greatly on the current menu, your selections, and any specialty additions you might make to your subscription.
Again, it's not so much the absolute of calories that really matters here, but that you're a) making room in your diet by monitoring your eating or increasing your exercise and b) eating foods that you enjoy and that fill you up!
In that regard, HelloFresh and any of its competitors can work for weight loss if you strategize correctly.
Don't forget to grab your first HelloFresh order for a big discount by using my link!
Or see the calories in Sun Basket meals or calories in Hungryroot meals — a few good whole food alternatives to HelloFresh.
Hope this helps, everyone!