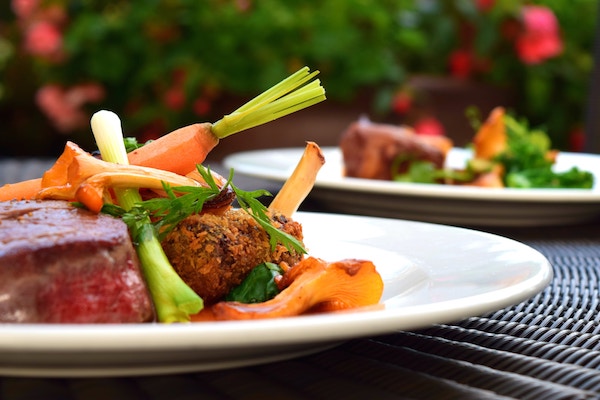 Home meal delivery services like Sun Basket are so much freaking fun.
You'll always have a blast chopping, dicing, sauteeing, and whipping up gourmet meals in your own kitchen.
Even if you're not a great cook!
But when it comes to health, these services can sometimes be all over the place.
So you might be wondering, how many calories are in Sun Basket meals?
According to my calculations based on their recent menu, Sun Basket meals have an average of about 650 calories per serving or per person
If it's the best meal delivery for weight loss you're looking for, check out my full guide by hitting the link. Sun Basket is a perfect middle ground here. Filling but not calorie-stuffed meals, plus excellent whole food sourcing and plenty of pescatarian and vegatarian options abound!
Get $70 off—$30 off your 1st order, $25 off your 2nd, $15 off your 3rd Sun Basket order by using my link!
Now let's take a closer look at the calories and nutrition in Sun Basket.
---
About Sun Basket (how it works)
Sun Basket is one of the newer names on the scene, having been founded in 2014.
But they've quickly become a top competitor of the big boys like Blue Apron and HelloFresh.
If you're not familiar, here's how these services generally work:
You choose a schedule and dinner package based on how many people you're feeding and how often you'd like to have meals.
For example, a pretty popular package is a box containing meals for two people to eat three times in a week.
Then, they send you a box full of all the ingredients to make the current menu for a week!
You'll get:
Fresh ingredients
Step-by-step instructions (with photos)
And complete nutritional information for each meal
Now, don't get meal delivery confused with quick and easy meals.
You can usually expect to do a good amount of prep yourself. We're not just microwaving or even oven cooking premade meals, here!
You'll chop, dice, slice, and baste all of the ingredients yourself, for the most part. Expect each meal to take anywhere from 30 to 90 minutes of work.
But dang is it delicious and rewarding at the end!
Once you've finished your meals for the week, you'll soon receive a new box for the next week with a totally fresh menu.
---
The average calories in a Sun Basket meal explained
To figure out how many calories are in Sun Basket meals, I simply went on to their website and looked at a ton of their recent meals they've sent out.
Here's exactly what they've been serving up recently (at least, at the time of this writing).
Steak and roasted sweet potato with scallion-ginger relish

Speed Korean BBQ chicken lettuce cups with kimchi

Sesame crusted salmon with scallions and warm carrot salad

Sheet pan pork sausages with roasted apple and squash

Gingered turkey meatballs in lemongrass broth with cauliflower rice

Southwestern chicken salad with black beans and avocado

One-pot Basque-style bouillabaisse with sole and tarragon

Simple squash fajitas with sweet peppers and queso fresco

Lamb korma with sweet potato mash and toasted naan

Mediterranean salad with falafel and Marcona almonds

Easy fusilli with Neopolitan ragu' and kale Caesar salad

Quick Malaysian shrimp curry with apple and chard

Sweet potato and black bean chili

Five-spice pork and soba noodle bowls with edamame

Salt-and-pepper tofu stir-fry with glass noodles

Stir-fried tempeh teriyaki with bell pepper and cabbage

Superfast Southwestern chili with pinto beans, chiles, and kale

Ecuadorian chicken stew with bell pepper and brown rice
Average calories per serving = 650 calories
Average calories in a Sun Basket Lean & Clean meal = under 600
I normally like to pull the exact calorie count of each meal to come up with an average, but Sun Basket actually doesn't list the nutrition for each meal on its website, though you will get that information delivered when you sign up.
I'm pulling this average straight from their own nutritional guidelines.
Sun Basket is perfectly situated in the middle here. Their meals come in a little bit lower than Blue Apron and a lot lower than Hello Fresh, but they don't quite rival the super low-cal options of Hungry Root and Purple Carrot.
If it's weight loss you're interested in, though, you can totally make it work with a plethora of Sun Basket deliveries.
Here's how:
---
What you need to know about calories and weight loss
Calories in and calories out is a huge piece of the weight loss puzzle.
(It's also extremely important to learn to manage your appetite, eat filling, satsifying, and nutritious foods, and never starve yourself.)
So the simplest way to use Sun Basket for weight loss is to make room in your daily diet for your meals each night. Easy, right?
It doesn't really matter if you:
Eat tons of small snacks every day
Enjoy three square meals
Use intermittent fasting and have one or two big meals
Go low carb, low fat, or whatever feels best for you
As long as you're getting the right number of calories and a healthy balance of macronutrients, not to mention exercise, you should see fantastic results.
As a VERY rough guide, I like to use about 12 calories per pound of bodyweight each day for fat loss, and about 15 calories x bodyweight each day for weight maintenance.
So if you're a 150 pound woman, for example, and you want to lose weight, you'd shoot for somewhere around 1800 calories per day.
Subtract the 650 you know you'll spend on your Sun Basket in the evening, and you're left with 1150 for breakfast, lunch, and snacks.
Pretty easy when you break it down this way!
(There's really a lot that goes into healthy and sustainable weight loss, but I'm using the simplest method possible here for illustrative purposes.)
---
Wrapping Up
So there you have it.
Sun Basket meals usually have about 650 calories per serving or per person, however you want to slice it.
Of course, this depends greatly on the current menu, your selections, and any specialty additions you might make to your subscription.
If you want to use it for weight loss, just make sure you're leaving enough room in your diet for those dinner meals! If you're just curious about the calories, hopefully this answered your question and I hope you enjoy the service!
Don't forget to grab $30 off your 1st order (and $25 off your 2nd, $15 off your 3rd) by using my link!
Hope this helps, everyone!