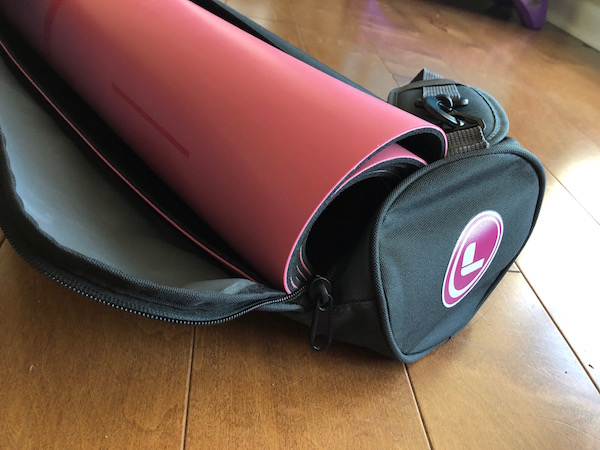 The Liforme yoga mat is developing quite a reputation.
It's a little on the pricey side, which makes some people raise an eyebrow at it, but it's also incredibly distinctive looking with its alignment lines.
More and more people are buying and using these mats, and usually seeing extraordinary results.
But is the Liforme yoga mat a good choice for hot yoga or Bikram?
Yes, and here's why!
It has absolutely amazing grip under the sweatiest of conditions and is really, really easy to clean.
(Take it from someone who has tried it firsthand in real hot yoga classes…)
OK, before we go any further, two places to go from here:
Read my full Liforme yoga mat review.
Or head on over to Amazon to check out the mat. We bought from Amazon for the easy shipping, but the price is subject to change so hit the link to see the current price.
Now for a little more detail and why I love this mat for hot yoga, hot power yoga, Bikram, and all of that good stuff, read on!
---
Reason One – Insanely Grippy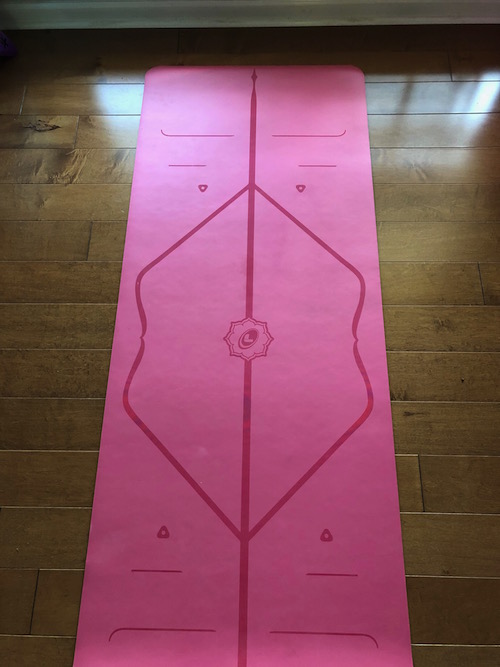 This mat STICKS like nobody's business.
It's on the heavy side compared to some other mats you might have tried, but it's also quite thin at only .16 inches thick.
That gives you amazing contact with the floor during your practice.
And the surface itself is incredible.
My wife and official yoga-mat tester uses this mat 3-5 times per week in sweaty hot yoga classes and reports that she NEVER slips on it, even toward the end of class when the mat is soaked.
In fact, she's reported some amazing gains in her side planks and other positions mostly due to the powerful grip this mat provides.
(You'll also love the alignment lines on this mat. They're not specific to hot yoga, but your balance and symmetry will be fantastic during your practice.)
I should also mention that while this mat is really grippy, it never feels "tacky" or like it's overly sticky, which creates a whole new set of problems!
It's got just the right feel to it.
---
Reason Two – Super Easy to Clean
This mat might stop you from slipping during hot yoga practice, but it can't stop you from sweating.
So, yes, it will be soaked and rather disgusting once you're done.
So far, we've found the Liforme mat ridiculously easy to clean.
All you really need to do is lay it out to air-dry after class.
After every couple of uses, or more frequently if you're a heavy sweater, you'll wipe it down gently with a heavily-diluted mixture.
(Use a combination of mild dish soap, lemon juice, or white vinegar, and water this solution down HEAVILY before you use it.)
Then let it dry completely before you roll it back up.
It's pretty easy!
You might suspect that the grid lines get gunk stuck in them, but actually the lines are painted on the surface only (they're not depressions), so nothing can get caught in them.
---
Reason Three – Eco-Friendly & Doesn't Smell Like Chemicals
The Liforme yoga mat is PVC free and made with eco-friendly materias.
To start, that's pretty awesome from an ethics perspective, and you should feel pretty good morally if you choose to buy this mat.
(A lot of cheaper mats might be more affordable, but use absolutely awful toxic chemicals in their manufacturing.)
Liforme claims, in fact, that these mats will completely biodegrade within about 5 years in a traditional landfill.
But the eco-friendly manufacturing has a side benefit aside from environmentalism.
These mats don't stink!
Yes, the first time you bring it out of its package and unroll it, it'll have a mild "new yoga mat smell," but that fades super quickly and you'll hardly notice a single scent after that.
You know how heat tends to unlock and magnify disgusting smells?
The same thing can happen with rubbery, chemical-y smelling yoga mats in hot yoga or Bikram sessions.
You won't have that issue with the Liforme, as we've found it to be pretty damn near odorless, even when your nose is pressed into the mat during certain poses.
---
Wrapping Up
Is there anything about this mat that isn't perfect?
Well, for starters, it's probably one of the more expensive yoga mats you'll see on the market.
It's worth every penny, but if you're on a tight budget you might find some better options on my list of the best yoga mats for hot yoga right here.
This mat is also a little on the bulky side. It's long (but not overly so), and kind of heavy. So it wouldn't be a great travel mat and you might find it unwieldy if you're super, super tiny.
But other than that, the quality of the mat is insane and it's absolutely perfect for rigorous, sweaty hot yoga sessions.
It's become my wife's favorite day to day mat, and she practices 3 to 5 times per week in pretty extreme conditions!
Any other questions about the Liforme mat and hot yoga? Hit me up in the comments.
And check Amazon to see the latest price on the Liforme yoga mat!