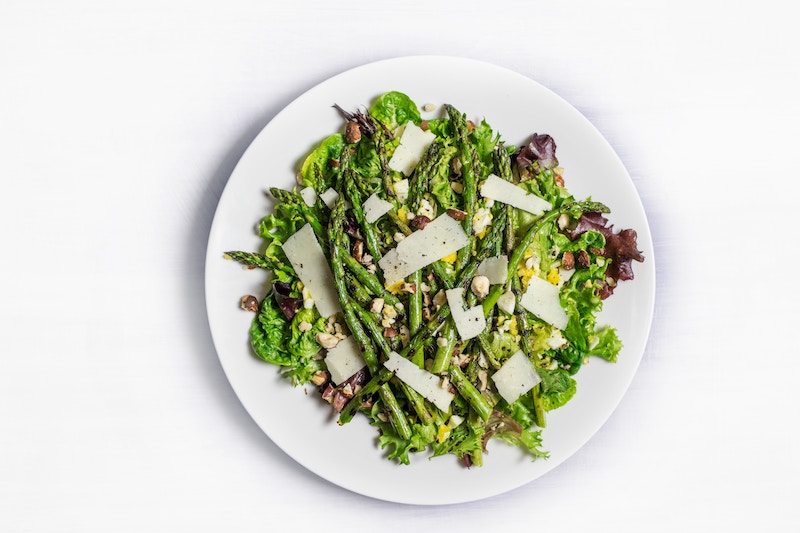 Healthy meal delivery services are changing.
(For the better, if you ask me.)
The days of ordering meals that take over an hour to prepare and create a metric ton of dishes seem to be fading away.
Now, we're getting options like Hungryroot that are quick and healthy, without sacrificing quality. They'll send individual grocery items, foods, and snacks that can be easily combined into meals without a ton of fuss.
But what are the calorie counts like? How many calories are in Hungryroot meals?
Hungryroot meals (a base plus a protein and a sauce) can come out to anywhere from 115 to 620 calories per serving, with most combinations falling around 300-400 calories each.
Most Hungryroot grab-and-go snacks run around 200 calories (there are options anywhere between 100-400).
Desserts like Hungryroot's famous black bean brownie batter run around 100 calories per serving.
See what's on the menu right now over at Hungryroot (and grab a special discount using my link).
---
How Hungryroot works
Though people commonly refer to Hungryroot as a meal delivery service in the vein of Blue Apron or HelloFresh, that's not quite accurate.
It's more like a grocery delivery platform — you can have healthy, fresh, and mostly plant-based options dropped at your door without the hassle of going to the store.
What's more, the groceries you get are all designed to be easily combined into low-calorie meals. You can also get a few easy-to-grab snacks and some sweets (like the aforementioned brownie batter, which is to die for).
Depending on your preferences, the menu that week, and the plan you go with, you'll get:
Bases
Choose from greens and grains like:
Superblend salad
Cauliflower rice
Butternut squash noodles
Butterhead lettuce
Seven veggie stir-fry
Whole wheat sprouted flatbread
Brown rice quinoa blend
Red lentil fusilli
And more
Proteins
Vegetarian and vegan options abound, but there are a few treats for carnivores on the menu most weeks:
Braised lemongrass tofu nuggets
Ginger tahini yuba noodles
Garlicky herb chickpea duo
Hearty tofu veggie burger
Hot smoked roasted salmon
Sweet Italian chicken sausage
And more
Sauces
Top your base and protein with:
Cashew cheddar
Thai peanut
Avocado crema
Chickpea pesto
And more
Your bases, proteins, and sauces can be really quickly combined (either cold or with a lightning-fast skilleting) into all kinds of different meal options.
Hungryroot says the meals should take about 10 minutes to whip together, and in my experience, that's about right!
It's way faster than most other meal deliveries you've probably tried.
When you put in your weekly order, you can also grab some more-or-less ready-to-eat snacks like overnight oats, quinoa cups, quick curries, and more.
Plus, you won't want to miss out on the sweets. Get the black bean brownie batter or almond chickpea cookie dough!
(See this week's Hungryroot menu items right here.)
---
The average calories in Hungryroot meals explained
OK, with so many different options, how do you really know what you're getting?
The good news is that you can see full calorie and macro breakdowns of everything Hungryroot serves right here.
So all you really need to know is what you've order and how you plan on putting it together.
Hungryroot bases (greens and grains) run anywhere from 15 calories per serving to 240 (according to the most recent menu). Options like zucchini noodles are ultra low-calorie whereas brown rice or quinoa-based options will be a little heartier.
You'll top your base with a protein from there. Lean meats like the roasted salmon and chicken sauce will run 100 calories per serving or fewer, while hearty plant-based salads and mixes can go up to about 230 calories or so.
Your sauces (optional, but recommended!), come in as low as 20 or 30 calories and can be as much as 150 for pesto-type options.
 Put it all together and expect a Hungryroot meal to run about 300-400 calories on average.
It could be as low as 100 calories or so depending on your order, or as high as 600.
Grab-and-go snacks and ready-to-eat meals start at around 50 calories (green juice) and climb up to 340 (cultured coconut cream) and everything in between.
The desserts are about 100 calories per serving across the board for the brownie batter and cookie doughs.
---
What you need to know about calories and weight loss
Losing weight is simple, but it's not.
In general, when you eat fewer calories than you burn in a day, you'll lose weight over time.
So choosing filling but low-calorie plant-based options like Hungryroot is a good way to get started, along with keeping your body strong and fit with regular exercise.
(That's why Hungryroot is one of the best meal delivery services for losing weight, in my opinion.)
Your bodyweight x 15 is usually about how many calories you burn in a day, on average. Keep that in mind as you design your eating plan — you'll want to eat just slightly less than that for the best and safest results.
But it's important to remember that healthy eating is about a lot more than weight loss.
You'll need to eat nutrient-rich foods, get lots of vitamins and minerals, and fill your belly up with enjoyable meals (don't starve yourself!).
Getting a little healthier doesn't mean you have to torture yourself.
OK, rant over!
---
Wrapping Up
Remember, Hungryroot is more about delivering fresh and healthy groceries to your door than individual meals.
All of the food items, however, are designed to be easily and quickly combined into tasty dinners or lunches in about 10 minutes or less (plus a few ready-to-eat goodies thrown in).
Expect the average Hungryroot dinner to have about 300 calories or so, though it can be more or less by quite a bit depending on what you order and how you prepare the food.
And the black bean brownie batter is DEFINITELY worth an extra 100 calories or so for dessert!
Have you ever tried Hungryroot? What did you think of the portion sizes?
If not, get started with Hungryroot right now — use my link to check out what's on the menu this week and grab a special discount.