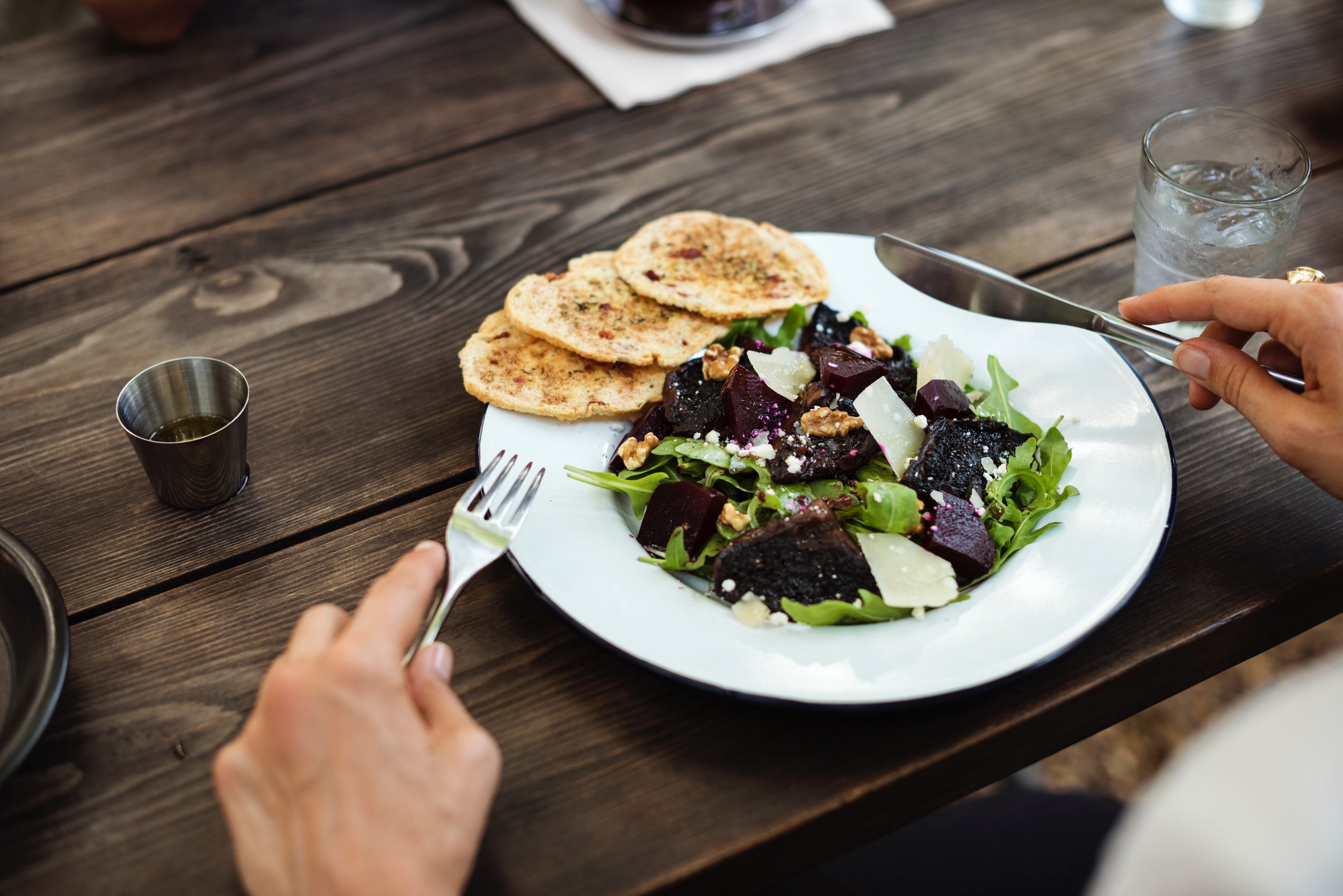 Blue Apron: Restaurant-quality meals delivered to your door.
In an age of subscription boxes, Amazon Prime, and Uber, Blue Apron is just one of the latest web-base convenience crazes to go viral.
What it's really selling isn't convenience, though; it's an experience.
With Blue Apron, you get to slice, dice, sauté, bake, and garnish your very own gourmet dinner like a seasoned chef, even if you have no idea how to cook. The meals are often elaborate and absolutely delicious, making Blue Apron an extremely attractive option for people who have the time to cook but not the know-how.
But one question remains:
Is Blue Apron a good choice weight loss?
The average Blue Apron meal has about 638 calories per serving, based on my calculations and their recent menu.
That might sound like a lot, but it's really the perfect amount for a filling, nutritious, and satisfying dinner to end the day. It's not the lowest-calorie option on the market, but it's one of the best all-around choices for weight loss.
Here's a quick over of how to do it, but I'll go into way more detail below:
Calculate your maintenance calories, or total daily energy expenditure (TDEE)
Access Blue Apron's nutritional data for the current menu
Plan your eating and save enough calories to enjoy amazing Blue Apron meals every night
Watch the weight fall off!
Let's take a closer look. First, a little background on Blue Apron and how to use it to plan your meals, then we'll dive into how you can use Blue Apron to keep your calories and macronutrients in line with your fitness goals.
(Blue Apron is definitely one of my topic choices for dieters due to its delicious recipes and reasonable calorie counts, but I've got a few others I really like to. Check out the comparison chart below:)
Image
Product
Details

Lowest Calories

Hungry Root

318 calories per serving
Plant-based, vegan friendly
Super fast prep

Check discount

Purple Carrot

516 calories per serving
Vegetarian friendly
Low meal variety

Get started

Best Overall Pick

Blue Apron

638 calories per serving
Super affordable
Excellent selection

Check discount

Freshest Ingredients

Sun Basket

650 calories per serving
Promotes sustainable farming
Paleo, gluten free & more options

Check discount

Home Chef

661 calories per serving
Awesome meal selection
Less specialty diet options

Check discount

Plated

737 calories per serving
Higher calorie counts
Most meal choice on this list

Check discount

HelloFresh

792 calories per serving
Highest calorie option
Insanely delicious meals

Check discount
---
What is Blue Apron & how does it work?
Simply put, Blue Apron is a subscription service for meal delivery.
You choose how many meals you want to be delivered every week and how many people you need to feed, and all the ingredients and instructions show up in a big box on your doorstep at the beginning of the week.
You'll open the box and unpack the ingredients — some to be stored in the refrigerator, others at room temperature — and wait until you're ready to prepare your first meal.
You'll also receive step by step instructions with photographs on how to prepare each meal, nutritional cards that include full nutritional facts and calories for each Blue Apron meal, and some extras like wine pairing suggestions and things like that.
The meals come entirely unprepared. That means, for the most part, you'll be washing, chopping, and dicing your own veggies along with slicing your own meat.
The package does include everything you need to prepare the meal, however (the only things I've found you'll ever need are the occasional dash of salt and pepper.)
The instructions are crystal clear and include everything you need to know to expertly assemble the meals. Photos definitely help explain certain parts of the process. The instructions also include an estimate of total prep time so you can plan your meals out accordingly.
(Learn more about how Blue Apron works here.)
---
How to get started with Blue Apron:
Go to BlueApron.com and click Choose Your Plan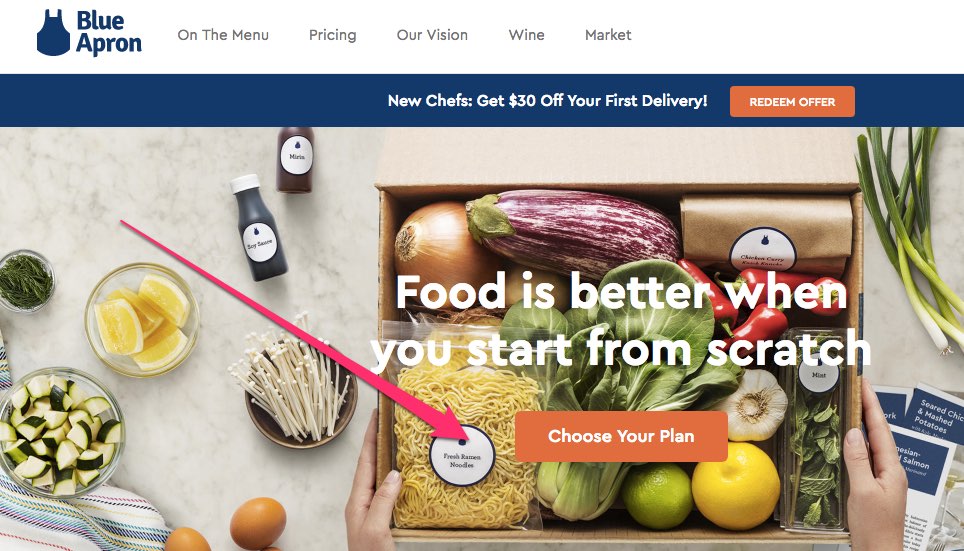 Create a Blue Apron account using your email address or Facebook account: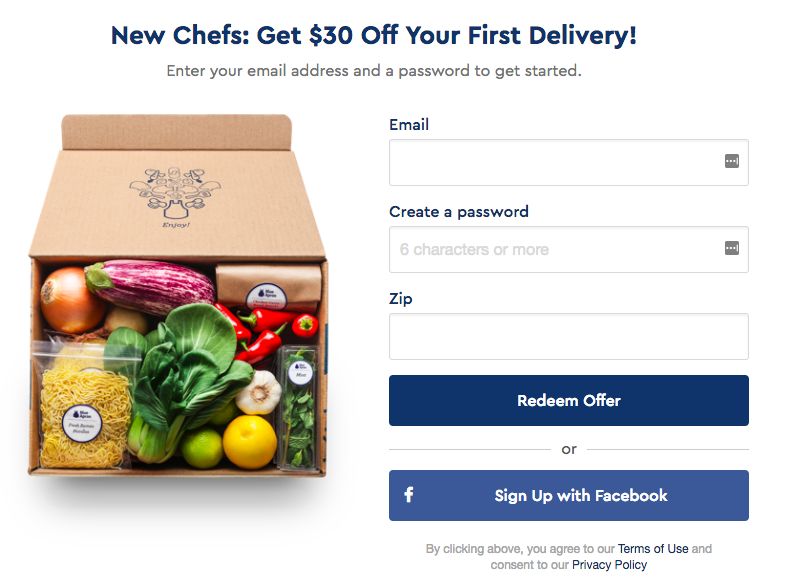 Choose your plan: You can get 3 meals per week for 2 people, or a family plan, which serves 4 people and will come either 2 or 4 times per week, your choice:
(You can also select the Vegetarian option)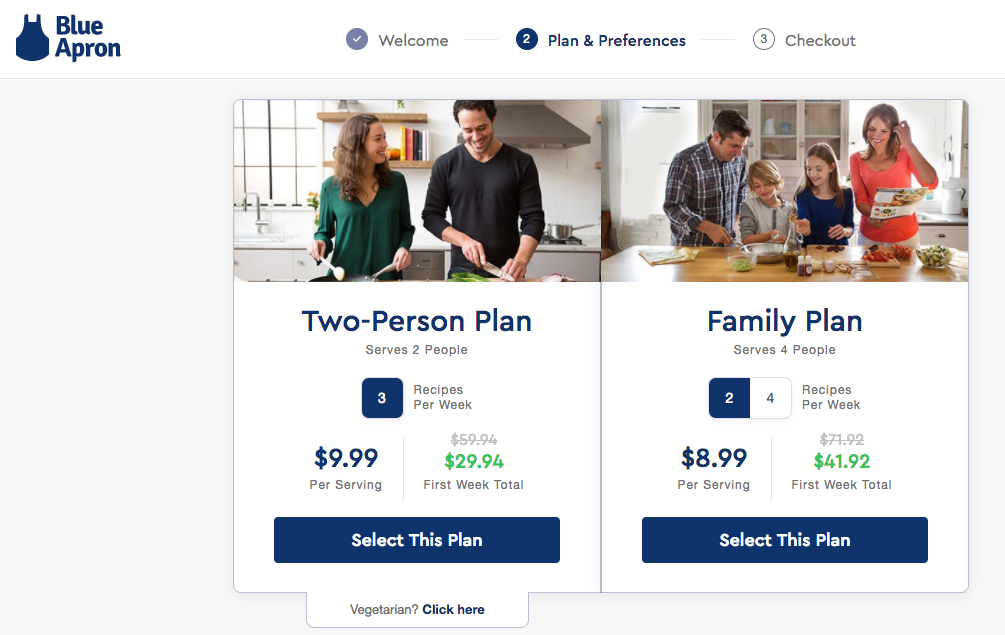 Then enter your delivery and billing information, and you're all set! Once signed up, you'll have the option of skipping weeks you don't like or pausing your subscription depending on your meal-planning needs.
Check the latest discount on Blue Apron by using my link.
---
Examples of Blue Apron meals and nutrition data:
My wife and I have been using Blue Apron for months now off and on, and we absolutely love it. The variety of the meals is wonderful (and you can even skip weeks when you don't like any of the options) and they're always delicious.
Here are a few of the meals we've had recently that we absolutely loved:
Chipotle meatloaf

Salmon burgers

Arugula grilled cheese panini

Pan-fried catfish
And here's some of what's on the Blue Apron sample menu right now along with nutrition data:
Roasted beef and farro salad

800 calories per serving (25g fat, 59g carbs, 46g protein)
Smoked trout and asparagus salad

620 calores per serving (11g fat, 85g carbs, 33g protein)
Vietnamese-style vegetable sandwiches

780 calories per serving (25g fat, 94g carbs, 20g protein)
As you can see, there's a pretty wide variety of meals available from Blue Apron that go way beyond mac n' cheese and spaghetti. This is gourmet level stuff that's a lot of fun to prepare at home.
By no means is Blue Apron a "low calorie" option as you can see from the data above, with the average dinner serving weighing in at 700 calories or so.
(Fun side note: Some people have found that Blue Apron calories aren't exactly accurate – they may actually be overestimating!)
(For more on this, read my guide to how many calories are in Blue Apron meals.)
But that doesn't mean you can't use Blue Apron for weight loss! On the contrary…
---
See what Blue Apron is serving up this week & see full calories and macros.
(That link will also get you a special discount on your first order.)
---
Step by step guide to using Blue Apron for weight loss: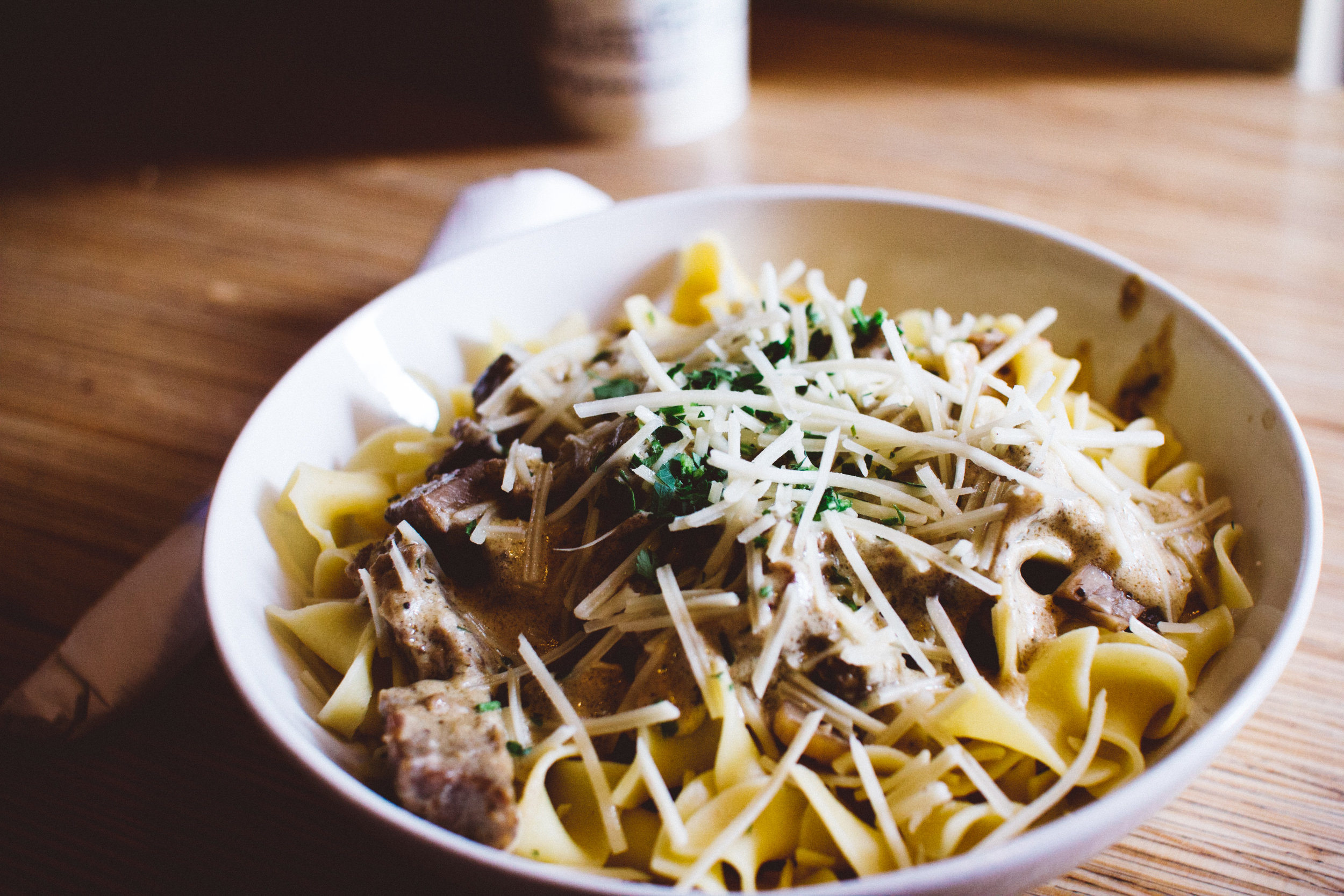 The beauty of Blue Apron is that you get to eat luxurious, delicious, home-cooked meals while knowing EXACTLY what's in them. Usually when you cook at home, you have to kind of guess when it comes to calories, protein, fat, and carb levels. But Blue Apron provides a nutrition card for each meal that tells you the exact nutrition per serving of each meal, so it's super easy to fit Blue Apron meals into your diet.
Here's how to do it using the CICO (calories in calories out) method:
1. Determine your daily maintenance calories
Your TDEE, or Total Daily Energy Expenditure, is the starting point for any good diet or nutrition plan. It takes into account you age, gender, weight, and activity level in order to determine how many calories you burn in an average day.
Once you determine this number, think of it as your maintenance calorie level. In other words, if your TDEE is 2000 calories, then eating around 2000 calories per day should result in neither weight gain nor weight lost. You'll maintain roughly your current body weight and composition.
Use a calculator like this one to determine your TDEE or daily maintenance calorie level.
2. Decide on a proper and safe calorie deficit
The CICO method of weight loss states that you need to be in a calorie deficit to lose weight. In other words, you need to eat fewer calories than you burn in a day (your TDEE).
How many calories should you eat to lose weight? That all depends.
There are a lot of different opinions and schools of thought on this, but generally a calorie deficit of 500 calories below your daily maintenance is considered safe and not too aggressive for weight loss.
If your total Body Mass Index is higher and you have more fat to lose, you can go more aggressive with your calorie deficit. Between 500-1000 calories per day would be a good place to start.
Ideally, you'll lose half a pound to a pound per week following this deficit. More may be too fast for your body (unless you're obese) and might not be safe.
Example: If your TDEE is 2000 calories, try eating at around 1500 calories per day for weight loss.
Note: This is all incredibly simplified. I'm not a doctor or nutritionist, though this information is based on research to the best of my abilities. Consult your own doctor before doing anything drastic.
3. Subtract your Blue Apron meal's calories from your daily calories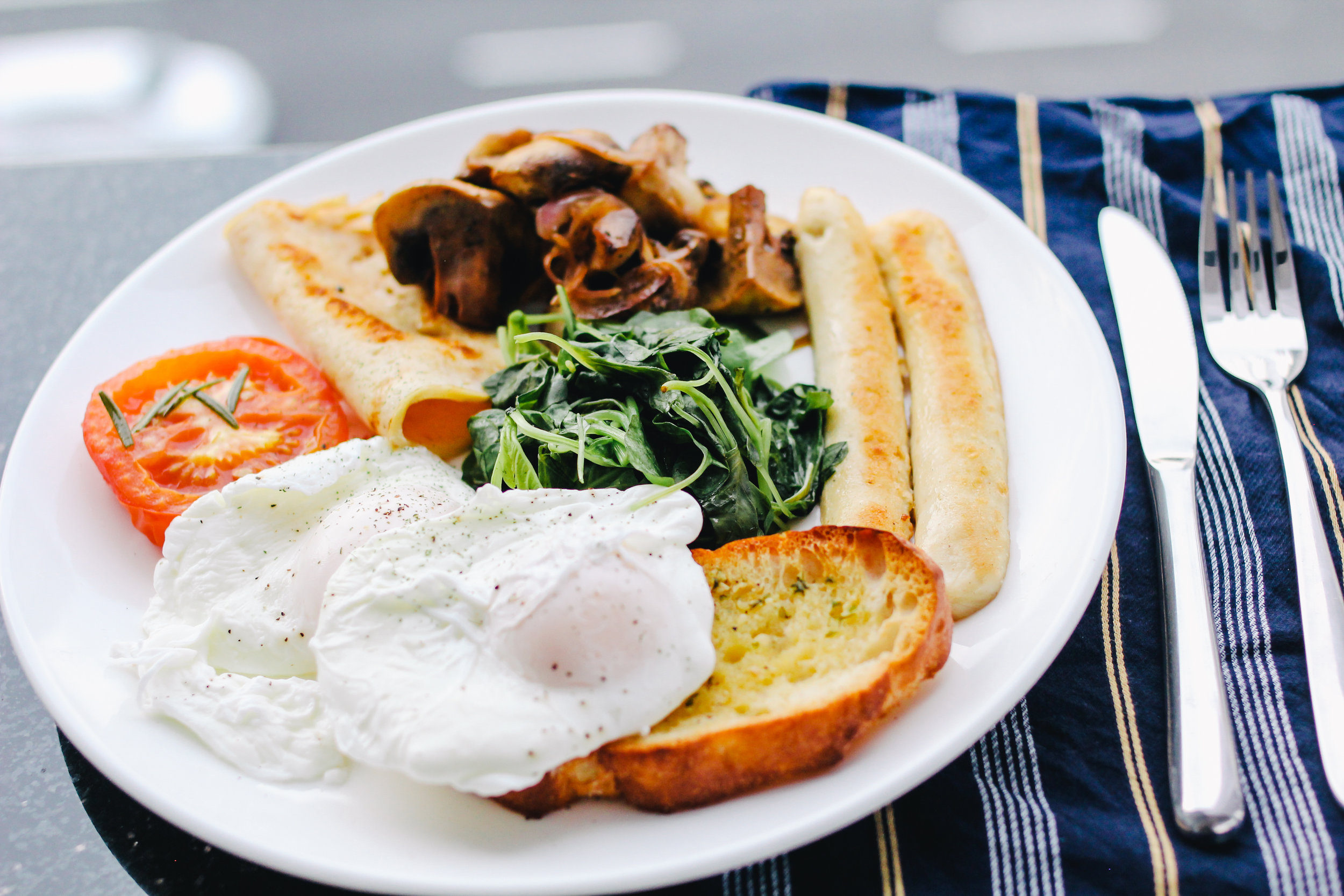 When your Blue Apron meals arrive, they'll come with nutrition cards that tell you how many calories are in each serving of the meal.
Like I said, Blue Apron isn't necessarily "low calorie" but the power of knowing exactly what you're going to eat can't be overstated and allows you to perfectly plan your entire diet. Just subtract your Blue Apron calories for the day in question from your deficit calorie level, then be sure to eat a breakfast and lunch that keep you in that range.
It requires some tracking and planning but should be easily done.
Example: Your TDEE is 2000 calories and you'd like to eat 1500 calories per day for weight loss. You know your Blue Apron dinner will be around 800 calories. That leaves you 700 calories for breakfast, lunch, and snacks throughout the day.
4. Keep your breakfast and lunch in line with remaining calories
You can use a meal planner like MyFitnessPal to track your calories throughout the day and ensure you don't go over before dinner.
Knowing exactly how many calories you're allowed to have actually gives you a lot of flexibility. Pre-packaged foods (like breakfast or protein bars) are clearly labeled with calories and nutrition, and most restaurants now even include calories on their menu.
Just do your best to stick with the plan and you should lose weight over time with consistency!
---
Important note: Total calories is only one small part of the health equation
For best results, you're going to want to keep a healthy balance of macronutrients (protein, carbs, and fat) along with micronutrients (vitamins and minerals).
Your body needs these things to survive and thrive, so please don't slash all of them out or your diet in the name of losing weight. It's not worth it.
Again, I'm not a doctor or nutritionist and don't want to advise anyone to do anything unsafe.
But if you do decide that losing weight is a good option for you, and aren't overly aggressive about it to the point where you're putting your health in jeopardy, Blue Apron can allow you to fit some incredible meals into an effective diet.
Questions? Comment below.
You can also check out my list of the best meal delivery services for weight loss for some more options! (Spoiler: Blue Apron is #1)
You can get started with Blue Apron right now – click the link for an awesome discount on your first order.