Joining a group fitness studio is one of the best ways to stay motivated to work out.
There's just one problem:
There are too many to choose from!
Two of the most popular fitness studios are Orangetheory and solidcore. However, these fitness studios have vastly different approaches to running their gym locations. 
What's the difference between Orangetheory vs solidcore, and which one is right for you?
The big difference between Orangetheory vs solidcore is the workouts: Orangetheory is a high-intensity workout featuring teadmill, rowing machine, and strength work. It's a full-body calorie scorching workout that pushes your conditioning to the next level. Solidcore is a pilates workout primarily focused on low-impact strength training — you'll burn fewer calories but you'll get much stronger and more toned!
Price-wise, however, Orangetheory is usually far more affordable in most areas.
Let's take a closer look at the costs, workouts, amenities, and more.
---
Orangetheory vs solidcore Cost
At boutique fitness studios like Orangetheory and Solidcore, you will pay more than you would for an average gym membership.
However, many people find studios to be worth the cost.
When comparing these two fitness studios (solidcore vs Orangetheory), they have very different costs for their membership options. 
If you want to attend these studios, the average costs for membership will be roughly: 
Orangetheory Estimated Costs:
The single class drop-in rate is $28 per class
Basic Package (includes four classes) for $59 per month
Elite Package (includes eight classes) for $99 per month 
Premier Package (unlimited classes) for $159 per month 
Ten class package for $199
Solidcore Estimated Costs:
The single class drop-in rate is $35 per class
4-Classes for $120 per month
8-Classes for $216 per month
Unlimited classes for $299 per month
Ten class package for $299 per month
While these are the average membership costs, they will change depending on the studio's location.
If the studio is in a large city like Chicago or Atlanta, it will be much higher than a suburban or rural area. 
One unique benefit of Solidcore is their bring-a-friend discounts that offer up to a 20% discount if someone else comes with you.
Orangetheory does not offer this discount, which could be a disadvantage. 
Fortunately, most of the studios offer a free introductory class for members.
Solidcore also offers discounted deals for members, such as a week of unlimited classes for $50 when you first sign up. 
If you are looking for the best deal per class, the unlimited classes option will always provide the best price. You typically don't want to purchase a single class unless you are only visiting a studio for one time. 
As you can tell, these two studios aren't the most budget-friendly option for gym-goers.
The price of a single class is close to the same price as a monthly membership at your local big-box gym franchise. 
However, if you enjoy the unique group fitness class atmosphere, the price will be worth it.
Overall, going to Orangetheory is the more budget-friendly option vs going to solidcore as a member. 
---
Facilities and Amenities
One of the things that both these studios have is well-equipped facilities that make you feel inspired to exercise.
Orangetheory has its distinct orange color scheme unique to the gym franchise.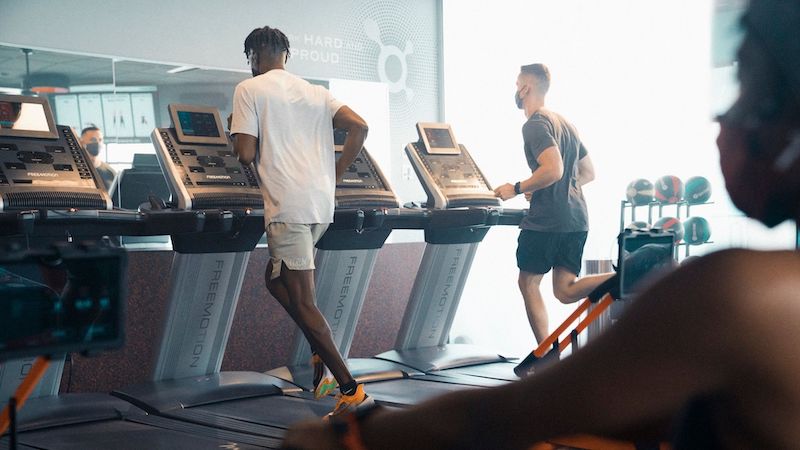 The facilities at Orangetheory are very clean, and the equipment in the workout room is premium quality.
Orangetheory facilities are small compared to a big-box gym, so there is limited equipment for members. For this reason, classes can fill up fast — so it's best to reserve your spots ahead of time in populated areas.
The amenities at Orangetheory are rather barebones, and you won't find any amenities like a large gym.
Most Orangetheory locations have showers and towel services for members to use during class, but there's no childcare, saunas, or anything like that.
Solidcore typically has the same layout as an Orangetheory gym but with a blue color scheme throughout the studio. The studio size of a solidcore location will be smaller than most Orangetheory gyms.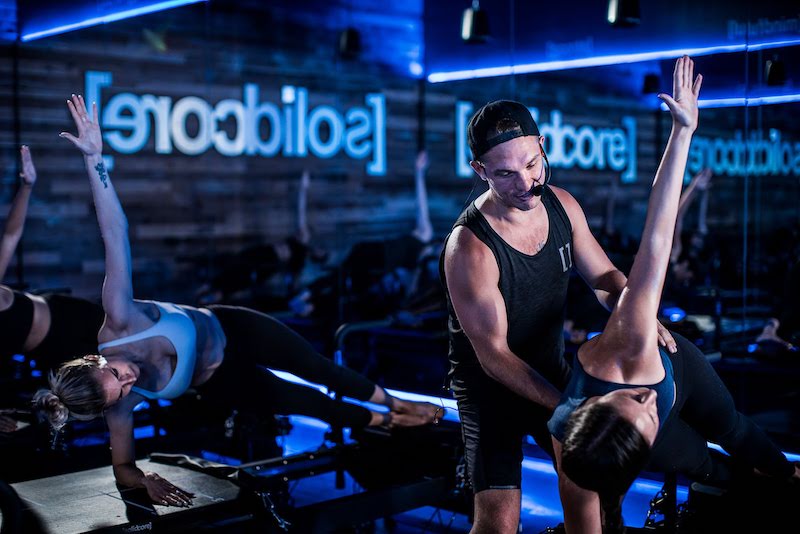 The workout rooms are lined with the Sweatlana machines (a version of a pilates reformer), which will be used throughout the class.
There are also a small number of lockers that you can use to store your items during class safely. 
A Solidcore studio will have much less equipment to choose from than Orangetheory.
However, there are numerous exercises you can do using the machines at Solidcore, so you will still achieve a balanced workout routine. 
---
The Workout
If you are looking at fitness studios, the workout will be one of the most important factors for your final decision.
Fortunately, these two studios provide excellent workouts for people of all fitness levels — but they're vastly different.
Orangetheory is a fast-paced, HIIT class that offers a full-body conditioning workout with a bit of strength thrown in. Solidcore is focused on pilates strength-training — it's low impact and a bit lower in overall intensity.
Let's take a closer look.
Orangetheory Workouts
Every Orangetheory workout follows the same basic routine that involves three phases. The three phases of the workout include:
Treadmills
Rowing machines
Weights
Throughout the class, you will change equipment with your fellow class members.
Due to the classes being 1-hour long, you will typically get 20-minutes on each phase of the class for a balanced workout. 
One thing that makes Orangetheory unique is their heart-rate monitors used during class. The instructor will instruct you to increase or decrease your heart rate according to the monitor throughout the class.
Orangetheory workouts are very calculated, and the heart rate monitor plays an important role. If you plan on attending Orangetheory classes regularly, you should purchase a heart rate monitor from the store.
These monitors aren't necessary to attend class, but they are important to reaching your full potential.
OTF classes challenge you to burn as many calories as possible during class, within the limits of your fitness level, age, gender, etc. Your conditioning will improve rapidly as a member, and you'll gain strength and lean muscle as well.
(Check out Orangetheory results in one month here.)
Solidcore Workouts
Solidcore offers a pilates core workout for its members, helping them sculpt their bodies through controlled movements.
Unlike Orangetheory, the workouts are low-impact and focus on strength training. 
The majority of the class will be spent on a machine named the Sweatlana. Instructors have described this exercise machine as a mix of a total body gym and a reformer machine.
The movements will be slow, and the goal is to build defined muscles. 
If you are a fan of Pilates, you will love being a Solidcore member.
The workouts are an upgraded version of Pilates, giving you a change of pace compared to your traditional class style. 
Compared to Orangetheory, the classes will not have an emphasis on cardio exercises and burning calories.
You will be focusing on building muscular strength and pushing your muscles to failure. It's considered a good thing when your muscles are shaking under the tension of a slow exercise!
The instructors in the class want you to go as slow as possible during the movements, pushing your muscles. Since every person has a different level of strength, the workouts are personalized for each member. 
(Check out pilates results in one month here.)
Overall, the classes at Solidcore will have a much greater emphasis on strengthening your muscles, especially your core. Orangetheory is a good choice if you want to burn as many calories as possible within an hour. Solidcore is a good option if you complement it with cardio exercise outside the studio. 
---
The Community and Vibe
If you are familiar with fitness studios, you likely know how amazing the community atmosphere is for members.
You will meet many like-minded people who will help you stay disciplined and motivated to exercise.
The vibe inside of an Orangetheory studio is typically the same, no matter what location you attend. Orangetheory studios will have an energizing atmosphere and motivate you to exercise every time.
You can notice the orange or red lighting inside the studio and the loud, energetic music playing during class. If you attend class in the mornings, it is an excellent way to start your day right.
At Orangetheory, you will find people of all backgrounds working out at the studio.
The workouts are good for all fitness levels, so you won't have to worry about not keeping up during the workout. 
The only downside? The staff at OTF is known to be pretty pushy when it comes to selling memberships.
While attending Solidcore, there is a greater difficulty level for members without training experience.
Many instructors recommend being able to hold a plank for 1-2 minutes before taking a class. 
If you're a beginner, Orangetheory may be a better way to build your fitness foundation and get into shape. Once you've established a baseline of fitness and you're looking to add and tone your muscles further, solidcore may be a better option.
But it really all depends on your style and goals!
---
Wrapping Up
For the experienced Pilates enthusiast, you will enjoy attending classes at Solidcore more. You will develop a stronger core and overall body after taking classes consistently.
If you are a general gym-goer looking to switch things up, going to Orangetheory is an excellent choice. 
If you have these gym studios in your area, give them a try with a free introductory class!
For more studio comparisons, check out:
Hope this helps!