There's no one-size-fits-all when it comes to fitness, so there's no one-size-fits-all when it comes to workout studios, either.
You can find studios available for everything from intense HIIT cardio to low-impact barre to boot camps and beyond.
This is perfect if you don't know what you like. You can shop around and find the workout and environment that's best for you.
But shopping around can grow dull and time-consuming, so why not start here instead? 
What's the difference between Barre3 vs Orangetheory, and which one is the best fit for you?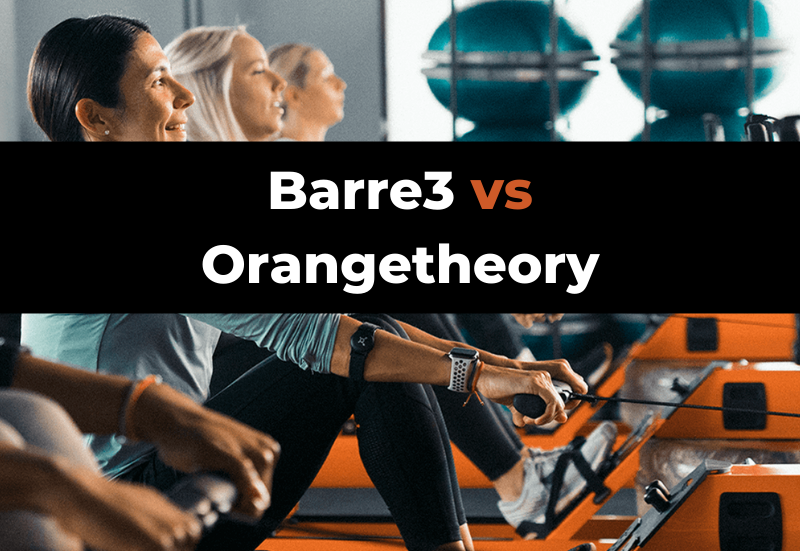 Barre3 and Orangetheory are extremely similar when it comes to price and the community of fellow fitness-oriented people you'll meet at these studios. The real difference between Barre3 and Orangetheory comes down to the workout — barre is a low-impact strength-focused workout.
You'll burn plenty of calories and challenge your conditioning, but there's a bigger emphasis on muscle toning and muscle endurance. Orangetheory is an extremely high-intensity class designed to push your heart and lungs to their limit.
Let's take a closer look at the workouts, costs, pros, cons, and more!
---
Barre3 vs Orangetheory Cost
The prices at Barre3 and Orangetheory are shockingly similar.
(Truth be told, most group fitness studios use a similar model.)
Their packages for unlimited classes per month have less than a $10 price difference.
However, if you're paying for classes such as the 20 class package, then the difference is a little steeper.
Then if you compare the rate per class for non-members dropping in, the prices are highly similar once more.
So, if the price is your main deciding factor between Barre3 and Orangetheory, then it shouldn't make too much of a difference.
(Of course, the workouts are vastly different, so I'm sure that's not your only deciding factor!)
Let's look a little closer.
Barre3 Pricing
We're starting strong. Your first class at participating studios is free.
After your first class, you'll pay $23 on a per-class basis, but buying classes in a package will work out cheaper.
For example, you can get 20 classes for $300 (aka, the price of 13 classes.) 
Your packages will eventually expire, though, so make sure to double-check when that happens with your local studio.
It varies depending on the location, as all locations are run independently.
Paying around $150 per month will let you attend unlimited classes, so if you like to work out 3+ times a week, then this is the perfect plan for you.
It's a highly reasonable fee when you compare it to that $300 for 20 classes package.
Orangetheory Pricing
Orangetheory's per-class rate is a little pricer, at $28, but that's still pretty cheap for how beneficial a single class can be!
Your first class is free at Orangetheory, too.
Of course, you'll pay less if you buy one of the three class packages available. These are:
Ten for $199
Twenty for $359
Thirty for $499
As you can see, the 20-class package is a little pricier than Barre3's, but so is the single class rate.
With Orangetheory, you get 20 classes for the price of almost 13, just like Barre3.
This minor difference makes the Premier Package's price of $159 seem highly reasonable compared to Barre3, too.
That $9 difference is pretty much nothing if you're attending multiple Orangetheory classes per week.
But what if you can only attend one or two classes per week? Well, Orangetheory's got you covered there, too.
The Basic Package for $59 per month covers four classes per month, and the Elite Package for $99 covers 8 monthly classes.
It's clear Orangetheory wants to be flexible for its members in this regard.
Overall, price shouldn't be a main deciding factor between Orangetheory vs Barre3. So let's take a deeper look at this comparison.
---
Facilities and Amenities
The facilities at both of these studios are distinct but different, and the vibe they give off will often attract people with different desires.
You'll find the facilities are clean and well-laid out at both studios, and there's very little variance across the locations.
The facilities are laid out for the kind of workout you'll be doing, and everything remains clean and polished.
There are also some nice amenities at both studios you're sure to enjoy.
Barre3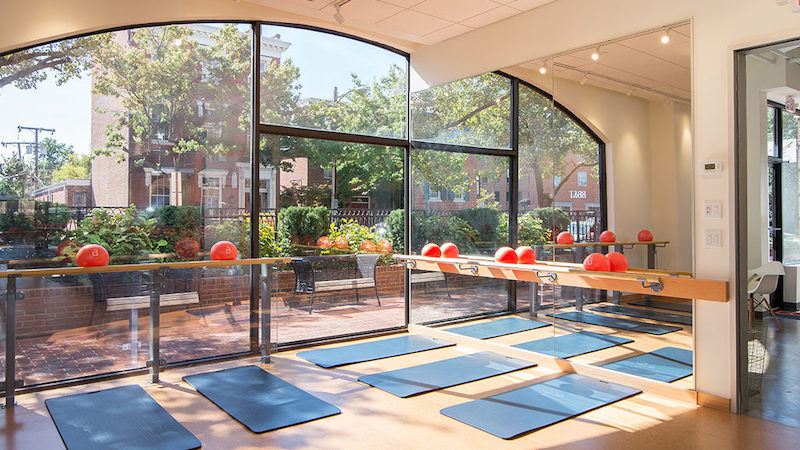 If you're a fan of simplicity and a nice, open feel to your workout room, then Barre3 is a great choice.
The environment is very relaxing, and it's almost reminiscent of a classroom.
There are large windows, light walls, and a nice wooden floor that creates a comforting environment for you to work out in.
It's super welcoming for newcomers, especially for those who've never taken a fitness class before.
Barres run around the room on most sides, and shelving units decorate the space. These hold weighted balls and dumbbells you may use during your workout.
This light and open design help make Barre3 feel less intimidating than many studios, and the amenities keep up this pleasant feel. You'll find these amenities:
Showers and bathrooms
Changing area
Toiletries
A lobby lounge area with seating and lockers
The childcare costs $5 per child per hour, $45 per child for 10 hours, or $75 per month per child for unlimited hours.
Orangetheory

You can feel the intensity radiating off the walls at Orangetheory. The rooms are darker, with reddish-brown or black floors and an orange glow on the walls.
Even the lights have an orange glow, so you'll feel the heat and the pressure when you walk in here. The lighting is also dim, so you'll feel like you walked into a whole new world if you walk in from outside.
The rooms are lined with heavy workout gear, which may be intimidating for newcomers, but you'll soon get used to it!
Some locations have nice big windows and a brighter feel, but the rich colors in the studio are still there, plunging you into the mindset that this will be a hot, intense workout.
Outside of the workout room, the only amenities you'll find are showers in almost every studio location.
There's no childcare, but you'll most likely come across locker rooms.
You can also purchase workout attire and get towels from the front desk if you wish. That's good news for the forgetful people!
---
The Workout
The workout is where these two studios differ most.
Barre3 focuses on barre, but Orangetheory is an intense full-body workout that mixes different disciplines. 
Barre3
Barre3 is like a walk in the park compared to Orangetheory.
It's low impact, and there's no jumping and panting and feeling like your heart's about to explode.
That said, you'll find your heart rate increasing considerably during the hour-long classes, and you'll walk out of a class with aching muscles and a healthy post-workout glow.
Every class puts you through a different full-body workout.
Each workout is a sequence of moves that target various muscle groups. If there's one particular group you'd like to target, then there are classes available for that, too.
The classes focus on building strength by using elements of barre, pilates, yoga, and ballet.
This keeps it low-impact on your joints and your cardiovascular system.
Barre can give you great results, especially when it comes to strength and mobility, but its intensity is far less than OTF.
Orangetheory
Orangetheory will have your heart pumping, and it can be tougher on your joints.
The classes will put you through various phases:
Lifting weights & floor strength training
Treadmill running
And rowing machine work
It sounds like a lot to undertake in an hour-long class, but don't fret.
If you've looked into Orangetheory at all, you probably know about their scientific approach to these workouts. 
You'll be wearing a heart monitor, and you won't be pushed beyond what's a healthy level of elevation for you based on your sex, body type, fitness level, and various other things about you.
Your instructor will ask you to increase or decrease your heart rate at different times throughout your class, helping tailor your workout to burn the highest number of calories possible in an hour.
(Learn about how Orangetheory can transform your body in one month.)
---
Community and Vibe
If you don't gel with the community of vibe of your class, then it can make a workout feel like a chore.
Luckily, you'll find the community at both classes is excellent, and there's a majorly welcoming vibe when you're there.
Newcomers and fitness experts alike are welcome at both classes, and the instructors will do their best to treat you appropriately for your experience level.
Barre3
Barre3's community is fun online and off. There are often events for members, be they on social media or organized by Barre3 and done on-location or virtually.
Your classmates will likely be highly supportive, and they'll be people you can have fun with while you work out.
The instructors are similarly supportive, and they'll make sure to answer any question you have before, during, or after your workout.
As there are lounge areas to spend time in before your workouts, you'll have a great opportunity to chat and bond with your fellow fitness fans.
If you're looking for a social activity as well as a workout, you'll have a good chance of getting that at Barre3.
Orangetheory
Orangetheory members will also be very welcoming, although there's less time for chatting due to the lack of lounge. The lively music and atmosphere will also make chatting harder to do.
That said, your fellow members have a knack for making you feel like you're part of the group quickly. You'll all be too busy trying to catch your breath during your workout, but you'll never feel ignored at Orangetheory.
The instructors know what they're doing and they're happy to answer questions, but beware!
Staff members really want to make a sale, so don't let them pressure you during your free class. 
Luckily, the salsey stuff dries up once you've paid for a membership or package.
---
Wrapping Up
Although they greatly differ, Barre3 and Orangetheory are both fantastic places to work out.
You'll burn a ton of calories and improve your cardio health with Orangetheory, but Barre3 will build muscle and protect your bones and joints.
The prices are similar, and both communities are welcoming to newcomers. 
There's really no wrong decision here—mainly, you'll be basing this on your workout preferences and possibly the vibe of the facilities.
Why not try a free class at both studios and see how you feel? That's a surefire way to discover which workout style suits you best!
For more studio comparisons, check out:
Hope this helps!