There's no shortage of ways to work out. 
Whether you're into strength, cardio, spin, yoga — or a blend of everything — there's a fitness studio with group classes out there for you.
In fact, there may be more than one! Which poses a problem.
How do you choose the right membership?
If you're into cardio and scorching calories, today we're looking at the differences between Orangetheory vs CycleBar.
Which one is right for you?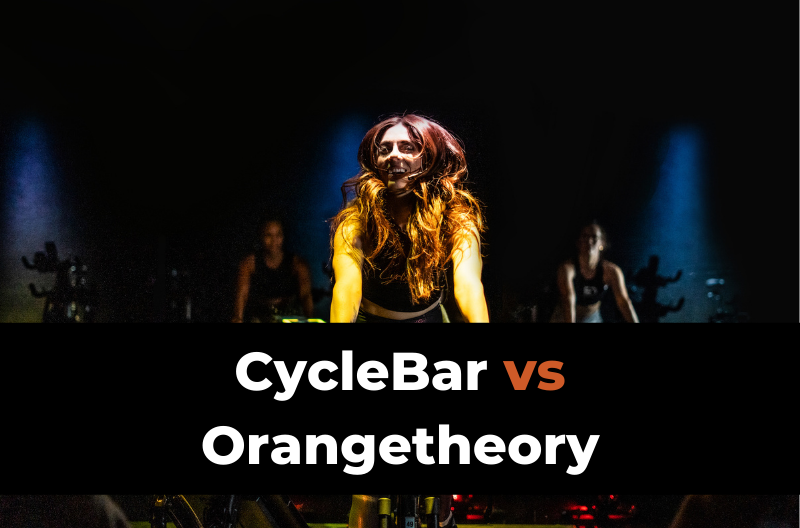 The difference between CycleBar and Orangetheory comes down to two factors: Price and workout-style. Orangetheory is usually a far more affordable option if you buy packs of classes or a monthly membership. However, you'll ultimately want to make your decision based on the workout:
For fun, high-intensity but low-impact cardio, go with CycleBar. For a more well-rounded workout that incorporates more strength work, OTF will be the better choice.
Attending free classes at either fitness studio will surely help you determine what's best for you.
In the meantime, let's take a closer look at the workouts, costs, pros, cons, and more!
---
Orangetheory vs CycleBar Cost
First up—which one can you afford?
When it comes to Orangetheory and CycleBar, there's a clear winner regarding affordability.
Orangetheory is more affordable and costs less per class than CycleBar no matter how you join. For a single class, OTF costs slightly more, but for any package deal or monthly membership, CycleBar is far more expensive.
It's up to you to decide whether the CycleBar warrants the higher price, of course. Let's break down the cost of each.
(Prices mentioned below are averages and typical of what you might see, but they vary greatly depending on where you live.)
Orangetheory Cost
A single Orangetheory class will cost you about $28, but your first one is free.
You can pay for drop-in classes any time, but you'll save money by purchasing a pack. The prices of those packs are as follows.
10 classes for $199 ($19/class)
20 classes for $359 ($18/class)
30 classes for $499 ($16/class)
All of these class packs are valid for 12 months.
If you think you'll be able to visit Orangetheory a little more often, then one of the membership options will likely be the better pick.
Those are:
Basic Package: $59 for four monthly classes ($15/class)
Elite Package: $99 for eight monthly classes ($12/class)
Premier Package: $159 for unlimited monthly classes
The unlimited package at Orangetheory is expensive compared to joining a big box gym, but quite affordable on a per class basis.
If you somehow had the energy to take 15 classes per month, you'd only pay $10 per session!
CycleBar Cost
Cyberbar's pricing varies by location, so I've chosen a random location to take the pricing from—Burr Ridge, IL.
A single CycleBar class will cost you about $25, but your first class is free.
If you find you like CycleBar and want to go back for more, then you might consider purchasing a ride package.
Here's where prices make a pretty substantial leap compared to Orangetheory.
These packages also have an expiration date, so that's not great if you can't attend them all within that time.
5 classes for $119—1 month expiration ($24/class)
10 classes for $229—3 month expiration ($23/class)
If you'd rather have an auto-renewing monthly subscription, then the prices are far fairer than their package deals.
However, they're still more expensive than Orangetheory.
4 rides per month for $79 ($20/class)
8 rides per month for $129 ($16/class)
Unlimited rides per month for $169
The unlimited rides membership is the most comparable to Orangetheory's Premier Package.
The $10 price difference isn't major at all, but the other price differences are steep in comparison.
And as I said earlier, these are only the prices at one specific location. It's a good idea to be prepared to pay on the upper end of the pricing spectrum, but you might find better deals.
In rural or less populated areas, the prices may be far cheaper than what you see here.
---
Facilities and Amenities
CycleBar and Orangetheory both have facilities with a pretty intense vibe.
There's a motivating energy in them that members love.
The facilities are clean, professional-looking, and well laid out.
All the equipment you'll need during your workout is there and in place for you as soon as you arrive, so all you have to do is pick your machine and get going.
Orangetheory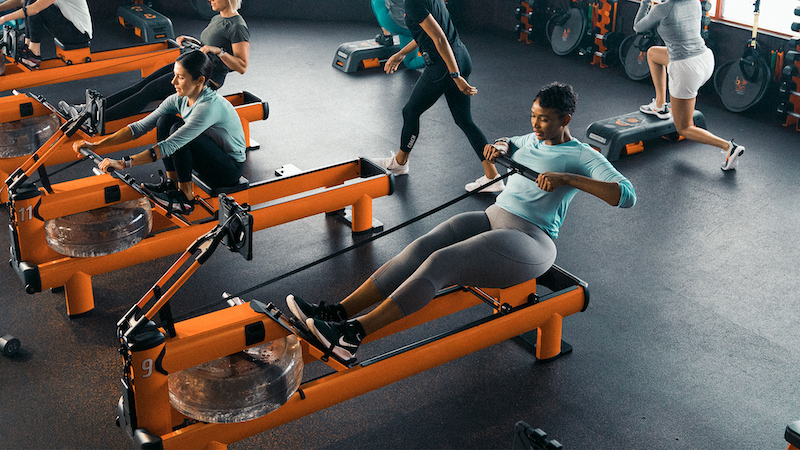 Orangetheory's facilities have an orange glow. The room won't often be well-lit, but a few of the studios do have big windows and a more open feel.
However, most of the facilities have dark walls and floors, making the place feel hot and energized as soon as you walk in.
There's workout gear everywhere, and you can tell the people there take their fitness seriously. You'll also find showers in almost every studio for when you finish your workout.
If you need an extra towel for your shower, you can get one at the front desk. You can also purchase Orangetheory gear there.
CycleBar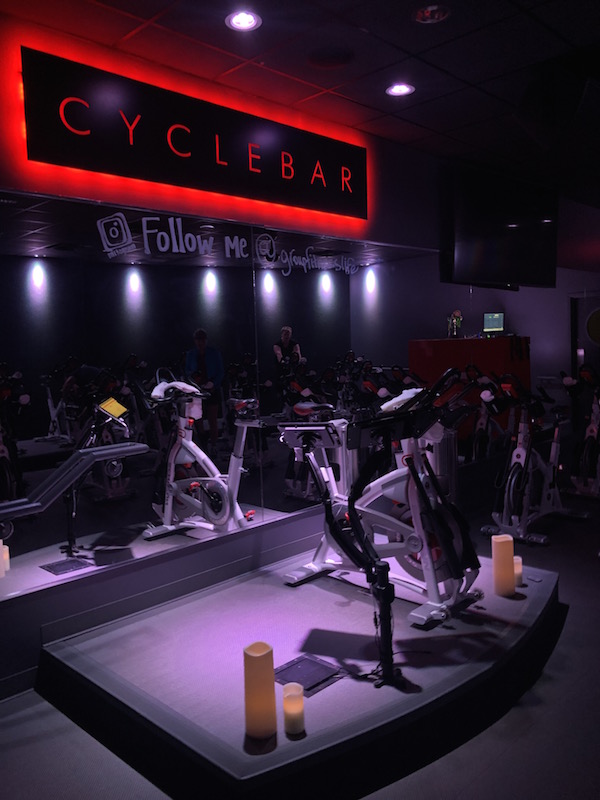 CycleBar has a similar dark vibe to Orangetheory, but a different color scheme.
The ambient lighting can glow in different tones, with blue, red, and purple being common.
The rooms are dimply lit, and the pumping music keeps you energized as you spin.
An instructor heads the class on a little stage facing the students. The students are then packed in pretty close together, spinning side by side in the high-energy environment.
It almost feels like a nightclub at CycleBar, and if that's something you enjoy, then this studio will be excellent for you.
You'll find complimentary water and snacks available at the studios, and there are lots of toiletries you can use, too, including hair ties and wet clothing bags.
There's a locker room with lockers for you to keep your gear nice and safe while you're in the shower. Although, not all CycleBar locations have showers.
Lastly, you can purchase some CycleBar gear at most locations.
---
The Workout
As you'd expect, the workout at these two studios is pretty different.
One is pure spinning with some light arm work, and the other is a full-body workout that has you on multiple machines at every session.
It should be pretty easy to decide which sounds best for you, but if they both appeal, let's dive a little deeper.
Orangetheory
Orangetheory takes a scientific approach to your workout.
You're fitted with a heart monitor, and you'll be aiming to reach and stay within a BMP range worked out for you based on a variety of factors.
You may be asked to increase and decrease your heart rate during your workout. This keeps your cardiovascular system on its toes, and it gives you a fun challenge while doing so.
These heart-pounding classes last an hour, and you'll be doing a variety of activities during them including using the:
treadmill
weight room
and rowing machine.
You'll definitely be sweaty and ready to lie down after an Orangetheory workout.
Every joint and muscle in your body will be jelly, and you'll know you had an excellent full-body workout.
(See what kind of results you can get from Orangetheory workouts.)
CycleBar
At CycleBar, you're limited to a single machine for the 30–45-minute class.
You'll get on a bike, do hill climbs and springs, and do some upper body movements to target your arms and shoulders.
You'll use a 4, 6, or 10-pound bar to work your upper body, depending on which you'd prefer.
So if you thought spinning was just for your legs, think again.
The sprints and hill climbs also greatly engage your core and get your heart pumping. And it's not just the workout that'll give you an adrenaline boost: there's an element of competition!
You can choose to participate in the competition during class, and a big screen at the front of the room will display your score. The scoring system is live, and it's excellent for keeping you motivated.
Having the scoring system also keeps things fun, and if you make friends in class, you can have a fantastic time trying to beat them specifically.
It really helps bring the class together as peers — and helps you get better results!
(Lear more about how a CycleBar class works.)
Overall, Orangetheory is more of a well-rounded, full-body workout that incorporates more elements of strength and muscle-tone. But for a lower-impact, high-calorie cardio burn, CycleBar fits the bill and still gives you a little bit of arm work along the way.
---
Community and Vibe
Speaking of bringing the class together, how's the community at each of these studios?
It's no fun to work out when you have no friends and no support.
Thankfully, both studios have a welcoming environment and encourage newcomers of all fitness levels to participate.
Orangetheory
First of all, be wary of the staff at Orangetheory. They'll hound you during your free session and try to get you to sign up for a membership.
(And if you leave without joining, they'll call you for years.)
If you join or buy a class package, then the salsey stuff will stop and they'll become normal, chatty, helpful people who want you to do well.
The instructors have your best interests at heart, and they're more than happy to answer any questions you may have before or after your session.
Fellow fitness fanatics in the class will be happy to help, too. The members are pretty approachable and welcoming, and they'll make you feel like you've always been part of the gang.
There's a pretty nice Orangetheory community online that will be happy to chat with you, too.
CycleBar
CycleBar has a super strong community vibe.
The members and instructors alike have a habit of forming great bonds with each other. 
Each studio has its own community feel to it, online as well as off. Many instructors keep active online so they can chat to riders, take requests for music, and more.
Like I said earlier, the competition aspect really helps solidify those bonds, so you'll be able to make friends (and maybe rivals) easily during class. You'll also have people cheering you on as you try to beat your score.
The wider CycleBar community is plenty helpful, too.
There's a small but active subreddit where you can ask fellow CycleBar enthusiasts questions if you don't want to ask your instructor or the members at your local studio.
---
Wrapping Up
Orangetheory and CycleBar are two welcoming studios that provide intense full-body workouts, albeit in different ways.
The pricing is sometimes comparable, and sometimes not, so you'll have to check out CycleBar's pricing in your area to see if that factors into your decision.
Ultimately it'll come down to which style of exercise you like more.
Luckily, both studios offer a free class, so you can try them out and see how you feel.
Overall, they're both fantastic studios for high-intensity cardio.
For more comparisons, check out:
Hope this helps!