When it comes to your fitness journey, you don't want to wait.
The sooner you start building healthy habits, the easier they'll be to keep for life.
College is the perfect time to get started, for many reasons! Not the least of which is having access to a state-of-the-art gym.
If you're a student, staff member, alumni, or you're thinking about attending the University of Maryland, here's everything you need to know about the UMD gym.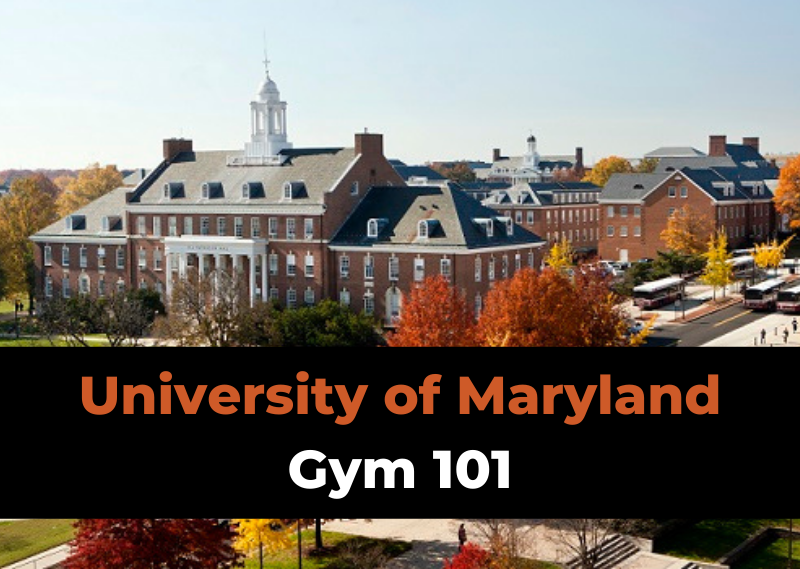 The University of Maryland has plenty of gyms and outdoor rec fields for students and faculty to take advantage of. Highlights include one of the tallest and best climbing walls in the country, an indoor and outdoor pool for swimming, and plenty of well-maintained equipment.
The only real downsides to the UMD gym are the crowds (as every college campus deals with) and some confusion around when sporting courts are open.
Let's take a look at the equipment, amenities, perks, and what real students are saying about the University of Maryland gym.
---
University of Maryland Campus & Gym Explained
The University of Maryland is located in College Park, MD.
With over 40,000 students currently enrolled, it's a big campus that has a lot to offer its students and faculty.
That includes places to exercise.
When taking into consideration all of the buildings that fall within University Recreation & Wellness, UMD houses 400,872 square feet of indoor recreation space.
When you consider all of the outdoor space, including artificial turf fields, the University Golf Course, LaPlata Beach, and the turf volleyball court, you get an extra 192 acres.
There's a little something for everyone at UMD.
There are a handful of gyms full of equipment for you to workout on your own. But there are also plenty of intramural sports if you prefer working out as part of a team.
While you'll have to look at a map of the campus to find everything, the main hub of the recreation department is Eppley Recreation Center.
This is found at 4128 Valley Drive, where students and faculty alike gather to work on their fitness.
---
UMD Gym Amenities Explained
The exact amenities you'll find will vary from one UMD gym location to the next.
But if you just want a basic primer of the equipment you can find at UMD, here's a handy guide to walk you through everything.
Cardio Machines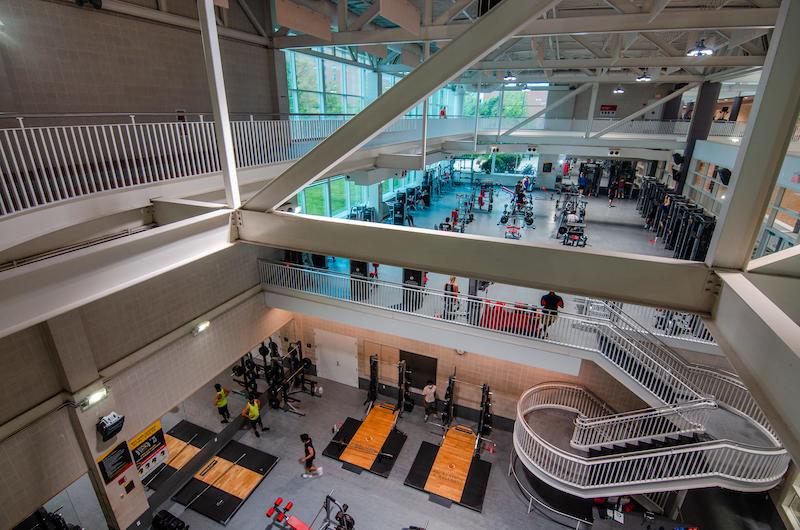 The Eppley Recreation Center houses plenty of cardio gear to get you in shape, from treadmills to bikes to ellipticals.
However, if you like to exercise outside, you'll definitely want to check out the on-campus bike shop.
Located in Jones-Hill House, you can rent and repair bike equipment here, whether you want something to get around campus or want to go mountain biking with some friends nearby.
Weights & Strength Equipment
Weights (racks, barbells, plates, dumbbells, and more) are also bountiful at Eppley.
You can also find an assortment of free weights at the Severn Building Fitness Center.
Pool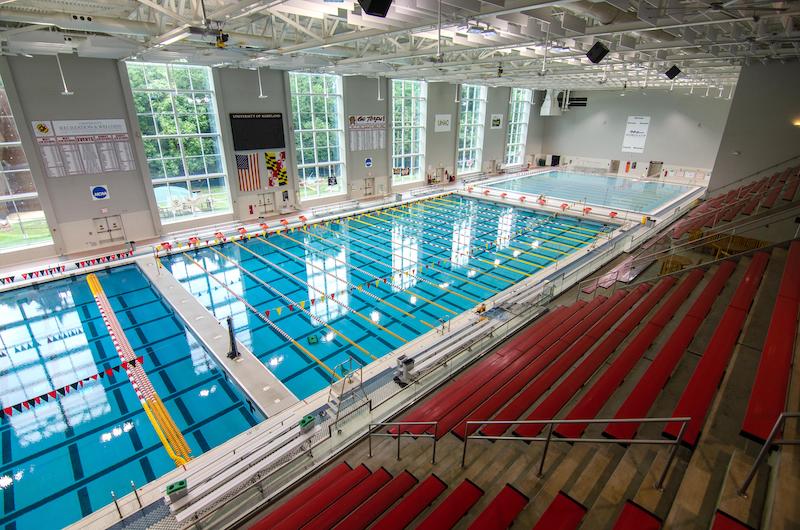 If you want a swim, you can head over to the natatorium, located in Eppley. In addition to hosting swim events and dive meets, there are times when it's available for free swim for any gym members to use.
You can sign up for lap swimming between Monday and Thursday from 4 p.m. to 8 p.m.
UMD also has an excellent outdoor pool for when the weather cooperates.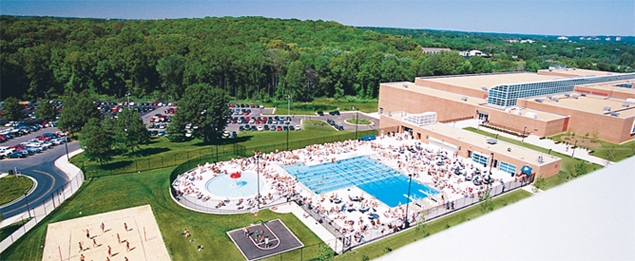 Sauna
The natatorium also houses a dry sauna and steam room for you to unwind after exercising.
Sporting Courts
You'll find the Armory between the Mitchell and Lee Buildings. It's a climate-controlled, four-court open gym space that hosts club sport and intramural sport practices.
There are also several locations found around campus with basketball courts in case you want a pick-up game.
Climbing Wall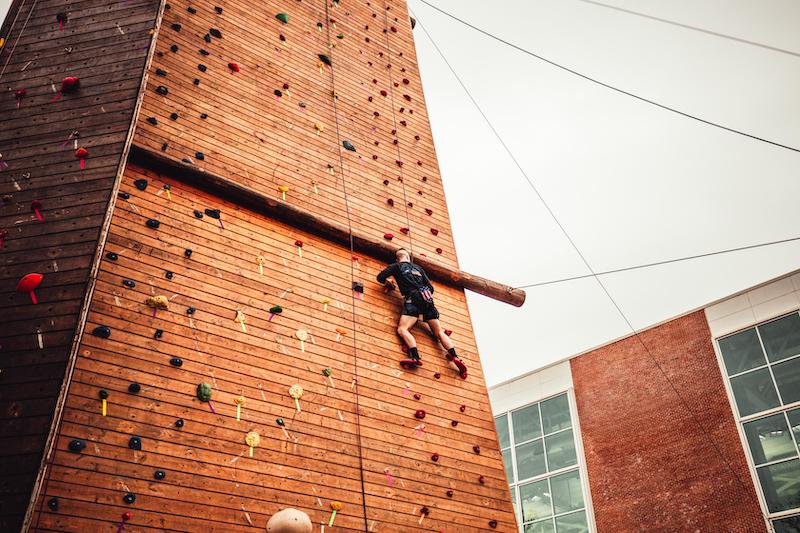 UMD hosts one of the tallest climbing walls on the East Coast.
There's a 55-foot tall freestanding climbing wall that's available to anyone with a RecWell membership. It's open to everyone, regardless of climbing experience. 
Showers
You'll find plenty of showers in Eppley. And according to buzz on social media, they're kept incredibly clean.
Group Classes
Group fitness classes are included for all students and anyone with a paid RecWell membership.
Personal Training
Personal trainers are available, too. They'll help you locate your fitness goals and keep you accountable to keep coming back to the gym while exercising safely.
You'll need to pay extra for personal training sessions, starting around $40 per session for students.
---
Who Can Use the UMD Gym? (Membership Explained)
UMD students get access to all of these facilities through their tuition.
And since you automatically get a membership, it makes sense to get your money's worth and try it out from time to time to see what all it has to offer.
However, other people in the community can also access these amenities.
Various pricing tiers are available for staff, alumni, affiliates, and retirees — starting around $456 per year.
You can also pay daily, monthly, or per semester.
If you have no connection to the university, you can still sign up for a membership. You just need to sign up at the front desk and fill out the proper forms.
Pricing varies depending on whether you want to work out for a day, month, or longer.
---
What Are Real Students Saying? (UMD Gym Reviews)
Thousands of people use the UMD gym every year.
Naturally, plenty of those people have brought their opinions to the internet, and I've rounded up some of the most illuminating points in case you need convincing that Eppley is worth a visit.
Pros
Numerous amenities
Fantastic staff
Clean facilities
You really couldn't ask for a better gym than Eppley and the surrounding facilities, especially when you consider the price for some of the higher-end gyms out there.
First and foremost, you gain access to a ton of perks. From basketball courts to a pool, it's your choice of how you want to work out. You can do whatever you want to get in shape and have a blast doing so. 
Outside of that, the staff is great, and the workers do a lot to keep everything looking spiffy.
Some gyms really drop the ball on cleaning and maintaining equipment, but that doesn't seem to be the case here. You can expect everything to be clean and in working order.
Cons
A lot of people seem to get confused with the court schedule. Sometimes they're open for basketball while other times they're only set up for badminton.
You'll definitely want to stay up-to-date on the schedule so that you don't accidentally get your team together at the wrong time.
If you're faculty, staff, or alumni, you'll get a decent deal on access to the University of Maryland gym — but it's quite a bit pricier than budget box gyms like Planet Fitness or Crunch.
(Far better amenities, though!)
---
Wrapping Up
When deciding what college to attend, there are numerous factors you have to consider.
You have to think about whether it's a good fit academically and if it has the programs you need to land your dream career. 
However, it doesn't think to hurt about how you'll spend your free time. A lot of people want to exercise when they hae a moment to relax, and UMD has one of the best fitness programs you'll find in the state.
If you're already a gym rat, it may be precisely what you need to take your regimen to the next level.
For more college gym reviews, check out:
Hope this helps!