Are you having trouble choosing between two gyms with great benefits?
That's pretty common.
There's a ton that goes into making a decision like that. Workout type, pricing, amenities, and more factors will influence your decision.
Corepower Yoga and Orangetheory are two fantastic options that are available in most major cities.
But what's the difference between Corepower vs Orangetheory, and which one is right for you?
Orangetheory offers intense HIIT classes made up of cardio and weight training, while Corepower focuses more on yoga — albeit, a powerful, muscle-toning style of yoga. Both are great workouts, but Corepower is lower impact and more approachable for beginners while Orangetheory really pushes you to maximum intensity.
Price-wise, both studios cost a similar amount, but Orangetheory gets the slight edge for having cheaper packs of classes.
Now let's take a closer look at the workouts, costs, pros, cons, and more!
---
Corepower Yoga vs Orangetheory Cost
Cost is one of the major factors to consider for a lot of people.
It's not easy to squeeze out a few extra pennies to throw into a gym or fitness class membership, so it's important to be mindful of budget and overall value.
So let's compare.
Note that prices for both studios vary, although Orangetheory's prices seem to be more consistent. Prices listed below are typical/average.
Corepower Yoga's prices have a little more variance, but the differences aren't often huge.
Corepower Yoga
Corepower Yoga has an All Access monthly membership fee of around $159 per person for unlimited classes.
Prices have been known to be as high as $169, though. 
But there's a bonus: your first two weeks are "free," although there's a $1 enrollment fee.
Students, seniors, teachers, and people in the military have a reduced monthly fee of $125 per person, and your first month is further reduced to $84.
This is known as a Black Tag Membership.
There are also class packages you may wish to check out if you're not up for that kind of commitment:
Single class: $27 (Black Tag price $18)
Five classes: $129
Ten classes: $245 (Black Tag price $155)
Twenty classes: $469
Orangetheory
Orangetheory also has three class packs, and a single class costs around $28.
Here's what their packs will cost you:
Ten classes: $199
Twenty classes: $359
Thirty classes: $499
Although the cost per class is a tidbit pricier than Corepower Yoga, the class packs are considerably cheaper.
There are also three membership options:
Basic package: four classes per month for $59
Elite Package: eight classes per month for $99
Premier Package: unlimited classes per month for $159
The unlimited package is priced similarly to Corepower Yoga.
However, the other packages make for a fantastic deal for those of you who can only attend a class once or twice a week.
Here's the best part of all: if you don't know if you like Orangetheory, you don't need to buy a class pack, or even a single class.
Your very first class is free!
Bottom line: If you only plan on attending class once or twice per week, Orangetheory is the better value. Beyond that, membership plans at both studios have a similar cost.
---
Facilities and Amenities
The facilities at both Corepower Yoga and Orangetheory come across as clean, professional, and pleasant.
However, they're pretty different in terms of their vibe and appearance.
You'll find pretty similar amenities at both studios, though, so let's dive deep.
Corepower Yoga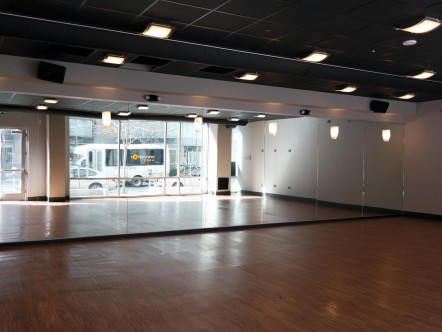 Corepower yoga's facilities have a nice, approachable vibe.
The light wooden floors and white walls make it feel welcoming, but the dark ceilings adds intensity to the place that turns up the heat on your workout.
Some of the studios have large windows to help bring a more naturally lit feel to the place, but others are more closed in and the intensity is higher.
The room you'll work out in is a large, open space.
There's no gear cluttering it up, so there's lots of room for you to lay down your yoga mat and your blocks and get to work.
You'll need to bring your own mat, a towel to lay over it, and it's a good idea to bring your own yoga blocks, too.
There are also mats, towels, and water bottles available to purchase or rent at the studio.
Outside the workout room, you'll find showers at most locations, but this is the only amenity available.
That said, it's very nice,  with many attendees describing it as spa-like.
Orangetheory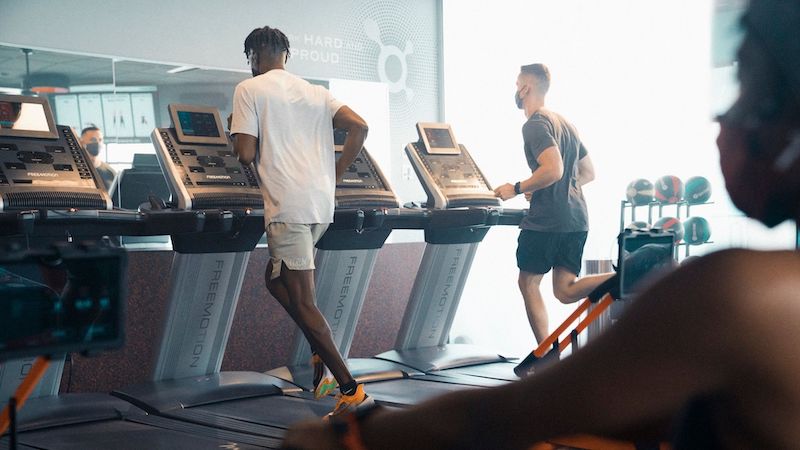 Everything about Orangetheory is intense, from the dark floors and ceilings to the orange glow of the lights inside the studio.
It can feel pretty nervewracking to walk into an Orangetheory class, because everything in there is styled for power.
There's a super energizing feel at Orangetheory, and the workout equipment in various rooms at the studios helps add to that. It feels very much like a place for professionals and serious fitness fans.
After your workout, you can take a shower at most facilities. There are towels available at the front desk, but generally, you'll have to bring your own.
There's also Orangetheory gear available for purchase at the front desk if you'd like to stock up on your workout attire.
---
The Workout
You can expect very different things from Corepower Yoga and Orangetheory.
One is a full-body cardio experience, and the other is, as the name suggests, yoga!
If you know which one you'd prefer already, then great. But if you like the sound of both workout styles, let's check them out further.
Corepower Yoga
When they say Corepower, they really mean core power.
If you've never tried hot or power yoga, you'll be surprised how intense it can get.
There are tons of different classes that will have you sweating and panting in no time. You might look like you just stepped out of the shower at the end of this class.
However, yoga is still pretty low-impact and good for your joints!
Part of the reason you'll be so hot at the end of the class is the temperature of the studio. The classes are taught at different temperatures that often go beyond 100 degrees!
So if you don't like getting hot and sweaty, then this isn't the studio for you.
There are a ton of one-hour class types available, but I'll just mention the most popular/well-known ones:
Corepower Yoga 1: Unheated class for beginners, exploring the basics of Vinyasa yoga
Corepower Yoga 2: Their signature class, some yoga experience is ideal, taught at 95–98 degrees Fahrenheit
Yoga sculpt: Great for toning, companies Corepower Yoga 2 with free weights, taught at 92–98 degrees
Hot Power Fusion: Super intense yoga class in 100–103 degree temperatures
So if you want to burn calories, put yourself through an intense workout, and sweat buckets, then Corepower Yoga is a great choice for you.
And all the while, there's no intense jumping around or high-impact movements that can wreck your joints.
(Learn about results from yoga classes here.)
Orangetheory
Now, if you want that heart-exploding, can't-breathe feeling, then Orangetheory is for you.
I mean this in the best possible way.
There's a ton of cardio, so naturally, it's going to make a mark on your heart and lungs.
Increasing your heart rate is all part of the fun at Orangetheory, as you'll wear a monitor and try to hit a specific BMP calculated on various factors including your fitness level, sex, weight, and more.
You'll have to increase and decrease your heart rate according to instructions while you work:
in the weight room
on the treadmill
and on the rowing machine.
These hour-long HIIT classes will torch calories and have you feeling like you're about to collapse afterward.
But despite the tiresome workout, you'll feel fantastic, stronger, and more powerful.
(Lear more about results from Orangetheory workouts here.)
---
Community and Vibe
The community can pretty much make or break a studio for you. If you don't feel welcome, then there's less of a draw for you to go back.
Luckily, neither of these studios will make you feel unwelcome in the slightest.
Corepower Yoga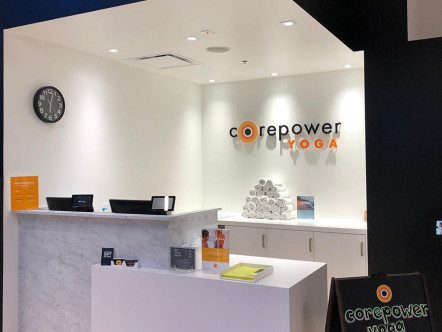 Corepower Yoga classes are often packed.
I mean, wall to wall packed in these huge yoga studios with three inches of personal space on each side. It's not your typical 20–30 person class.
That means there are even more people to support you, and there's are definitely more people there to make friends with.
Every person you'll meet at Corepower Yoga will be friendly and share your goals. You'll feel like you're part of a great community of people, all of whom love yoga and the class in general.
The instructors are pleasant, easy to talk to, and super helpful, too. If you have any questions, then they'll be happy to help you.
Even though you're just one person in a sea of faces, they truly care about making everyone's experience the best it can be.
Orangetheory
Orangetheroy's classes can get pretty crowded too, and as you're so busy doing the intense workouts, there's not a ton of time to talk to the other people there.
That said, the community remains welcoming, and you'll feel like you're part of a big team. They're happy to help newcomers out, and the staff are eager to please, too.
You'll find everyone at Orangetheroy pretty chatty, despite the blaring music and intense workouts.
The same can be said for the online Orangetheroy community—you'll never run out of people to talk to about the studio.
The only thing to be wary of with the Orangetheory community is the staff. Although they're nice, they're also salesy. It's part of their job!
If you take a free class at Orangetheroy, then expect them to be almost desperate to make a sale.
However, once you join or purchase a class pack, the salesy people ease off and become their normal, friendly selves. But it can be pretty intimidating to have them preaching packages at you at first!
---
Wrapping Up
Corepower Yoga and Orangetheory both offer pretty intense classes, and they have similar pricing for their unlimited monthly membership.
If you're basing this decision just on price, though, I'd go with Orangetheory. The class packs are more affordable, and the multiple monthly membership options are excellent.
But if you're basing this on the community, amenities, and workout, then these two studios are neck and neck! You can't really go wrong here, so it's just up to preference.
Try out a free class at Orangetheory, then check out Corepower Yoga's two-week trial for $1.
Sinking your teeth into a class at each studio is the only way you'll truly know which one is best for you if you're still undecided.
For more guides, check out:
Hope this helps!