Before taking my first Pilates class, admittedly I had fallen into the stereotype that it wasn't going to be that challenging of a workout, more so something that I would do on an active recovery day.
No, I didn't fall into the belief that it was just for housewives in their Lululemons who were taking a break from their soap operas and looking for something to do before meeting up with their friends for a Starbucks run (trust me, as a male, I would hear about it from friends who had less of a clue than I did).
First off, let's just squash any notion that Pilates is for females only.
Created by Joseph Pilates, a German bodybuilder and gymnast, who during World War I put together a series of core and postural exercises to help rehabilitate soldiers while using minimal equipment.
Sounds pretty macho to me.
Knowing that numerous professional athletes in the NBA, NFL, NHL, MLB, PGA, and various other leagues have incorporated Pilates into their workout routines, I figured that a weekend warrior and men's league player like myself would hopefully reap many of the same rewards.
So is Club Pilates worth it? Here's my full Club Pilates review.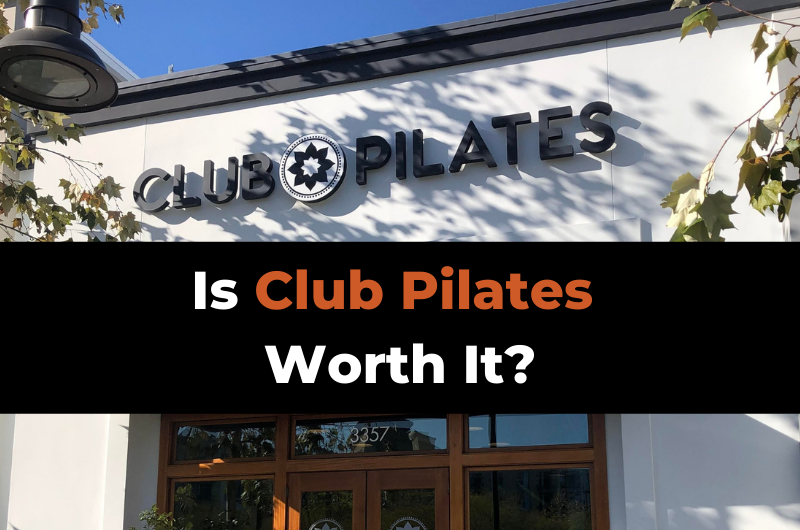 ---
Before your first Club Pilates class
As with most gyms or fitness classes, Club Pilates offers their first-time clients a free thirty-minute intro session to test the waters before you jump in for one of their various membership packages.
What to wear to Club Pilates
There is no dress to impress type atmosphere, so wear something comfortable, but not too baggy.
Women tend to wear yoga pants and a t-shirt or tank top, while guys usually stick to the tried and true gym shorts and t-shirt.
As a safety precaution and for hygienic reasons, Club Pilates requires that you wear a pair of grip socks, as you will be doing a lot of work using your feet on the reformer bar and mats.
Thankfully, for first-time visitors, they have a large selection of socks and other apparel for sale.
What to expect, bring & prepare
For anyone with misconceptions of what a Pilates class is all about, leave the egos at home.
Whether it is a foundation level class or a mastery class, regardless of your experience in a gym or how athletic you are, chances are you may struggle a few times with anything from your balance to using muscle groups you never knew you had, to figuring out how to strap yourself into the reformer.
Oh, and don't forget your water bottle. You will be surprised at how hard you will be working!
---
When you get there
Walking into Club Pilates, one of the first things that you will notice is that while it is a group class, the setting is still intimate with only a dozen reformer stations.
After being greeted and checked in by one of the front desk representatives, who in a short time seem to know all of the members by their first name, clients are welcome to drop their belongings in one of the provided cubbies and fill up their water bottles at the FLOWATER dispenser.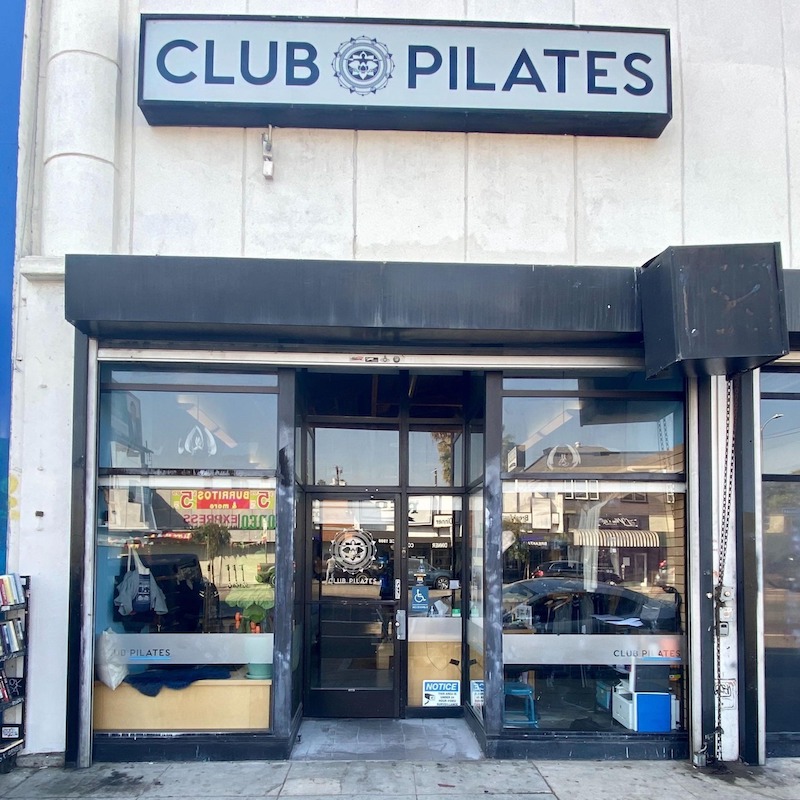 Although amenities such as showers or change rooms are non-existent, most clients either come dressed for their session or make do with the washroom to change in.
While lockers may make clients feel safer about their valuables, all clients are working out on the same schedule and the front desk staff is present at all times.
When picking a workout station, it is a first-come first choice process, however, clients quickly learn which area of the gym they like better, whether it be upfront by the window, in the middle where all eyes are on you, or at the back of the room.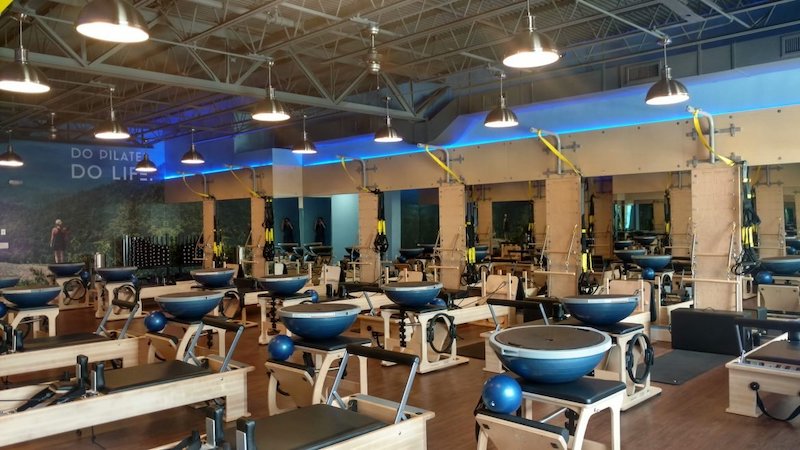 Regular members will soon learn who likes which station and are very respectful to leave it available for you and newbies may suffer a friendly stink eye if they end up in the wrong spot.
Depending on the class type and the instructor, the lighting may change, as will the tempo and style of music, which is catered to the specific type of class you are signed up for.
And for those who attend on a calendar holiday or one of the many theme days, feel free to dress up accordingly and don't be shocked to see your instructor in full costume!
---
During Class – Club Pilates Workout
After checking in, dropping your belongings in a cubby, and filling your water bottle, you are invited to head into the workout studio where you will be welcomed by a dozen diabolical-looking torture machines (just kiddin', sorta).
Along with the machine, called a reformer, each station is equipped with:
an Exo-Chair
TRX
Bosu Ball
resistance ring and bands
foam roller
yoga block
workout mat
and a few other treats.
Depending on the class you are attending, you may be asked to grab a set of dumbbells (ranging in weight from 2lbs to 15lbs).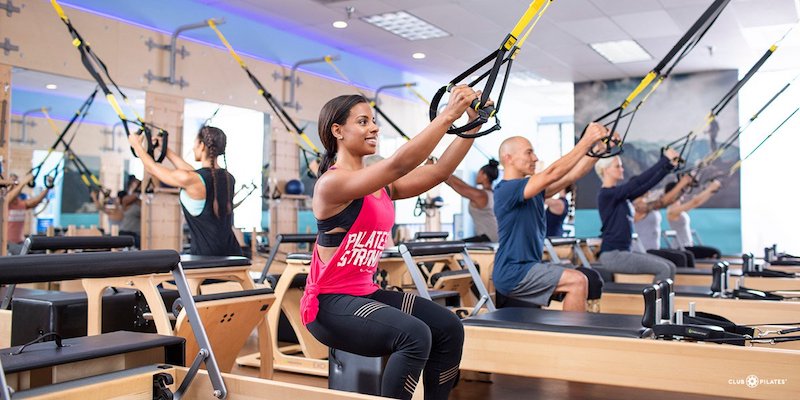 Within the Club Pilates program, there are four levels of classes and within those levels, they offer a wide range of specifically focused fifty-minute workouts.
To move up to the next level, experience at the previous level is required.
Level 1: Foundation – The beginning stage that will help build your foundation, focusing on the fundamentals of correct form and alignment. Ideal for beginners and those with physical limitations or undergoing rehabilitation.
Level 1.5: Progression – Adding several more complex, precise, and dynamic movements and other pieces of equipment to your workout to challenge your balance and stability. The flow of the class is steady with a moderate tempo.
Level 2: Evolution – A challenging class for both the mind and body. The increase in tempo and quick transitions incorporate more equipment and advanced exercises. In addition to balance and stability, there is more focus on strength building.
Level 2.5: Mastery – Challenging precision, coordination, and strength. This is the most advanced class.
Reformer Flow (All Levels) – Club Pilates signature class. A challenge for all levels, using every piece of equipment available.
F.I.T. (Level 2, 2.5) – A fun, high-intensity Functional Interval Training class blending a cardio workout with low-intensity Pilates strength training. This boot camp-designed class mixes interval training, traditional fitness, and contemporary Pilates.
Cardio Sculpt (Level 1, 1.5, 2) – High energy / low impact. This aerobic class is ideal for those looking to improve their cardio through the use of the Pilates Jumpboard, which will not stress the joints.
Center & Balance (Level 1, 1.5, 2) – Through light movement and deep stretching, this class will help re-center and balance your body. With the assistance of the reformer and barre, the stretching routines in this class will help reduce soreness and muscle fatigue, increase blood flow, improve performance and decrease the risk of injury.
Control (Level 1.5, 2) – A fun way to keep on your toes, literally! Focused on increasing your strength, balance, and stability through functional standing movements using a variety of equipment.
Restore (Level 1, 1.5) – After a long stressful day, enjoy the benefits of TriggerPoint Therapy, myofascial release, and foam rolling to repair muscles and joints.
Suspend (Level 1.5, 2) – With the use of the TRX training system and the reformer, this class challenges your strength, stability, coordination, balance, and mobility. A great class for athletes.
Teen (Level 1, 1.5) – Classes focused specifically on teens to help build a healthy lifestyle and gain a competitive edge for young athletes.
Throughout my time as a member of Club Pilates, I hit all of the classes (minus the teen one, of course).
While I mostly booked level 2 or 2.5 classes (after receiving approval to move up), there were nights when a level 1.5 class was just the perfect warm-up before a basketball run or as the prelude to double-dipping with a level 2 or 2.5 class.
My personal recommendations would be the Reformer Flow, F.I.T, Cardio Sculpt, Suspend and Restore.
(Learn more about the results you can see from Pilates workouts.)
---
Pricing & Club Pilates Cost
Following your first free trial class, Club Pilates offers several membership options.
As the number of sessions you purchase, the cost per becomes cheaper, with the 8-Pack running roughly $150 per and the Unlimited package costing approximately $250 (CDN) per month.
Expect a single drop-in class to cost around $25-35 according to the studio's website.
After my free trial, I purchased the Unlimited package and aimed to attend at least 4-5 sessions per week (I doubled up some nights), which made the rate very affordable, at $12-$15 per session.
Which membership type is right for you? Here's my recommendation:
4-Pack: For those who are looking to complement their usual training program and want to add in an active recovery day once a week to help lengthen and strengthen while working on stability and balance.
8-Pack: Most members who purchase the 8-Pack attend twice a week, seeking faster results and focusing on building their core strength.
Unlimited: Whether you are looking to achieve your fitness or rehabilitation goals or you enjoy mixing up the different levels of classes and want to enjoy back-to-back sessions, this is probably the best bang for your buck.
Annual: Rather than paying a monthly fee, simply pay for whichever package you wish for an entire year and avoid the hassle of renewing. This is also a great way to keep yourself committed for the long haul.
Passport: Available in the United States only, this option allows you to visit any Club Pilates across the country during work trips or holidays with unlimited access.
---
Pros & Cons of Club Pilates
As with any workout program, what you put into it is what you get out of it.
Pros:
Small class size allows instructors more time to correct your form or tailor a workout for your personal needs.
Sense of community and no judgment by participants or instructors
Very clean, a great combined effort by clients and staff to leave workout stations properly sanitized and all of the equipment put away for the next class.
It is a bit pricey unless you use the Unlimited package for multiple sessions per week.
Cons:
As a male, it would have been great to see more men in the classes or even more "guys nights", which would help break the Pilates stereotype.
Occasionally, the need for heavier dumbbells would be nice. Nothing crazy, but maybe increasing to 20-25lbs.
There is only one washroom at my location.
(Read more pros and cons of Pilates workouts.)
---
Wrapping Up
It quickly became clear that not only did I have a misconception of Pilates, but that I enjoyed adding Pilates to my workout schedule more than I thought, as I was a member of Club Pilates for over a year and, for the most part, did not think twice about canceling my membership.
Unlike traditional workouts, I found that Pilates helped focus on my small muscle groups while helping to lengthen and strengthen my body.
Add into that my balance, stability, and recovery from my usual workouts or sports activities and I can honestly say that Pilates workouts are not what you think.
Whether it was a relaxed evening Restore class or shirt drenching F.I.T. (sorry to those who were in my splash zone), Club Pilates and its instructors gave me a whole new appreciation for the workout.
For more reviews, check out:
Hope this helps!
Steve Lee is an ACE Certified Personal Trainer and Sports Conditioning Specialist. He has 20+ years of basketball coaching experience along with 10 years of softball coaching experience. Whether it be high school, community team, or individual training, he believes your success on the court or field is made by your success off of it.