One of the cool things about attending tertiary education is that you often get access to state-of-the-art fitness and recreation facilities.
Better yet, in most cases you don't have to pay anything extra to use them. 
Of course not all universities and community colleges provide the same level of facilities and service for their health-conscious student body.
If you're a student, staff member, alumni, or you're thinking about attending Northern Virginia Community College, here's everything you need to know about the NOVA gym.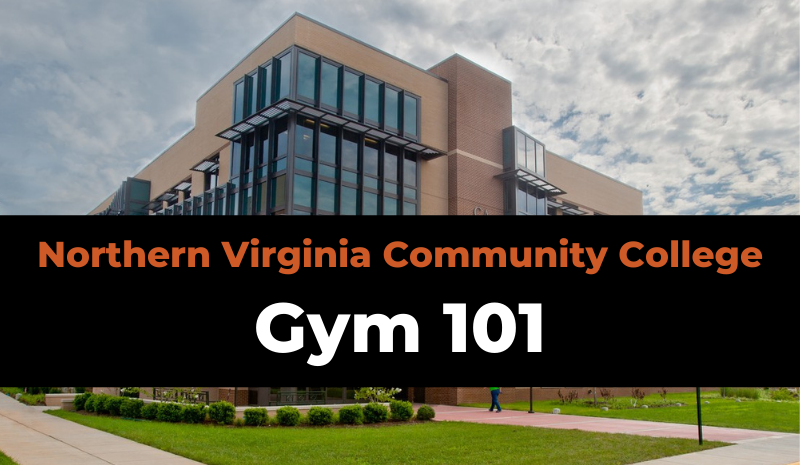 Northern Virginia Community College (NOVA) has solid gym facilities at two of its campuses. The amenities there are bare bones (no pools, climbing walls, or personal training like you'll find at some bigger schools), but the equipment and staff are top notch.
The downside? NOVA gyms have extremely short windows of open hours and are quite busy during peak times as a result.
Let's take a look at the equipment, amenities, perks, and what real students are saying about the North Virginia Community College gym.
---
Northern Virginia Community College Campus & Gym Explained
Northern Virginia Community College is a public community college that is made up of six campuses, along with four centers located in the Northern Virginia suburbs of Washington, DC.
It is the third largest community college in the US.
NOVA has around 77,000 students, along with a staff of about 2,500.
The student body is made up of people from more than 180 countries. More than 160 associate degrees are offered here.
The six campuses that make up NOVA are:
Alexandria – located in Alexandria and situated on a 51 acre site.
Annandale – located in central Fairfax County on a 78 acre site.
Loudoun – located in Sterling on a 91.4 acre site.
Manassas – located in western Prince William County on a 100 acre site.
Medical Education Campus (MEC) – located in Springfield.
Woodbridge – located in east Prince William County on a 109 acre site. 
NOVA is a member of the National Junior College Athletic Association (NJCAA).
It has teams competing in women's volleyball, men's soccer, women's cross country, men's basketball, women's basketball, men's lacrosse, and women's softball.
Not all NOVA campuses offer a gym or fitness facilities.
---
Northern Virginia Community College Gym & Fitness Amenities
There are fitness centers at the following NOVA location:
The Annandale Fitness Center is located in the CE building of the Annandale Campus, Room 102B.
The Alexandria Fitness Center is located on the second floor of the Fine Arts Building, Room 230.
At the time of this writing (March 2022), all Alexandria campus recreation and wellness facilities are closed.
The gyms have imposed pandemic restrictions including wearing a mask in the gyms when not actually exercising and wiping machines down with a cleaning spray and paper towels, which are supplied by the gym. 
Under normal circumstances, let's take a look at what student and faculty can hope to see inside the NOVA gyms: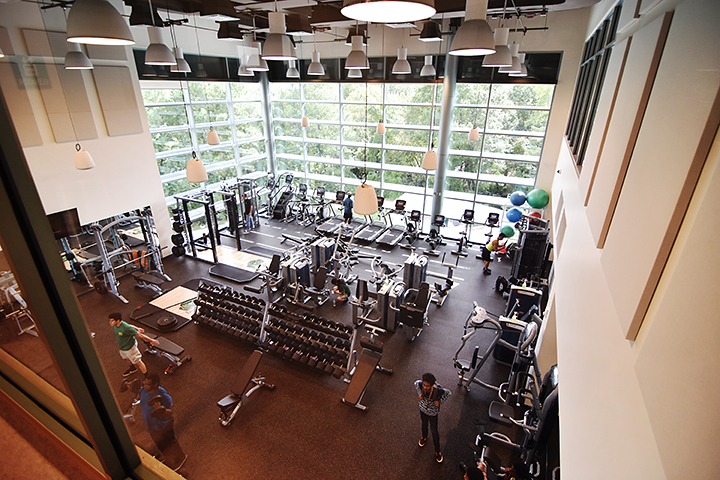 Cardio Machines
Both the Annandale and the Alexandria campuses have quite spacious cardio training areas.
The Annandale has a smaller selection of cardio machines like:
Treadmills
Elliptical Machines/ Rower
Recumbent Bicycles
While the Alexandria cardio room is equipped with a few more options including:
Treadmills
Ellipticals
Rowers
Stair Climber
Stairmaster
Upright Bikes
Recumbent Bikes
Much of the cardio equipment in both gyms include built-in TVs so you can watch your favorite show while churning through the calories. Both gyms are also WiFi enabled.
Weights & Strength Equipment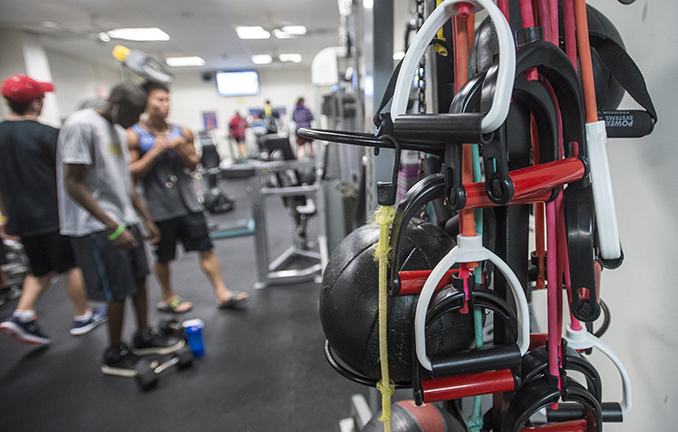 The Annandale gym features a full range of weight training equipment to cater to its members, like:
Dumbbells
Medicine Balls
Stability and BOSU Balls
Resistance Bands
Barbells
Bumper Plates
Power Rack
The Alexandria fitness center has a wide range of strength training gear. Their range also includes:
Functional Trainers
Selectorized Machines
Squat Rack
Smith Machine
Deadlift Platforms
Free weights
Dumbbells 5lbs to 150lbs
Medicine and physio balls
Stability and BOSU balls
Various resistance bands and loops
Various barbells and EZ bar sets
Indoor TireFlip
TRX Bands and Sets
The selectorized resistance machines at both gyms are labeled with QR codes which will direct you to instructional videos on how to use each machine. A nice touch if it's your first day at the gym!
Sporting Courts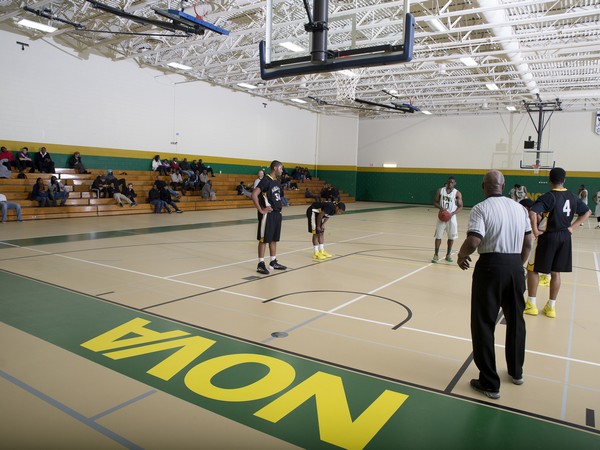 There are a number of basketball courts spread around the six NOVA campuses.
There is a court at the Alexandria campus where daily pick up games are always on tap.
The basketball court is located on the second floor of the Fine Arts Building, Room 234.
There are also Table Tennis, Volleyball, and Badminton facilities at the Alexandria fitness center.
Climbing Wall
A lot of college campus gyms are known for their fantastic indoor climbing walls. No such luck here at NOVA!
Indoor Track
There is no indoor track at any of the fitness centers at NOVA.
Showers
All three fitness centers provide full service changing rooms with modern, clean, and well maintained showers.
Group Classes
Alexandria and Annandale usually offer fitness classes throughout the week.
These include Ab Attack, Yoga, and meditation classes.
However, the normal schedule of classes may be interrupted as a result of the pandemic.
Both gyms also offer Intro to Compound and Intro to Circuit Training classes.
Personal Training
It does not appear as if personal training services are offered at any of the NOVA fitness centers. 
However, both the Annandale and Alexandria campuses have qualified staff on hand to guide students through their workouts or help familiarize them with the machines.
NOVA Fitness Center Open & Busy Hours
The opening hours for the gyms at Northern Virginia University are quite conservative by gym standards.
Most weekdays, the gyms open late, around 10:00am or even later. They usually shut down by dinner time during the week and are closed entirely on the weekends.
These hours may vary depending on time of year and according to pandemic policies.
These abbreviated hours mean the NOVA gym can get quite crowded and you'll have difficulty avoiding the worst of it. In general your best bet at most gyms to avoid busy times will be to go as early as possible.
Gym Rules
Both gyms provide a series of rules that all members must follow. These include:
Wearing appropriate athletic attire as per the dress code
Water and sports drinks are permitted, but not food.
Know your limitations and use a spotter when necessary. Wipe down equipment after using it.
Personal belongings may not be left in the weight room while exercising.
Lockers
Lockers are provided for the safe-keeping of personal belongings.
Students may check a locker key for day use only by presenting their NOVA ID.
Lockers must be emptied and the key returned after each use in order for students to receive their NOVA ID back, or they must pay a $5 fine for the lock.
---
Who Can Use the Northern Virginia Community College Gym? (Membership Explained)
NOVA students are able to make use of the gym facilities at both the Annandale and Alexandria gyms free of charge.
This also applies to staff and faculty members. 
The NOVA gym does not appear to be open to alumni, even at an extra charge, and none of the gyms at NOVA are open to members of the public. 
---
What Are Real Students Saying? (NOVA Gym Reviews)
There are not a lot of student reviews available online for the various fitness centers at the Northern Virginia Community College.
However, those that are available are generally favorable. Students are generally pleased with the quality and quantity of the cardio and strength training equipment.
The staff at both the Annandale and the Alexandria gyms also get good reviews. 
Here's an overview of the positives mentioned by online reviewers of the Annandale and Alexandria fitness centers:
Lots of cardio options
TVs on the cardio gear
A wide range of strength training gear
Dumbbells going up to 150 lbs
The biggest complaint among student members is with regard to the limited opening hours of the gyms.
The fact that the gyms are not open on the weekends is another cause for complaint. 
A number of students also mentioned that the gyms get very busy during the peak times of between 5 and 7 pm. As a result, there may be a bit of waiting around if you get your workout in at peak time.
That, however, is pretty common among college and university gyms.
The main cons mentioned by the student reviewers online are:
Limited opening hours
Not open on weekends
Overcrowded at peak times
---
Wrapping Up
Northern Virginia Community College is a huge facility spanning six locations.
Unfortunately, it doesn't provide a gym at each of those locations. So, if you're going to be enrolled at the Manassas, Woodbridge, or Medical Education Campus, you are going to have to join a commercial gym in their local community to get your weekly workouts in. 
If you're enrolled at the Annandale or Alexandria campuses, you will be able to make use of their fitness centers free of charge.
The gyms at Annandale and Alexandria are staffed by fitness professionals to give you an initial assessment, training programs, and guidance. 
Both the Annandale and Alexandria gyms are well equipped with modern cardio and resistance training gear.
However, their hours are quite limited and they are closed on the weekends. So, if you're wanting to train early in the morning or on weekends, you might want to check the outcome of the gyms that are off campus. 
For more college gym guides, check out:
Hope this helps!