Snap Fitness is a nice, relatively small, fitness club that's open 24/7 in many locations.
It's best known as a budget-friendly gym with small facilities, stripped down amenities, and an appealing price tag.
Typically, you'll find great equipment here but not too much else in the way of amenities.
But one big question prospective members will have:
Does Snap Fitness have showers?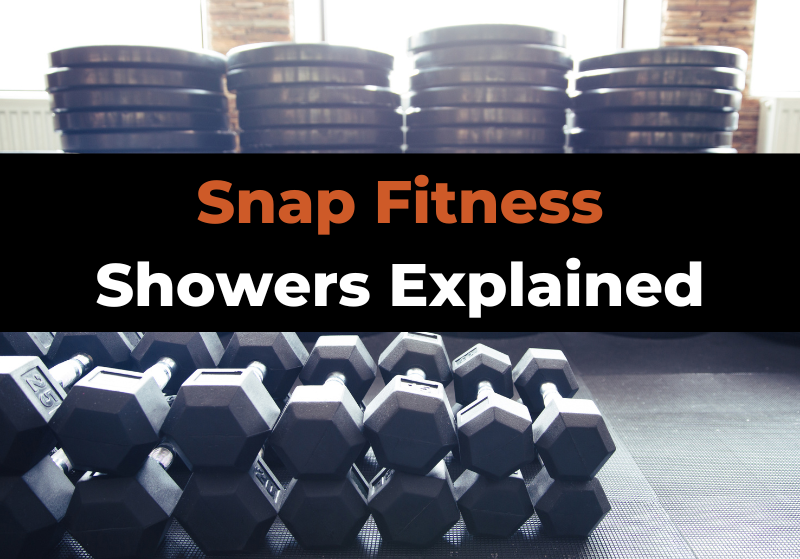 Most Snap Fitness locations do not offer showers for members. However, in a few select locations, you can get access to pretty nice, private, well-kept shower and changing areas. If you're looking for a Snap Fitness alternative that has showers at every location, you'll do well at 24 Hour Fitness.
Keep reading further to learn about Snap Fitness showers, locker rooms, and other amenities for members.
---
Does Snap Fitness Have Showers?
If you want a gym with showers, then you may have to look elsewhere.
Most Snap Fitness locations don't have showers or locker rooms. A select few Snap locations do offer private, well-kept showers. You'll have to check your local Snap to find out for sure.
However, there's no need to call up your local Snap Fitness to see if there are shower or locker room facilities, though.
The franchise provides an easy gym finder tool on their website.
If your nearest Snap Fitness lacks showers, then maybe another one within driving distance has them.
If you're willing to travel a little to work out, then maybe the private shower is worth taking a peek at.
---
Does Snap Fitness Provide Soap or Shampoo?
Some Snap Fitness locations offer soap and shampoo to their members in the shower area.
(If they offer showers at all, that is.)
In fact, they frequently go all out in the shower room—some even have vanity mirrors and benches.
However, most members recommend you bring your own travel-size toiletries to Snap Fitness just in case.
Unfortunately, you can't know for sure whether or not Snap provides toiletries unless you take a look in person or call and ask.
---
Does Snap Fitness Provide Towels for The Shower Area?
This is another area where Snap Fitness locations are inconsistent.
Some offer towel services, but most don't provide towels to their members.
When Snap Fitness asked members their must-brings on social media, many members stated they always bring a towel.
If you don't feel like carrying wet towels home in your gym bag post-shower, then perhaps Snap Fitness isn't the best choice for you.
---
Photos & Descriptions of Snap Fitness Showers
The Snap Fitness shower and changing areas are pretty luxurious! They're estimated to be around 8 by 10 feet in size, and they look amazing.
Some locations have shower rooms with grey or black tiles on the wall and dark tiles on the floor.
These are the fanciest-looking Snap Fitness shower rooms by far and are pretty nice for gym showers!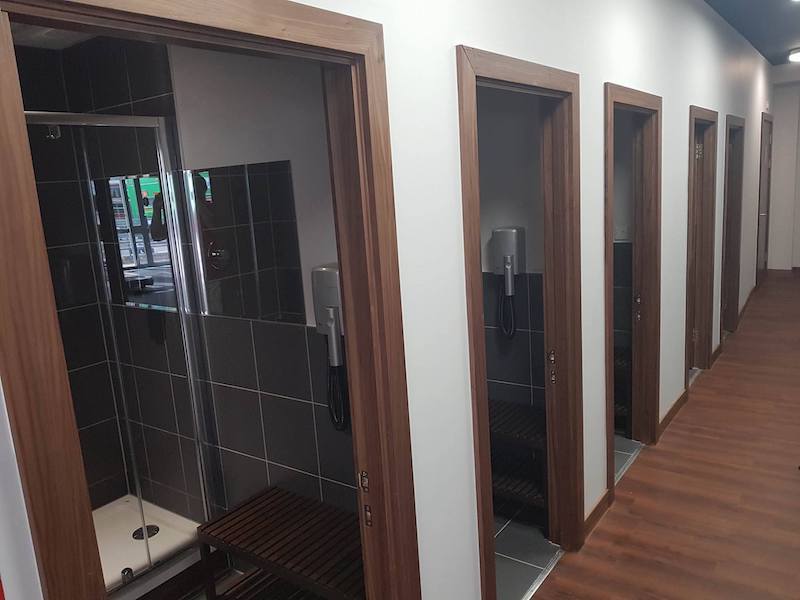 Some locations have a more basic light color scheme, but you'll still feel like a million bucks using these private changing rooms.
They're such a nice change from traditional communal areas.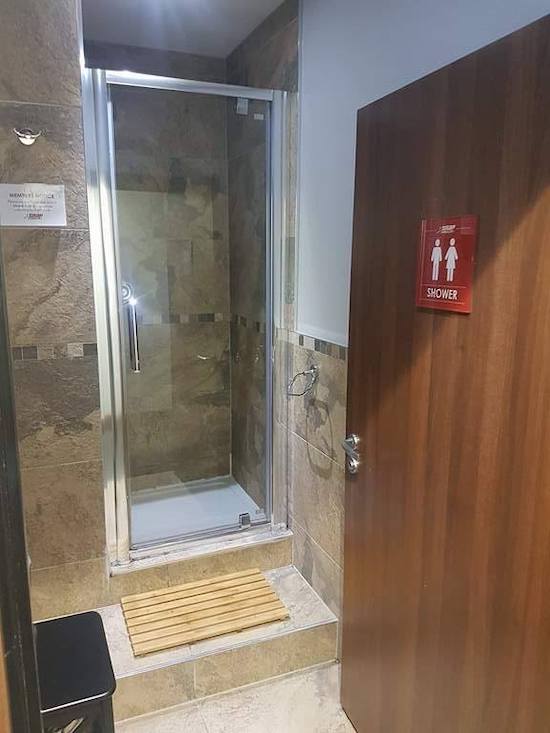 The showers themselves stretch the whole way across the back wall in these little rooms. They're pretty roomy and can easily accommodate gym-goers with a lot of extra weight or an extremely muscular build.
Some locations have a glass-enclosed shower, while others just have a little curtain. Furthermore, some locations have a metal chair in the room, but others have a bench for you to sit or put your things on.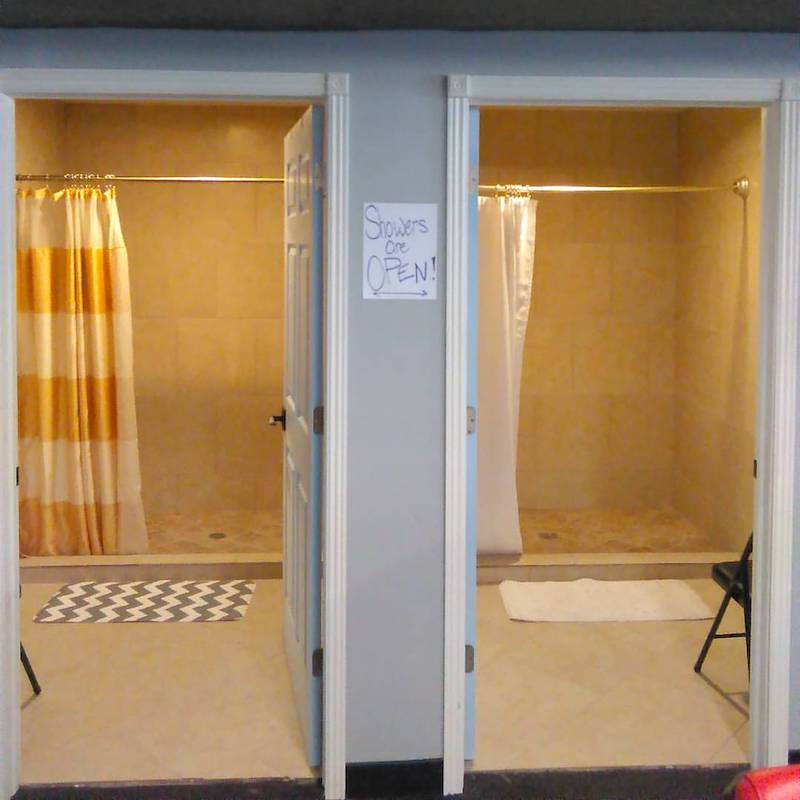 Overall, these showers and changing facilities are pretty nice for a gym!
Remember, though, that a majority of Snap locations will NOT offer the showers seen above.
---
Snap Fitness Shower Alternatives
Despite how nice the shower rooms are, you have to remember they're rare for Snap Fitness.
If you're looking for a gym that has showers at all of its locations, then here are a few similarly-priced ($30-$40/month) ones that do.
LA Fitness
There are hundreds of LA Fitness locations across the country, and they all have showers you can use.
The showers are private, however the locker rooms are communal.
The locker rooms are spacious, though, so you'll likely be comfortable in them and won't have to get too close to any of the other members.
You'll find soap dispensers in the showers at most locations. However, more often than not you'll need to bring your own towel.
The only downside is that LA fitness isn't open 24 hours a day like Snap Fitness is. However, they do have a similar monthly membership fee.
(See more about LA Fitness showers here.)
24 Hour Fitness
Snap Fitness is open 24/7. If you're looking for another gym like that, then 24 Hour Fitness is a good choice.
It's around $30 per month for the basic package in most locations, although the other packages are a little pricier.
This gym is worth checking out, though, as there are showers open day and night. The showers are private, and there's a communal locker room you can use, too.
You'll need to bring your own toiletries and towels, but that's a minor thing for a chain with showers at every single location.
(See more about 24 Hour Fitness showers here.)
Gold's Gym
Gold's Gym is another similarly priced alternative. Although, like LA fitness, it's not open 24/7.
However, it does have nice private shower stalls in the communal locker rooms. The showers are often equipped with soap dispensers and shampoo.
Although, you'll have to bring your own towel, because the towels Gold's Gym provides are usually intended for wiping off sweat during workouts. They're much too small to dry off after showering.
(See more about Gold's Gym showers here.)
---
Wrapping Up
Snap Fitness has a lot of positive points. Being open all day night and night is highly convenient, and their focus on wellness is admirable.
However, it would be much nicer if they had showers at every location.
Check if your local Snap Fitness has showers, then bring a bag of toiletries and a towel with you when you go. It's better to bring them and to risk finding out your local gym lacks them when you get there.
If showers are absolutely necessary for you, then 24 Hour Fitness is the closest thing you'll find to Snap Fitness.
There may not be a private changing area for you in the shower room, but at least the shower stalls and nice and private!
For more, check out:
Hope this helps!