Life Time Fitness is a luxury resort-style gym that offers a ton of exercise equipment and activities for both kids and adults.
In addition to cardio machines, strength machines, and free weights, Life Time Fitness has rock climbing walls, a cafe, yoga and spinning studios, saunas, and spa services.
You can even find basketball courts and tennis courts at most locations.
But one question remains, especially for commuters:
Does Life Time Fitness have showers?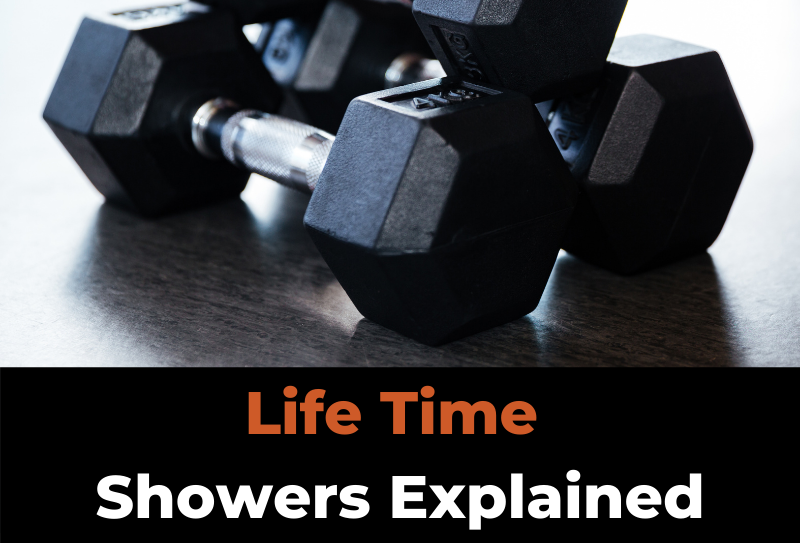 Yes, Life Time Fitness has showers. In addition to spacious and luxurious shower stalls, the club also provides high-end toiletries and towels.
And unlike some other gyms, you don't have to bring a lock with you to keep your belongings safe in the locker room.
For people who go straight to work from the gym, being able to shower at the gym is a huge benefit.
You don't have to drive all the way back home before heading to the office, which not only saves time but helps you save money on gas as well.
Showering immediately after a workout can also help speed up recovery since it decreases the amount of lactic acid buildup in your muscles.
Let's review what the showers, toiletries, and locker rooms are like at Life Time Fitness.
---
Does Life Time Fitness have showers?
Life Time Fitness offers some of the most impressive showers that you will ever find in a commercial gym.
You can tell the owners spent a significant amount of time and effort getting them just right.
At Life Time Fitness, you won't have to shower in a small, moldy shower stall.
The showers are wide enough for you to shower comfortably, and the staff cleans them thoroughly every day.
Life Time Fitness also has state-of-the-art lockers in the locker rooms. The lockers have a nice shine to them and are made of polished wood.
At some locations, the lockers are cherry wood while at others, they're made out of oak or cedarwood.
You can safely lock away your valuable possessions in them while you work out.
Depending on the location, you'll either need your membership card to lock your locker, or you'll have to enter a unique four-digit code on a touchpad.
You don't have to bring your own lock with you!
(Learn more about gyms that have showers here.)
---
Does Life Time Fitness provide soap or shampoo?
Other gyms may offer a few showerheads or a stall for a quick rinse-off for their clientele, but Life Time Fitness takes it a step further by providing shampoo and conditioner as well.
Depending on which club you go to, you'll find products from the brands Soapbox or J.R. Watkins.
Regardless of the brand, the products are all-natural and contain healthy ingredients such as vitamin E, coconut oil, or cocoa butter.
Life Time Fitness provides body wash from these two brands as well.
The body washes are free of harsh chemicals and are formulated to gently cleanse and moisturize your skin.
That's not all.
Most Life Time Fitness locations also have hair dryers, Qtips, extra deodorant, body lotion, and hairspray.
If you forget anything you need to get ready for your day, you can likely find it at this gym.
---
Does Life Time Fitness provide towels for the shower area?
Life Time Fitness provides free towels in its locker rooms for all members.
The towels are washed and sanitized daily.
Life Time Fitness also provides towels at its pools, whirlpools, and saunas.
Throughout the gym, you'll also find small towels that you can use to wipe down your equipment when you're done with it.
---
What are Life Time Fitness showers like? (Description, photos & more)
The showers at Life Time Fitness aren't your typical sterile, white shower stalls.
The walls and floors are made of faux marble, and there are fogged privacy doors on each shower.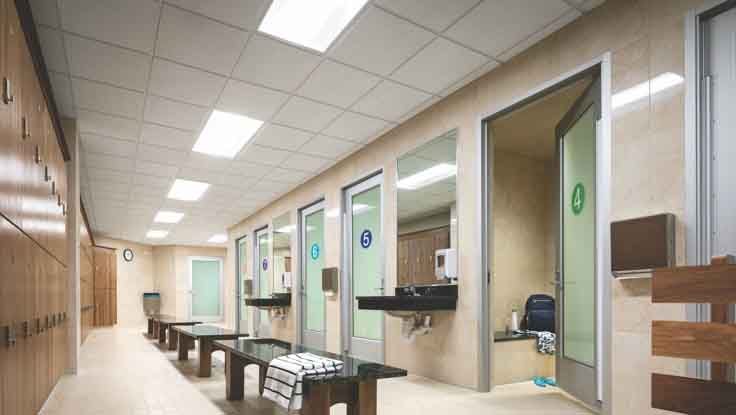 Even the most self-conscious person would have no problem taking a shower at a facility like this.
The floors in the showers are lined with tile in shades of beige, cream, and white. There are hooks on the walls outside the showers where you can hang a towel or a change of clothes.
Even though Life Time provides all the toiletries you could need, there are small shelves in the showers if you need to bring additional products into the shower with you.
Out in the locker room area, there are benches where you can spread out your belongings as you get changed.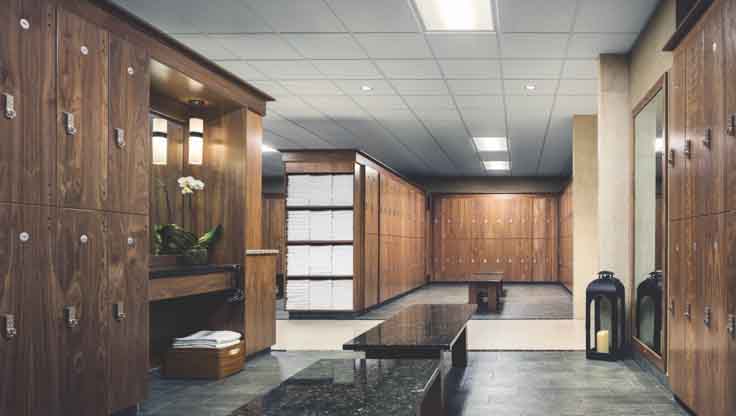 There is also plenty of counter space and several mirrors and wall outlets so you can do your hair and makeup after your shower.
---
Wrapping Up
Life Time Fitness is as much of a status symbol as it is a great place to work out.
Its showers and locker rooms have high-end finishes, and it provides high-quality toiletries from Soapbox and J.R. Watkins.
If you've ever showered at another gym before and weren't satisfied with how clean the facilities were, you won't have to worry about that at Life Time Fitness.
The staff goes to great lengths to keep its showers and locker rooms clean and safe for everyone to use.
For more, check out my full Life Time fitness review.
And before you go, learn about the:
Hope this helps!