Equinox is a luxury fitness company with 106 clubs across the US as of 2022.
The gyms offer classes, personal training, pilates, and everything you'd expect from a luxury establishment.
If you're a lover of luxury as well as fitness, then Equinox is a great place to train. If you can afford it, of course.
But there's one extremely basic amenity you might be wondering about, especially if you commute right to work from the gym:
Does Equinox have showers?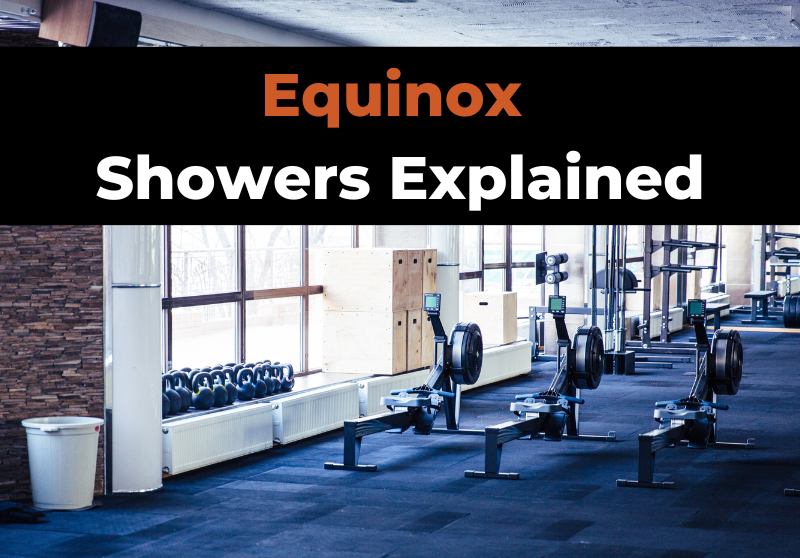 Hands-down, Equinox has the best showers of almost any commercial gym in the world. The showers and locker room area at Equinox are spa-like, with high-end bath products, beautiful designs, and fresh eucalyptus towels for all members. The only downside here, of course, is the hefty price of an Equinox membership.
Keep reading further to learn about Equinox showers, locker rooms, and other amenities for members. 
---
Does Equinox Have Showers?
As you'd expect of a luxury gym chain like Equinox, there are showers that every facility.
They're available to all members and are placed in some incredibly nice locker rooms.
In most clubs, the showers are situated right across from an array of sinks and vanity mirrors. Many Equinox lovers have described them as the most luxurious showers of any gym chain.
In some super exclusive clubs called "E at Equinox," there are even showers in private cabanas instead of in locker rooms. 
However, memberships at E at Equinox cost tens of thousands of dollars, so most people won't find themselves privy to these private cabanas.
The locker rooms at the regular gyms are large, the showers are spacious, and overall you'll find the experience pleasant and decently private despite the locker rooms being communal.
---
Does Equinox Provide Soap or Shampoo?
Equinox doesn't just provide soap and shampoo in the showers.
They provide a vast array of high-end Kiehl's toiletry products in the locker room that you can use in the shower or after your shower. 
Some of the products you can expect to find include:
Grapefruit Bath and Shower Liquid Body Cleanser
Ultra Facial
Creme De Corps Moisturisers
and Calendula Deep Cleansing Foaming Face Wash.
And that's just in the men's locker rooms.
Women can expect to find products such as Amino Acid Shampoo infused with coconut, and Hair Conditioner and Grooming Aid Formula 133.
These are pretty high-end (and pricey) products, so it's safe to say that Equinox goes above and beyond when providing soap, shampoo, and moisturizer to members in the locker rooms.
---
Does Equinox Provide Towels for The Shower Area?
Equinox not only provides towels, but they provide specialty towels.
Delightful eucalyptus towels are available all over the club at every club.
You can always bring your own towels from home, but with Equinox you don't need to.
This is highly impressive, as many other high-end gym chains don't provide towels or at least full-size towels to their members.
Starting to see why an Equinox membership costs well over $100+ per month?
---
Photos & Descriptions of Equinox Showers
People have described Equinox showers as being the most luxurious of any gym chain, and they're not wrong.
There's a lot of variance in different locations. The color schemes vary from light greys to creams to dark blacks and browns.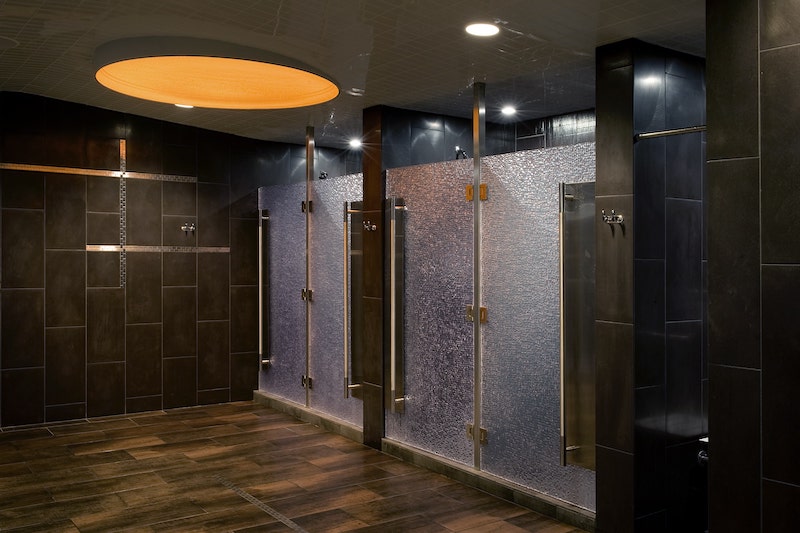 However, there's one thing that remains consistent at all chains: the luxury.
The floors and walls at Equinox are often made up of beautifully textured tiles, and some of them appear to be marble. 
The showers always have a spa-like feel. They're very minimalist, but at the same time, there's a warm and welcoming vibe to them.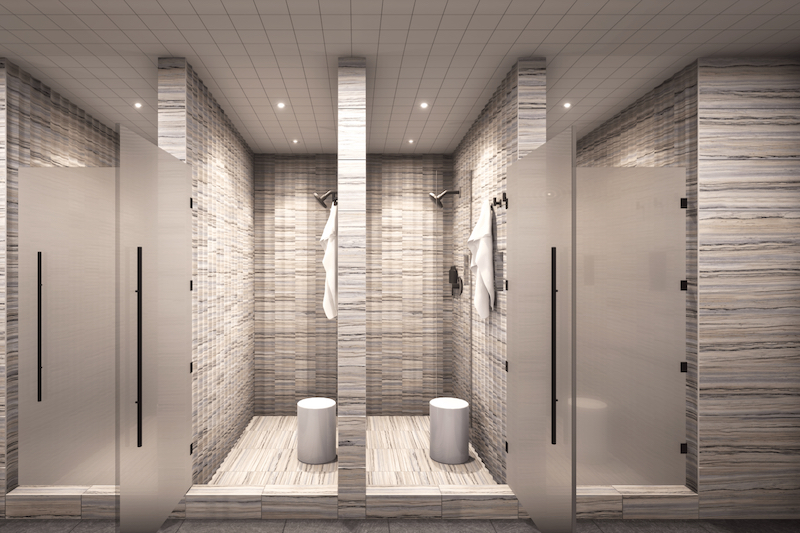 The shower room at most Equinox locations is connected directly to the locker room.
You'll find a wide, open space of lockers with some benches, then a gap that leads you to a row of vanity mirrors and sinks across from shower stalls.
Some locations have the sinks and mirrors, as well as the showers, right next to each other in a line. Others have a little more space between them.
In locations with a little more space between the sinks and mirrors, you often find fancier mirrors with rim lighting which is great for anyone who want to touch up their makeup after taking a shower at the gym.
The only slightly unpleasant factor in these showers is that the shower stalls look private, but the doors in many locations are glass.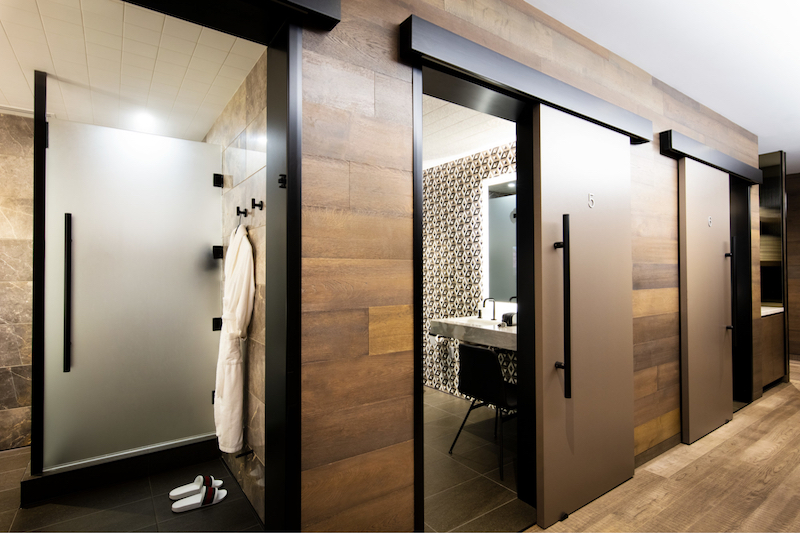 Some locations have clouded or dark glass where all you'll be able to see is the outline of a body.
However, other locations have fully glass doors, so the only thing you have to cover you is steam.
You'll be using a communal locker room after all, so a 100% private experience is never guaranteed, so this isn't as much of a letdown as it could be.
And despite the not-so-private shower doors, they maintain a chic appearance that'll make you feel like you're in a luxury hotel bathroom rather than a gym locker room.
---
Wrapping Up
Equinox really has it all. Stunning facilities, nice toiletries, and towels that smell like eucalyptus.
The facilities are spacious (although, they can get crowded at busier locations) and overall spa-like.
If you're looking for a luxury gym with showers that look like they're straight out of a spa, then you won't go wrong with Equinox.
If everything else about the chain appeals to you, then the showers are highly unlikely to be the element that turns you away from this outstanding gym.
For more, check out the:
Hope this helps!