If you're looking to join a gym in the U.S., chances are you're considering a lot of the usual suspects like Planet Fitness, LA Fitness, or the YMCA.
But there are other options!
If you're living on the East Coast or in the Midwest, there's a pretty good chance that there's an Edge Fitness Club not far from you.
For the past 30 years, The Edge has been providing premium fitness services to health-minded individuals and families.
But is The Edge Fitness Club worth it? Here's a full review.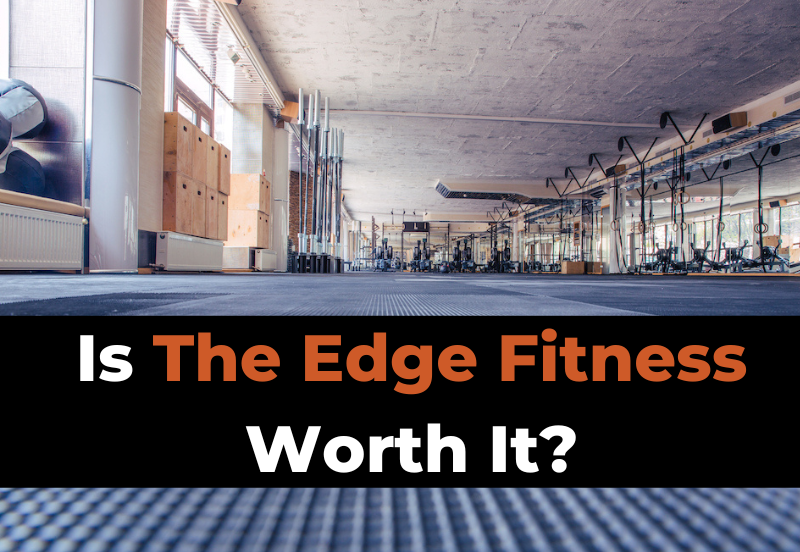 The Edge Fitness is affordable and offers a great range of amenities, including excellent equipment, group classes, a cardio cinema, and childcare. The only amenity you won't find here is a pool. But besides occasional issues with overcrowding, you'd be hard-pressed to find a better gym for the price.
Here's a detailed breakdown of what you get with a The Edge Fitness membership as well as real reviews from members mentioning the pros and cons.
---
What Are The Edge Fitness Clubs?
The Edge Fitness Clubs began as a single gym back in 1988.
It was then called The Fitness Edge, being the brainchild of a guy by the name of Vin Sansone. It had been Vin's childhood dream to open his own gym and now it was a reality.
From the very start, Vin's mission was to create a beautiful club where his members could have a great workout.
Over the years, the success of the concept saw new gyms popping up along the Connecticut shoreline in Fairfield County. By 2017, there were 13 gyms in Connecticut.
With the widespread recent expansion, The Edge Fitness Clubs are now dotted throughout the midwest, starting with Philadelphia.
The Edge Fitness Club is located in the following states:
Connecticut (16 locations)
Delaware (1 location)
Massachusetts (1 location)
Michigan (6 locations)
Missouri (3 locations)
New Jersey (5 locations)
Pennsylvania (5 locations)
Rhode Island (2 locations)
Illinois (3 locations)
The club hours at The Edge vary from club to club.
To give you an idea of the sort of opening hours you can expect, here are the opening hours at their Bristol, Connecticut facility:
Monday through Thursday: 4 am – 11 pm
Friday: 4am – 9pm
Saturday and Sunday: 7 am – 7 pm
You can check the opening hours of each gym by clicking on its link on the official The Edge Fitness Clubs website.
---
How much does The Edge Fitness Club cost?
The Edge offers 3 levels of membership, with three levels of amenities.
The three levels are:
Edge Red Membership
Edge Fit Membership
Edge Total Membership
Prices range from $14.99 per month for an Edge Red membership to $34.99 per month for an Edge Total membership.
There is also an enrollment and one-time processing fee. Membership terms are either 12 or 24 months — at most gyms, Edge included, you'll get a better price by signing up for a longer commitment.
Here is what you get with each level of membership:
Edge Red Membership – full fitness floor access, a complimentary fitness assessment, and single club access. This type of membership is not available at the Greenwich, CT location.
Edge Fit Membership – full fitness floor access, a complimentary fitness assessment, full access to group exercise classes, access to all locations, unlimited tanning and massage (where available) and Fit Pak.
Fit Pak includes a one-time complimentary nutritional plan set-up with software access. The Fit Pak also includes one complimentary Edge Strong class per month and one Inbody weight & body fat analysis per month.
Edge Total Membership – full fitness floor access, a complimentary fitness assessment, unlimited group exercise classes, access to all Edge locations, unlimited tanning & massage (where available), Fit Pak, unlimited guest access, unlimited Spinning classes, access to the women's area, and the online classes platform.
---
The Edge Fitness Club Equipment, Features & Amenities
So what does the cost of entry actually get you at The Edge?
Classes
The Edge Fitness clubs excel when it comes to group fitness classes.
Just take a look at what's on offer every week:
45+ studio classes
35+ Les Mills classes
26+ weekly cycling classes
18+ weekly Zumba classes
Among the studio classes on offer are strength group classes that make use of barbells, dumbbells, and kettlebells to target each muscle group in your body.
Another strength-based group class is Edge Strong. This is a well-balanced, circuit-based program taught by Edge Personal Trainers.
Edge dance-based classes are a mix of low and high intensity done in interval training fashion.
Mind/Body classes at The Edge Fitness Clubs help increase strength, flexibility, and create a better state of mind. Yoga, Barre, Pilates, and other low-impact options are available to help you feel better, inside and out.
Remember that you'll need the Fit Membership or higher to access group classes.
Equipment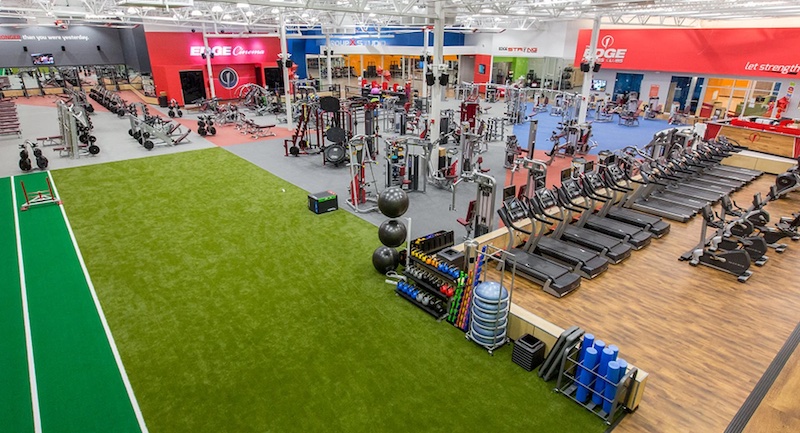 Each location provides a spacious workout floor that is fully equipped with both free weights and resistance machines.
There are enough heavy weight dumbbells, power racks, and plates to meet the needs of strength athletes.
At the same time, there are plenty of strength machines to meet the needs of beginner exercisers.
Each gym also has a functional training room that is fitted out with such gear as battle ropes, weight sleds, plyo boxes, and other equipment to challenge your body.
Each location also provides a private women's training room.
You will find it equipped with cardio machines, state-of-the-art equipment, benches, and weights. Fully qualified female trainers will work with you to help you achieve your fitness goals in a testosterone-free environment.
Women's only fitness classes are also offered, including Barre, Pilates, Yoga, and Zumba.
Nutrition Guidance
The team at your local The Edge Fitness Center has the expertise to guide you through every aspect of nutrition, from meal planning to supplementation.
To access this amenity, you'll usually need one of the higher membership tiers.
Personal Training
The Edge offers personal training in many different formats, including one on one and group settings.
There's also a mobile app that provides the workouts constructed by your trainer and helps you track your progress.
Edge Cinema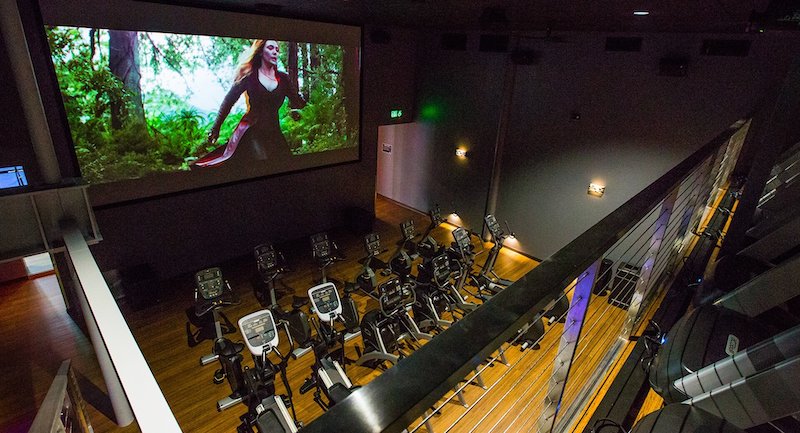 The state-of-the-art Edge cinema allows you to get in your cardio workout while enjoying your favorite movie. They screen the latest blockbusters as well as the old classics.
The atmosphere is just like being in a movie theater (minus the popcorn). You'll be so engrossed in the movie that you won't even realize how many calories you are burning.
Edge Kids
The Edge Kids program offers excellent child-minding or child care services while you are working out. Edge Kids operates as a drop-in center for children aged from 12 weeks to 12 years.
While the children are being supervised the parent or guardian must remain on the premises.
Children are given a specialized age-appropriate fitness program (basketball, rock wall, games, etc.) so the whole family can stay active together! Edge fitness coaches are passionate about helping kids get fit and fully qualified.
The Edge Kids service will incur a charge in addition to your membership. Prices will vary between facilities.
Spas, Saunas & Pools
The Edge Fitness Clubs offer premium sauna facilities. Each sauna has a flat-screen TV mounted inside it so you can catch up on your favorite show as you sweat it out.
There are no spas or pools at The Edge Fitness Clubs.
Each gym provides a spacious state-of-the-art locker room with showers, changing rooms, lockers, and bathrooms. You will also find massage chairs at most facilities.
(Looking for basketball courts at Edge Fitness? Read more here.)
---
What real people are saying (Pros, Cons & Edge Fitness Reviews)
The online reviews for The Edge Fitness Clubs are a mixture of good and bad as with any gym. The balance is in favor of the positive.
The few negative reviews are usually to do with one-off experiences or frustrations with overcrowding at peak times, which is a problem that all gyms have to contend with.
Here is an overview of the main positives and negatives from online reviews.
Pros
Very clean
Great facilities
Equipment is always well maintained
Friendly staff
Awesome Kids service
Massive range of fitness classes
Negatives
Overcrowding during peak times
Limited weekend hours
---
Alternatives to The Edge Fitness Club
There are hundreds of competing gyms up and down the east coast that provide alternatives to The Edge Fitness Clubs.
For the purposes of this review, I'll highlight a couple of them in Connecticut, which has the largest number of Edge Gyms.
Universal Fitness is located in Waterbury Connecticut. Universal Has a reputation for being a very welcoming gym and caters to the needs of all people, including the elderly and families.
Steel Beach Fitness in Oakville is a huge gym that covers multiple floors for a total of 30,000 square feet. It's not too big, though, to lose the personal touch. There are 11 different workout areas, making this the biggest gym in the Watertown area.
Steel Beach honors the military, with a Steel beach being the nickname for the deck of an aircraft carrier. They offer discount rates for active members of the military and veterans.
Of course, you'll always do great at popular mid-range gyms like LA Fitness or 24 Hour Fitness. They offer plenty of amenities at a fair price, but can also suffer from overcrowding and other issues.
---
Wrapping Up
The Edge Fitness Clubs really impresses me with its huge range of fitness classes. I also love their innovation when it comes to group strength training.
The full surround cinema experience also looks awesome, as does the inclusive tanning and nutritional guidance. The Kids Edge service is one more reason to make The Edge your new workout base.
All in all, The Edge is well worth a visit and a free trial! Try it for yourself and make up your own mind.
For more, check out:
Hope this helps!