If you live on the East Coast or in the midwest and don't want to join a big chain gym, then you may be considering The Edge Fitness.
With only 40 clubs in nine states so far, it's a great alternative to one of the bigger gym franchises.
The Edge Fitness seemingly has everything, from high-end gear to numerous classes, including many facilities and classes for women only.
But if you're into shooting hoops to stay fit, you might be wondering:
Does The Edge Fitness gym have basketball courts? Let's find out!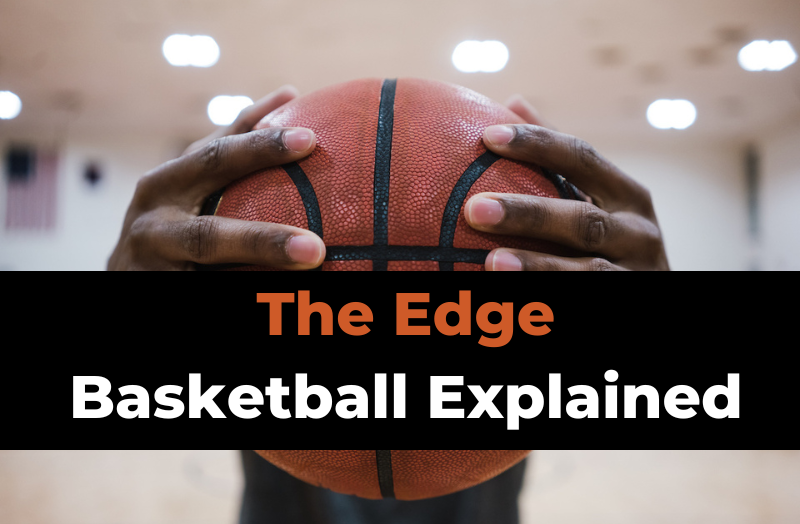 Unfortunately, The Edge Fitness does not typically offer basketball courts at most of its locations. Exceptions may exist, and kids at the Edge Kids childcare club may be able to play on a small hoop, but you'd better look elsewhere for access to a regulation court.
Let's take a closer look at what Edge has to offer and alternatives if basketball is a must for you.
---
Does The Edge Fitness Have a Basketball Court?
The Edge Fitness does not typically have basketball courts for their regular members at most locations.
Basketball courts aren't listed under the amenities/facilities on the website, and socially, there are no mentions of Edge Fitness members shooting hoops at the gym.
However, some Edge Fitness locations do have a small basketball court, or at the very least a basketball hoop—but it's for kids.
The Edge Fitness offers a kids club so you can drop your kids off while you work out. Your kids will be entertained with an array of activities, including basketball.
On the Edge Kids FAQ page, it mentions that kids will use basketball courts in select locations. Other locations on the site just mention having a hoop for them to use as part of their variety of activities.
So, unfortunately, regular gym goers will have to look elsewhere if they want to shoot some hoops as part of their workout.
---
Does The Edge Fitness Offer Basketball Leagues, Lessons, Etc?
Edge Fitness doesn't have basketball leagues or lessons for kids or adults.
For the kids, basketball is very much just part of their "fitness is fun" regime they have for the children staying at the gym while their parents work out.
Edge Fitness hasn't stated whether or not they wish to open up a league for kids or even install courts for adults in the future.
However, there are still many ways to work out at The Edge Fitness, so if you don't mind not having a court to go on a league to take part in, then it's still a gym worth considering.
---
Alternative to The Edge Fitness with Basketball Courts
If you really want a gym with a basketball court, then you'll have to look towards one of the bigger chain gyms. 
These chain gyms usually have locations large enough and a budget big enough to extend to having and maintaining a basketball court for their members.
There are several alternatives that you can consider, though, so hopefully one of them will appeal.
24 Hour Fitness
There are basketball courts at numerous larger 24 Hour Fitness locations. Many of these courts are full-sized.
These are excellent if you like playing pickup games, drills, or casual games of 2-on-2, 3-on-3, or even more.
There are no leagues or tournaments at 24 Hour Fitness, so if you want to get competitive, then you have to form your own team and work out together.
Despite that, shooting hoops and playing ball are still excellent ways to work out, and 24 Hour Fitness is as good a place as any to do it.
Here's everything you need to know about basketball courts at 24 Hour Fitness.
The YMCA
If you're looking for a basketball court, then you should check out your local Y to see if there's one available for you there.
Most YMCA locations have a court for you to play some ball in. However, not all of them have, so make sure to pay a visit or call ahead to see if they have the facilities you want.
You can play pickup games, shoot hoops by yourself, put your kid in a summer camp to learn basketball, or even join a league that caters to your skill level.
If you're pretty good at basketball, then you can play along with professionals and former college players.
There are also options for you to play along with former high school players at an intermediate level, and you can join a league with complete fellow beginners, too.
If you'd like to get better, some YMCA locations have basketball lessons for adults, but even more of them have youth lessons that your kids can benefit from.
If you're eager to learn more, then check out my guide on basketball courts at YMCA.
LA Fitness
LA Fitness has hundreds of locations and most of them, but not all of them, have basketball courts.
These courts are nearly regulation size and will suit someone who really wants to get serious about their game.
You can play pickup games or solo as you wish, but there are also tournaments and leagues you can join.
There are competitive recreational leagues for over 18's and over 35's, along with semiannual members-only tournaments that award prizes to the winners.
So, if you're serious about your basketball, then definitely check out LA Fitness—but, of course, you don't have to get competitive if you don't want to.
The one downside is that LA Fitness isn't great for somebody who wants to learn basketball, as there are no private or group lessons of any kind available at these gyms.
I go into much more detail about the basketball courts at LA Fitness if you'd like to read my full guide.
---
Wrapping Up
Although The Edge Fitness lacks basketball courts, there are still numerous facilities you'll enjoy.
Check out some of their classes, their training rooms, or even hit the sauna that's equipped with a flat-screen TV to entertain you while you relax after you work out.
If a basketball court is a must for you, hopefully the alternatives I mentioned are up to your standards. Members talk highly of the courts, and if you're competitive, you'll love the leagues!
Hope this helps!