The Edge Fitness Clubs are a popular alternative to the better-known gym chains if you live in the midwest or on the East Coast.
There are over 40 locations across nine states so far.
Each location offers a ton of equipment, several classes, women-only classes, a training room, and several amenities including some unique ones that'll really help you engross yourself in an awesome workout.
But there's one amenity that tons of people love and won't go to a gym without: a pool.
Does The Edge Fitness gym have a pool? Let's find out!
Unfortunately, The Edge Fitness Clubs do not offer a pool as of this writing. However, you'll find some great low-impact cardio options as an alternative to swimming in the Cardio Cinema, and you can relax in the sauna after your workout. But for swimming workouts and aquatics classes, you'll need to look into a few alternatives.
Let's take a closer look at the amenities at The Edge Fitness.
---
Does The Edge Fitness Have A Pool?
Unfortunately, no, The Edge Fitness does not currently have a pool at any locations.
Despite this, there are plenty of other ways to work out and enjoy the facilities.
If you're still interested in The Edge Fitness despite the lack of pool, then perhaps you'd be interested in one of their other low-impact ways to work out as an alternative to swimming.
For example, spinning or cycling can be as low-impact as you'd like as you can vary your pace, and it doesn't put a ton of strain on your joints.
The cardio cinema, where you use a spinning bike while watching classic movies as well as new blockbusters, may appeal to you. That, like swimming, can be a ton of fun.
You'll also find personal training available at the gym, and if you talk to your trainer about your desires, they may be able to come up with a regime that targets the same muscles as swimming.
But if it's the water you truly desire, then, unfortunately, you'll have to look elsewhere for your aquatic fun.
---
Does The Edge Fitness Have A Hot Tub?
No Edge Fitness location has a hot tub, either, so you won't be able to slip into one for a dip to relax after a workout.
Despite this, there are some ways you can relax after a hard day at an Edge Fitness gym.
All clubs have showers and locker rooms you can take advantage of before or after your workouts, so you can still relax under some hot water if you'd like. 
(Also, I answer all your questions about The Edge Fitness showers here.)
Most facilities also have massage chairs if you'd like a way to unwind on land after a workout. 
There's also one more way you can relax at Edge Fitness clubs that you'll probably be very interested in: the sauna.
---
Does The Edge Fitness Have a Sauna, Steam Room, or Other Aquatic Amenities?
The only aquatic-adjacent amenity available at The Edge Fitness is the sauna, and it's definitely worth checking out at least once.
You won't find just any old sauna at Edge Fitness. The facilities at every gym are premium, and they've even been described as spa-like.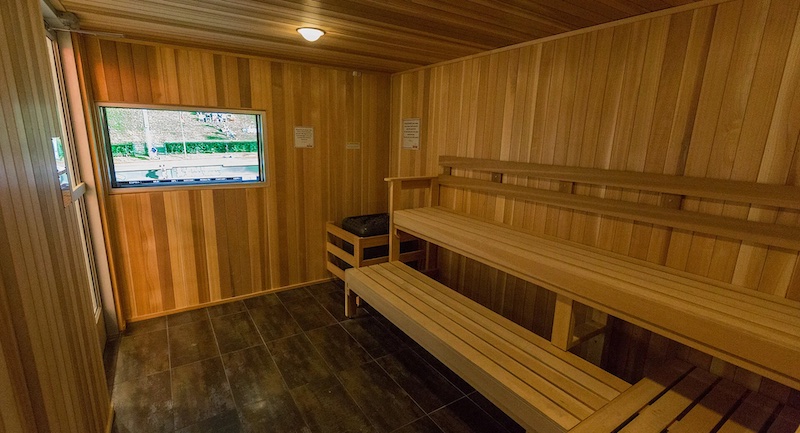 Even the smallest Edge Fitness saunas are still much more spacious than the ones you'll find at some other gyms, but that's not even the best part.
There are televisions in the sauna!
Each sauna is equipped with a flatscreen TV so you can catch up on all the latest shows, sports, and the news while you relax and sweat it out.
This is the kind of quirky, fun amenity you'll rarely find at bigger gym chains. Instead of just sitting there with your thoughts, you can sit and be entertained.
---
Alternatives to The Edge Fitness With Pools
Maybe the TV-equipped sauna isn't a big enough draw for you to stick with The Edge Fitness. That's fine.
There are lots of other gyms you can visit if you really, really want that pool!
There are three membership options at The Edge Fitness, so I'll give you three alternatives—one for the lower end of pricing, and two for the higher.
Crunch Fitness
Before you call up your local Crunch Fitness and sign up, you should know that not all Crunch Fitness locations have pools.
So, if there's one near you, call up and ask if they have a pool first.
Most "signature club" Crunch Fitness locations have pools, however. There are also Hydromassages and tanning beds at Crunch Fitness locations, along with locker rooms and showers.
It's difficult to find gyms with pools for a monthly fee under $20, and Crunch's Peak membership is $19.99 monthly. So, it's definitely worth calling up any locations near you and seeing if they have what you're looking for.
See more about Crunch Fitness pools here.
Gold's Gym
If you sign up for a 12-month contract, then Gold's Gym costs around $29.99 per month. It's a big jump up from the low-end pricing at The Edge Fitness, but you will find pools at many locations.
You should be aware that not every location has a pool, however. You'll have to call up and ask first.
Here's a full guide with info and photos of the pool at Gold's Gym if you're interested in more insight into the pools there before joining.
LA Fitness
LA Fitness is a nice alternative to the Edge Total membership, which is $34.99 per month. A membership at LA Fitness will usually run you between $25 and $35 monthly.
LA Fitness has a pool, and there are plenty of other aquatic amenities and activities to keep you interested, too.
Once again, not every LA Fitness location has a pool, but most have recreational and lap pools for you to enjoy.
Hot tubs are also common at locations with pools, as are around a dozen aqua fitness classes.
Saunas and steam rooms are present at some locations, too, but not all locations with pools have these amenities.
---
Wrapping Up
There may be no pools at The Edge Fitness, but if you're interested in low-impact cardio and entertainment, their Cardio Cinema is worth looking into.
The premium sauna complete with a flatscreen TV is another appealing factor that might keep you interested in this gym.
If you definitely need a pool at your gym, then Crunch Fitness, Gold's Gym, and LA Fitness are three gyms to check out.
They should be relatively within your price range if you want something with similar costs to The Edge Fitness.
But unfortunately, if none of those locations have pools near you, then you may want to try 24 Fitness instead. Almost every location has a pool, but membership is a little pricer than the Edge Total membership.
For more, read a full review of The Edge Fitness.
Hope this helps!